Google Maps Local Guide Program
In today's modern world, it is undeniable that Google Maps has seamlessly integrated itself into the fabric of our daily commute. Countless individuals depend on it as a reliable tool for traversing both well-known and unfamiliar areas within our urban landscapes, enabling them to unearth the hidden gems nestled within each unique local community.
Google Maps is not just limited to providing turn-by-turn navigation. It serves a multitude of purposes, such as helping us find out the opening hours of a shop, determining if a restaurant offers vegan food options, or even identifying if a government office is wheelchair-accessible. Its versatility extends far beyond mere navigation, making it an indispensable tool for various informational needs.
The Google Local Guides program deserves our heartfelt gratitude for this remarkable achievement. Curious to know more about this intriguing concept? Allow me to shed some light on it and guide you through the seamless process of signing up.
What's Google Maps Local Guide?
Google Maps offers users a wide range of advantages, with one of the most notable being its extensive and broad collection of data. Discover the ease of quickly finding the operating hours of your local pharmacy or where the nearest place to buy fish and chips is located. A significant portion of the data available is generously provided by dedicated business owners who actively participate in programs such as Google My Business.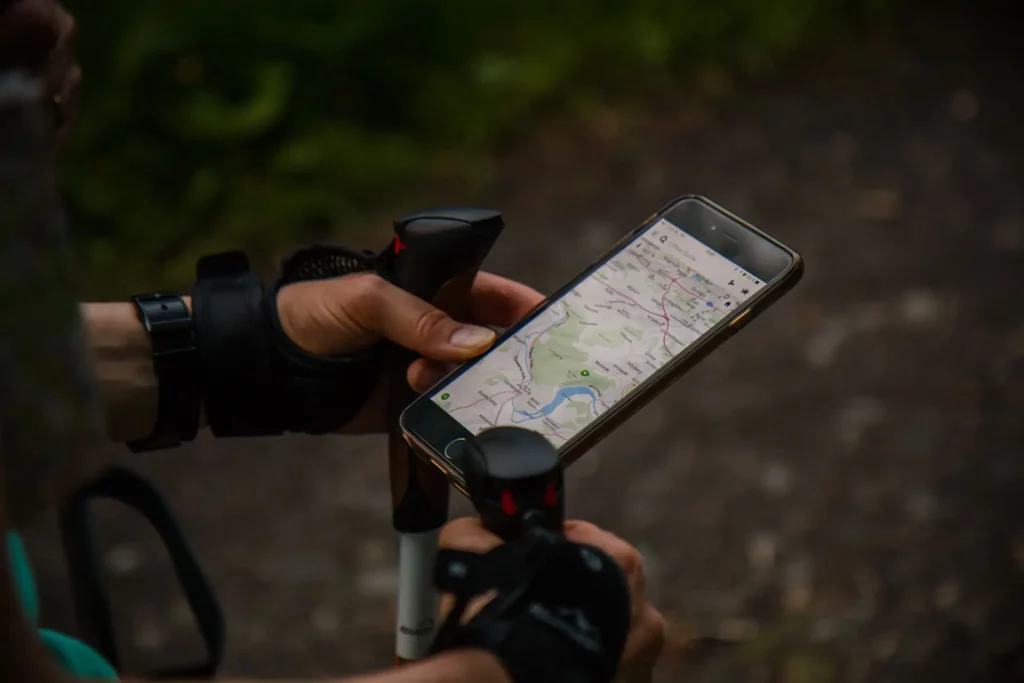 Google Local Guides are frequent Google Maps users like you and me. What distinguishes them is that they also contribute voluntarily. These contributions consist of reviews, images, responses to questions, fact checks, and more. They even add and edit location information on Google Maps, frequently becoming the neighborhood's first source of information. Google provides incentives for these contributions by offering rewards as well as incorporating aspects of gamification.
The fundamental concept revolves around the accumulation of points for each valuable contribution made to the esteemed platform of Google Maps. In the realm of contributions, there exists a spectrum where certain endeavors hold a modest value, while others possess a remarkable worth. As you accumulate additional Local Guide points, your Local Guide level will progressively elevate. Upon achieving the esteemed Level 4 status with a commendable accumulation of 250 points, an attractive badge will gracefully manifest itself, covering your profile picture on both reviews and photos.
This delightful addition serves as a testament to your dedication and expertise within the realm of this esteemed community. Reaching the summit of the Local Guide mountain is an extraordinary achievement, marked by the prestigious Level 10 status. Once your point tally surpasses the noteworthy milestone of 100,000, a remarkable achievement is unlocked.
Become a Google Maps Local Guide
Becoming a Local Guide is a rewarding job if you care a lot about your neighborhood or love to talk about your travels and what you've learned. This is how:
Open Google Maps and go to the menu bar.
Open where it says "Your contributions".
Choose "Join Local Guides".
Click on

"

Get Started"

.

Type in your city name.
Become a local guide
As you share more reviews, photos, and thoughts, you'll get more points. Each type of contribution is worth a certain number of points, and as you earn more points, you'll move up the Local Guide levels and get more rewards and recognition.
Google Maps Local Guide Benefits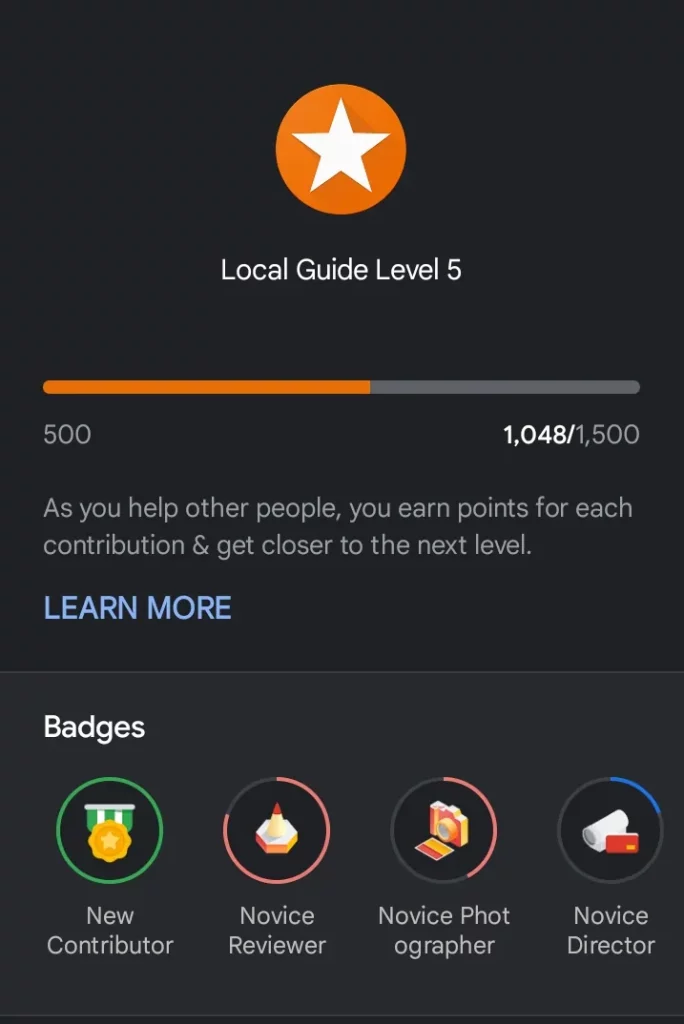 Even though contributing to a global platform is a big reward in and of itself, Google makes sure that Local Guides get real benefits:
People who make contributions and earn points move up the Local Guide structure and get badges and other honors that set them apart in the community.
These aren't just for Google Maps. Local Guides frequently receive early access for additional Google features, invitations to special events, and special Google merchandise.
Improvements to Google Maps:
You can now follow other local guides, get personalized recommendations, and even join local meet-ups. This makes the Maps experience much more personal and interactive.
Local Guide Points on Google Maps
As a Local Guide, each update that you make to Google Maps makes the platform better and gives you points. With these points, you can move up in the Local Guide Program's levels and get more perks and recognition. Here's a full list of all the ways you can earn these reward points:
| Maps Contribution | Points Earned |
| --- | --- |
| Review | 10 points per review |
| Review with more than 200 characters | 10 bonus points per review |
| Rating | 1 point per rating |
| Photo | 5 points per photo |
| Photo tags | 3 points per tag |
| Video | 7 points per video |
| Answer | 1 point per answer |
| Respond to Q&As | 3 points per response |
| Edit | 5 points per edit |
| Place added | 15 points per place added |
| Road added | 15 points per road added |
| Fact checked | 1 point per fact checked |
| Eligible list published | 10 points per published list |
| Description (in the list) | 5 points per description added |
Local Guide Program Levels
The Google Maps Local Guide Program is based on a ranking system, where contributors earn points for their work and move up through the levels. Each level shows how committed the contributor is and how much they have given.
This table shows Local Guides on Google Maps their levels, how many points they need, and what badges they can get.
| Level | Points | Badge |
| --- | --- | --- |
| Level 1 | 0 points | No badge |
| Level 2 | 15 points | No badge |
| Level 3 | 75 points | No badge |
| Level 4 | 250 points | |
| Level 5 | 500 points | |
| Level 6 | 1,500 points | |
| Level 7 | 5,000 points | |
| Level 8 | 15,000 points | |
| Level 9 | 50,000 points | |
| Level 10 | 100,000 points | |
FAQs –  Google Maps Local Guide Program
Q: Are Google Local Guides Paid?
This is a question people often ask. Local Guides don't get paid, but there are many benefits to being one. There are both digital and real-world perks, like special badges that set them apart in the community and early access to Google features. But the best things about volunteering are the sense of community and the knowledge that one's work is helping millions of people around the world.
Q: How to Leave a Google Maps Local Guide Program?
Even though it's fun to be a Local Guide, it might not be for everyone. If you decide to step back, whether for privacy reasons or other reasons:
1. Check out the Local Guides page.
2. Go to the settings menu.
3. Pick "Leave the program."
It's important to remember that this choice will mean giving up any points and levels you've earned.
Q: How is a local guide different from a regular user?
Both users and Local Guides can use Maps, but only Local Guides actively help out and get rewarded for it.
---
Conclusion
The Google Maps Local Guide Program has become more than just a feature; it shows how strong communities can be. As technology keeps getting better, it's nice to see that tools like Google Maps put people's thoughts and experiences first. The Local Guide Program wants your contributions, whether you're a seasoned traveler, a local historian, or just someone who loves to talk about where to get the best coffee in town.
Read more about