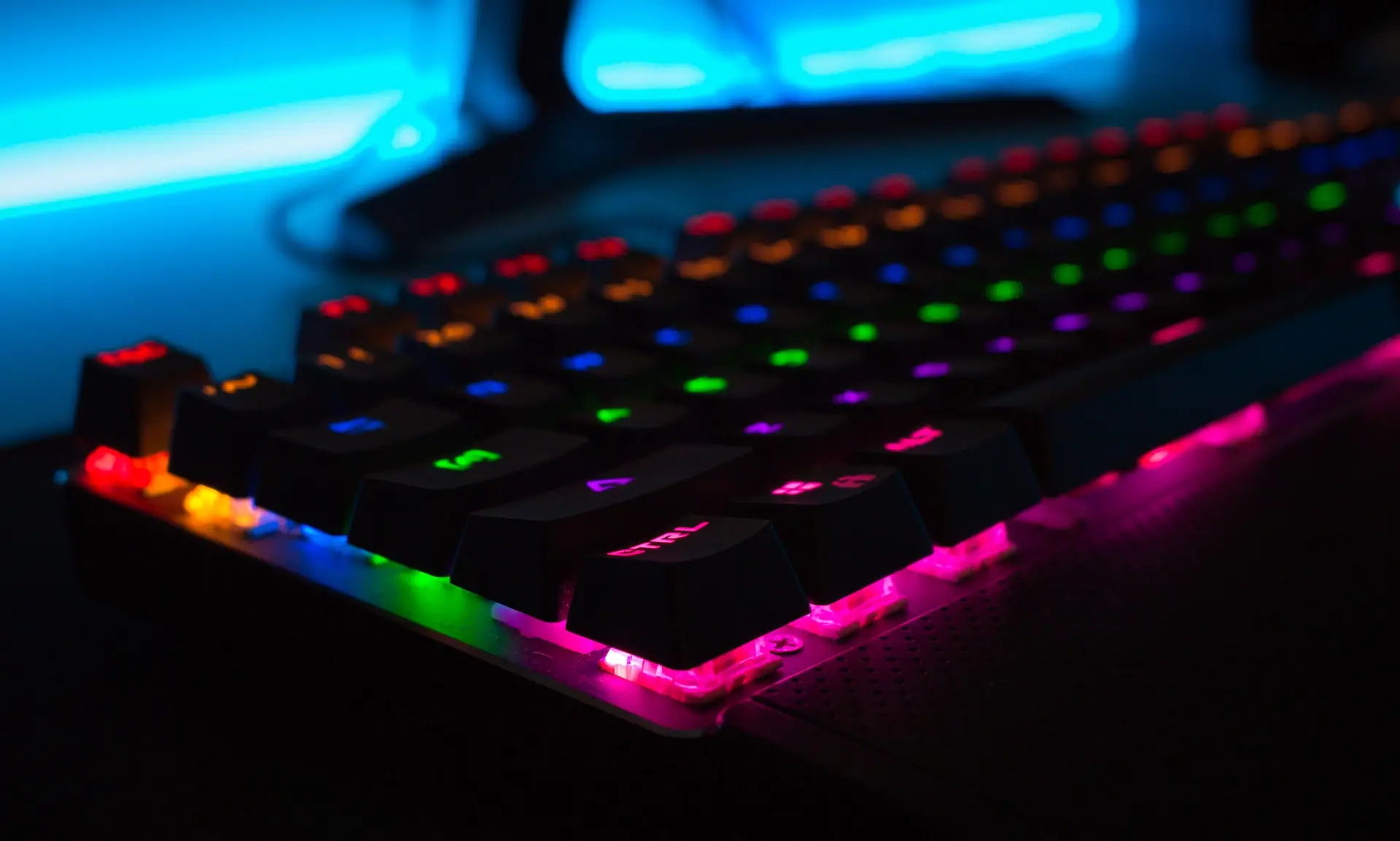 The Best Gaming keyboard 2023
The keyboard serves as the primary interface between you and your personal computer, representing the component that you interact with most frequently. Investing in a high-quality keyboard can yield a significantly noticeable improvement, surpassing the impact of various other upgrades, such as a CPU enhancement.
For the dedicated gaming enthusiast, a keyboard holds an even greater significance. When it comes to the needs of avid gamers, a keyboard that offers instantaneous response time and tactile feedback is of utmost importance.
However, it is equally crucial for this keyboard to provide a comfortable typing experience, ensuring ease and convenience during prolonged gaming and chatting sessions. In addition to its appealing aesthetics, the keyboard boasts a captivating design featuring per-key RGB lighting. This delightful feature can be effortlessly personalized to perfectly complement your gaming setup.
Whether you find yourself skillfully maneuvering through intense firefights, embarking on thrilling adventures in expansive virtual realms, or engaging in lively conversations on popular platforms like Discord and Twitch, one thing remains constant: your keyboard serves as your faithful companion throughout these immersive experiences. Making a decision of this magnitude should not be taken lightly.
Types of Gaming keyboard in 2023
In the ever-evolving realm of gaming technology, 2023 introduces a diverse array of gaming keyboards, each tailored to unique preferences and gaming styles. Delve into the world of gaming keyboards through a detailed exploration of the various types available:
Mechanical Gaming Keyboards:
At the forefront of gaming peripherals, Mechanical Gaming Keyboards feature individual mechanical switches for each key. These switches offer tactile feedback and distinctive audible cues, catering to gamers who value responsive keystrokes and a satisfying typing experience. Variants like Cherry MX, Razer, and more allow users to select switches that align with their preferred feel and sound.
Membrane Gaming Keyboards:
Embracing affordability and quieter operation, Membrane Gaming Keyboards utilize pressure pads beneath the keys to register keystrokes. Although they lack the tactile response of mechanical switches, these keyboards offer a budget-friendly option for gamers seeking dependable performance.
Wireless Gaming Keyboards:
Elevating mobility and flexibility, Wireless Gaming Keyboards provide freedom from cumbersome cables. Advanced wireless technology minimizes latency, making them suitable for competitive gaming scenarios where split-second decisions are paramount.
Infusing aesthetics into gaming setups, RGB Gaming Keyboards grant users the ability to customize backlighting with a spectrum of colors. This dynamic feature enables gamers to personalize their environments and synchronize lighting effects with in-game actions for an immersive visual experience.
Compact Gaming Keyboards:
Prioritizing desk space, Compact Gaming Keyboards omit the numeric keypad to create a more streamlined design. This minimalist approach is favored by gamers seeking unobstructed mouse movement and efficient use of limited space.
Tenkeyless (TKL) Gaming Keyboards:
Striking a balance between compactness and functionality, Tenkeyless (TKL) Gaming Keyboards retain the standard keyboard layout while omitting the numeric keypad. This design appeals to gamers who desire a more compact setup without sacrificing essential keys.
Programmable Gaming Keyboards:
Unleashing efficiency, Programmable Gaming Keyboards empower users to assign custom macros and shortcuts to specific keys. This customization enhances gameplay by streamlining complex actions and granting a competitive edge.
Ergonomic Gaming Keyboards:
Prioritizing comfort during extended gaming sessions, Ergonomic Gaming Keyboards feature designs aimed at reducing strain and discomfort. Curved or split layouts promote a natural hand position, ensuring comfort even during marathon gaming sessions.
Optical Gaming Keyboards:
Harnessing light-based technology, Optical Gaming Keyboards revolutionize response times by using light to register keystrokes. This technology caters to gamers who demand lightning-fast reactions, enhancing their competitive edge.
Merging innovations, Hybrid Gaming Keyboards combine features from various keyboard types. This may involve integrating mechanical switches with membrane technology to strike a balance between tactile feedback and quiet operation.
Customizable Gaming Keyboards:
Catering to personal preferences, Customizable Gaming Keyboards offer modular components for swapping switches, keycaps, and even the physical layout. This level of personalization ensures a uniquely tailored gaming experience.
Macro Pad Gaming Keyboards:
Meeting specialized needs, Macro Pad Gaming Keyboards feature dedicated keypads for assigning and triggering complex macros and shortcuts. These pads complement primary gaming keyboards, providing quick access to specialized commands.
What To Look For While Buying The Best Gaming keyboard 2023
Choosing the right key switches is paramount. Mechanical switches offer tactile feedback and audible clicks, while membrane switches are quieter and more budget-friendly. Opt for the switch type that aligns with your preference for tactile response and sound.
Customization and Macros:
Look for a gaming keyboard that allows customization through programmable keys and macros. This feature enhances gameplay by enabling you to assign complex commands to specific keys, streamlining your actions and providing a competitive advantage.
Backlighting and RGB Effects:
Backlighting not only adds to the aesthetic appeal of a gaming keyboard but can also improve visibility in low-light conditions. RGB lighting further elevates the visual experience, offering a spectrum of colors and effects to personalize your gaming setup.
Build Quality and Durability:
A sturdy and well-built gaming keyboard ensures longevity and withstands the rigors of intense gaming sessions. Look for durable materials and construction that can handle the demands of gaming over an extended period.
N-Key Rollover and Anti-Ghosting:
N-Key rollover and anti-ghosting features are essential for accurate input recognition during intense gameplay. These features prevent key presses from going unrecognized, ensuring every command is registered accurately.
Consider the keyboard's design and ergonomics. A wrist rest, adjustable tilt, and comfortable key spacing can significantly enhance comfort during long gaming sessions, reducing strain on your wrists and hands.
Connectivity and Compatibility:
Check the keyboard's connectivity options. Many modern gaming keyboards offer both wired and wireless connections, giving you the flexibility to choose what suits your setup. Also, ensure compatibility with your gaming platform.
Some gaming keyboards come with extra features like dedicated media controls, customizable keycaps, and USB pass-through ports. Assess these additional features to determine if they align with your preferences and gaming needs.
Gaming keyboards come in a range of price points. Set a budget and find a keyboard that offers the features you need within that range. Keep in mind that investing in a quality gaming keyboard can provide long-term value.
Brand Reputation and Reviews:
Research the brand's reputation and read reviews from other gamers. Reputable brands often deliver consistent quality and performance. User reviews can provide valuable insights into real-world experiences with the keyboard.
Top Best Gaming keyboard 2023
1.

Razer BlackWidow V4 Pro
Best Gaming Keyboard Overall
The Razer BlackWidow V4 Pro, a cutting-edge, full-size gaming keyboard designed to elevate your gaming experience to unprecedented heights. Packed with an array of advanced features and unrivaled customization options, this keyboard is the perfect addition to your battlestation. This exceptional product boasts a comprehensive range of features and functionalities, ensuring that it caters to all your needs and desires. The keyboard boasts a remarkable array of features that are sure to enhance your gaming experience. With a total of 8 dedicated macro keys, you have the freedom to customize your gameplay to suit your unique style and preferences.
Not stopping there, this exceptional keyboard also offers four dedicated media keys and a convenient volume roller, ensuring effortless access to your favorite multimedia functions. Furthermore, the plush and padded detachable wrist rest not only provides unparalleled comfort during extended gaming sessions but also adds a touch of elegance with its illuminating feature that activates upon connection to the keyboard. In summary, the keyboard's extensive range of features guarantees a truly immersive and enjoyable gaming experience, making it a must-have for any avid gamer seeking optimal performance and comfort.
The keyboard boasts a sleek and durable aluminum alloy top plate, ensuring both style and longevity. Its keycaps are crafted from high-quality doubleshot ABS material, offering a satisfying typing experience. With its vibrant per-key RGB lighting and underglow, the keyboard illuminates your workspace with a stunning visual display. When the wrist rest is connected, the keyboard showcases an impressive total of 38 zones, further enhancing its captivating aesthetics.
While it may not claim the top spot as our preferred gaming keyboard for typing purposes, it's worth noting that the typing experience offered by this particular model is quite satisfactory. Equipped with Razer Green switches, known for their tactile feedback, audible clickiness, and distinct audibility, this keyboard ensures a unique and immersive typing encounter. Additionally, the inclusion of two layers of dampening foam within the case further enhances the overall typing experience, providing a pleasant and comfortable feel.
One notable drawback of this keyboard lies in its size, which may occupy a significant portion of your desk space, particularly when used in conjunction with the detachable wrist rest.
Specification:
| | |
| --- | --- |
| Brand | Razer |
| Compatible Devices | PC |
| Connectivity Technology | USB |
| Keyboard Description | Gaming |
| Recommended Uses For Product | Gaming |
| Color | Black |
| Operating System | Windows |
Reasons To Buy

Reasons To Avoid

+

Eight dedicated macro keys

–

ABS keycaps may not last long

+

8,000 Hz max polling rate

–

Macro keys disabled by default
+

Programmable multi-function

—
2.

ASUS ROG Azoth
Best Gaming Keyboard for Typing
When it comes to keyboards, it's important to distinguish between those specifically designed for gaming and those optimized for typing. While gaming keyboards are primarily tailored to enhance the gaming experience, they may not necessarily provide the same level of comfort and efficiency when it comes to typing tasks. However, it is important to note that this does not imply that they are inept at typing.
Typically, mechanical keyboards tend to maintain a satisfactory level of performance, surpassing that of their non-mechanical counterparts. However, it is important to note that their primary emphasis lies in catering to the gaming community, placing a higher priority on aspects such as vibrant RGB lighting effects rather than the tactile sensation and auditory feedback.
The remarkable ROG Azoth, a cutting-edge gasket mount mechanical keyboard boasting a sleek 75 percent form factor. The device boasts a seamless wireless experience, offering the convenience of both 2.4GHz wireless and Bluetooth connectivity. Its remarkable design includes double shot PBT keycaps, ensuring durability and a satisfying tactile feel.
The device's sturdy metal top plate adds a touch of elegance, while the interior houses three layers of sound dampening foam within its thoughtfully crafted plastic chassis, meticulously designed to prevent any interference with the wireless signal. The Asus ROG Strix Scope TKL Deluxe is equipped with the highly acclaimed Asus NX switches, available in three captivating variants: Red, Brown, or Blue. To enhance your overall experience, Asus thoughtfully includes a comprehensive accessory kit alongside the keyboard.
This kit comprises essential tools such as keycap and switch pullers, additional switches, and a DIY lube station. With these invaluable additions, you gain unparalleled mastery over the keyboard's auditory and tactile characteristics, allowing you to customize it to your heart's content.
This keyboard is not only exceptional for typing tasks, but it also boasts remarkable capabilities for gaming enthusiasts. With its dependable and swift 2.4GHz wireless connection, the device ensures a seamless and responsive user experience. Notably, its remarkable battery life of up to 2,000 hours over 2.4GHz, even with the absence of lighting and the OLED screen, further enhances its appeal.
In addition, this remarkable device provides users with a wide range of customization options through its impressive 2-inch OLED screen. This screen can be easily programmed to showcase an array of captivating visuals, ranging from delightful GIFs to essential system information.
Specification:
| | |
| --- | --- |
| Brand | ASUS |
| Compatible Devices | Gaming Console |
| Connectivity Technology | Bluetooth, USB 2.0 |
| Keyboard Description | Gaming, Mechanical,Wireless |
| Recommended Uses For Product | Gaming |
| Color | BLACK/RED SWITCHES |
| Number of Keys | 75 |
Reasons To Buy

Reasons To Avoid

+

Very sturdy build

–

Keycaps are a little slippery

+

Sounds and feels like an enthusiast board

–

Only one layer of programmability
+

Excellent battery life

—
3.

SteelSeries Apex Pro
Best TKL Gaming Keyboard
The SteelSeries Apex Pro TKL Wireless keyboard offers a convenient solution for those seeking to optimize their desk space while enjoying the benefits of wireless freedom. With its innovative dual wireless technology, featuring low-latency 2.4GHz connectivity and Bluetooth 5.0 compatibility, this keyboard provides users with the ultimate convenience and flexibility. Say goodbye to clutter and hello to a seamless and efficient typing experience. Introducing the highly anticipated 2022 iteration of the Apex Pro TKL, a keyboard that seamlessly blends sophistication and functionality.
Boasting a sleek and refined chassis, this cutting-edge device showcases an exquisite aluminum alloy top plate that exudes a sense of timeless elegance. Elevating the typing experience to new heights, the Apex Pro TKL is equipped with double-shot PBT keycaps, ensuring exceptional durability and a satisfying tactile feel with every keystroke.
This premium construction guarantees that your keyboard will withstand the test of time, even under the most demanding usage scenarios. At the heart of this remarkable keyboard lies SteelSeries' latest innovation – the OmniPoint 2.0 linear optical switches. These state-of-the-art switches offer an unparalleled level of responsiveness, allowing for lightning-fast actuation and an incredibly smooth keystroke experience.
With the Apex Pro TKL, you can expect nothing less than optimal precision and unrivaled performance. In conclusion, the 2022 redesign of the Apex Pro TKL is a testament to SteelSeries' commitment to delivering excellence in both form and function. With its refined aesthetics, durable construction, and cutting-edge technology, this keyboard is poised to revolutionize your typing experience. Prepare to embark on a journey of unparalleled productivity and unriv
Optical switches, although they possess mechanical components, should not be confused with traditional mechanical switches. Optical switches, as their name suggests, are activated through the utilization of light, whereas mechanical switches, on the other hand, rely on physical force to initiate their operation. While the typing experience may not be ideal, there is good news for gamers – optical switches offer a faster performance compared to mechanical switches.
The Apex Pro TKL Wireless boasts the remarkable OmniPoint 2.0 switches, a true game-changer in the world of mechanical keyboards. These switches not only provide adjustable actuation with an impressive range of 37 levels but also introduce the innovative concept of dual-action actuation. With this groundbreaking feature, users have the power to assign two distinct actions to a single key, each with its own unique actuation level. This unprecedented level of customization opens up a world of possibilities, allowing for unparalleled efficiency and precision in every keystroke.
Specification:
| | |
| --- | --- |
| Brand | SteelSeries |
| Compatible Devices | Gaming Console |
| Connectivity Technology | Bluetooth, USB-C |
| Keyboard Description | Gaming |
| Recommended Uses For Product | Gaming |
| Special Feature | Gaming |
| Color | Black |
| Number of Keys | 104 |
Reasons To Buy

Reasons To Avoid

+

Highly customizable

–

Expensive

+

Soft-touch magnetic wrist rest

–

Feels hastily launched
+

Attractive but a little generic-looking

—
4.

Logitech G915
Best Low-Profile Gaming Keyboard
For those seeking the perfect blend of speed and sleekness, look no further than the Logitech G915 Lightspeed – the ultimate gaming keyboard that reigns supreme in its category. With its low-profile mechanical switches, this remarkable keyboard offers an unparalleled level of swiftness and elegance, making it a top choice for discerning gamers. Indulge in an unparalleled gaming experience that exudes nothing but the utmost quality.
The keyboard boasts a convenient row of G macro keys, strategically positioned to enhance your gaming experience during intense battles. Additionally, it offers dedicated media controls, including a remarkable volume wheel roller, allowing you to effortlessly adjust audio settings. Moreover, this exceptional keyboard provides you with multiple connectivity options, ensuring seamless integration with your preferred devices.
There are a few options available to you when it comes to choosing a reliable connection for your keyboard. One option is to go with the tried-and-true wired connection, which ensures a stable and consistent performance. Alternatively, you can opt for Logitech's reliable dongle connection, which offers a seamless and hassle-free experience. Another convenient feature is the keyboard's built-in compartment, where you can conveniently store the dongle and utilize the Bluetooth connection.
This allows for greater flexibility and freedom of movement while maintaining a reliable connection. Additionally, this feature enhances the convenience of connecting to multiple devices.
The G915 Lightspeed has garnered significant acclaim and widespread recognition, albeit at a substantial cost. Unfortunately, this particular keyboard lacks some key features that many users may find essential. Firstly, it does not come equipped with a wrist rest, which can be a significant drawback for those seeking ergonomic support during extended typing sessions.
Additionally, the absence of a USB passthrough means that users will not have the convenience of easily connecting other devices directly to their keyboard. Lastly, the keycaps on this keyboard do not possess the desirable quality of being resistant to smudging, which can be a concern for individuals who prioritize cleanliness and maintenance.
Specification:
| | |
| --- | --- |
| Brand | Logitech G |
| Compatible Devices | Gaming Console |
| Connectivity Technology | HDMI |
| Keyboard Description | Mechanical, Gaming |
| Recommended Uses For Product | Gaming |
| Color | Black |
Reasons To Buy

Reasons To Avoid

+

Good for gaming and typing alike

–

Keys show marks easily

+

Beautiful slim design

–

No wrist rest
5.

Patriot Viper V765
Best Budget Keyboard
Patriot Viper V765  has earned a notable reputation in the tech industry, primarily for its exceptional RAM and storage solutions. However, the Viper V765 peripheral stands out as a remarkable addition to their product lineup. Boasting an unparalleled tactile experience, this keyboard offers a level of key feel that is truly unmatched.
Moreover, it comes in an aesthetically pleasing design that is both alluring and reasonably priced. The Patriot Viper V765, despite the passage of time, continues to stand as a commendable choice for budget-conscious consumers seeking a keyboard that offers an abundance of features and capabilities. This particular keyboard stands out from the rest due to its inclusion of the highly sought-after Kailh Box White switches.
These switches offer a faster actuation time compared to the more common Blue or Green switches, thanks to their slightly reduced travel distance of 3.6mm, as opposed to the standard 4mm. The keys on this particular device have been meticulously designed and rigorously tested to offer an unparalleled level of responsiveness. In fact, we dare say that they are among the most responsive keys available in the market today. Not only do they provide a seamless typing experience, but they also emit a delightful click sound that is sure to please even the most discerning users. It is safe to say that you would be hard-pressed to find a more satisfying auditory feedback from any other keyboard out there.
With the inclusion of Kailh Box White switches, the Viper V765 effortlessly showcases its undeniable appeal. However, this exceptional gaming keyboard has an array of other remarkable features that further solidify its worthiness of consideration. The full-sized keyboard boasts a sleek and modern design, featuring an exquisite aluminum surface adorned with elegantly tapered edges.
This carefully crafted aesthetic lends a touch of futurism, making it a visually captivating addition to any workspace. Experience a mesmerizing display of vibrant RGB keys that will leave you in awe. With dozens of different light combinations at your fingertips, you'll be able to create a truly unique and immersive lighting experience.
The best part? You don't even need to go through the hassle of installing software to access most of the dazzling RGB effects. In addition to its impressive array of features, the keyboard also boasts the inclusion of media keys, a characteristic typically found on higher-end models. Furthermore, it offers the added benefit of IP56 water and dust resistance, ensuring durability and longevity.
Specification:
| | |
| --- | --- |
| Brand | Patriot Memory |
| Compatible Devices | Gaming Console |
| Keyboard Description | Gaming |
| Special Feature | Lighting |
| Color | White Switch |
| Number of Keys | 104 |
Reasons To Buy

Reasons To Avoid

+

Fantastic white switches

–

Feet are a little short

+

Great price

–

Hard palm rest
+

Sleek aluminum design

—
FAQs – Best Gaming keyboard 2023
Q: What is the difference between mechanical and membrane gaming keyboards?
A: Mechanical keyboards feature individual switches for each key, offering tactile feedback and audible clicks. Membrane keyboards use pressure pads beneath the keys for quieter operation and are often more budget-friendly.
Q: How important is RGB lighting in a gaming keyboard?
A: RGB lighting adds aesthetic appeal and personalization to your setup. It can also enhance visibility in dim lighting conditions, allowing you to customize colors and effects to match your gaming ambiance.
Q: What does N-Key rollover and anti-ghosting mean?
A: N-Key rollover ensures accurate recognition of multiple simultaneous key presses, while anti-ghosting prevents missed key inputs during intense gaming sessions, ensuring precise commands are registered.
Q: Can I use a gaming keyboard for tasks beyond gaming?
A: Absolutely, gaming keyboards can be used for various tasks beyond gaming. Their customizable macros, media controls, and comfortable design make them versatile for everyday computing as well.
Q: What are the advantages of wireless gaming keyboards?
A: Wireless gaming keyboards offer freedom of movement and reduced cable clutter. Advanced wireless technology ensures minimal latency, making them suitable for both gaming and productivity tasks.
Q: Is there a specific switch type that's best for gaming?
A: The choice of switch type depends on personal preference. Some gamers prefer the tactile feedback and audible clicks of mechanical switches, while others opt for quieter membrane switches.
Q: Do gaming keyboards work with all gaming platforms?
A: Most gaming keyboards are designed to work across various platforms, including PC, Mac, and gaming consoles. However, it's essential to check compatibility before purchasing.
Q: Are mechanical gaming keyboards noisy?
A: Mechanical keyboards can be noisier than membrane keyboards due to their audible clicks. However, some mechanical switches are designed to be quieter, catering to gamers who prefer a quieter typing experience.
Q: What are macro keys, and how can they enhance gameplay?
A: Macro keys are programmable keys that allow you to assign complex commands or series of actions to a single key press. They streamline gameplay by reducing the need for multiple key combinations.
Q: Are gaming keyboards suitable for professional work tasks?
A: Gaming keyboards with customizable macros and comfortable design can be used for professional tasks, enhancing productivity. However, some prefer traditional keyboards for extensive typing.
Q: Is it worth investing in a high-end gaming keyboard?
A: Investing in a high-quality gaming keyboard can provide long-term value in terms of durability, performance, and comfort. It's essential to consider your gaming habits and preferences before making a decision.
Q: How can I ensure my gaming keyboard's longevity?
A: Regular maintenance, keeping the keyboard clean, and avoiding liquid spills are crucial for prolonging your gaming keyboard's lifespan. Additionally, investing in a keyboard with durable construction enhances longevity.
---
Conclusion
In the realm of gaming, the year 2023 introduces a captivating array of gaming keyboards, each catering to distinct preferences and styles. Navigating this landscape involves understanding the nuances of switch types, customization, lighting, and more. Armed with this knowledge, you're poised to choose a gaming keyboard that seamlessly complements your gaming endeavors and elevates your overall experience.
Read more about