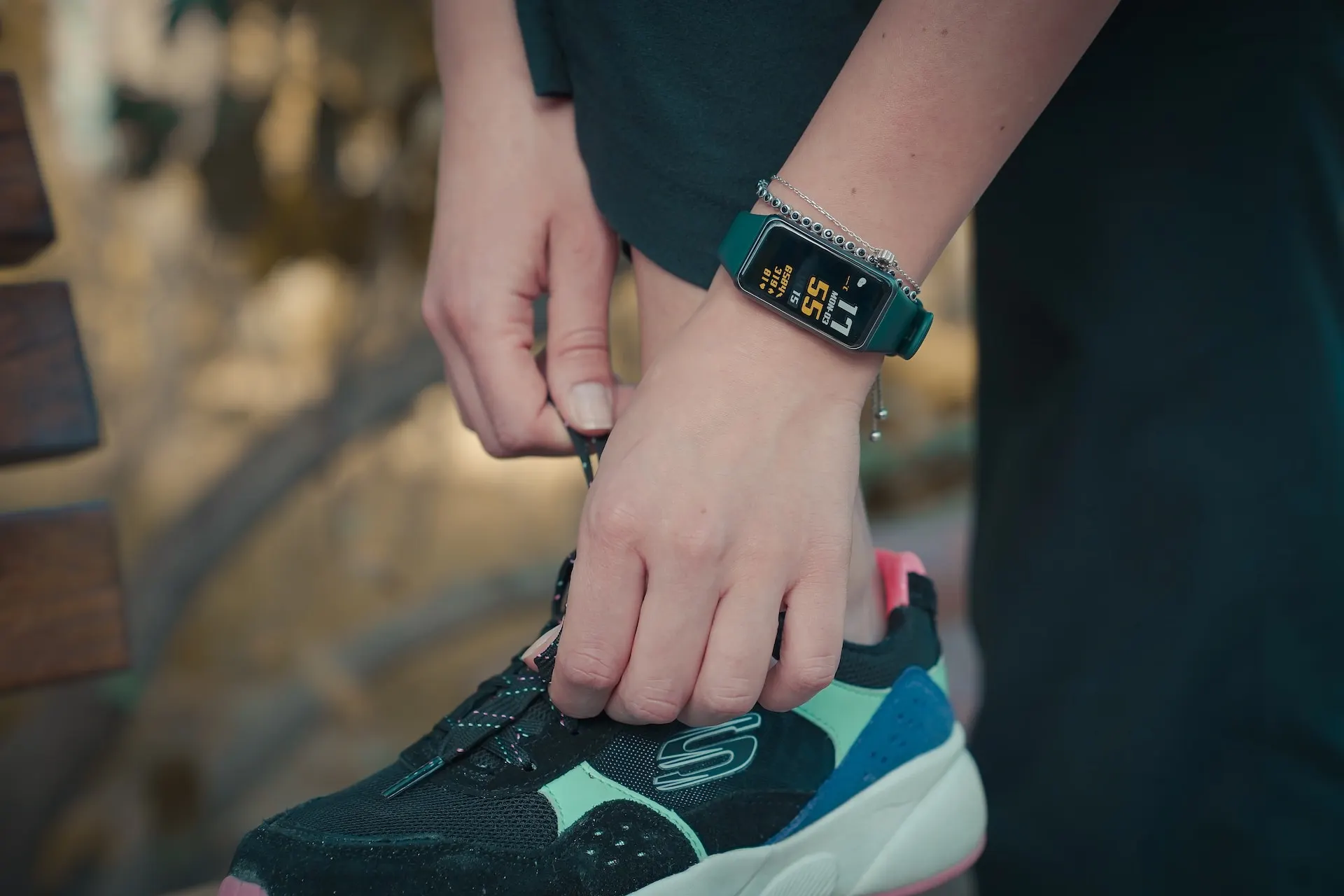 If you find yourself on a budget but still desire a convenient and cost-effective means of monitoring your workouts, walks, and overall health metrics, look no further than the Best Cheap Fitness Trackers. These remarkable devices offer a seamless and affordable solution to help you stay on top of your fitness goals without breaking the bank. In the realm of fitness trackers, a plethora of cutting-edge devices reign supreme, catering to the needs of seasoned fitness enthusiasts and individuals with specific fitness objectives.
However, it is worth noting that these top-tier fitness trackers often come with a higher price tag, reflecting their advanced features and capabilities. If you are seeking a more streamlined solution to monitor your progress in the couch-to-5K program or to ensure that you consistently achieve your daily goal of 10,000 steps, then opting for one of the finest affordable fitness trackers would be an excellent decision.
Types of Cheap Fitness Trackers Available
In 2023, the market for fitness trackers offers a variety of budget-friendly options to help individuals track their health and wellness goals without breaking the bank. Here are some types of cheap fitness trackers available:
These entry-level fitness trackers focus on counting steps, estimating distance, and calculating calories burned. They often lack advanced features like heart rate monitoring and GPS tracking but offer a cost-effective solution for those seeking basic activity data.
Budget-friendly heart rate monitors provide a simple yet valuable feature for tracking heart rate during workouts and daily activities. While they might not have the advanced functionalities of more expensive models, they provide a cost-effective way to monitor fitness intensity.
Pedometers are compact devices that specifically count the number of steps taken. These simple trackers are ideal for individuals primarily interested in measuring their daily step count and encouraging more physical activity.
Cheap sleep trackers focus on monitoring sleep patterns, including sleep duration and quality. They often provide insights into sleep stages and may offer features like silent alarms to wake users up gently.
These trackers focus on estimating calorie expenditure throughout the day based on activity levels and personal data. While not as advanced as high-end options, they provide a basic understanding of energy expenditure.
Clip-on fitness trackers can be attached to clothing or accessories, making them discreet and easy to use. They typically offer step counting and basic activity tracking features.
Smartphone-Connected Trackers:
Some affordable fitness trackers can sync with smartphone apps to provide more comprehensive insights into daily activity and health metrics. They often offer additional features such as goal setting and progress tracking.
Budget GPS trackers provide basic location tracking for outdoor activities like running or cycling. While they might lack advanced mapping features, they can still be valuable for tracking distance and route information.
Certain inexpensive fitness trackers cater to specific sports like swimming, cycling, or running. They offer targeted tracking metrics relevant to the chosen activity without the need for more extensive features.
Wearable clip-on trackers can be attached to clothing, shoes, or accessories, offering convenience and flexibility in tracking various activities without the need for a wristband-style device.
What To Look For While Buying The Best Cheap Fitness Trackers
When considering the best cheap fitness tracker for your needs in 2023, several key factors should be taken into account to ensure you're getting a reliable and valuable device:
Look for essential tracking features that align with your fitness goals. Ensure the fitness tracker can monitor steps, distance, calories burned, and active minutes as a baseline.
If possible, opt for a budget tracker with heart rate monitoring functionality. This feature provides insights into your workout intensity and overall cardiovascular health.
Sleep tracking offers valuable insights into your sleep patterns and quality. Look for a tracker that can monitor your sleep duration and provide details about different sleep stages.
Check if the fitness tracker is compatible with your smartphone's operating system. Compatibility ensures seamless synchronization of data and allows you to access additional features through dedicated apps.
The accompanying app plays a crucial role in interpreting and presenting your fitness data. Choose a tracker with a user-friendly app that provides clear insights and easy navigation.
Consider the battery life of the tracker. A longer battery life means fewer interruptions for charging, ensuring you can consistently track your activity.
A comfortable and lightweight design is essential, especially if you plan to wear the tracker throughout the day. Look for a design that suits your style and is comfortable for extended wear.
Decide if you prefer a tracker with a display screen or one that relies on smartphone notifications. A display can provide real-time information, while notification-based trackers might offer a more minimalist design.
If you engage in water-related activities or prefer to keep the tracker on while showering, choose a model with at least basic water resistance to protect against sweat and splashes.
While budget-friendly, some trackers offer extra features such as smartphone notifications, GPS tracking, or workout modes. Evaluate whether these additional features align with your needs.
Research user reviews and ratings to gain insights into the tracker's performance, accuracy, and durability. User feedback can provide valuable information about real-world experiences.
Check if the tracker comes with a warranty and reliable customer support. A warranty ensures you're covered in case of defects or issues with the device..
Top Best Cheap Fitness Trackers
1.

Xiaomi Mi Smart Band 6
Best Cheap Health and Wellness Tracker

The Xiaomi Mi Smart Band 6, part of Xiaomi's impressive range of affordable fitness trackers, boasts an array of remarkable features typically associated with higher-priced counterparts. This exceptional device offers exceptional value for its cost-conscious users. The AMOLED touchscreen of this device is known for its exceptional brightness, vibrant colors, and impressive responsiveness.
In addition to its array of standard activity and heart rate tracking features, this remarkable device also boasts stress monitoring capabilities and a cutting-edge pulse-ox sensor, enabling users to effortlessly measure their blood oxygen saturation levels.
One notable drawback of this product is its absence of built-in GPS functionality. Utilizing the built-in GPS receiver of your smartphone, this innovative application has the capability to accurately track your runs and various outdoor cardio sessions.
Specification:
| | |
| --- | --- |
| Brand | Xiaomi |
| Model Name | Mi Band 6 |
| Style | Sport |
| Color | Black |
| Screen Size | 1.56 Inches |
Reasons To Buy

Reasons To Avoid

+

Lightweight

–

No on-board GPS

+

Excellent display

–

Occasional data inaccuracies
2.

Fitbit Inspire 3
The Best Cheap Fitness Tracker
The Fitbit Inspire 3 emerges as a top contender in the realm of affordable fitness trackers, owing to its exceptional performance in key areas. With its robust heart rate-monitoring capabilities, precise workout-tracking functionality, and comprehensive sleep stage logging, this device truly excels at delivering the fundamental features that fitness enthusiasts seek. While the absence of a built-in GPS may be somewhat underwhelming, the Inspire 3 manages to compensate for this limitation by offering a plethora of other remarkable features.
Although it relies on your phone's GPS for location tracking, the device's true value lies in its ability to tap into Fitbit's vibrant and motivational community. This community serves as a source of inspiration for individuals striving to achieve and maintain their fitness goals. Engaging in challenges presents an exciting opportunity to surpass the performance of not only your friends and colleagues but also individuals you may not be acquainted with.
The Fitbit Inspire 3 offers a range of impressive features that are sure to enhance your fitness journey. One notable addition is the Active Zone Minutes metric, which allows you to track your activity levels with precision. With a remarkable battery life of up to 10 days, you can rely on this device to keep up with your active lifestyle without the need for frequent recharging. The convenience of touch controls further elevates the user experience, making navigation effortless and intuitive.
However, the most significant upgrade from its predecessor is undoubtedly the inclusion of a vibrant AMOLED screen, which not only enhances visibility but also adds a touch of elegance to the overall design. The Fitbit unit itself is exclusively offered in a sleek black hue, exuding a sense of timeless elegance. However, to cater to diverse style preferences, it is thoughtfully bundled with three distinct band colors: the classic black, the charming lilac, and the vibrant morning glow. This allows users to effortlessly personalize their Fitbit to match their unique fashion sensibilities. The wristband is available in two convenient sizes: small and large.
Specification:
| | |
| --- | --- |
| Brand | Fitbit |
| Model Name | Inspire 3 |
| Style | Minimalist |
| Color | Black/Midnight Zen |
| Special Feature | Heart Rate Monitor |
Reasons To Buy

Reasons To Avoid

+

Bright AMOLED screen

–

Small screen won't be for everyone

+

Lightweight

–

No on-board GPS
+

Excellent battery life

—
3. 

Amazfit Bip 5
Best Affordable Fitness Tracker With Great Battery Life
The Amazfit Bip 5, a remarkable fitness watch available at an incredibly affordable price, offers a seamless and efficient user experience. This competent fitness tracker boasts a range of impressive features, including its exceptional battery life that can surpass an impressive 30-day mark on a single charge. With its budget-friendly price tag, the Amazfit Bip 5 proves to be a reliable companion for fitness enthusiasts seeking a cost-effective yet high-performing device.
If you are in search of a sleek and practical wearable device that seamlessly integrates with your smartphone, offers a reliable alarm function to gently rouse you from your slumber, accurately monitors your physical activities using advanced GPS technology, and boasts additional impressive features, then the Bip unquestionably presents a compelling argument for its own merits. In terms of gifting options, this particular product proves to be an exceptional choice for individuals seeking an affordable yet delightful fitness device. With its straightforward configuration, this particular fitness tech option proves to be an excellent selection for individuals who are new to the world of fitness technology.
Specification:
| | |
| --- | --- |
| Brand | Amazfit |
| Model Name | Bip 5 |
| Compatibility | iOS and Android |
| Battery | 45 days |
| Charging method | Proprietary wired |
Reasons To Buy

Reasons To Avoid

+

Incredible value

–

Awkward UI

+

Nice design

–

Light on supported workouts
+

Good app

—
4.

Garmin vivosmart 5
Cheapest and Most Reliable Fitness Tracker
Garmin, the renowned manufacturer of exceptional adventure watches, offers a diverse range of products that extends beyond their impressive timepieces. In addition to their remarkable collection of large-scale adventure watches, Garmin also caters to fitness enthusiasts with their selection of compact fitness trackers. These sleek and stylish devices are designed to seamlessly integrate into your active lifestyle without breaking the bank. One standout option among fitness trackers is the Garmin Vivosmart 5. This compact device offers a multitude of features that extend beyond mere step counting.
The Vivosmart 5 boasts a cutting-edge monochrome OLED display, which has been thoughtfully designed to be 66% larger than the display found on its predecessor. The enhanced readability of messages on the watch is a notable advantage. Unlike its predecessor, the Vivosmart 4, the current model allows text to smoothly scroll across the screen, eliminating the inconvenience of truncated messages. Moreover, users have the convenience of viewing a minimum of three statistics simultaneously on their screen.
Experience the ultimate in fitness tracking with the Vivosmart 5. This cutting-edge device offers a plethora of impressive features that will take your workouts to the next level. With GPS tracking powered by your smartphone, you can effortlessly keep tabs on your routes and distances, ensuring you never miss a beat. Additionally, the Vivosmart 5 boasts advanced blood oxygen monitoring capabilities, allowing you to gain valuable insights into your body's oxygen saturation levels.
The product in question boasts a remarkable lightweight design that ensures utmost comfort even during your slumber. Not only does it provide a seamless sleeping experience, but it also offers invaluable insights into your sleep patterns, allowing you to gain a comprehensive understanding of your restorative rest. Similar to many of the high-end Garmin watches, this exceptional timepiece also offers the remarkable feature of providing you with a body battery score upon awakening. This score is meticulously calculated by taking into consideration your activity levels from the previous day as well as the quality of your sleep.
Specification:
| | |
| --- | --- |
| Brand | Garmin |
| Model Name | vívosmart 5 |
| Style | Fitness Tracker |
| Color | Black |
| Screen Size | 0.84 Inches |
Reasons To Buy

Reasons To Avoid

+

Good sleep tracking

–

No built-in GPS

+

Lightweight design

–

A little fiddly to use
+

Comprehensive app

—
5.

WHOOP 4.0
Best Fitness Tracker Subscription
The Whoop 4.0 may not cater to everyone's needs due to its lack of a screen and built-in GPS. If you're seeking a tracker solely for monitoring your daily runs or bike rides, it might be advisable to explore other options. With regards to obtaining genuine understanding of your heart rate and recovery data, the Whoop certainly meets all the necessary criteria.
Similar to other fitness technology products, the value of the Whoop 4.0 lies in its utilization. However, if you are seeking to elevate your training regimen with comprehensive data or aiming to develop a more intuitive approach to exercise following a series of overtraining injuries, this device stands out as one of the most cutting-edge trackers available in the market.
Specification:
| | |
| --- | --- |
| Brand | WHOOP |
| Style | WHOOP 4.0 + SuperKnit Band, Heather |
| Special Feature | Activity Tracker |
| Age Range | Adult |
Reasons To Buy

Reasons To Avoid

+

Eight dedicated macro keys

–

ABS keycaps may not last long

+

8,000 Hz max polling rate

–

Macro keys disabled by default
+

Programmable multi-function

—
FAQs – Best Cheap Fitness Trackers
Q: Are cheap fitness trackers accurate in tracking activity?
A: While budget fitness trackers might not offer the same level of accuracy as high-end models, they can still provide reasonably accurate estimates of steps, distance, and calories burned.
Q: Can I track my heart rate with a budget fitness tracker?
A: Some affordable fitness trackers offer basic heart rate monitoring functionality. However, the accuracy of heart rate readings may vary compared to more advanced devices.
Q: Do cheap fitness trackers offer sleep-tracking features?
A: Yes, many budget fitness trackers include sleep-tracking features that monitor sleep duration and patterns, providing insights into your sleep quality.
Q: Are cheap fitness trackers water-resistant?
A: Many budget fitness trackers come with basic water resistance, making them suitable for sweat and light splashes. However, they may not be suitable for swimming or submersion in water.
Q: How do I sync the data from my cheap fitness tracker?
A: Most budget fitness trackers sync data with a dedicated smartphone app via Bluetooth. Simply download the app, pair the tracker with your phone, and follow the app's instructions.
Q: Can I receive smartphone notifications on a cheap fitness tracker?
A: Some inexpensive fitness trackers can display basic smartphone notifications, such as calls and texts. However, the functionality may be limited compared to higher-end smartwatches.
Q: How long does the battery of a cheap fitness tracker last?
A: Battery life varies among different models. Many budget fitness trackers offer battery life ranging from a few days to a week, depending on usage and features.
Q: Do budget fitness trackers have GPS functionality?
A: Most cheap fitness trackers do not have built-in GPS. However, some models can use connected GPS from your smartphone to track outdoor activities like running or cycling.
Q: Can I replace the bands on a budget fitness tracker?
A: Many budget fitness trackers allow you to replace the bands with compatible third-party options. This allows for customization and personalization of the tracker's appearance.
Q: Are there any specific apps I need to use with cheap fitness trackers?
A: Budget fitness trackers typically come with dedicated apps that you can download from app stores. These apps provide data visualization, goal tracking, and additional features.
Q: Can I wear a cheap fitness tracker while swimming or showering?
A: Some budget fitness trackers offer basic water resistance, allowing you to wear them during light water activities or showers. However, verify the level of water resistance before submerging the tracker.
Q: Are there any limitations to cheap fitness trackers compared to expensive ones?
A: Cheap fitness trackers may lack advanced features such as built-in GPS, advanced heart rate monitoring, and extensive smartwatch functionalities. However, they still offer valuable activity and health insights at an affordable price point.
---
Conclusion
In the realm of health and fitness tracking, budget-friendly options in the form of cheap fitness trackers hold a valuable place. These accessible devices offer essential activity insights, basic health monitoring, and user-friendly features, making them a practical choice for individuals seeking to embark on their wellness journey without straining their budget. With these affordable companions, users can take confident steps towards healthier lifestyles.
Read more about