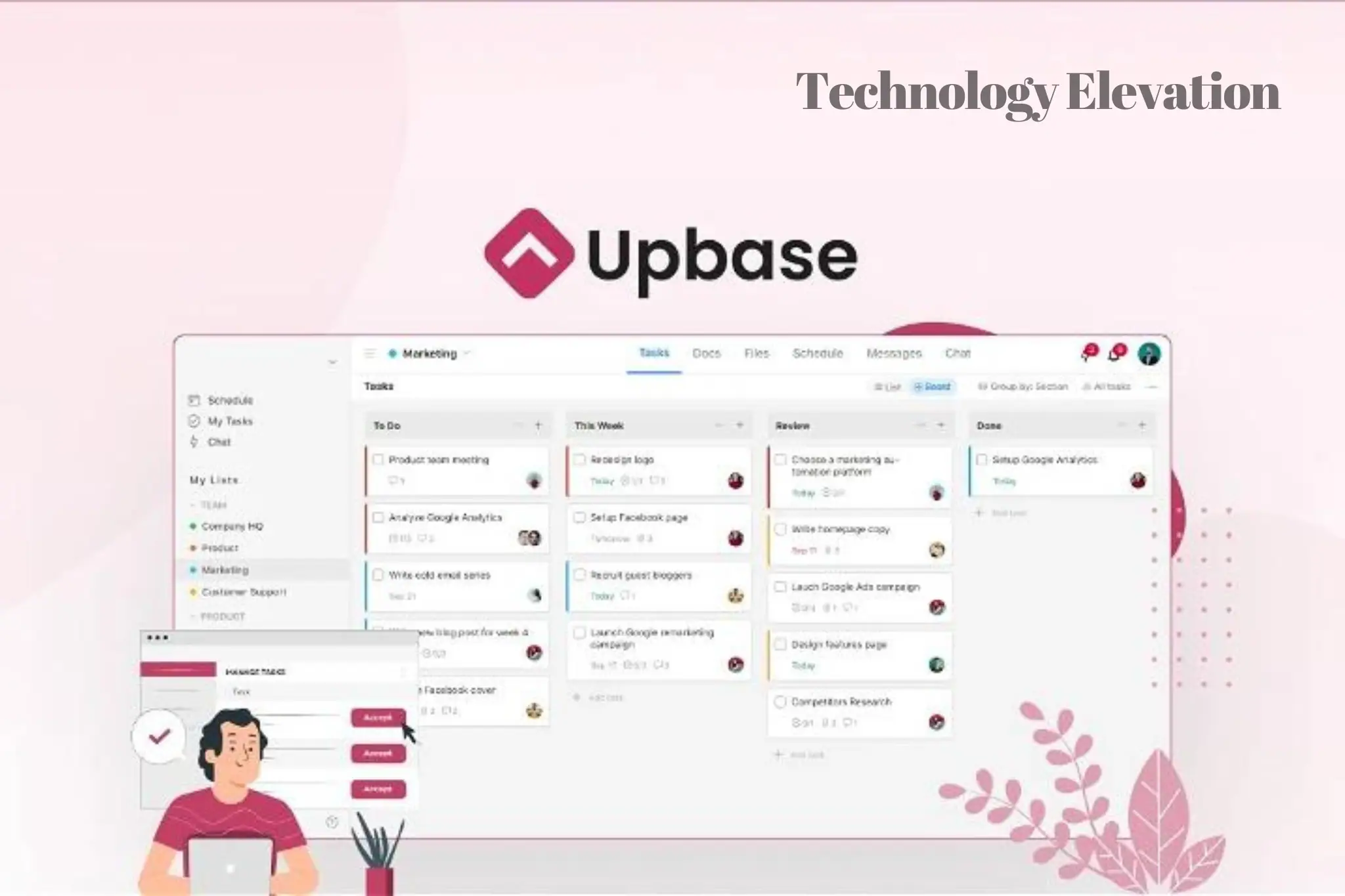 Upbase Review, Features, Price, and More.
Upbase is an all-in-one project management application designed with individuals and small teams in mind.
What distinguishes Upbase from the vast array of project management software available might be something you're pondering.
powerful simplicity
Upbase keeps things straightforward, focusing on what really matters while giving a variety of capabilities, in contrast to other complex tools with challenging learning curves and superfluous functionality.
Additionally, This Tool offers a number of tools specifically designed to increase individual productivity, including the Daily Planner, Daily Notes, Pomodoro Timer, and Time Blocking. Instead of merely managing chores, these technologies assist you in maintaining concentration and completing projects.
Let's examine the Daily Planner, one of Upbase's distinctive features.
You have access to five tools that are specifically designed to increase your productivity on this page alone, including Daily Notes, Notepad, Pomodoro Timer, My Tasks, and Calendar, all in one location.
Organization and planning are made simple by the ability to drag and drop tasks to time-block your calendar on the Calendar.
A simple and easy-to-use platform for managing your work all at once
All the resources required by your team, without the complication.
Upbase Overview
⭐ Best For:
🔗 Integrations:
⇆ Alternatives:
Quick Upbase Review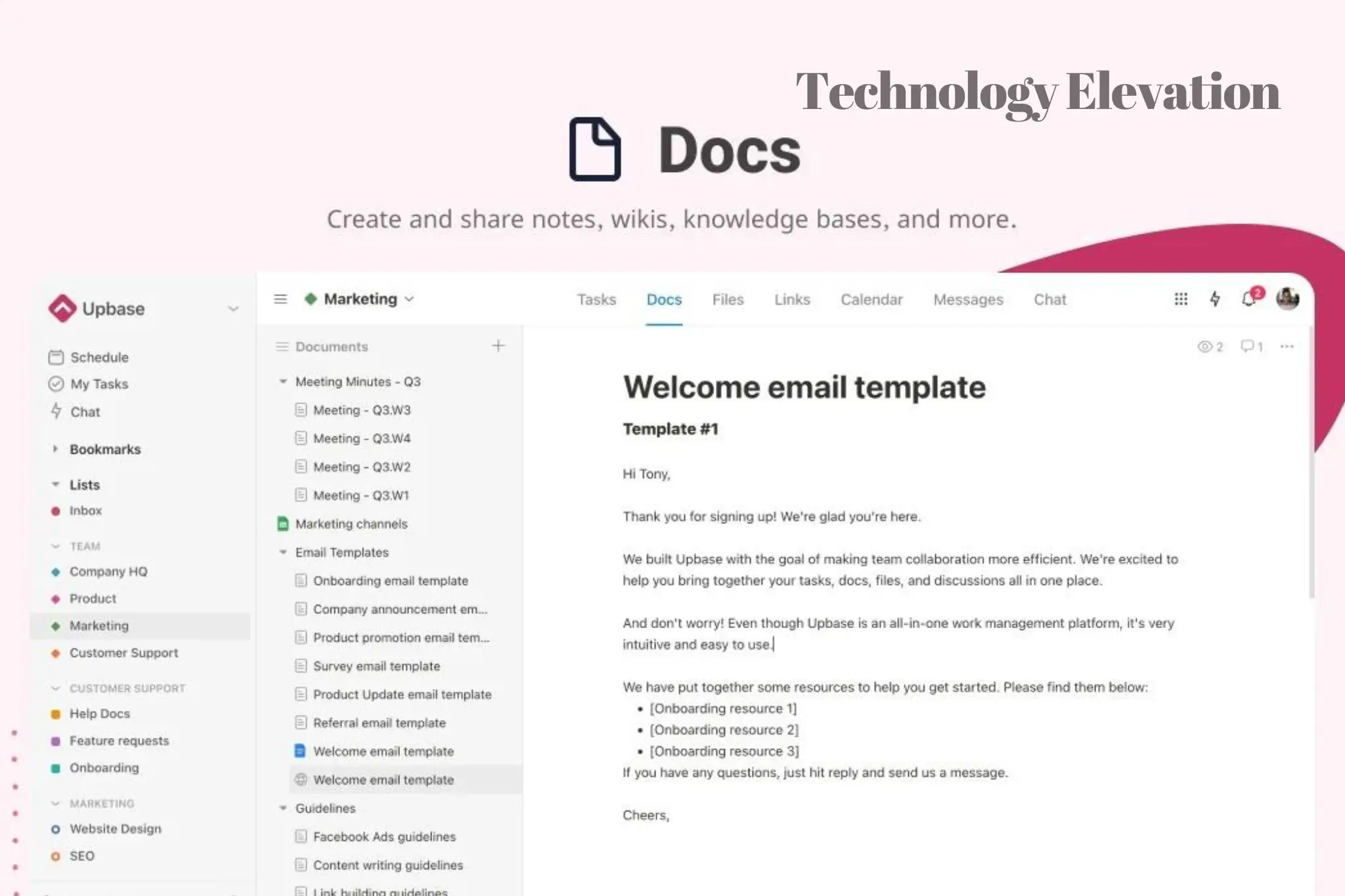 Every project can be divided into parts, tasks, and subtasks with Upbase for simple management. Additionally, you can organize your tasks into folders to receive a comprehensive perspective of all your work.
Additionally, tags such as urgent, in progress, waiting, approved, and more can be used to provide context for each work.
You'll understand immediately who is doing what and by when thanks to the simple, uncluttered UI.
You can view tasks across many projects that have been assigned to you or any team member using the Members page.
Since each project is unique, Upbase allows you to toggle project features on and off as necessary to ensure that you have the tools you require without the extraneous clutter of features. For your individual projects, for instance, you can disable the Messages and Chat modules.
You can keep all of your files and documents organized in one location by storing them directly in Upbase. Google Drive folders can also be embedded for easy access.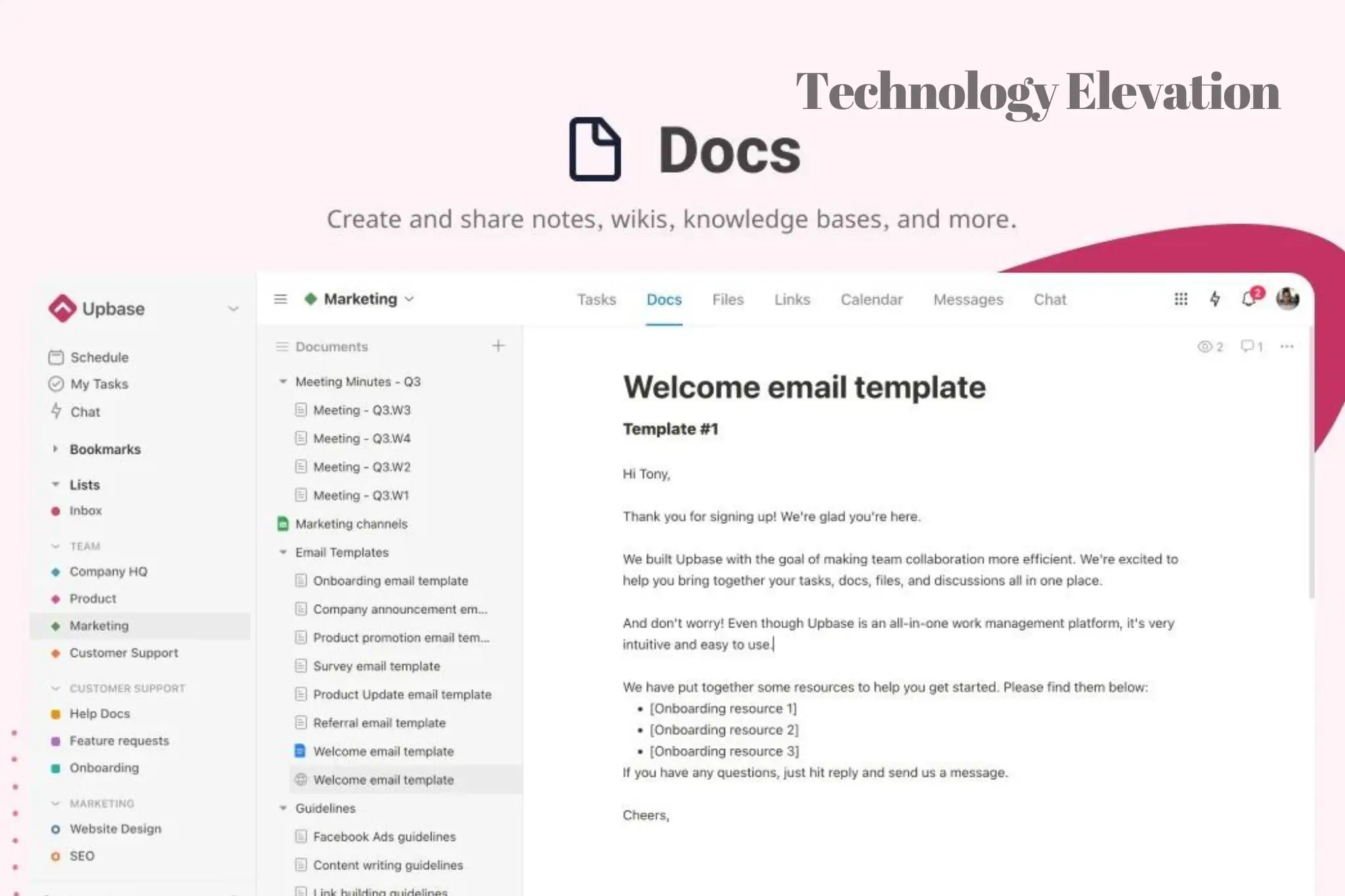 Do you regularly use Google Docs and Google Sheets? For convenient access inside your projects without leaving Upbase, embed them into the Docs area.
You can keep and share relevant links to your projects, including articles, reports, papers, and tools, using the Links feature. Even better, you may remark on each shared link to work with your team on it.
To keep teams informed, structured, and on task, its Messages feature provides a central location for posting messages, updates, and lengthy discussions.
You can work with your team in real-time using the built-in chat tool rather than a different chat program. Each project on Upbase comes with a pre-made chat room, as well as personalized chat channels and one-on-one conversations.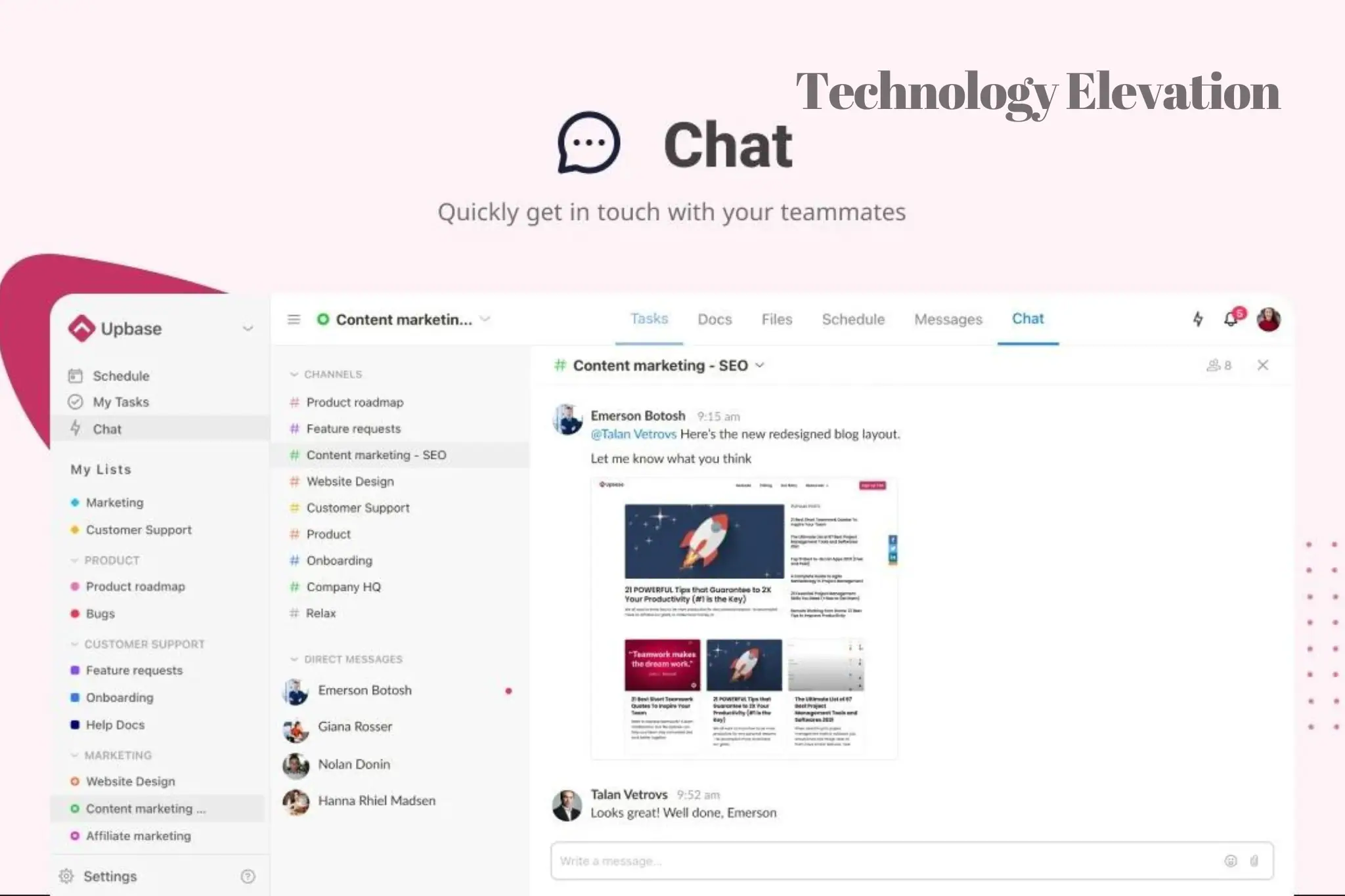 Got customers? We have your back.
We are aware of the difficulties in persuading customers to try a new tool. This is why Upbase is so streamlined and user-friendly, guaranteeing that your clients will adore it right away. Bid adieu to laborious customer onboarding.
You can choose what features of the tool your clients can access and view using the private-by-default strategy. By doing this, you may retain your privacy and just divulge what is required.
Without added complexity or distractions, Upbase gives you all the tools you need to effectively manage your work and collaborate with your team.
Let's use Upbase to boost your productivity and, eventually, your working environment.
Get Upbase lifetime access now!
---
☰.

 A Step-by-Step Guide to Setting Up Upbase for Your Business
Create an account on Upbase.
Making an account is the first step in setting up Upbase for your company. This procedure is simple to understand and to carry out. Simply make a password and sign up using your email address. You can decide whether to sign up for a free trial or choose a pricing option that works for your company. Before deciding on a subscription plan, you can examine the platform's features and functionalities during the free trial.
The next step after creating your account is to set up your team. Your team will work together more effectively and stay on the same page if you invite them to join your Upbase account. According to their duties, such as project managers, developers, designers, or stakeholders, assign roles and permissions.
After assembling your staff, it's time to adjust your process to suit your company's requirements. You can save time by automating repetitive operations and procedures by using project templates. You can record special data related to each task or project by adding custom fields.
Setting up task dependencies will guarantee that jobs are finished in the proper order and stop workflow delays or bottlenecks. By automatically allocating tasks, delivering messages, or modifying statuses based on established parameters, automation rules can help you optimize procedures.
Work Together with Your Team.
Teams may easily collaborate with one another thanks to Upbase's many collaboration capabilities. The platform offers an integrated chat function that allows team members to communicate in real time without leaving the app.
Additionally, comments within tasks or projects can be used for more thorough conversations or stakeholder feedback. For even more collaboration options, Upbase connects with well-known third-party programs like Slack, Trello, Asana, Jira, and GitHub.
Track Progress Using Reports.
Insights into project progress and performance data, such as completion rate, time spent on each job, project, team member, client, project type, and department, are provided by a number of reports that Upbase delivers. You can follow your progress, find bottlenecks, and make informed decisions with the aid of these reports.
Upbase takes security very seriously and offers a number of safeguards to protect your data. To protect data while it is in transit and at rest, the platform employs SSL encryption. For further security, it also features two-factor authentication (2FA).
This Tool also offers role-based access control (RBAC), which lets you limit access to sensitive data based on user roles or permissions. Additionally, you have the option to enable audit logs, which keep a record of all account activity for compliance needs.
Features
. Access to Upbase for life
. Your codes must be used within 60 days after purchase.
. All upcoming Premium Plan revisions
. The deal will be mapped to the new Plan name along with any accompanying revisions if the Plan name changes.
. Stack countless codes
. Each code enables up to five users in an existing workspace to use premium features or create new workplaces.
. Beyond Code 11, scaling will involve 1 workspace and 5 team members.
Get Upbase App:
. List chat, custom channels, and direct messages are available in team chat.
. Embed Google Docs, Google Sheets, and Google Slides
. Calendar, board, and list views
. View the complete history of your chats
. Routine tasks
. Add-on for Chrome
. Invite clients and visitors
. Create your own list of modules.
. Page locks
. Make the mobile app's daily planner view available.
. In lists, links, and bookmarks
Read More About: