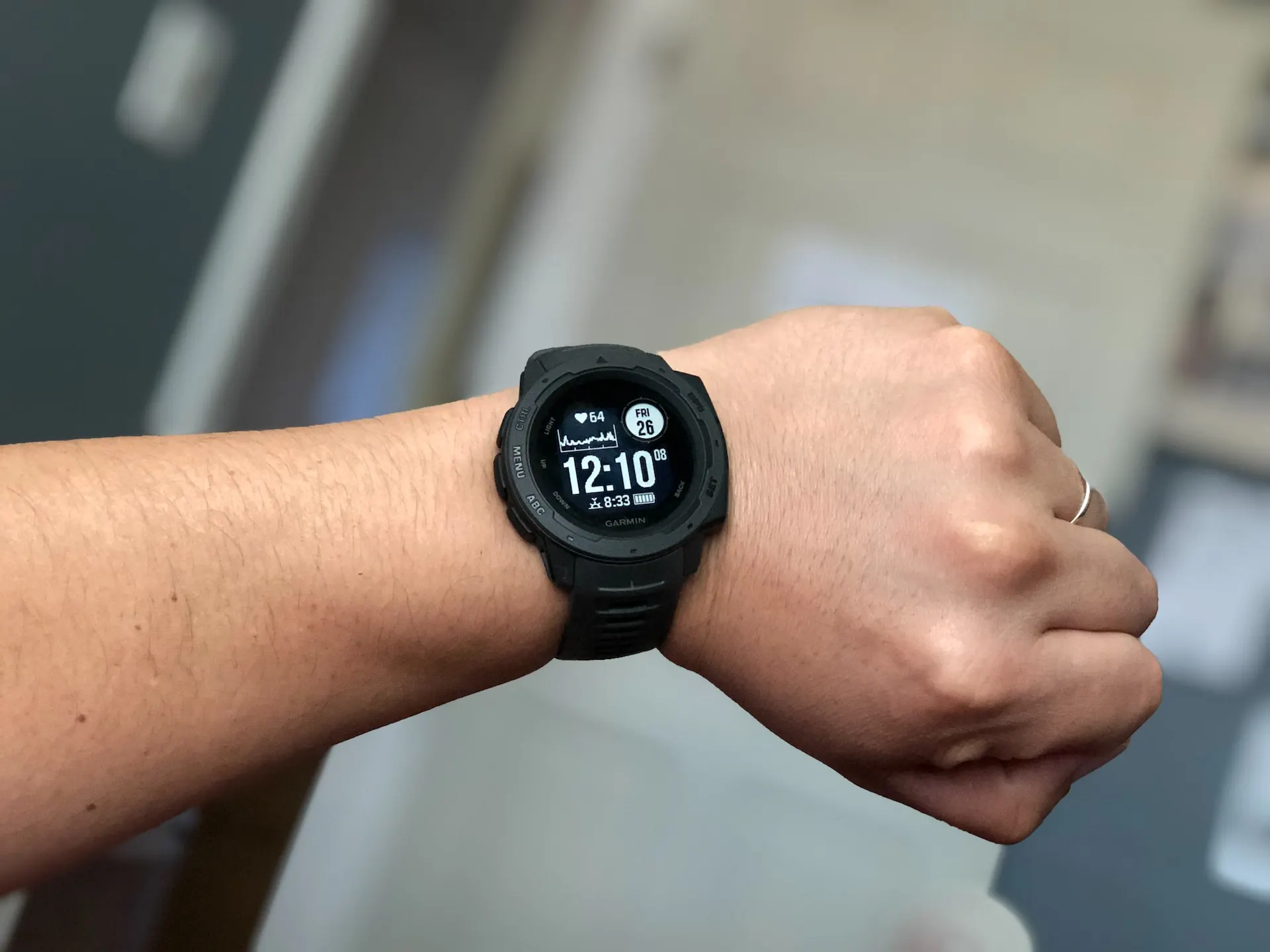 Garmin watches are the ultimate companions for individuals seeking unparalleled performance and reliability during their journeys on the roads, trails, or even in the vast expanse of the sea. These exceptional timepieces have been meticulously crafted to meet the diverse needs of adventurers, athletes, and outdoor enthusiasts alike.
With their cutting-edge features and innovative technology, Garmin watches effortlessly blend style and functionality, ensuring that users can navigate their surroundings with utmost precision and confidence. Whether you're a seasoned athlete pushing your limits or a nature lover exploring uncharted territories, these top-tier Garmin watches are designed to elevate your experience and empower you to conquer any challenge that comes your way.
Whether you're just starting out on your fitness journey, an avid runner, a dedicated triathlete, or a passionate endurance cyclist, a Garmin watch proves to be an invaluable companion. Designed to cater to the needs of runners, cyclists, swimmers, and individuals seeking comprehensive health tracking, this remarkable device seamlessly supports you every step of the way – from conquering your initial 5K to triumphing in your very first marathon.
Types of Best Garmin Watch 2023
In 2023, Garmin offers a diverse lineup of smartwatches designed to cater to various needs and preferences. Here are some types of the best Garmin watches available:
The Garmin Fenix series is known for its rugged design and advanced outdoor features. These watches are suitable for outdoor enthusiasts, hikers, and athletes who require built-in GPS, altimeter, barometer, and robust fitness tracking.
Garmin Forerunner Series:
The Garmin Forerunner series is tailored for runners and athletes. These watches offer advanced running dynamics, GPS tracking, heart rate monitoring, and training features to help users improve their performance.
Garmin Vivoactive Series:
The Garmin Vivoactive series combines fitness tracking with smartwatch features. These watches offer built-in GPS, heart rate monitoring, customizable apps, and smart notifications for those seeking versatility.
The Garmin Venu series focuses on fitness and health with vibrant AMOLED displays. These watches offer advanced health monitoring, GPS tracking, animated workouts, and music storage.
The Garmin Instinct series is designed for outdoor adventurers. These watches offer a rugged build, GPS, heart rate monitoring, and special features like night vision compatibility and solar charging.
The Garmin Legacy series combines classic watch design with modern smart features. These watches offer fitness tracking, smart notifications, and interchangeable bands for a versatile look.
The Garmin Lily series is designed for women with a focus on style and health. These watches offer menstrual cycle tracking, stress tracking, and wellness reminders in a fashionable design.
The Garmin MARQ series is a collection of luxury smartwatches with premium materials and advanced features. These watches cater to athletes, aviators, drivers, and more, with specialized functionalities.
The Garmin Approach series is tailored for golfers. These watches offer golf-related features such as course maps, shot tracking, and swing analysis to enhance the golfing experience.
The Garmin Swim series is designed for swimmers. These watches offer pool swimming metrics, open-water swim tracking, and stroke analysis for those focused on aquatic activities.
Garmin Children's Watches:
Garmin also offers children's watches with fun designs and features to encourage physical activity and healthy habits from a young age.
What To Look For While Buying The Best Garmin Watch 2023
When considering the best Garmin watch to purchase in 2023, several key factors should be taken into account to ensure you select a watch that aligns with your needs and preferences:
Fitness and Activity Tracking Features:
Choose a Garmin watch that offers the fitness and activity tracking features you require. Look for accurate step counting, heart rate monitoring, GPS tracking, sleep analysis, and sport-specific metrics if needed.
Consider your primary activities, whether it's running, swimming, hiking, or general fitness. Select a watch that caters to your specific interests with dedicated features and metrics.
Evaluate the battery life of the Garmin watch. Depending on your usage, choose a watch that offers battery longevity that suits your needs, whether it's for daily wear or extended outdoor activities.
Select a watch with a design and size that suits your style and comfort. Garmin offers a variety of designs, from rugged to elegant, so choose one that matches your preferences.
Display and User Interface:
Consider the type of display (color or monochrome) and the ease of use of the watch's interface. Ensure that the display is easy to read, especially in different lighting conditions.
If you engage in water-related activities, choose a Garmin watch with water resistance suitable for your needs, whether it's for swimming, showering, or other water sports.
Determine whether you need smartwatch functionalities such as smartphone notifications, music control, and app compatibility. These features enhance the versatility of the watch.
Ensure the Garmin watch is compatible with your smartphone's operating system. Check if it supports Bluetooth connectivity for data syncing and app integration.
Set a budget that aligns with your financial considerations. Garmin offers watches at various price points, so you can find one that offers the features you need within your budget.
Advanced Health Monitoring:
If you're interested in health insights beyond basic fitness tracking, look for watches with advanced health monitoring features, such as stress tracking, menstrual cycle tracking, and body energy monitoring.
If GPS accuracy is essential for your outdoor activities, opt for a Garmin watch with built-in GPS or connected GPS for accurate tracking of routes and distances.
User Reviews and Ratings:
Research user reviews and ratings to gain insights into real-world experiences with the Garmin watch you're considering. User feedback can provide valuable information about performance and durability.
Top 6 Best Garmin Watch 2023
1. 

Garmin Venu 2
The Best Garmin Watch Overall


The Garmin Venu 2 effortlessly achieves a delicate equilibrium, seamlessly merging the functionalities of a smartwatch and a sports watch, thereby presenting users with the ultimate amalgamation of features from both realms. The design of this remarkable timepiece is tastefully understated, exuding an air of sophistication that sets it apart from typical sports watches.
However, do not be deceived by its unassuming appearance, for it conceals a treasure trove of cutting-edge training tools that are sure to leave fitness enthusiasts in awe. Equipped with a highly accurate GPS system, this watch ensures precise tracking of your every move, allowing you to navigate your training sessions with utmost confidence. Moreover, it grants you swift access to the esteemed Garmin Coach training plans, empowering you to embark on a journey of self-improvement under the guidance of seasoned professionals.
With its sensitive heart rate monitoring capabilities, this remarkable timepiece keeps a vigilant eye on your cardiovascular health, ensuring that you remain in the optimal zone for achieving your fitness goals. Additionally, it provides you with invaluable insights into your cadence and splits, enabling you to fine-tune your performance and push your limits like never before.
In the realm of smartwatches, users can delight in the presence of a generous onboard storage capacity, capable of accommodating up to 650 melodious tunes. Furthermore, the device offers seamless integration with esteemed third-party music applications such as Deezer and Amazon Music, granting users an extensive library of musical delights at their fingertips.
Experience the convenience of effortlessly accessing your daily schedule with just a glance. Stay informed about your heart rate, water intake, and stress levels, ensuring you prioritize your well-being. Seamlessly track and log any period symptoms, empowering you to take control of your health. Stay connected with the world around you by receiving smartphone notifications and effortlessly sending replies. Unlock a world of possibilities and so much more with our exceptional features.
The incredible capabilities of the device are made possible thanks to its cutting-edge super high-resolution AMOLED display. With its three brightness settings and an optional always-on mode, users can effortlessly access a vast amount of data without the need to retrieve their phone. This feature allows for a seamless and convenient user experience, providing a quick glance at essential information. The Garmin Venu 2 is an exceptional all-purpose watch that comes with high recommendations.
Specification:
| | |
| --- | --- |
| Brand | Garmin |
| Model Name | Venu 2, Blue Granite + Passivated |
| Style | Venu 2 |
| Color | Silver Bezel with Granite Blue Case and Band |
| Screen Size | 1.3 Inches |
Reasons To Buy

Reasons To Avoid

+

Available in two sizes

–

Limited app support

+

Superb AMOLED display

—

+

Also available with a microphone

—
2.

Garmin Forerunner 265
Best All-Round Garmin Watch

The Garmin Forerunner 265, the newest addition to Garmin's lineup of mid-level running watches, has taken over the reins from its predecessor, the Forerunner 255. Garmin has implemented a series of notable enhancements to their latest watch model, with a particular focus on the screen.
The screen has undergone a remarkable transformation, now boasting a brilliantly vivid AMOLED touchscreen. This upgrade not only enhances the overall visual experience but also adds a touch of sophistication to the device.
The Garmin Forerunner 265 is available in two distinct sizes, each offering its own unique display specifications. The first variant boasts a 1.3-inch screen, featuring a remarkable resolution of 416 x 416 pixels. On the other hand, the second variant, known as the Garmin Forerunner 265S, showcases a slightly smaller 1.1-inch display, accompanied by a resolution of 360 x 360 pixels. Prepare to be amazed by the remarkable brightness of this petite timepiece, which effortlessly outshines even the most intense rays of sunlight.
An exceptional timepiece tailored specifically for avid runners – a remarkable watch that boasts an impressive array of training tools comparable to those found in higher-end models. What sets this watch apart is its unparalleled affordability, making it an irresistible choice for discerning athletes seeking optimal performance without breaking the bank. With its vibrant touchscreen display, the Garmin offers a seamless user experience that closely resembles that of a smartwatch. This means that you can comfortably wear your Garmin device around the clock, without compromising on style or functionality.
Specification:
| | |
| --- | --- |
| Brand | Garmin |
| Model Name | Garmin Forerunner 265 |
| Style | Modern |
| Color | Black and Powder Gray |
| Screen Size | 1.3 Inches |
| Special Feature | GPS |
Reasons To Buy

Reasons To Avoid

+

Two sizes available

–

More expensive than 255

+

Accurate GPS

–

Still not a huge amount of smartwatch features
+

Advanced training metrics

—
3.

Garmin vivosmart 5
Best Budget-Friendly Garmin
For individuals seeking a comprehensive health and fitness tracking experience without the need for an elaborate running watch, the Vivosmart 5 by Garmin emerges as the ideal choice. This remarkable timepiece offers an abundance of data, enabling users to delve deep into their well-being and physical performance.
This product boasts a compact and featherweight design, ensuring utmost convenience. Despite its diminutive size, it offers an array of remarkable statistics that will captivate your attention. The sleep-tracking tools of this device have left us thoroughly impressed. Not only that, but its exceptional comfort is such that you'll find yourself forgetting you even have it on during the night.
The screen of this device is a compact monochrome display. The interface designers at Garmin have truly showcased their impressive skills by seamlessly integrating a plethora of data without compromising on visual aesthetics.
Specification:
| | |
| --- | --- |
| Brand | Garmin |
| Model Name | vívosmart 5 |
| Style | Fitness Tracker |
| Color | Black |
| Screen Size | 0.84 Inches |
Reasons To Buy

Reasons To Avoid

+

Well designed interface

–

Monochrome display

+

Auto activity tracking

–

No on-board GPS
+

Particularly good sleep monitoring

—
4.

Garmin Instinct 2
Best Garmin Outdoor Watch
The Garmin Instinct 2, a remarkable successor to its predecessor, retains all the outstanding qualities that made its forerunner a hit. With its robust shockproof fiber-reinforced resin case and unparalleled battery longevity, this timepiece continues to impress. Moreover, the Garmin Instinct 2 boasts a sleeker design, now offered in two sizes: 45mm for those seeking a larger fit, and a more compact 40mm option tailored specifically for smaller wrists.
Introducing a comprehensive multi-sports watch that caters to the needs of athletes across various disciplines. Meticulously crafted tracking modes have been thoughtfully incorporated to accommodate a diverse range of activities. In particular, runners, cyclists, and swimmers will find this timepiece to be exceptionally tailored to their specific requirements. Experience the pinnacle of cutting-edge training technology with the remarkable Garmin watch, equipped with a comprehensive suite of advanced training tools.
Elevate your fitness journey with personalized workout suggestions tailored to your unique needs, ensuring optimal performance and progress. Stay in tune with your body's recovery needs as the watch provides invaluable guidance on the ideal amount of rest required to maximize your gains. Moreover, the watch's load monitoring feature empowers you to strike the perfect equilibrium between exertion and rejuvenation, enabling you to achieve your fitness goals with utmost precision and efficiency.
The Garmin Instinct 2 offers an exciting array of features that enhance your experience. With the ability to download new apps, data fields, and faces from Garmin Connect IQ, you can personalize your device to suit your unique preferences. Not only that but the Garmin Instinct 2 comes in a vibrant selection of colors, adding a touch of fun and style to your everyday adventures. The watch is designed to be effortlessly wearable, making it suitable for both active individuals and those with a more relaxed lifestyle.
Specification:
| | |
| --- | --- |
| Brand | Garmin |
| Model Name | Instinct 2S, Deep Orchid |
| Style | Instinct 2S |
| Color | Instinct 2S (Deep Orchid) Non-Solar |
| Screen Size | 1.27 Inches |
| Special Feature | Bluetooth |
Reasons To Buy

Reasons To Avoid

+

Extra long battery life

–

Doesn't display maps well

+

Excellent GPS tracking 

—
5. 

Garmin Vivoactive 4
Best Casual Athlete Garmin Watch
The Garmin GPS watch effortlessly combines a sleek design with an array of health and wellness features, all conveniently accessible through its user-friendly and responsive 40 or 45-mm touchscreen interface.
The Garmin Vivoactive 4 is not just your average fitness tracker. It goes above and beyond by offering a wide range of features that cater to your overall well-being. In addition to keeping tabs on your traditional exercise metrics, such as steps taken and calories burned, this remarkable device also boasts advanced capabilities like respiration and pulse ox tracking.
These cutting-edge features allow you to gain deeper insights into your body's performance and overall health. But that's not all. The Garmin Vivoactive 4 takes convenience to the next level with its premium suite functions. With Garmin Pay, you can now enjoy the ease and security of contactless transactions, making your everyday purchases a breeze.
And if you're looking for some guidance and motivation in your fitness journey, the Garmin coach feature is here to help. It provides personalized training plans tailored to your goals, ensuring that you stay on track and achieve the results you desire. Furthermore, the Garmin Vivoactive 4 understands the unique needs of women and offers dedicated women's health features. From menstrual cycle tracking to fertility monitoring, this device empowers women to take control of their reproductive health and make informed decisions. 
Specification:
| | |
| --- | --- |
| Brand | Garmin |
| Material | Stainless Steel |
| Color | Black |
| Compatible Devices | Smartphones |
| Screen Size | 1.3 Inches |
Reasons To Buy

Reasons To Avoid

+

Budget-friendly

–

Display a bit dim for indoor use

+

Extensive golf support

—

+

Responsive touchscreen display

—
6. 

Garmin Lily
Most Attractive Garmin Smartwatch
If you are in search of an activity tracker that exudes a stylish aesthetic while discreetly monitoring your fitness endeavors, then the Garmin Lily is the perfect choice for you. Garmin's latest smartwatch offering stands out as a pinnacle of fashion and functionality.
Designed with the needs of female users in mind, this remarkable timepiece boasts an array of invaluable tools. Among its standout features is the ability to track menstrual cycles and pregnancies, empowering expectant mothers with a comprehensive understanding of their overall well-being on a day-to-day basis.
The Garmin Lily is a stunning piece of wearable technology that effortlessly blends fashion and functionality. With its elegant design, it resembles a piece of exquisite jewelry rather than a typical smartwatch. The Garmin Lily is available in two distinct models, Classic and Sport, catering to different preferences and lifestyles. For individuals who are deeply committed to their running or cycling routines, the absence of GPS functionality on the watch could potentially prove to be a source of frustration.
The Garmin Lily truly excels in its exceptional design, particularly in the realm of its display. With a remarkable monochromatic touchscreen that is both highly responsive and user-friendly, this device sets itself apart from the competition. Notably, its display remains effortlessly legible even when exposed to direct sunlight, ensuring optimal visibility at all times.
For those fashion-conscious individuals seeking their first smartwatch, this exquisite timepiece would undoubtedly be an excellent choice. Its sleek design and compact size make it particularly appealing to those with smaller wrists. Additionally, it can be regarded as one of the most cost-effective smartwatches available in the market.
Specification:
| | |
| --- | --- |
| Brand | Garmin |
| Model Name | Lily |
| Style | Sport |
| Color | Rose Gold and Light Tan |
| Screen Size | 1 Inches |
Reasons To Buy

Reasons To Avoid

+

Stylish design 

–

No built-in GPS 

+

On-board pregnancy tracking app 

–

Incompatible with Garmin Connect IQ app store
+

Good display 

—
FAQs – Best Garmin Watch 2023
Q: Which Garmin watch is best for runners?
A: The Garmin Forerunner series, such as Forerunner 945 and 745, offer advanced running metrics, GPS tracking, and performance analysis ideal for runners.
Q: Can I swim with a Garmin watch?
A: Many Garmin watches are water-resistant and suitable for swimming. Look for models with swim-specific features like stroke tracking and pool lap counting.
Q: What is Garmin Connect?
A: Garmin Connect is the companion app that syncs with your Garmin watch, providing detailed activity tracking, insights, and the ability to connect with fellow users.
Q: Do Garmin watches work with both Android and iOS smartphones?
A: Yes, most Garmin watches are compatible with both Android and iOS devices. Ensure the watch's compatibility with your smartphone's operating system.
Q: Are there Garmin watches with music storage?
A: Yes, Garmin offers watches with music storage and playback, allowing you to listen to your favorite tunes without your smartphone.
Q: Do Garmin watches have built-in GPS?
A: Many Garmin watches have built-in GPS for accurate outdoor activity tracking, route mapping, and distance measurement.
Q: What is the battery life of Garmin watches?
A: Battery life varies among models. Some Garmin watches offer extended battery life, lasting up to several weeks in certain modes.
Q: Can I customize the watch faces of my Garmin watch?
A: Yes, most Garmin watches allow you to customize watch faces with various designs and data fields to suit your preferences.
---
Conclusion
In the realm of wearable fitness technology, Garmin watches stand as versatile companions that cater to diverse fitness pursuits. With an array of models equipped with cutting-edge features, these frequently asked questions provide valuable insights to guide users in making informed choices, ensuring their journey towards improved health and fitness is supported by reliable and innovative wearable technology.
Read more about