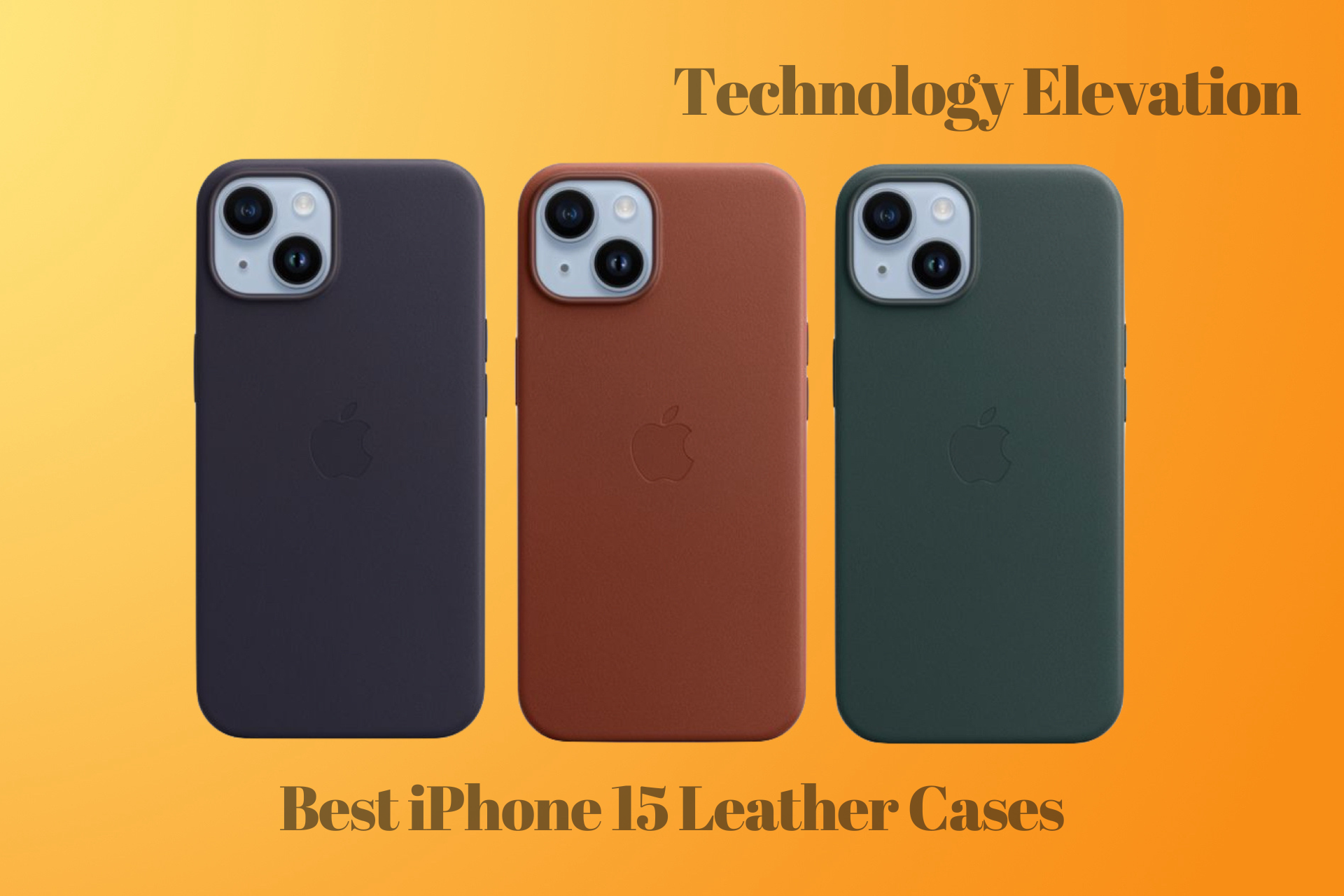 We all understand that iPhones are more than just gadgets. They're fashion statements, pocket-sized powerhouses, and things we take everywhere. High-quality iPhone 15 leather cases are the best way to safeguard and show off your sleek new device.
The world of iPhone accessories has changed since 2023. We're here to help you find the best iPhone 15 leather cases to protect your valuable device and give it a stylish look.
Apple has stopped making the iPhone 15 leather cases, but these cool cases are still available to protect and style your phone.
Top 7 Best iPhone 15 Leather Cases 2023
1. Mujjo Leather Case for iPhone 15
Best MagSafe Compatible Leather Case
The Mujjo Leather Phone Case is carefully made, and it has a 1mm raised leather edge that protects your screen from getting scratched on rough surfaces. The rear camera bump isn't like other bumps; it's made from recycled aluminum, which makes it both strong and stylish. Plus, it fits perfectly at the base and doesn't hinder your speakers or charging port.
Mujjo has also taken care of the little things. These buttons are made from recycled machined metal and give your device's controls an extra click. As a result? Perfect responsiveness and a high-end feel that can't be beaten.
Plus, the case has MagSafe technology, making charging wirelessly a breeze. Also, all MagSafe accessories work with it, making your everyday life easier and more interesting.
The leather comes from northern European cowhide, and the DriTan process is used to tan it without much water. This gold-rated leather ages beautifully, giving it a patina that is all yours and tells your story.
Specifications
Brand:

 

Mujjo

Color:

 

Light Tan

Compatible Phone Models:

iPhone 15, 14, 13

Material:

 

Leather
---
2.

Bellroy Leather Case for iPhone 15
Best Wallet Leather Case
No more fumbling around in multiple pockets or fumbling for your wallet. This stylish add-on protects your phone and is a simple wallet, hiding your cards in a clever compartment.
The Bellroy Phone Case is made from high-quality eco-tanned leather that feels great to the touch all the way around. Protecting your phone from possible drops, the flex polymer bumpers give strong protection where it matters the most.
Imagine hiding your most-used cards behind a hidden door and not carrying a big wallet. There is also a hidden slot for a spare SIM card and PIN for the tech-savvy traveler or secret agent.
It works, but there's more to it than that. Bellroy is proud only to use top-quality, top-grain leather from tanneries that have been given a gold rating by the Leather Working Group. This not only makes sure that it will last, but it also promises a beautiful aging process that gets better over time.
Specifications
Brand:

 

Bellroy

Color:

 

Black

Compatible Phone Models:

 

iPhone 15, iPhone 15 Pro

Material:

 

Leather
---
3.

LONLI Edition Case for iPhone 15
Premium European Genuine iPhone 15 Leather Case
The LONLI Edition Leather Case is the height of luxury. This case is more than just a case; it's a work of art that makes using your iPhone more elegant.
Made with great care from high-quality European leather, this case is a classic example of class in a time of excess. There aren't any loud logos on it, so the simple, elegant design of the fine European leather goes well with your style.
It's made from high-quality European full-grain leather and is very soft and smooth. As it wears, it gains character and charm. It also works with Magsafe because it has built-in magnets, and the raised edges protect your camera and screen from drops and scratches.
Specifications
Brand:

 

LONLI

Color:

 

Brown

Compatible Phone Models:

 iPhone 15

Material:

 

Premium European Leather
---
4.

Dockem Card Case for iPhone 15
Premium Synthetic Leather Wallet Case
The Dockem case is a great example of how style and function work together. The easy snap-on shell makes it very easy to put together. You can easily get to all of your buttons and ports.
But here's what changes things: a built-in metal plate is hidden away. This bad boy ensures that Dockem's v3 Series Magno Mounts connect perfectly. And the high-quality fake leather makes your phone look classy and professional. It's not just a case; it's a choice of fashion.
Dockem also has your back when it comes to being useful. It's thin, but not too thin. With two cards fitted snugly inside, it's only 14 mm thick. You can hide your most important cards or IDs in two slots. When you have this stylish friend with you, who needs a wallet? Dockem is all about making things easy while still being proper.
Specifications
Brand:

 

Dockem

Color:

 

Navy

Compatible Phone Models:

 

iPhone 15

Material:

 

Faux Leather
---
5.

Casus Classic Thin Protective Cover
Best Classic iPhone 15 Leather Case
Just 0.1 inch of extra bulk is added to your phone by this sleek case, so it stays thin and stylish. There are no problems with charging because it works with all standard wireless chargers.
It works with Magsafe charging, but remember that the magnetization might not be as strong when you use this case. But it more than makes up for it in terms of safety. The corners and sides are padded to protect your phone from damage if you drop it by accident.
This phone case is made with great care from beautiful fake leather that feels great and lasts a long time or more. Plus, it's good for the environment because it's made from recycled polyurethane, which makes it long-lasting and easy to recycle. That's right, this stylish and useful case will protect your phone and the environment.
Specifications
Brand:

 Casus

Color:

 

Blue

Compatible Phone Models:

iPhone 15, iPhone 15 Pro Max

Material:

 

Faux Leather
---
6.

LONLI Classic for iPhone 15
European Nappa Leather Case with MagSafe
The LONLI Classic European Nappa Leather Case is made from high-quality Italian Napa leather that gets softer and smoother with each touch, just like a good wine. Its classic, logo-free style exudes elegance that will never go out of style, making it a great accessory for any event.
This Nappa iPhone 15 leather case with MagSafe is also made to work well, so it's not just about looks. It works with Magsafe accessories because it has built-in magnets, so you can easily snap on your favorite extras.
In addition, this case will keep your phone safe. It protects your camera and screen from the hazards of everyday life with its raised edges. With this stylish and reliable accessory, you won't have to worry about scratches or drops.
Specifications
Brand:

 

LONLI

Color:

 

Saddle Brown

Compatible Phone Models:

 iPhone 15

Material:

 

Italian Nappa Leather
---
7.

OCASE Flip Folio Case for 

iPhone 15
Best Kickstand and Shockproof Protection Case
The OCASE Wallet Case is made to make your smartphone experience better. This case not only keeps your cards and cash safe, but it also looks good doing it. It has three card slots and a wallet compartment with a magnetic closure.
But here's what changes things: flip the leather case over, turning it into a strong kickstand. You'll be able to find the best viewing angle for each task, whether you're reading, watching your favorite shows, or making FaceTime calls. On top of that, OCASE has added RFID shielding technology to keep your card information safe while you shop or travel.
This case does everything it can to protect your phone. It's made of premium PU leather that is soft and durable, and it has a special TPU inner case that keeps scratches and fingerprints away. Not only does the natural surface texture look and feel nice, but it also keeps the fibers strong. With raised edges and extra padding, it's made to be shockproof and protect your iPhone from scratches and drops.
Specifications
Brand:

 

OCASE

Color:

 

Black, Blue, Burgundy, Light Blue, Litchi Apricot, Litchi Purple, and more

Form Factor:

 

Flip

Compatible Phone Models:

 

iPhone 15

Material:

 

Faux Leather
Whether you like to set trends, watch for the newest and best genuine iPhone 15 leather cases.
---
Types of Leather

Cases
Genuine Leather Wallet Cases:
These cases are the epitome of luxury and functionality. Crafted from top-quality genuine leather, they offer a premium feel and excellent durability. Many feature card slots and a cash pocket, effectively replacing your wallet and keeping your essentials in one place.
Slim Leather Sleeves:
Slim leather sleeves are an excellent choice after a minimalist approach. These cases are designed to protect while preserving your iPhone 15's slim and sleek profile. They offer easy access as you can slide your device in and out effortlessly.
Folio Cases with Stand:
Folio-style iPhone 15 leather cases provide comprehensive 360-degree protection. They come with a front cover that can be folded to create a convenient stand for hands-free viewing. This versatility makes them perfect for enjoying media on your iPhone 15.
Leather Snap-On Cases:
These cases offer a balance between style and protection. They are slim and snap directly onto your iPhone 15, showcasing the phone's aesthetics while adding a touch of leather luxury to the edges.
Leather Bumper Cases:
Combining leather with a protective bumper, these cases provide both style and safeguarding. The leather accents the edges of your iPhone 15, while the bumper absorbs shocks and prevents damage from drops.
Vintage iPhone 15 Leather Cases:
For those who appreciate a classic, timeless look, vintage iPhone 15 leather cases are ideal. They offer a weathered, aged appearance that exudes character and sophistication.
Leather Flip Cases:
Like folio cases, leather flip cases provide complete front and back protection. They often come with card slots and a magnetic closure for added security, making them functional and stylish.
Customizable iPhone 15 Leather Cases:
Some manufacturers offer the option to personalize your leather case. You can choose the type of leather color and add your initials or a unique design, creating a truly one-of-a-kind accessory.
Leather Holster Cases:
These cases come with a detachable holster clip, allowing you to wear your iPhone 15 on your belt for quick access. They are particularly suitable for professionals and individuals on the move who need easy access to their devices.
Leather Skin Stickers:
For a subtle yet stylish leather touch, consider leather skin stickers. They adhere to the back of your iPhone 15, providing a textured leather feel without adding any extra bulk or weight.
---
What To Look For While Buying iPhone 15 Leather Cases
Material Quality:
The foundation of a great leather case lies in the quality of the material. Opt for cases crafted from genuine leather for the utmost quality and durability. Genuine leather looks and feels premium and offers superior protection against daily wear and tear.
Fit and Compatibility:
Ensure the case is tailor-made for the iPhone 15 to guarantee a snug and secure fit. Cases that are too loose or too tight can affect functionality and protection.
Design and Style:
iPhone 15 Leather cases come in various styles to match various preferences. Whether you prefer a minimalistic sleeve or a wallet-style folio, there's a design to suit your needs.
Functionality:
Think about additional features you may require. For instance, consider a wallet-style leather case with card slots and cash pockets if you need to carry cards or cash. Some wallet cases can even replace your traditional wallet, offering convenience and style.
Protection:
Look for cases that offer comprehensive protection. Check for raised edges around the screen and camera area to prevent scratches and damage from accidental drops. Some iPhone 15 leather cases go the extra mile by incorporating reinforced corners for enhanced drop protection.
Slimness:
If you prefer a slim and sleek profile for your iPhone 15, search for thinner iPhone 15 leather cases that don't add excessive bulk while still providing essential protection.
Wireless Charging Compatibility:
If you frequently use wireless charging, ensure the leather case you choose is compatible with this feature. Some cases may interfere with wireless charging capabilities.
Brand Reputation:
Trustworthy brands often produce high-quality iPhone 15 leather cases. Look for cases from reputable manufacturers known for their quality and craftsmanship.
Price:
iPhone 15 Leather cases come in a wide price range. Set a budget beforehand and explore options within your designated range. Remember that genuine leather cases are more expensive but offer superior quality.
Warranty:
It's always a good idea to check if the case comes with a warranty or satisfaction guarantee. This ensures that you can seek assistance or a replacement if you encounter any issues with your purchase.
Customization:
Consider cases with customization options if you're looking for a unique touch. Some manufacturers allow you to choose the type of leather color and even add personalization like initials or a design.
---
FAQs – Best iPhone 15 Leather Cases 2023
Q. Are leather cases durable?
Yes, genuine leather cases are known for their durability and longevity. They can withstand daily wear and tear and develop a unique patina.
Q. Do leather cases add bulk to the iPhone 15?
The degree of bulk varies between cases. Some iPhone 15 leather cases are designed to be slim and add minimal bulk, while others, such as wallet-style cases, may add more thickness due to added functionality.
Q. Can I wirelessly charge my iPhone 15 with a leather case on?
Many iPhone 15 leather cases are designed to be compatible with wireless charging, but checking the product specifications to ensure compatibility is essential.
Q. How can I clean and maintain a leather case?
To clean a leather case, use a damp cloth or leather cleaner. Avoid using harsh chemicals or excessive water. Leather cases may benefit from occasional leather conditioning to maintain their appearance.
Q. Are there iPhone 15 leather cases with a stand feature for watching videos?
Some iPhone 15 leather cases are designed with a stand feature that allows you to prop up your iPhone 15 for hands-free viewing. This can be convenient for watching videos or making video calls.
Q. Do iPhone 15 leather cases provide adequate protection?
iPhone 15 Leather cases can protect against scratches, minor drops, and everyday hazards. For added protection, look for cases with raised edges around the screen and camera area.
Q. What's the difference between genuine leather and synthetic leather cases?
Genuine leather cases are made from real animal hide and are more durable and luxurious. Synthetic leather cases are artificial and can vary in quality. Genuine leather is often preferred for its premium feel.
Q. Are there eco-friendly leather case options available?
Some brands offer eco-friendly iPhone 15 leather cases from sustainable or recycled materials. These options are designed with environmental consciousness in mind.
---
Conclusion
To wrap up, That's all there is to say about the best iPhone 15 leather cases for the 6.1-inch iPhone 15. That style, protection, and functionality can all work together without problems. Each case we looked at is more than just an extra. It's a fashion statement, a safety measure, and a friend for your new tech.
Whether you like the classic beauty of real leather or the fresh looks of new designs, these cases show that your iPhone 15 can be both a technological marvel and a fashion statement.