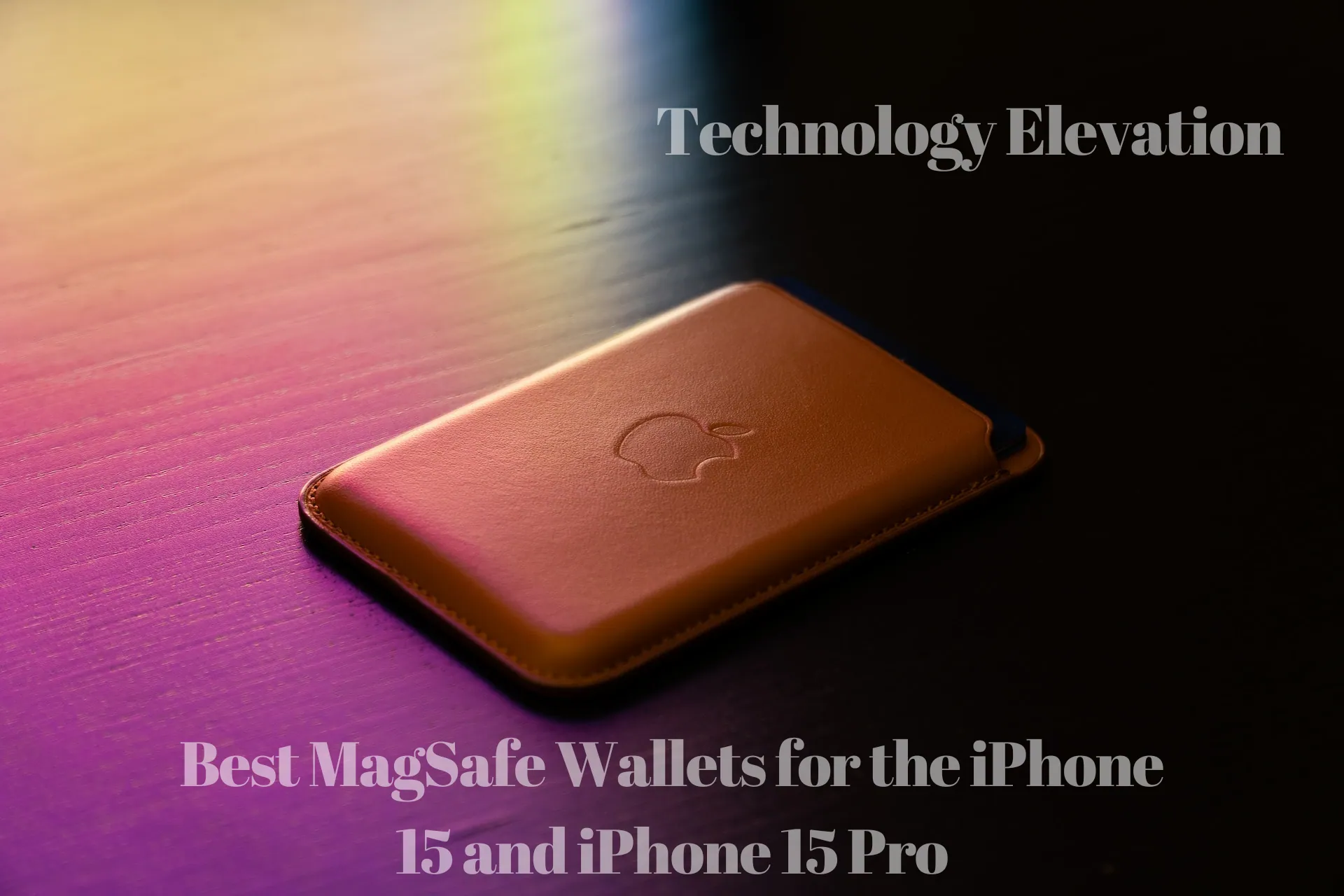 Best MagSafe Wallets for the iPhone 15 and iPhone 15 Pro
We've all been through the heart-pounding panic of checking all of your pockets, frantically searching through your bag, and going over your steps again and again only to find that your valuable iPhone 15 or iPhone 15 Pro is no place to be found.
Do not worry, fellow Apple fans! We are about to show you MagSafe wallets, the best solution that combines style, efficiency, and a little magic! These cool little gadgets not only keep your valuable iPhone 15 series safe, but they also make your everyday carry a little more stylish.
MagSafe wallets for the iPhone 15 and iPhone 15 Pro offer convenience and functionality, but they come in various types to suit different needs and preferences. Here are the types of best MagSafe wallets for these iPhones:
Slim Cardholder Wallets:
Slim cardholder MagSafe wallets are designed for those who want to carry just the essentials: a few cards and perhaps some cash. They attach securely to the back of your iPhone and are perfect for minimalists.
Bifold Wallets:
Bifold MagSafe wallets offer a bit more storage space. They can hold multiple cards, some cash, and even a few additional items like receipts or business cards. Despite the extra storage, they remain relatively slim.
Folio Wallets:
Folio MagSafe wallets provide comprehensive protection for your iPhone while also offering card slots and a flap that covers the screen. They are ideal for those who prefer an all-in-one solution for their phone and wallet.
Leather Wallets:
Leather MagSafe wallets are known for their premium look and feel. They come in various styles, including slim, bifold, and folio, and offer a touch of sophistication to your iPhone.
Fabric or Silicone Wallets:
Fabric or silicone MagSafe wallets are lightweight and come in a wide range of colors and designs. They are easy to clean and provide a good grip on your iPhone.
Multi-Functional Wallets:
Some MagSafe wallets offer extra features, such as a kickstand for hands-free viewing, a detachable phone grip, or a slot for a SIM card ejector tool. These wallets are versatile and cater to various needs.
Minimalist Sleeve Wallets:
Sleeve-style MagSafe wallets are essentially pouches that you slide your iPhone into. They offer basic protection and can hold a couple of cards. They are sleek and add minimal bulk to your device.
Customizable Wallets:
Customizable MagSafe wallets allow you to personalize the appearance by choosing different wallet and strap colors. You can mix and match to create a unique look.
Rugged Wallets:
Rugged MagSafe wallets are designed for outdoor enthusiasts and those in demanding environments. They offer additional durability and may include features like a reinforced frame.
Wireless Charging Wallets:
Some MagSafe wallets are designed with wireless charging in mind. They allow your iPhone to charge wirelessly even when cards are attached, making them convenient for those who rely on wireless charging.
What To Look For While Buying
When shopping for the best MagSafe wallets for your iPhone 15 and iPhone 15 Pro, consider the following factors to ensure you choose the right one:
MagSafe Compatibility:
Ensure that the wallet is MagSafe-compatible and designed to securely attach to your iPhone 15 or iPhone 15 Pro. Look for wallets that have the official MagSafe certification.
Capacity:
Determine how many cards and items you need to carry in your wallet. Some MagSafe wallets are slim and designed for minimalists, while others can hold multiple cards and cash.
Material and Build Quality:
Consider the wallet's material and build quality. Leather wallets offer a premium look and feel, while fabric or silicone wallets are lightweight and easy to clean. Choose a material that suits your style and preferences.
Design and Style:
MagSafe wallets come in various designs and styles, from slim cardholders to folio wallets. Select a design that complements your iPhone and fits your lifestyle.
Security Features:
Look for wallets with security features like RFID blocking, which helps protect your card information from unauthorized scanning. Some wallets also have additional security layers.
Ease of Use:
Consider how easy it is to access your cards and items. Wallets with pull-tab or ejector mechanisms make it simple to retrieve cards, while folio-style wallets offer easy access to everything in one place.
Wireless Charging Compatibility:
If you use wireless charging, ensure that the wallet does not obstruct the wireless charging coil on your iPhone. Some wallets are designed to allow wireless charging even with cards attached.
Additional Features:
Determine if you need any extra features, such as a kickstand for hands-free viewing, a detachable phone grip, or a slot for a SIM card ejector tool. These features can add versatility to your wallet.
Size and Bulk:
Consider how much bulk the wallet adds to your iPhone. If you prefer a slim and lightweight design, opt for a minimalist wallet that doesn't compromise the phone's sleekness.
Top 9 Best MagSafe Wallets for the iPhone 15 and iPhone 15 Pro
Here are some of the best MagSafe wallets for the iPhone 15 and iPhone 15 Pro.
Grab your phone and reading glasses, if you can find them. Are you ready? We're sure you won't want to miss this chance to make a lot of money.
1.

Spigen Smart Fold (MagFit) Magnetic Wallet
That's why this cool card holder is on our list of the best iPhone 15 MagSafe wallets with stands: it's trendy and useful at the same time. Because of how it's made, it can safely hold up to two cards in its storage slot. You won't have to dig through the wallet or pouch to find the cards when you're in need of them most.
The three-fold creation is like a secret superpower; it lets you use your wallet as a kickstand for your phone. It's great for putting your device on your desk to watch videos or make video calls.
Also, Spigen has you covered when it comes to getting to your cards. With the extra access port, it's easy to get your cards when you need them. No more fumbling with your wallet to get to the important things. Being thin makes it easy to put and take out of your pocket without taking up much space.
2.

ESR Magnetic Wallet (HaloLock)
Along with 250% stronger magnets than the official magnetic wallet, the ESR Magnetic wallet has some really strong magnets built in to keep your things safe. Do not worry that your things will fall out when you take out your phone.
The design is slim and light, and it fits on the back of your phone without any problems. A dynamic tension spring inside keeps one to three cards very safe.
Plus, there's a useful finger loop on the back. It not only makes it easier to hold while you're moving but it can also be used as a stand. Just pop that loop out when you want to watch a landscape video without using your hands. When you're done, it folds flat and fits right back into your pocket.
3.

ExtreLife Magnetic Wallet
The sleek and useful MagSafe wallet is your stylish way to carry your cards with you while you're on the go. Because it's thin, it can hold up to seven cards or cash without making the bag bigger. The MagSafe wallet is both useful and stylish because it has an empty slot that makes it easy to get your cards out.
This MagSafe leather wallet for iPhone 15 is made to last because it is made from strong, high-quality vegan leather. The hand-stitched finish not only makes it last longer but also gives it a high-end look and feel. It even comes with an extra keychain that can be used to hold keys or attach to a lanyard for extra convenience.
This iPhone magnetic wallet is unique because it has strong magnets built right in. It has 3500Gs of magnetic force, which is 20% stronger than the official magnetic card holder wallet. Never worry about losing your cards or cash again; it just snaps onto the back of your iPhone.
4.

HiWe For Magsafe Wallet
This RFID MagSafe wallet for iPhone 15 Pro has an extra-strong magnet built right in. It has a strength of 3500Gs, which is 20% stronger than the official magnetic leather wallet. This wallet is made to fit perfectly on your iPhone 15 series, so you can keep your phone safe even when you're busy.
This slim wallet is made from high-quality PU leather and looks great. It will also last for a long time because it was carefully made. It's also made to keep your phone slim without adding any extra bulk.
This wallet also keeps your money safe. People who aren't supposed to can't scan your cards and your cards won't lose their magnetic properties. This keeps your identity and property safe whether you're shopping, traveling, or working.
5.

TWZKG Magnetic Card Wallet Holder
The TWZKG Magnetic Card Wallet Holder is the next best iPhone 15 Pro Max MagSafe wallet on our list. It's not just an add-on; it's a whole new way to improve your iPhone experience. This cool gadget is all about ease of use, from being easy to attach to wirelessly charging that's supercharged. Also, guess what? This works great with your MagSafe Case.
The strong magnets inside work their magic and make it easy to attach your wallet to the back of your iPhone. Plus, here's a cool trick: you can use MagSafe to stack it on top of a clear or silicone case to make a look that's all your own. Are you worried about your credit cards? Do not be. You can be sure that they will be safe and sound in the leather wallet.
When we talk about materials, the MagSafe wallet card holder is made from PU leather, which is safe for the environment. Not only is it good for the environment, but it's also made to last. Because it was carefully made, it won't easily bend or open up on you.
6.

T-MFY Slim Magnetic Wallet
This wallet has a slide lock that makes it easy to get to your cards with just one hand. It's easy to get your cards out; just slide the button down. In addition, this one-of-a-kind latch lock keeps your cards safe when you slide the button up.
Both men and women will love this aluminum wallet that fits in your pocket. It is very thin and very light, and it's made to last all day, with IPX4 water resistance. There is room for 5–6 flat cards and 4–5 embossed cards, and there is even a clip on the outside for your spare change. This wallet holds cards magnetically and is smart, which makes life easier.
The advanced aviation aluminum construction of T-MFY makes it stand out. This construction keeps your cards safe from unauthorized contactless scanning. Stop worrying about card fraud and data theft; this wallet has your back. It is a small, beautiful, safe, and useful magnetic wallet that makes your daily life easier.
7.

PopSockets Minimalist MagSafe Wallet
The magnetic closure on this sleek and sturdy wallet keeps your cards safe and makes it easy to carry them with you along with your phone.
The most enjoyable part? Easily charge your phone wirelessly. Put your phone on a wireless charging stand and slide off the magnetic phone wallet. It is really that easy! Also, your cards are safe because they are out of reach of the magnets when they are inside the phone case wallet.
It's not just smart that the PopSockets phone wallet can be used for many things. MagSafe mounts and cases made by PopSockets work with it. So do wireless chargers and MagSafe cases made by companies other than PopSockets.
8.

WALLFID Magsafe Wallet Leather
Thanks to its simple design, this MagSafe wallet is perfect for people who have an iPhone 15 series. Built-in strong magnets make it easy to attach this cool wallet securely to the back of your phone.
Good-quality cloth is used to line the inside of this wallet, making it look a little more expensive. There are special grooves in the leather that make it very comfortable to hold, so you'll love using it every day. Beyond how it looks and feels, this wallet also takes security very seriously. Anti-RFID technology protects your cards from being scanned without your permission.
Furthermore, this useful wallet lets you store up to three cards. Furthermore, it's not only useful but also stylish!
9.

MOFT MagSafe Wallet Stand
Imagine having a wallet for your phone that is both thin and very useful in a lot of different ways. This wallet is much more than that; it changes the way you use your phone. Because it stands on its own and is magnetic, it lets you enjoy your phone like never before.
It's easy to use because it can be folded up. Easy to put on, stand up, and fold back down: just snap it on. Even though it's only 5mm (0.2 inches) thick, which is thinner than most wallets, it can hold up to three cards.
That's not all, though. You can view your phone in three great ways with this wallet: portrait, landscape, and the new float mode. You can change how your phone works so that it fits your needs, whether you want to browse the web in portrait mode, watch a movie in landscape mode, or have a video call in floating mode. All we want to do is make your life better and easier.
FAQs – Best MagSafe Wallets
Q. What is a MagSafe wallet, and how does it attach to my iPhone 15 or iPhone 15 Pro?
A MagSafe wallet is a slim wallet designed to attach to the back of your iPhone 15 or iPhone 15 Pro using built-in magnets. It securely adheres to your phone, allowing you to carry cards, cash, or other small items conveniently.
Q. Are MagSafe wallets compatible with all iPhone models?
MagSafe wallets are primarily designed for iPhone 12 and newer models, including the iPhone 15 and iPhone 15 Pro. They may also work with some older models that support MagSafe technology to a certain extent.
Q. Can I wirelessly charge my iPhone while the MagSafe wallet is attached?
Yes, most MagSafe wallets are designed to allow wireless charging even when attached to your iPhone. This feature ensures you can charge your device without removing the wallet.
Q. How many cards can a typical MagSafe wallet hold?
The number of cards a MagSafe wallet can hold varies depending on the design and type of wallet. Some can hold two to three cards, while others have more slots to accommodate additional cards and cash.
Q. Are MagSafe wallets secure, or can they accidentally detach from my iPhone?
MagSafe wallets are designed for a secure attachment. They use strong magnets that keep the wallet firmly in place, reducing the risk of accidental detachment. However, it's essential to choose a reputable brand and model for the best results.
Q. Can I use a MagSafe wallet with a protective case on my iPhone 15 or iPhone 15 Pro?
Yes, many MagSafe wallets are compatible with slim protective cases. However, the thickness and material of the case can affect how well the wallet adheres to the phone. Be sure to check for case compatibility when purchasing a wallet.
Q. Are there MagSafe wallets available in different materials and designs?
Yes, MagSafe wallets come in various materials, including leather, fabric, silicone, and more. They also feature different designs and colors, allowing you to choose a wallet that matches your style.
Q. Do MagSafe wallets offer any additional features, such as kickstands or detachable grips?
Some MagSafe wallets come with extra features like kickstands for hands-free viewing or detachable grips that can be useful for holding your phone more securely. These additional features can enhance your wallet's functionality.
Q. Are MagSafe wallets easy to clean and maintain?
Many MagSafe wallets, especially those made from materials like silicone or fabric, are easy to clean with a damp cloth. Be sure to check the manufacturer's cleaning recommendations for your specific wallet.
Q. Can I find eco-friendly or sustainable MagSafe wallet options?
Yes, some manufacturers prioritize sustainability and offer MagSafe wallets made from eco-friendly materials or using sustainable production methods. If eco-friendliness is important to you, look for wallets with such features.
---
Conclusion
To wrap up, One thing is certain in the world of always-improving tech: our iPhones keep getting smarter and more stylish. When it comes to adding accessories to your iPhone 15 or iPhone 15 Pro, you would be missing out if you didn't try magnetic wallets for iPhone 15.
These cool companions not only keep your important things close at hand, but they also make your daily life a little more stylish. You can choose from a wide range of iPhone 15 Magnetic Wallets, whether you like simple things or are into the latest tech trends. You no longer have to dig through your pockets to find your cards and cash.
Read more about