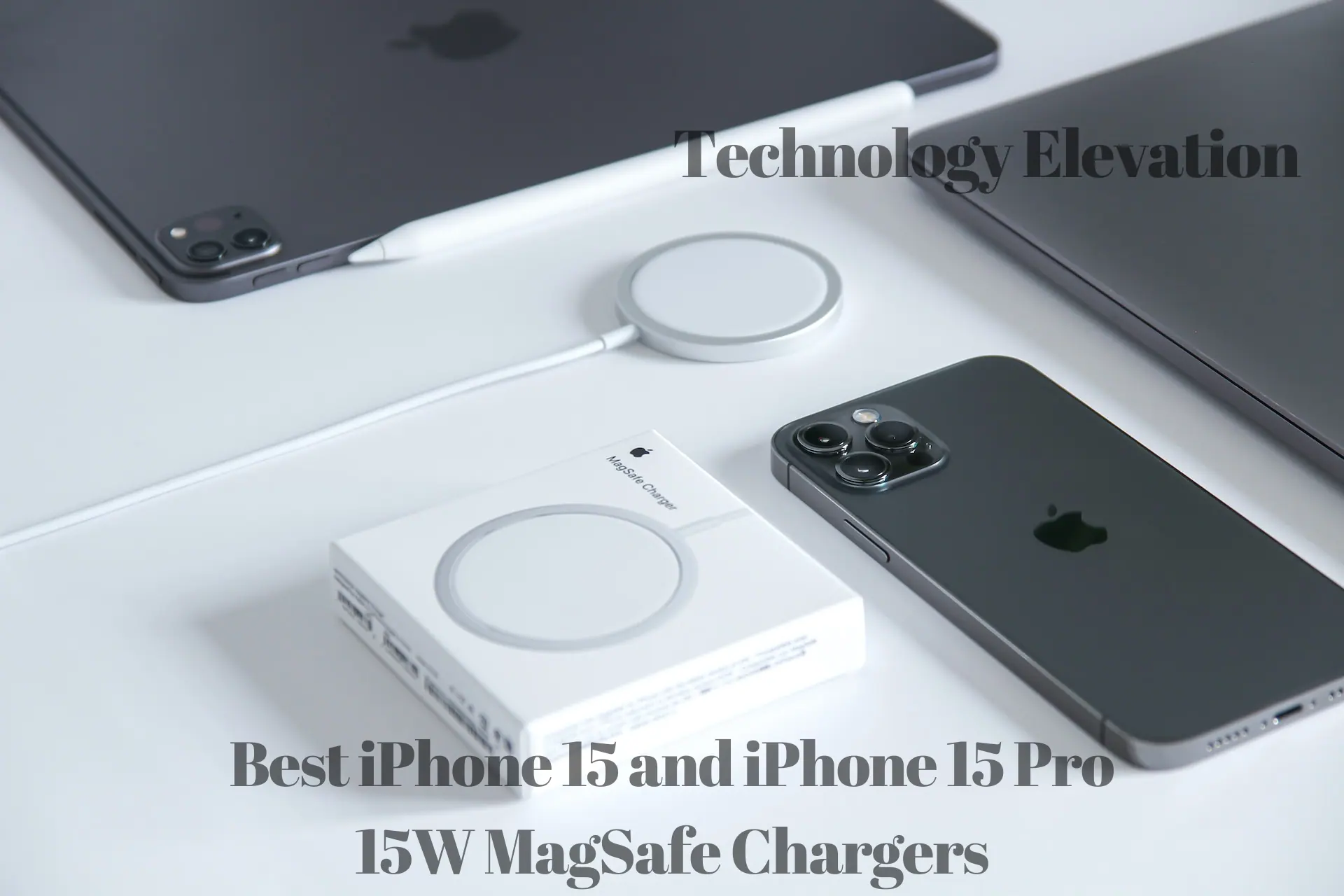 Best iPhone 15 and iPhone 15 Pro 15W MagSafe Chargers
We all know how important it is to keep our favorite gadgets charged and ready to go. Apple has once again impressed us with its cutting-edge technology with the release of the iPhone 15 and iPhone 15 Pro.
But if you want to get the most out of these new toys, you'll need a charger that can keep up with how much power they need. MagSafe chargers save the day by giving you a quick and easy way to charge your devices with magnets.
In this article, we'll take a look at 15W MagSafe chargers and give you a list of the best options for keeping your new iPhones charged and ready to go. So let's cut the cord and start charging!
In 2023, you'll find various types of MagSafe chargers designed for the iPhone 15 and iPhone 15 Pro. These chargers offer different features and designs to meet your specific needs. Here are the types of MagSafe chargers available:
MagSafe Charging Cable:
This is the standard MagSafe charger that includes a cable with a MagSafe connector on one end and a USB-C or USB-A connector on the other end. It allows you to charge your iPhone 15 or iPhone 15 Pro by attaching the MagSafe connector magnetically to the back of your device. These cables come in various lengths.
MagSafe Duo Charger:
The MagSafe Duo Charger is a foldable charger that can simultaneously charge your iPhone 15 or iPhone 15 Pro and Apple Watch. It features two MagSafe connectors, one for your iPhone and one for your Apple Watch. It's a great option for travelers.
MagSafe Power Bank:
MagSafe power banks are portable chargers that attach magnetically to the back of your iPhone 15 or iPhone 15 Pro. They provide additional power when you're on the go and can be easily removed when not needed.
MagSafe Car Mount Charger:
Designed for use in vehicles, these chargers mount on your car's dashboard or air vents. They securely hold your iPhone 15 or iPhone 15 Pro while wirelessly charging it using MagSafe technology, ensuring a convenient and safe driving experience.
MagSafe Desktop Charger Stand:
These desktop chargers are designed to hold your iPhone 15 or iPhone 15 Pro at an angle while wirelessly charging it. They provide a convenient viewing angle for your device, making them suitable for hands-free use and video calls.
MagSafe Desk Mount Charger:
Desk mount chargers are similar to desktop charger stands but are designed to be mounted on surfaces like desks, countertops, or bedside tables. They keep your device accessible and charged while you work or relax.
MagSafe Multi-Device Chargers:
These chargers are equipped with multiple MagSafe connectors, allowing you to charge multiple iPhone 15 or iPhone 15 Pro devices simultaneously. They are suitable for households or offices with multiple users.
MagSafe Wallet Charger:
A MagSafe wallet charger is a slim attachment that magnetically attaches to the back of your iPhone 15 or iPhone 15 Pro. It provides a convenient way to carry cards and can charge wirelessly while attached.
MagSafe Charging Case:
MagSafe charging cases combine device protection with wireless charging. They wrap around your iPhone 15 or iPhone 15 Pro, providing both a protective case and a MagSafe charger.
MagSafe Compatible Accessories:
There are third-party accessories that are MagSafe compatible, such as car mounts, wallet attachments, and stands. These allow you to enjoy MagSafe charging without an official MagSafe charger.
What To Look For While Buying
When purchasing a MagSafe charger for your iPhone 15 or iPhone 15 Pro, several factors should be considered to ensure you get the best one for your needs. Here's what to look for:
Official Apple Certification:
To ensure compatibility and safety, it's advisable to choose an official Apple-certified MagSafe charger. These chargers have undergone rigorous testing to meet Apple's standards.
Charging Speed:
MagSafe chargers can deliver different charging speeds. Look for one that provides the desired charging speed for your iPhone 15 or iPhone 15 Pro. Some chargers offer faster charging than others.
Compatibility:
Ensure that the MagSafe charger you choose is compatible with your specific iPhone model (iPhone 15 or iPhone 15 Pro). While many MagSafe chargers are universal, it's essential to double-check.
Build Quality:
Consider the build quality and materials used in the charger. A well-built charger is more likely to be durable and provide long-lasting performance.
Cable Length:
MagSafe chargers come with cables of varying lengths. Choose a cable length that suits your charging setup, whether it's on your desk, nightstand, or in your car.
Portability:
If you plan to use the charger while traveling, consider its portability. Compact and foldable designs are convenient for on-the-go charging.
Multi-Device Compatibility:
If you have other Apple devices like an Apple Watch, consider chargers that can charge multiple devices simultaneously, such as the MagSafe Duo Charger.
Case Compatibility:
If you use a protective case on your iPhone, make sure the charger is compatible with cases. Some chargers may not work effectively with thicker cases.
Magnetic Strength:
The strength of the MagSafe magnet can vary between chargers. Look for one with a strong magnet to ensure a secure connection to your iPhone.
Brand Reputation:
Consider the reputation of the brand. Established and reputable brands are more likely to offer reliable and high-quality products.
Additional Features:
Some MagSafe chargers come with additional features like a built-in stand, adjustable angles, or LED indicators. Evaluate these features based on your preferences.
Warranty and Support:
Check the warranty and customer support options provided by the manufacturer. A longer warranty period can provide peace of mind.
Top 8 Best iPhone 15 and iPhone 15 Pro 15W MagSafe Chargers
1.

Apple MagSafe Charger
Best MagSafe Charger
When it comes to wireless charging, the MagSafe Charger from Apple is a big deal. It's made to make things easier for you. With its perfectly positioned magnets, it's easy to attach to your iPhone 15, and it can charge at up to 15W, which is very fast.
The MagSafe charger works with more than just the newest iPhones. It also works well with the Qi charging system. So, if you have an iPhone 15 or a newer model, or your AirPods with a magnetic charging case, you can utilize it just like any other Qi-certified charger. That means you can use wireless charging with a wide range of Apple products.
In addition to top it all off, the MagSafe Charger has a USB-C cable that is 1 meter long and is already built in. So, this one of the top-rated MagSafe chargers that charge iPhone 15 at 15W speed comes with everything you need for fast and easy wireless charging right out of the box.
2.

LISEN 3 in 1 Charging Station
Best 3 in 1 Wireless Charger
This lightning-fast charging MagSafe charger iPhone 15 Pro Max is the best way to keep your iPhone, Apple Watch, and AirPods charged and organized whether you're at home, in the office, traveling, staying in a hotel, or in a meeting room.
This charger can charge your iPhone up to 15W, which is very fast, especially if you have the latest iPhone 15 Pro Max or any of the 14/13/12 series. Using the Apple iPhone MagSafe technology, it easily lines up with your device for a safe and smooth connection.
This charger is more than just useful; it's also stylish and easy to use. It can be folded up and is small enough to fit in your hand or pocket. This makes it a portable power source that you can take with you wherever you go.
3.

THREEKEY Magnetic Wireless Charger
Best 15W Magsafe Charger
The 36 magnets on this charging pad work perfectly with your MagSafe Charger. It works with a lot of different iPhone 15 series, including the 14, 13, and 12 series.
Threekey can also help you with other wireless phones that work with Qi. Inside the box, there is an extra part called the "Ring Metal." Put it in the middle of your phone case or on the back of your phone, and you're done! Your phone will stay put, so you don't have to worry about it falling out.
Plus, this charger has a max output of 15W, which is a lot. It also has intelligent protection technology, which helps protect against things like overheating, short circuits, and surges. So, you can charge your phone without worrying and use it freely while it's charging.
4.

TXQULA Magnetic Wireless Charger
Strong Built Quality Magsafe Charger
The strong magnet built into this charger is one of its best features. It makes sure that the phone is always in the right place, so you don't have to worry about it falling off while it's charging. It also works with magnetic phone cases, which makes it even more flexible. If your case isn't magnetic, just take it off to make charging easier.
Safety should be your top priority, which is why this is one of the best 15W MagSafe chargers for the iPhone 15 Pro Max. It has MFI certification and is CE, FCC, and RoHS certified. It protects against overheating, overvoltage, and short circuits so that you can charge without worrying.
The best part, though? This magnetic wireless charger for iPhone 15 Pro is small and easy to use. While your phone is charging, you can keep doing your favorite things, like playing games, watching films, doing facetime, or reading e-books, without feeling uncomfortable. It's made to work from any angle, so it's flexible and easy to use. Put it in your backpack, and you can charge your phone wirelessly anywhere.
5.

Qiruicomy MagEase Magnetic Wireless Charger
Best Fast Charging Magsafe Charger
The MagEase wireless charger is a real game-changer for the iPhone 15. This is one of the best 15W speed MagSafe battery chargers for iPhone 15. It has 16 magnets built right in that make sure your phone is in the right place when you put it on it. No more fiddling around trying to find the right spot. Just slap it on, and you're good to go.
And this gadget is a beast when it relates to how fast it charges. With up to 15W of power, it can quickly charge an iPhone 14, 13, or 12. We're talking about a whopping 50% charge in just 30 minutes! This suggests that you can go from empty to half-full while you get a coffee or finish some work.
But the MagEase 15W Wireless Charger isn't just about power; it also looks sleek and stylish.It also has some high-tech safety features, such as a temperature control and a way to find foreign objects. So, you don't have to worry about your device when it's charging.
6.

FODAGURI Slim Wireless Charger
Best Design Magsafe Charger
This cool charger has a silicon surface ring and base that keep your phone in place. It is also very small, making it easy to carry around.
To use your favorite case, you don't have to take it off. This charger is cleverly made to work with thin plastic cases that are up to 6 millimeters thick. It can even handle those heavy-duty cases, but it won't work with cases containing magnets or metallic attachments. Get a QC 3.0 power adapter to make the charging process even better.
And for those of you who are worried about safety, this attractive wireless charging pad is real. It has been approved by CE, FCC, and RoHS. It also has built-in temperature control, protection against voltage, and an automatic shut-off. Oh, and it can also find strange objects. The LED on the charging pad lets you know what's going on and makes sure that your phone is charging in a safe and stable way.
7.

JSAUX 2-Pack Magnetic Wireless Charger
Best 2 Pack Wireless Charger
This magnetic wireless charger has been tested by engineers and can charge your iPhone from 0% to 100% in just 2 hours. Even if you're in a hurry, it can charge your iPhone from 15% to 50% in just 30 minutes, which is nearly three times faster compared to a regular 5W iPhone chargers.
This charger is made out of high-quality metal that works well and lasts for a long time. It's also very thin, only 0.23 inches thick, and appears with a 4.9-foot multi-port cable that is built in. It's as lightweight and compact as it gets, so you can carry it around easily and save some space.
8.

Niniber 15W Fast Wireless Charger
Best Smart Magsafe Charger
It's pretty cool that the iPhone can be charged wirelessly. It makes sure that your phone's charger is perfectly aligned with your phone and is attached securely.
This iPhone magnetic wireless charger is made to charge your phone safely and securely. It has a smart chip built in to keep your iPhone from getting too hot, being overcharged, or shorting out. So you can use it without worrying and have an easy time charging.
Just like any other wireless charger, this one follows the safety rules set by the Qi and FCC. So, your iPhone might get a little warm as it charges. But don't worry, if your battery gets too hot, the software might only let it charge to 85 percent. This will help it last longer.
FAQs – 15W MagSafe Chargers
Q. What is a 15W MagSafe charger, and why do I need one for my iPhone 15 or iPhone 15 Pro?
A 15W MagSafe charger is a wireless charging accessory that delivers 15 watts of power to your iPhone 15 or iPhone 15 Pro. It allows for faster and more efficient wireless charging compared to standard chargers.
Q. Are 15W MagSafe chargers compatible with older iPhone models?
While 15W MagSafe chargers are designed for the latest iPhone models, they can also charge older iPhone models that support wireless charging. However, to take full advantage of 15W charging, you need an iPhone 12 or newer.
Q. Do I need to buy a charger from Apple, or can I use third-party chargers?
You can use both official Apple chargers and reputable third-party chargers as long as they are MagSafe-compatible and meet Apple's standards for safety and performance.
Q. Can I use a 15W MagSafe charger with my iPhone 15 or iPhone 15 Pro if I have a protective case on my phone?
Many 15W MagSafe chargers work with slim protective cases. However, the thickness and material of the case can affect charging efficiency. It's best to choose a charger that explicitly mentions case compatibility.
Q. Is MagSafe charging safe for my iPhone 15 or iPhone 15 Pro?
Yes, MagSafe charging is safe for your iPhone 15 or iPhone 15 Pro. Apple has designed MagSafe chargers to meet safety standards and protect your device from overcharging and overheating.
Q. Do 15W MagSafe chargers come with a cable, or do I need to purchase one separately?
Some 15W MagSafe chargers come with a cable included, while others may require you to purchase a compatible cable separately. Check the product details to confirm whether a cable is included.
Q. Can I use my 15W MagSafe charger to charge other devices like AirPods or an Apple Watch?
15W MagSafe chargers are primarily designed for iPhones, but some may have the ability to charge other MagSafe-compatible accessories like AirPods with a MagSafe-compatible case. However, they are not designed for Apple Watch charging.
Q. What is the difference between a 15W MagSafe charger and a 20W MagSafe charger?
The primary difference is the charging speed. A 20W MagSafe charger can deliver more power to your device, resulting in faster charging compared to a 15W charger. The choice depends on your preference for charging speed.
Q. Are there any eco-friendly 15W MagSafe chargers available?
Some manufacturers prioritize sustainability and offer eco-friendly chargers made from recycled materials. If environmental impact is a concern, look for chargers with such features.
---
Conclusion
To sum up, there are a lot of great options for iPhone 15 fast wireless chargers  and iPhone 15 Pro MagSafe chargers on the market. With these best iPhone 15 fast wireless chargers, you can make sure that your iPhone 15 and iPhone 15 Pro are always charged quickly and safely.
This will make using your tech easier and more fun than ever before. Accept wireless charging as the way of the future and improve your iPhone experience with these great chargers.
Read more about