iPhone 15 Plus
At Apple's most recent event in September, the iPhone 15 Plus was introduced alongside the iPhone 15, the iPhone 15 Pro, and the iPhone 15 Pro Max. The iPhone 15 Plus is the model to purchase if you want a large screen without paying the premium that comes with a Pro model.
It is also a handset that has a lot of upgrades compared to the iPhone 14 Plus. These upgrades include a USB-C port instead of a Lightning port, a significantly more megapixels in its main camera, and a Dynamic Island rather than a notch in the display. In addition, it has a more powerful chipset.
Check out our hands-on review of the iPhone 15 Plus to see what we thought of it when we first used it. If you don't want the bigger phone, you should also read our hands-on review of the iPhone 15. If you're interested in Apple's more expensive phones, you can read our hands-on reviews of the iPhone 15 Pro and iPhone 15 Pro Max.
Read on to find out everything about the iPhone 15 Plus, such as when it will come out and how much it will cost. Check out our live blog of Apple's September event for all the other news.
Date of Release and Price of the iPhone 15 Plus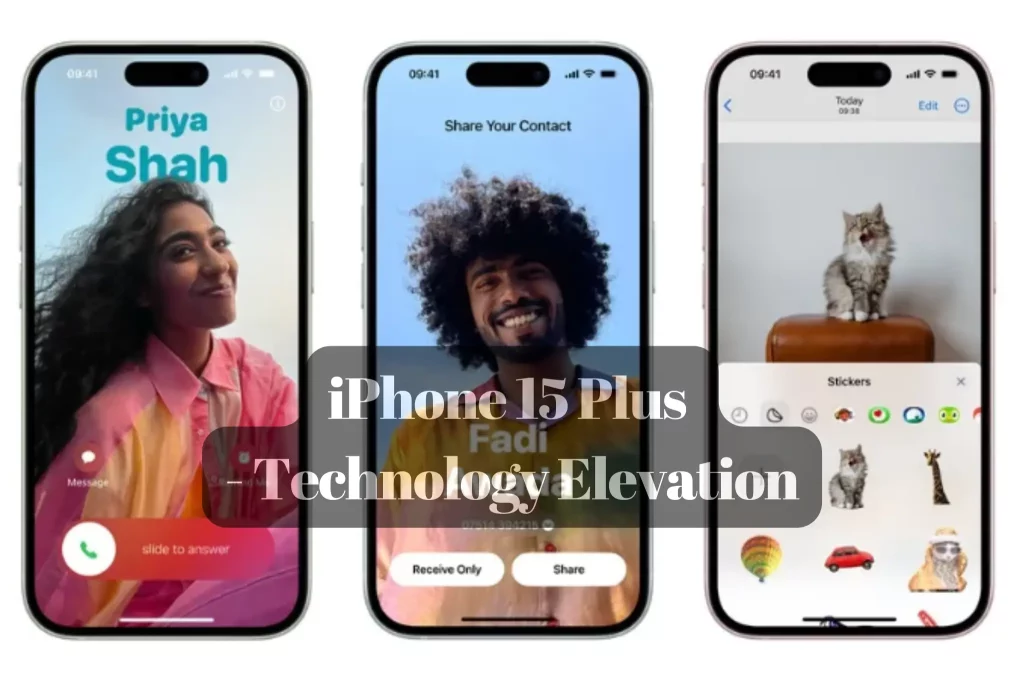 The iPhone 15 Plus was shown off at Apple's September event on September 12, and people could start preordering the phone on Friday, September 15. Friday, September 22 is the real date of shipping.
The 128GB model of the iPhone 15 Plus costs $899, £899, or AU$1,649. The 256GB model costs $999, £999, or AU$1,849, and the 512GB model costs $1,199, £1,199, or AU$2,199. That's the same price as last year for people in the US, but it's less in the UK. In Australia, however, the price of the Plus has gone up.
The date for pre-orders is September 15
Starts to ship on September 22
Prices begin at $899, £899, or AU$1,649
Colors of the iPhone 15 Plus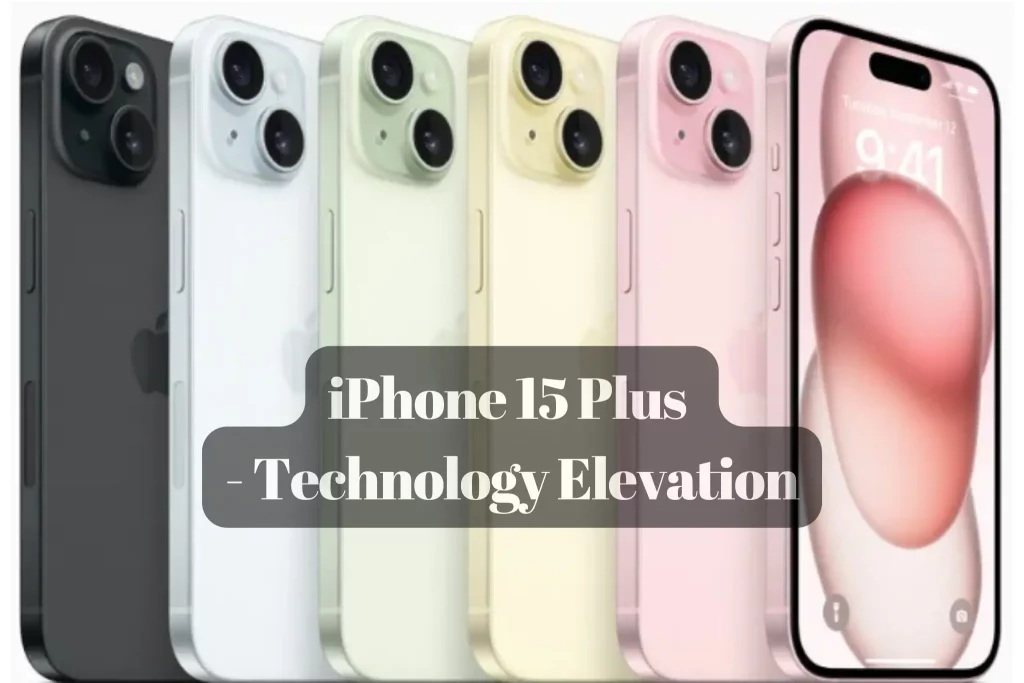 Apple gives you a choice of five matte colors for the iPhone 15 Plus. Here are the choices:
| | | | | |
| --- | --- | --- | --- | --- |
| Pink | Yellow | Green | Blue | Black |
These options are far brighter than what you'll find the iPhone 15 Pro or iPhone 15 Pro Max in, but they're still quite understated.
Design Of The iPhone 15 Plus
From the back, the iPhone 15 Plus looks a lot like the iPhone 14 Plus. It has a glass back, an aluminum frame, and a camera block with two lenses. The iPhone 15 Plus comes in different colors, such as pink, yellow, green, blue, and black.
The way the glass on the back is made is also a little bit different. It is made of color-infused glass with a textured matte finish, and the sides are curved to make it easier to hold. But the biggest change is up front, where there is no notch this year and instead there is a Dynamic Island on the iPhone 15 Plus.
Aside from that, it has the same IP68 rating as its predecessor, which means it can stand up to dust and water. It measures 160.9 x 77.8 x 7.8mm and weighs 201g. As you might guess, that is very similar to the iPhone 14 Plus.
Apple has also made a big deal about how green the iPhone 15 Plus is, saying that 75% of the aluminum used to make the case is recycled. A lot of the other parts are also made from things that have been used before.
It has shades of pink, yellow, green, blue, and black.
Contains a dynamic island.
Uses glass with color in it
Display On The iPhone 15 Plus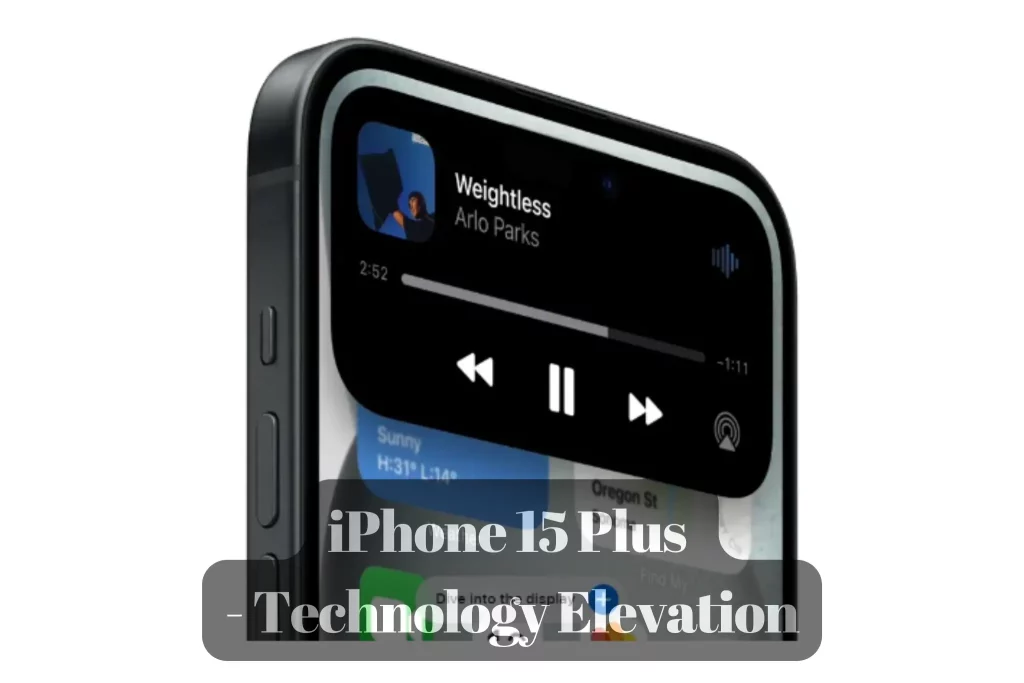 The iPhone 15 Plus has a 6.7-inch, 1290 x 2796 Super Retina XDR display with 460 pixels per inch and a maximum brightness of 2,000 nits, up from 1,200 nits on the iPhone 14 Plus. So it's big, which is why the name includes "Plus," and it's bright.
Apple doesn't seem to have said what the refresh rate is, but it's almost certain to be 60Hz again.
It also has a Dynamic Island instead of a notch, which is the biggest change, and as usual, Ceramic Shield protects the screen.
A 6.7-inch, 12902796-pixel screen
Peak brightness of 2,000 nits outdoors
460 dots per inch
Cameras on the iPhone 15 Plus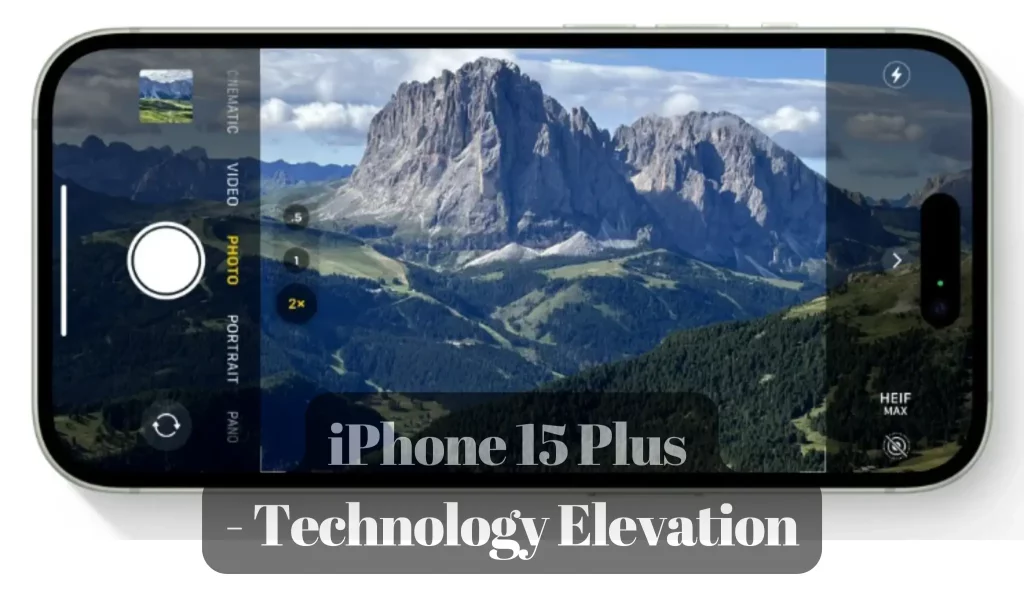 There are only two cameras on the back of the iPhone 15 Plus, but they've been updated. The main sensor is now a new 48MP camera instead of the 12MP camera that was there before.
It has an f/1.6 aperture and sensor-shift optical image stabilization (OIS). It can also work as a telephoto camera and take 12MP pictures with a 2x optical zoom.
There is also a 12MP f/2.4 ultra-wide camera with a 120-degree field of view and a 12MP f/1.9 TrueDepth autofocus front camera.
Some of the camera's software and features have also been updated. For example, it will now automatically capture depth data if the subject is a person, a cat, or a dog. This means that you can choose to see your photo as a portrait after you take it, instead of having to turn on portrait mode before you take the picture.
People say that portrait shots are now more vivid and work better in low light. Night mode has also gotten better, they say.
You can record video at up to 4K quality and up to 60fps.
A new main camera with 48MP

Using the main sensor, it can take pictures that are two times as far away.

12MP wide-angle and 12MP front-facing cameras
Performance of the iPhone 15 Plus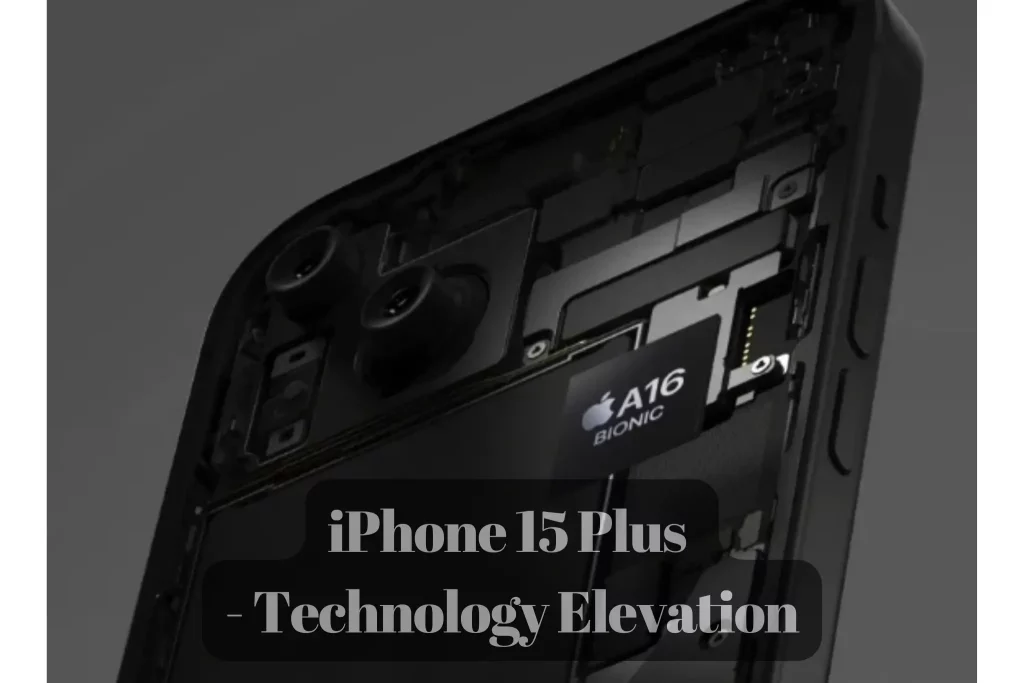 Because it is powered by an A16 Bionic chipset, the iPhone 15 Plus should work better than last year's model. This isn't new because it's already in the iPhone 14 Pro and iPhone 14 Pro Max, but it's better than the A15 Bionic in the iPhone 14 Plus.
Apple hasn't said how much RAM the iPhone 15 Plus has, so we won't know until someone takes it apart. For what it's worth, leaks have always said it would have 6GB, just like its predecessor.
A chip set called A16 Bionic
More powerful than the 14 Plus iPhone
Battery For iPhone 15 Plus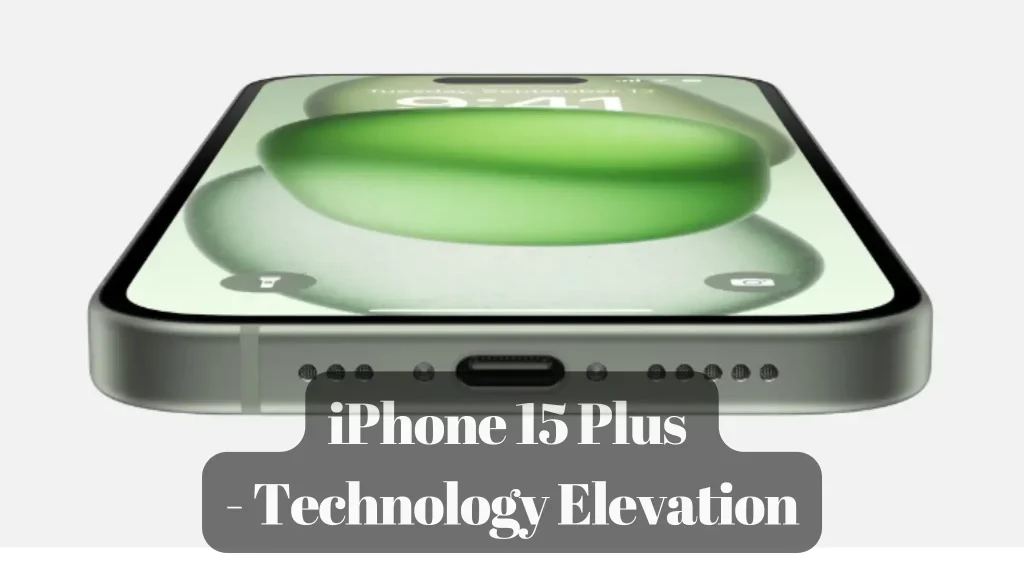 We do not know how big the battery is in the iPhone 15 Plus because Apple never tells us, but the company has said it will last all day.
More specifically, the company has said that it can play videos for up to 26 hours, stream videos for 20 hours, or play music for 100 hours, which are all the same specs as the iPhone 14 Plus.
Instead of a Lightning cable, it charges with USB-C or wirelessly. That is a big, but expected, change, and it means you can finally use the same cable for this as you do for most of your other devices that are not Apple.
But, just like last year, the fastest it can charge is at 20W, and Apple says it can charge 50% in 35 minutes.
The new Qi2 standard for wireless charging can also be used with the iPhone 15 Plus. We do not know yet how useful this feature will be, though, because there are not any Qi2-certified wireless chargers on the market right now.
In a nutshell, Qi2 lets third-party manufacturers use the built-in magnets of Apple's MagSafe technology. This could mean that when Qi2-certified wireless chargers finally hit the market, they will be able to charge Apple's newest iPhones at 15W, which is something that only MagSafe chargers have been able to do in the past.
Even though Apple has said that its iPhone 15 models will work with "future Qi2 chargers for wireless charging," the official tech specs page for the iPhone 15 Pro says that it supports "MagSafe wireless charging up to 15W" and "Qi wireless charging up to 7.5W." This means that all iPhone 15 devices, including the iPhone 15 Plus, should also be able to use these charging methods.
This could mean that Apple will keep limiting 15W wireless chargers from companies other than Apple to 7.5W in order to keep MagSafe sales high. Still, we hope Apple will make 15W wireless charging available for all of its devices.
The iPhone 14 Plus has the same battery life

20W of power

It can be charged by USB-C or wirelessly
Software and Features of The iPhone 15 Plus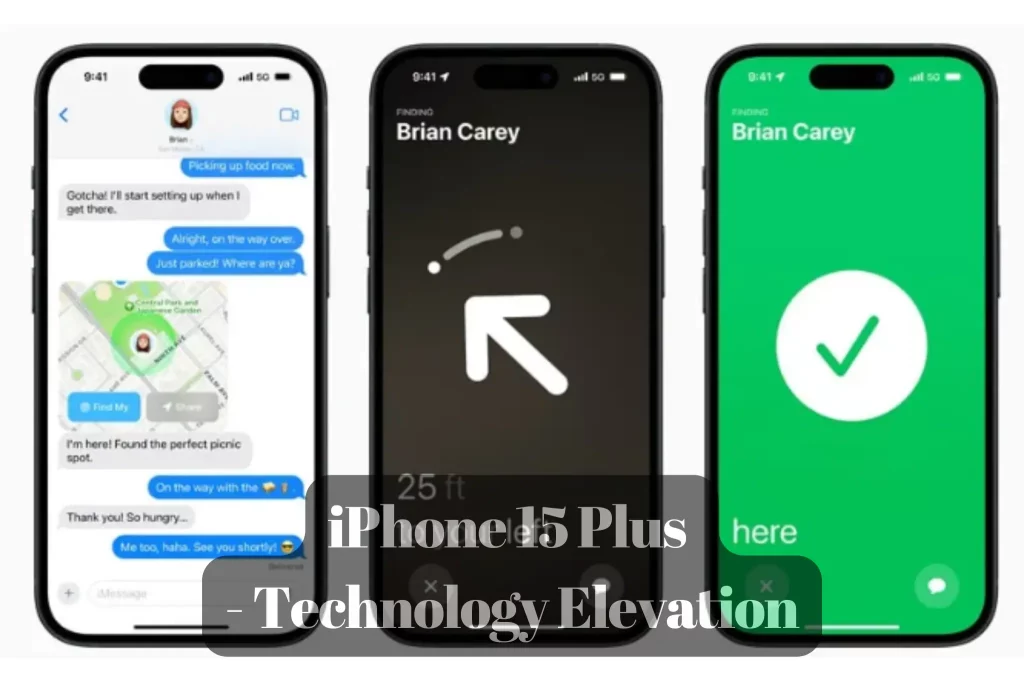 The iPhone 15 Plus comes with iOS 17, which is so new that no other iPhones can run it right now (except as a beta). But iOS 17 will soon be available for all new iPhones, so you do not have to feel like you are missing out on software if you do not buy a new one.
But the iPhone 15 Plus has some other useful new features, like Roadside Assistance via satellite, which lets users call AAA if their car breaks down when there is no phone signal. At first, though, only people in the US will be able to use this feature.
The iPhone 15 Plus also has a new Ultra Wideband chip that lets users of the iPhone 15 line share their locations and use Precision Finding to find each other, even in crowds, at three times the range of before.
Apple iOS 17

Includes a new feature that gives roadside help via satellite

Has a new Ultra Wideband chip that makes Precision Finding work better
---
Read more about