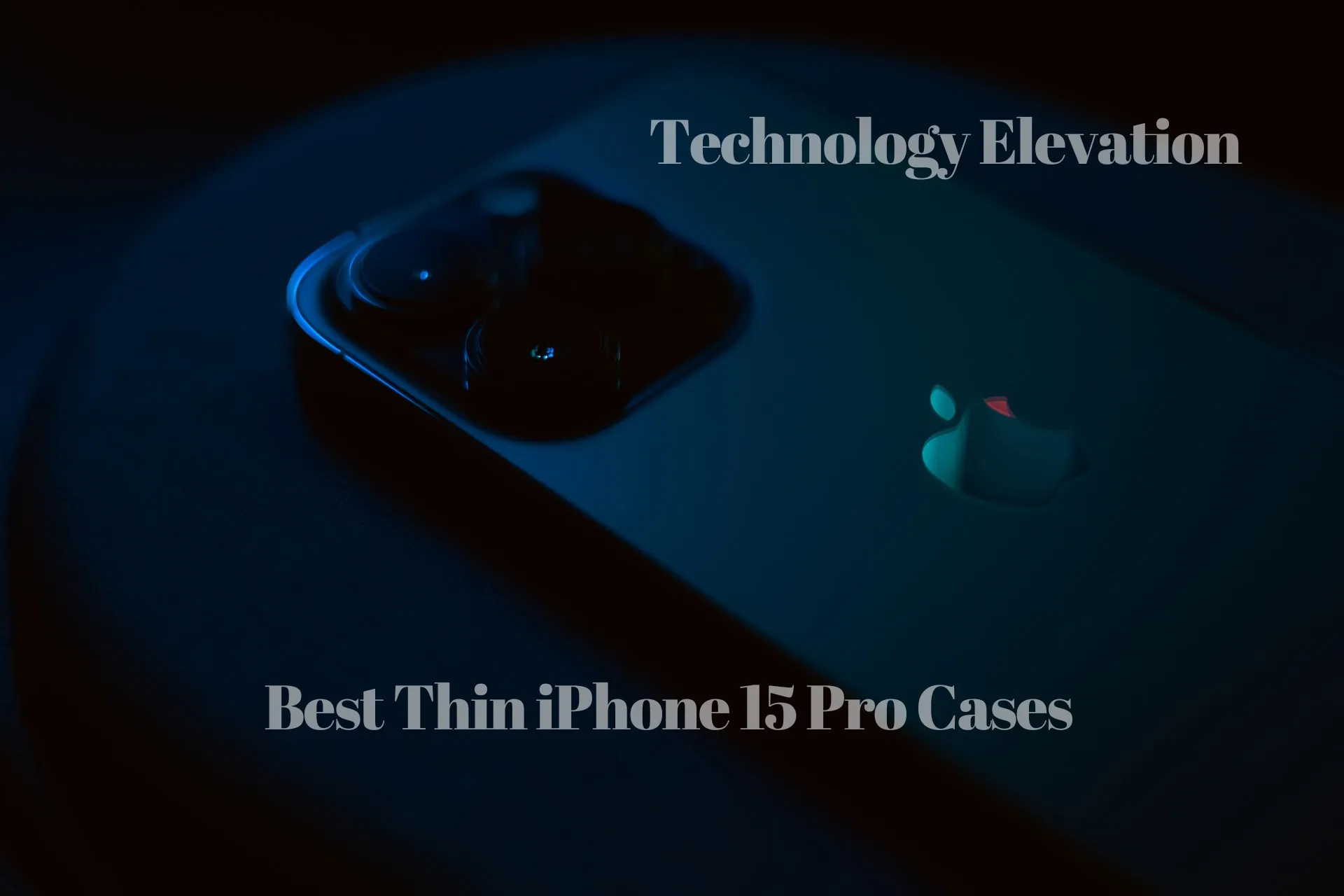 Best Thin iPhone 15 Pro Cases in 2023
This guide will help you find the best iPhone 15 Pro thin cases you can buy in 2023. These amazing cases protect your iPhone from all sides without making it bigger.
Are you a proud owner of the Apple iPhone 15 Pro, a new smartphone that looks like a diamond? Well, if you are, you've probably been impressed by how sleek it looks and how much it can do.
But here's an important question: how do you protect this valuable piece of tech art without making it bigger like a bodybuilder on a protein shake binge? Don't worry, because we've scoured the market for the best thin iPhone 15 Pro cases in the crazy world of phone cases.
So, grab your favorite drink and settle in because we're about to go on a journey through a collection of ultra-protective, ultra-stylish, along with ultra-thin cases for iPhone 15 Pro that will keep your phone looking cool without adding extra weight.
What To Look For While Buying
When searching for the best thin iPhone 15 Pro cases in 2023, it's essential to consider several factors to ensure that you choose the perfect case that combines style, protection, and functionality. Here's what to look for while making your purchase:
Compatibility:
Begin by confirming that the case is specifically designed for the iPhone 15 Pro. Precise cutouts and a snug fit are crucial to accessing all ports, buttons, and features effortlessly.
Material:
Opt for a case made from durable yet lightweight materials like polycarbonate, TPU (thermoplastic polyurethane), or a combination of both. These materials offer excellent protection without adding unnecessary bulk.
Design:
Thin cases come in various designs, from clear and minimalistic to textured and patterned. Choose a design that matches your personal style while showcasing the iPhone's aesthetics.
Protection:
While thin cases are slim, they should still provide adequate protection against everyday drops and bumps. Look for cases with reinforced corners and raised edges to safeguard the screen and camera.
Grip:
A case with a non-slip texture or grippy sides enhances your hold on the iPhone, reducing the risk of accidental drops.
Wireless Charging Compatibility:
Ensure that the case doesn't hinder wireless charging functionality. Most thin cases are designed to support wireless charging without the need for removal.
Brand Reputation:
Consider reputable brands known for quality and precision in case manufacturing. Established brands often offer better quality control and materials.
Reviews and Ratings:
Read user reviews and check ratings to gauge real-world satisfaction with the case's design, durability, and overall performance.
Price:
Determine your budget for a thin iPhone 15 Pro case. While premium options are available, there are also high-quality, budget-friendly cases that offer excellent protection.
Warranty:
Check if the case comes with a warranty or satisfaction guarantee. This can provide added peace of mind and assurance of the case's quality.
By carefully assessing these factors, you can make an informed decision when purchasing the best thin iPhone 15 Pro case in 2023. Finding the right balance between protection, style, and functionality ensures your iPhone stays sleek and safe.
When exploring the types of thin cases available for the iPhone 15 Pro in 2023, you'll discover a variety of options designed to meet different preferences and needs. Here are some popular types to consider:
Clear Thin Cases:
These cases are entirely transparent, allowing the iPhone's design to shine through. They offer minimalistic protection while showcasing the device's aesthetics.
Slim Matte Cases:
Matte finish cases provide a sleek, non-glossy appearance. They're known for their comfortable grip and resistance to fingerprints and smudges.
Ultra-Thin Cases:
These cases are incredibly slim, adding almost no bulk to your iPhone. They're ideal for users who want basic protection without compromising the phone's slim profile.
Leather Thin Cases:
Leather cases offer a blend of sophistication and protection. They are often slim and provide a premium feel while safeguarding the iPhone.
Carbon Fiber Cases:
Carbon fiber cases are lightweight, thin, and known for their excellent durability. They provide a modern and sporty appearance.
Wallet Thin Cases:
These cases combine phone protection with cardholder functionality. They're perfect for those who prefer to carry essential cards and cash with their iPhone.
Rugged Thin Cases:
While still thin, rugged cases offer enhanced protection with reinforced corners and extra shock-absorbing features. They're suitable for users in more demanding environments.
Transparent Bumper Cases:
These cases combine a clear back with a bumper frame, offering a balance between showcasing the iPhone's design and providing protection against drops.
Metallic Finish Cases:
Cases with metallic finishes provide a shiny and eye-catching appearance. They are often slim and can complement your style.
Designer Thin Cases:
Designer cases feature unique patterns, prints, or artwork, allowing you to express your personality while keeping your iPhone slim and stylish.
Silicone Thin Cases:
Silicone cases offer a soft and flexible texture that is comfortable to hold. They are thin yet provide a good grip and protection against scratches.
Customizable Thin Cases:
Some cases allow for customization, enabling you to add your own designs or photos. This is a great way to personalize your iPhone case.
Battery Thin Cases:
Battery cases are thin and come with an integrated power source to extend your iPhone's battery life, making them perfect for heavy users.
Waterproof Thin Cases:
Waterproof cases are designed to protect your iPhone from water damage while maintaining a slim profile. They are ideal for outdoor and water-related activities.
When choosing a thin case for your iPhone 15 Pro, consider your priorities in terms of style, protection level, and additional features. Whether you prefer a transparent, rugged, or wallet case, there's a thin case type to suit your needs in 2023.
Top 8 Best Thin iPhone 15 Pro Cases in 2023
1.

Humixx Slim Protective Case
The Humixx iPhone 15 Pro case is full of cutting-edge technology, like a Halbach magnetic ring structure with 38 N52 super-strong magnets. With an impressive magnetic strength of 18N, these magnets are locked in place, making them a perfect fit for wireless charging and keeping your phone attached even when you shake it hard.
This case works with MagSafe accessories, like magnetic leather wallets and sleeves, the MagSafe Battery Pack, stand wireless chargers, credit card holders, and car mounts.
The Humixx case for the iPhone 15 Pro is the best protection available. It has patented U-shaped shock-absorbing airbags inside and outside all four corners, a reinforced soft TPU bumper, and an impact-reducing backplane that can spread 99% of impact forces. This case has passed 12,000+ 14-foot drop tests to meet military-grade drop standards (MIL-STD-810G 516.6), which means that your phone will be safe and protected for a long time.
2.

TORRAS Slim Fit iPhone 15 Pro Case
If you want a phone case that is very thin, this is the one. It's a no-brainer choice because it's stylish, strong, and of top-notch quality. Its thin design, which is only 0.03 inches thick and weighs only 0.65 oz, changes the game. Because of how well it's made and how light it is, you'll hardly notice that your phone has a case on it. No extra size or weight, just pure simplicity so you can use the screen with just one hand.
This iPhone 15 Pro thin case is made of high-quality PC and has a 4-layer design that can't be broken. It was made through advanced prototyping under high temperatures and pressure. It's thin but strong, with 1.2 mm lips around the camera and 1.0 mm bezels around the screen to protect it from scratches and protect it from daily wear and tear. This case is a perfect blend of form and function.
3.

Smartish iPhone 15 Pro Slim Case
It's ready to go whether it's facing up or down, so don't worry about that. The raised edges of the bumper give your phone a little lift and protect it. It has rough sides to help you hold on to it and a smooth back that slides right into your pocket. What do you know? It works well with MagSafe chargers and accessories because it has magnets built in.
And this baby means business when it comes to being strong. It has been dropped 50 times from a height of 6 feet onto concrete and passed the test with no damage. So, who wouldn't like a little extra confidence, right?
4.

PITAKA Case for iPhone 15 Pro
This sleek iPhone 15 Pro case is made of 600D aramid fiber, a high-quality material that is used in aerospace and military applications. It's different from carbon fiber because it won't mess up your phone's signal and it doesn't conduct electricity. So, it's not just stylish; it also protects well against scratches and color fading that happen every day.
It's also as thin as a credit card and as light as two half-dollar coins. You won't even notice that it's there, but your iPhone 15 Pro will appreciate the extra protection.
Let's talk about the grip. The 3D Grip Technology used to make this case is the perfect mix of smoothness and security against slipping. The chamfered edge on the back not only makes it look cool and stylish, but it also makes it easy to hold.
5.

TOCOL 3 in 1 Magnetic Case
TOCOL Strong Magnetic iPhone 15 Pro Case is made to improve the way you use your iPhone. This case has a super N52 magnetic ring built in that fits perfectly with MagSafe chargers. This makes wireless charging stronger, safer, and faster. With a super-strong magnetic suction power of 18N, which is 125% higher than the official factory standard, your phone stays in place even when you move around a lot.
But that's not all. This Pro shockproof protective case goes even further. It is made with TPU cushioning and a four-layer structure, and it has 360° airbags that can protect it from falls of up to 15 feet. Plus, it has 1.4mm screen bezels and 0.88mm raised lips around the camera hole, which protect it from bumps and scratches in all directions.
The unique protection for the camera is what makes this case stand out. Unlike other thin cases for the iPhone 15 Pro, the TOCOL case protects the camera without getting in the way of the design. The camera frame is raised by 0.8mm, which protects your expensive lens from damage without lowering the quality of your photos.
6.

SUPCASE Unicorn Beetle Mag Case
The Supcase Unicorn Beetle Case is the last case on our list of the best thin cases for the 6.1-inch iPhone 15 Pro. With its tough PC back and shock-absorbing TPU bumper, it protects your device like a suit of armor.
Also, the back cover is perfectly clear and almost impossible to scratch. You won't have to worry about marks that make your phone look bad.
And when you turn your phone over, those raised edges save the day. They protect your phone's screen and camera lens from scratches and other damage.
Also, don't worry about any trouble. This case is made to fit your phone perfectly, so you can easily use all of its features, functions, and ports. It's like a superhero suit made especially for your phone!
7.

OTOFLY Silicone Slim Thin Phone Case
This case is made of high-quality liquid silicone and has a nano-coating, so it not only feels great in your hand but also keeps smudges away. It's also made to withstand shocks, which is great for protecting your expensive phone.
Worried about dropping things by mistake? Don't worry! This simple case for the iPhone 15 Pro has raised edges that are 1.3 mm high and protect your screen and camera from cracks and scratches. Don't worry about the delicate surface of your phone, either. The soft microfiber lining inside makes sure it won't get scratched.
Also, this case has a very slim profile that looks great with the original design of your phone. It won't add any weight, so you can hold your iPhone 15 Pro with confidence and not feel like you're carrying a brick.
8.

CASEKOO Crystal Clear Case
Your new phone will look great and be safe with this case. This case is made with high-quality Bayer TPU from Germany and cutting-edge AR technology. It has unmatched clarity, letting the unique color and design of your phone shine through with almost 100% light transmission. Plus, the "Never Yellow" technology makes sure that the glass stays clear for a long time.
Worried about drops and scratches? With raised 2.5mm lens edges and 1.5mm screen edges, the ultra-thin iPhone 15 Pro case has you covered. This gives your camera and screen strong protection. And don't forget the clever 0.5mm raised corner lips on the back that keep your phone stable when it's lying flat.
Even though it protects very well, this case is very thin. It is only 0.04 inches thick and weighs only 0.98 ounces. It keeps your phone's original look and feel while giving both sides a comfortable, non-slip texture that makes it easy to hold and put in your pocket. Our clear case for the iPhone 15 Pro will make it look better and work better at the same time.
FAQs – Best Thin iPhone 15 Pro Cases
Q: What defines a "thin" iPhone 15 Pro case?
Answer: Thin cases are characterized by their slim and lightweight design. They offer protection without adding significant bulk to your iPhone.
Q: Do thin cases provide adequate protection for the iPhone 15 Pro?
Answer: Yes, many thin cases are engineered to provide adequate protection against everyday drops, scratches, and minor impacts. However, for extreme protection, consider rugged or heavy-duty cases.
Q: Are thin cases compatible with wireless charging?
Answer: Most thin cases are designed to be compatible with wireless charging, allowing you to charge your iPhone 15 Pro without removing the case.
Q: Can I use a tempered glass screen protector with a thin case?
Answer: Yes, thin cases typically accommodate tempered glass screen protectors. It's essential to ensure that the case and screen protector are compatible for a precise fit.
Q: Are clear thin cases prone to yellowing or discoloration over time?
Answer: Some clear cases may develop a yellowish tint over time due to exposure to UV rays. Consider UV-resistant clear cases or occasional cleaning to maintain clarity.
Q: Do wallet-style thin cases offer sufficient card and cash storage?
Answer: Wallet thin cases vary in card and cash storage capacity. Check the product description to ensure it meets your specific needs.
Q: Are leather thin cases easy to maintain and clean?
Answer: Leather cases are relatively easy to clean. Use a damp cloth or leather cleaner to remove dirt or stains and maintain their appearance.
Q: How do I choose between a matte and glossy finish for a thin case?
Answer: The choice between matte and glossy finishes is a matter of personal preference. Matte finishes offer a non-slip grip and resistance to fingerprints, while glossy finishes can be more visually striking.
---
Conclusion
To Conclude, selecting the best thin iPhone 15 Pro case in 2023 involves balancing style, protection, and functionality. With a range of options, from clear and minimalist to rugged and feature-rich, you can find the perfect case to complement your device and lifestyle while keeping it slim and secure. Prioritize your preferences and needs to make a choice that suits you best.
Read more about