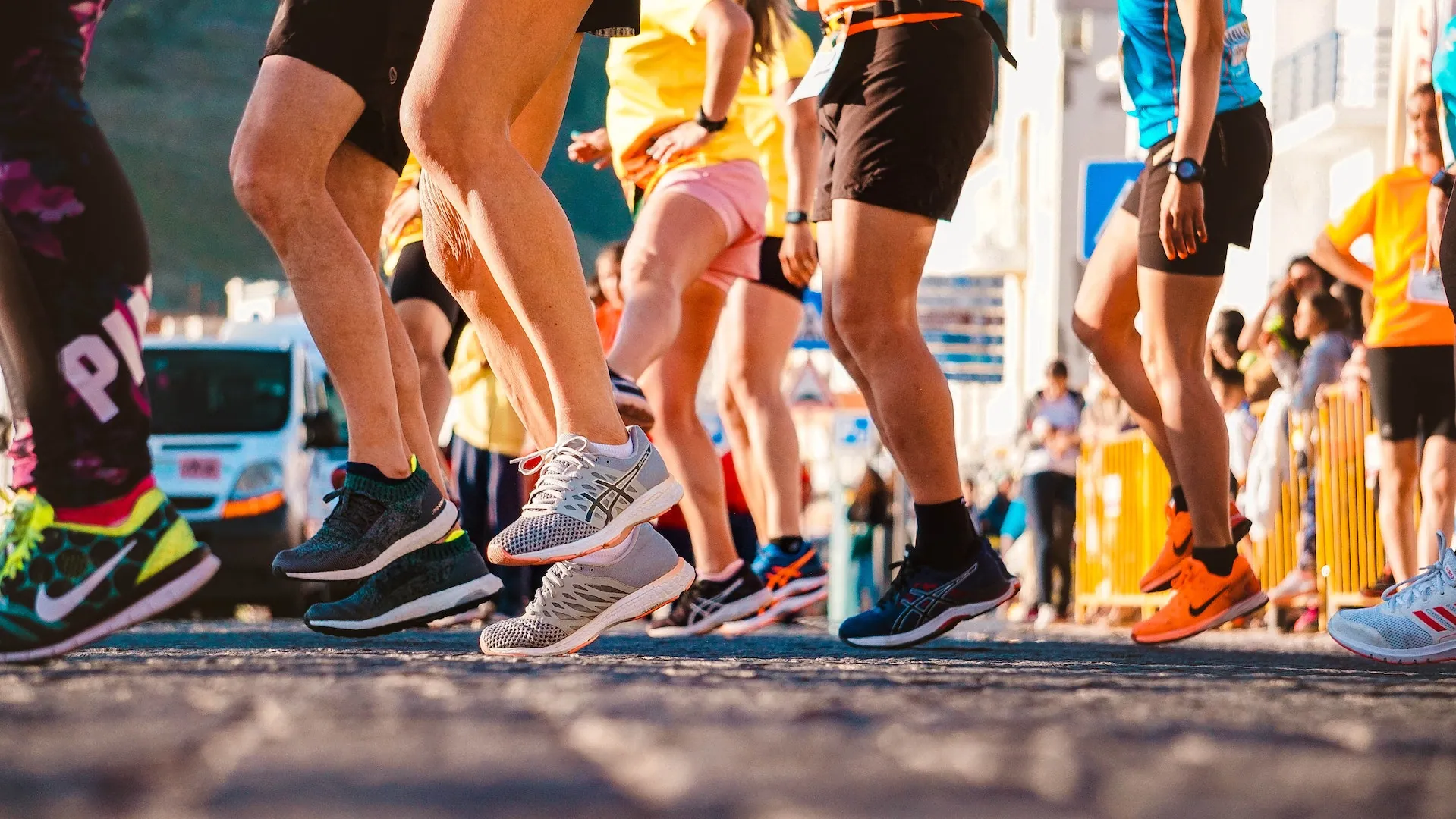 Whether you're new to running or a seasoned marathoner, you need the right shoes to get started. But there are so many choices on the market today that even people who know what they want in a shoe can quickly feel overwhelmed.
It can be hard to find the best running shoes for you, especially if you are just starting out. When shopping for other kinds of shoes, you really only need to think about the price, how they look, and how comfortable they are. But if you want the best running shoes, there are a lot of other things to think about and a lot of lingo to learn.
Types of Running Shoes
Neutral running shoes provide a balanced combination of cushioning and support. They are designed for runners with normal arches, offering a stable and natural stride.
Ideal Use: Ideal for runners with a neutral gait who don't overpronate or supinate.
Stability running shoes are engineered with additional arch support to correct mild to moderate overpronation. They feature denser foam or a medial post to prevent excessive inward rolling of the foot.
Ideal Use: Best for runners with low to flat arches who overpronate and need added support.
Motion Control Running Shoes:
Motion control shoes are the most supportive type, ideal for severe overpronators. They feature a robust structure, including a significant medial post, to limit excessive foot movement.
Ideal Use: Suited for runners with flat feet and severe overpronation.
Minimalist Running Shoes:
Minimalist shoes offer a stripped-down design with minimal cushioning and a low heel-to-toe drop. They encourage a natural, midfoot or forefoot strike.
Ideal Use: Designed for experienced runners seeking a more minimalist and natural running experience.
Maximalist Running Shoes:
Maximalist shoes feature thick midsoles with ample cushioning. They are designed for runners who prioritize cushioning and shock absorption to reduce impact on joints.
Ideal Use: Suitable for long-distance runners or those looking for superior comfort.
Trail shoes are built tough for off-road adventures. They have aggressive outsoles with deep lugs for traction, durable uppers to protect against debris, and rock plates for underfoot protection.
Ideal Use: Perfect for trail runners tackling rugged terrain, including dirt paths, rocks, and mud.
Road running shoes are optimized for smooth, paved surfaces. They are lightweight and offer a balance of cushioning and responsiveness.
Ideal Use: Great for everyday road runners and those training on tracks or city streets.
Sprint racing shoes are minimalist and ultralight. They focus on speed and feature thin soles with spikes for traction on the track.
Ideal Use: Designed for sprinters competing in short-distance races like the 100m or 200m.
Distance racing shoes are lightweight and balanced, offering moderate cushioning. They are designed for long-distance races like marathons and provide a blend of comfort and speed.
Ideal Use: Suited for runners aiming for personal records in longer races.
Cross-training shoes are versatile and suitable for a variety of workouts, including running, weightlifting, and agility exercises. They provide stability and support for different activities.
Ideal Use: Ideal for individuals who engage in multiple types of training and need a versatile shoe.
What To Look For While Buying The Best Running Shoes
Understand your foot type – whether you have normal arches, flat feet, or high arches. Also, determine your pronation, which is how your foot rolls inward during a stride (neutral, overpronation, or supination).
Why it Matters: The right shoe type (neutral, stability, or motion control) aligns with your foot type and pronation, providing the necessary support and comfort.
Ensure the shoes fit comfortably with a thumb's width of space in the toe box. Try on shoes in the late afternoon when your feet tend to swell, and wear the same socks you run in.
Why it Matters: Proper fit prevents blisters, discomfort, and toenail issues during your runs.
Terrain and Running Surface:
Consider where you'll primarily run – on roads, trails, or a mix of both. Different shoes are designed for specific terrains.
Why it Matters: Choosing shoes suited to your running environment ensures better performance and durability.
Determine the level of cushioning you prefer – minimal, moderate, or maximum. Look for shoes that offer the right balance of cushioning and support for your running style.
Why it Matters: Cushioning impacts comfort and shock absorption, while support enhances stability and injury prevention.
Select shoes with arch support that matches your foot's arch height – high, medium, or low. This prevents discomfort and potential injuries.
Why it Matters: Proper arch support improves overall comfort and reduces the risk of overuse injuries.
Breathability and Materials:
Consider shoe materials and breathability features. Mesh uppers and moisture-wicking materials help keep your feet cool and dry.
Why it Matters: Breathable shoes prevent blisters and discomfort caused by sweating during runs.
The heel-to-toe drop is the height difference between the heel and forefoot. Different drops affect your running form and gait.
Why it Matters: Choosing the right drop for your running style can improve efficiency and comfort.
Lighter shoes are ideal for speed and racing, while slightly heavier shoes offer durability and support.
Why it Matters: Your shoe's weight can affect your running performance and comfort during long-distance runs.
Brand and Model Reputation:
Research shoe brands and specific models known for quality, durability, and suitability for your running style.
Why it Matters: Trusted brands often produce reliable and performance-oriented shoes.
Determine your budget for running shoes. While quality matters, there are excellent options available in various price ranges.
Why it Matters: Staying within your budget ensures you find suitable shoes without overspending.
Top 7 Best Running Shoes 2023
1.

Saucony Endorphin Speed 3
Best Running Shoe Overall for Men
The best running shoe for men is the Saucony Endorphin Speed 3. It has just the right amount of cushioning and response. This shoe is comfortable enough to get you through long days of hard training, and it feels quick enough for days when you have to run fast. It's almost impossible to find the perfect balance, but the Endorphin Speed 3 comes closer than most shoes.
If you need more stability in your running shoes, this might not be the right pair. It didn't do as well as other models and didn't have much extra support for your feet on uneven ground.
To make up for the lack of rigidity, the Endorphin requires you to pay more attention to your form and use your lower leg muscles. But the Saucony Endorphin Speed 3 is a great choice for most runners because it is a good all-around shoe.
Specification:
| | |
| --- | --- |
| Heel-to-Toe Drop | 8 mm |
| Outsole Material | Rubber |
Reasons To Buy

Reasons To Avoid

+

Comfortable and well-padded

–

Not as helpful.

+

Very quick to respond

–

Costs a lot
+

Lightweight and able to let air in

—
2. A

didas Adistar Running Shoes
The Best Slow-Run Shoe
The Adidas Adistar's rocker impressed us because it keeps you moving forward throughout long training sessions. The shoe isn't the lightest, but the dual-density foam is strong and durable, so it holds up well even after a lot of miles.
We also liked that the shoe has an integrated cage system that makes it fit snugly and comfortably. The upper is made from recycled plastic from the ocean and recycled polyester, which is good for the environment.
Overall, the Adidas Adistar is a great running shoe for long, slow runs. It will help you keep your form when your mind starts to wander and you're running on autopilot. Even after wearing them for a few hours, the shoes don't feel slow, and the rocker design makes it less likely that your feet will drag, even though the shoes have a high stack.
Specification:
| | |
| --- | --- |
| Heel-to-Toe Drop | 6 mm |
| Outsole Material | Rubber |
Reasons To Buy

Reasons To Avoid

+

Dual-density foam that bounces back

–

Some people might not like chunky shoes

+

R=A well-made rocker

–

Not the lightest shoe out there
+

Uses eco-friendly materials

—
3.

Nike ZoomX VaporFly Next% 2
Best Race Running Shoes Overall
The Nike ZoomX Vaporfly Next 2 is the best running shoe because it gives back a lot of energy and feels like nothing else we've tried. This is a running shoe made for running fast. We loved how springy it was, thanks to a full-length articulated carbon footplate and 40mm of ZoomX foam that didn't feel soft or marshmallowy.
It has a simple mesh upper that is very breathable and has just enough padding to make it comfortable without making it too heavy. The Nike ZoomX Vaporfly Next 2 is a great shoe for races and track days, and it could help you set a new personal best.
Specification:
| | |
| --- | --- |
| Heel-to-Toe Drop | 8 mm |
| Outsole Material | Rubber |
Reasons To Buy

Reasons To Avoid

+

Extremely light

–

There are foams on the market that last longer

+

Way too fast

—

+

Great looks that stand out

—
4.

New Balance FuelCell Rebel V3
Best Speed Trainer For Every Day
The Rebel v3 has more of what its predecessor didn't have. The outsole has more rubber coverage to handle more miles, the knit upper feels more durable, and there is 1.5mm more FuelCell foam underfoot. Even though these changes are important for long runs, they make the Rebel unsuitable for people who like a firm ride for racing. Some testers said that the increase in durability and comfort came at the cost of a slightly softer ride, but the weight of a men's size 9 shoe only went up by 0.1 ounce.
Specification:
| | |
| --- | --- |
| Heel-to-Toe Drop | 6 mm |
| Outsole Material | Rubber |
Reasons To Buy

Reasons To Avoid

+

Added eyelets and gusset tongue improve fit

–

Doesn't feel quite as fast as v1 and v2

+

Wider platform and sturdier heel counter improve stability from v2

–

Still runs slightly short, but truer-to-size than v2
+

More versatile for long runs than v2

—
5.

Saucony Endorphin Speed 2
Top Running Shoe for Fast Sessions
If you used to love running but haven't in a while, the Saucony Endorphin Speed might be the best running shoe to get you back into it.
This is a neutral motion-control shoe, which means it isn't made to stop the twisting motion of over-pronation. However, a nylon plate in the midsole helps your foot roll and transfer energy more effectively. This gives each step a fun, springy, but not bouncy, feel.
It is a very light shoe, and Saucony has made it as simple as possible to get rid of extra grams. We can't say for sure that it will help you win your next race, but we wouldn't be surprised if it did.
Specification:
| | |
| --- | --- |
| Heel-to-Toe Drop | 8 mm |
| Outsole Material | Rubber |
Reasons To Buy

Reasons To Avoid

+

Quick and bouncy

–

Not for training slowly

+

Well padded

—

+

Simple construction

—
6.

ASICS Men's Gel-Nimbus 25
The Most Comfortable Running Shoe
The Asics Gel-Nimbus series is full of great running shoes, but the Gel-Nimbus 25 is our top pick if you want a neutral shoe made for comfort and stability over long distances.
When you put your feet in them, it feels great. The PureGel technology from Asics is also built in. This technology is made to handle impact and give a smooth rise.
These shoes aren't the best for stability, breathability, or running fast. The Gel-Nimbus 24 shoes are lighter and better for a variety of activities. But they are a great choice if comfort is your top priority and you are a slow runner who likes to run on pavement and roads.
Specification:
| | |
| --- | --- |
| Heel-to-Toe Drop | 8 mm |
| Outsole Material | Rubber |
Reasons To Buy

Reasons To Avoid

+

An upper that your feet can sink into

–

Not as flexible as the last Nimbus

+

Easy and steady ride

–

Costs a lot
+

Lots and lots of soft padding

—
7.

Saucony Tempus
Stability Shoe That Feels The Fastest
The Tempus is Saucony's new stability shoe. It was inspired by the Endorphin series. The main part of it is Pwrrun PB, which is the same "superfoam" made from Peba that is in the Endorphin Pro super shoe.
The most important part of stability is the curved, EVA-based Pwrrun frame, which starts above the Pwrrun PB under the heel. The midsole and frame are shaped to both support your run and move you forward.
Specification:
| | |
| --- | --- |
| Heel-to-Toe Drop | 8 mm |
| Outsole Material | Rubber |
Reasons To Buy

Reasons To Avoid

+

Easy to carry but strong

–

The tongue and collar have little padding

+

Smooth heel-to-toe changes

–

Some runners may need a short time to break them in
+

Wide range of sizes available

—
FAQs – Best Running Shoes 2023
Q: What's the difference between neutral, stability, and motion control running shoes?
Neutral shoes offer cushioning without significant arch support, while stability shoes provide added arch support for mild overpronation. Motion control shoes offer maximum support for severe overpronation.
Q: How often should I replace my running shoes?
On average, running shoes should be replaced every 300-500 miles (483-805 kilometers) or when you notice signs of wear and reduced cushioning.
Q: Should I buy running shoes online or in-store?
It's recommended to try running shoes in-store to ensure a proper fit. Once you know your preferred model, you can consider online shopping for discounts.
Q: What's the significance of the heel-to-toe drop in running shoes?
The heel-to-toe drop affects your running form and gait. Lower drops encourage a more natural midfoot or forefoot strike, while higher drops promote heel striking.
Q: Can I use running shoes for other activities like cross-training or walking?
While running shoes can be versatile, it's best to use them primarily for running. For other activities, consider shoes designed specifically for those purposes.
Q: Do I need different shoes for road and trail running?
Yes, it's advisable to use road running shoes for pavement and trail running shoes for off-road terrains. Trail shoes provide better traction and durability.
Q: Are minimalist running shoes suitable for beginners?
Answer: Minimalist shoes are generally better suited for experienced runners who have gradually adapted to lower cushioning and heel-to-toe drops.
Q: How can I prevent blisters when running in new shoes?
Break in new shoes gradually, wear moisture-wicking socks, and consider using anti-chafing products to reduce friction.
Q: Are expensive running shoes always better than budget options?
Not necessarily. While premium shoes often offer advanced features, budget-friendly options can provide excellent performance and value.
Q: Can I wash my running shoes in a washing machine?
It's not recommended to machine wash running shoes, as it can damage the materials. Instead, clean them by hand with mild soap and water.
---
Conclusion
Finding the best running shoes in 2023 involves considering your unique needs, running style, and the type of terrain you'll tackle. By focusing on factors like foot type, fit, and cushioning, you can select shoes that enhance comfort and performance. Remember to replace your shoes as needed and prioritize a proper fit to enjoy a successful year of running ahead.
Read more about