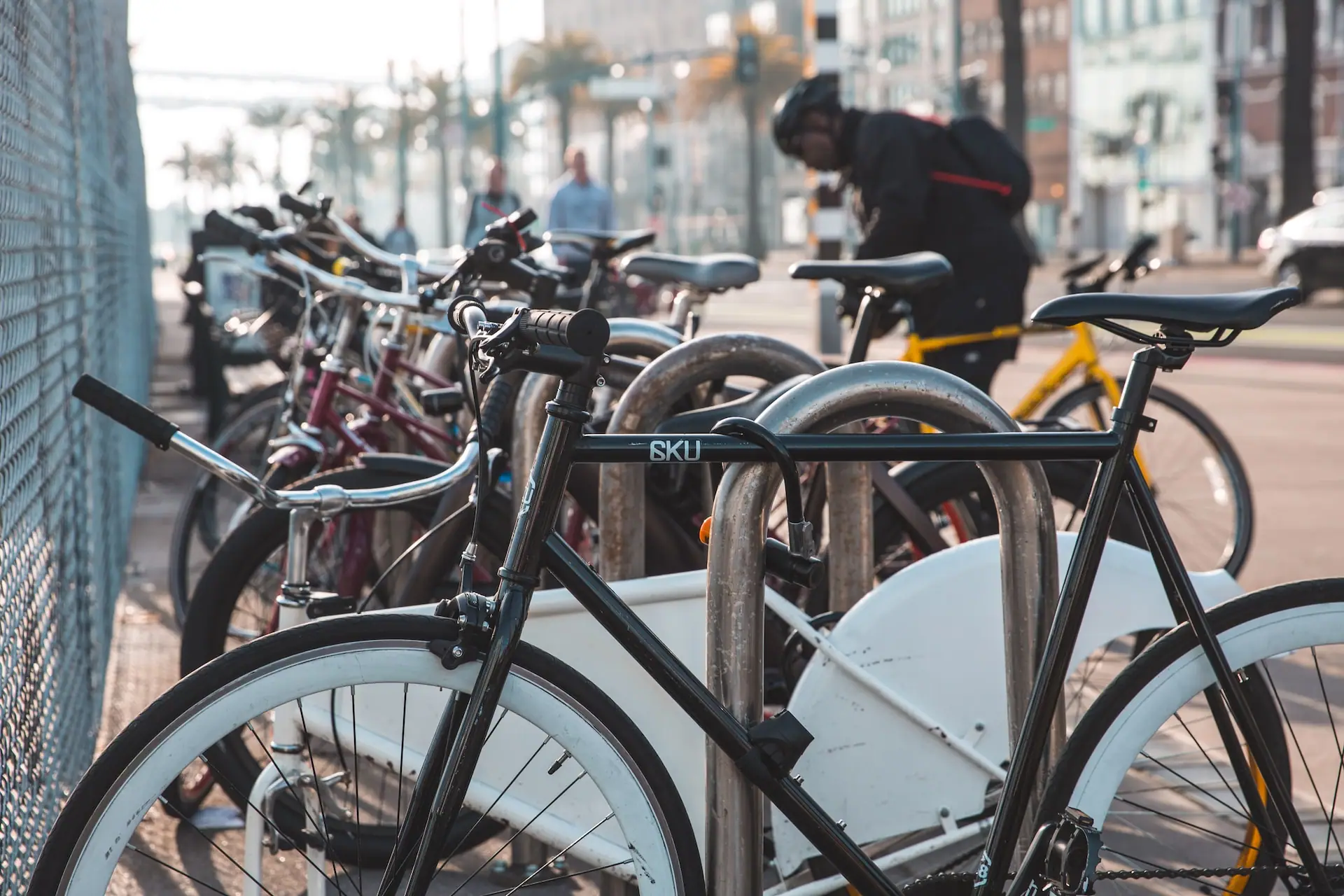 Best Bike Locks in 2023
When it comes to selecting the optimal lock for your bicycle, the task can often prove to be quite challenging. There is a wide array of options to choose from. Making the wrong decision can potentially lead to terrible results that can have far-reaching consequences.
While you're trying to achieve success in safeguarding your valuable bicycle, the key lies in selecting a lock that strikes the perfect balance between robust security and effortless usability for your daily needs. The importance of usability is frequently underestimated in the realm of testing and evaluating bicycle locks.
It was discovered through thorough study that the majority of locks can be effortlessly bypassed within less than sixty seconds. However, it is imperative to note that certain locks possess the necessary features to provide a sufficient level of security, thereby safeguarding a humble commuter bicycle from becoming vulnerable to the evil plans of thieves.
U-locks are a favorite option for bicycles due to their strong build quality and resistance to attacks using leverage. Look for U-locks that have a thick shackle and are manufactured from hardened steel if you want an extra layer of protection.
Chain locks, which provide both flexibility and versatility, are an excellent choice for fastening your bicycle to a variety of different items. Choose chain locks that have links made of hardened steel and a locking mechanism that you can rely on.
These locks are suitable for use in urban settings due to their portability and compact size. Look for folding locks that have plates and joints made of hardened steel for the highest possible level of strength and durability.

Key Factors to Consider When Buying The Best Bike Locks in 2023
When it comes to securing your beloved bicycle, investing in a reliable and robust bike lock is paramount. With the rising number of bike thefts, it's essential to choose the best bike lock that offers optimal security and peace of mind. Now lets walk through the key factors to consider when buying the best bike lock in 2023, ensuring that your bicycle remains safe and protected.
Think about the level of protection that the bike lock can provide. Look for locks that have been independently examined, tested, and approved by reputable organizations such as Sold Secure and the ART Foundation. These certificates verify that the lock satisfies rigorous requirements for safety and security.
Choose bike locks that are manufactured from high-quality materials that can survive attempts to cut, drill, or gain entry in another way that requires physical force. Keep an eye out for locks that are constructed out of alloys or hardened steel, as these materials offer higher strength and longevity.
Conduct an analysis of the locking mechanism contained within the bike lock. Choose locks with disc detainer or pin tumbler systems because they offer greater resistance against picking and manipulation. These mechanisms can be found in many different types of locks.
Take into consideration the size and weight of the bike lock, as these factors can have an effect on portability. Larger locks may provide an additional layer of protection; however, they are sometimes bulky and hard to transport. Pick a lock that offers a satisfactory level of protection without compromising on use.
Keep an eye out for additional functions that can improve the bike lock's usefulness and make it more convenient to use. There are locks that come with protective coatings to keep your bike's frame from becoming scratched, and there are locks that come with alarms or keyless entry systems built right in.

Customer Reviews and Ratings:
Read some reviews and ratings left by previous buyers of the bike lock you're thinking about purchasing before making a final selection. Experiences in the real world can provide extremely useful information regarding the dependability and performance of the lock.

Top Best Bike Locks in 2023
1.)

Kryptonite Evolution Mini-7
The Best Bike Lock
The strong Kryptonite New-U Evolution Mini-7 defends against many dangers. This cutting-edge lock withstands many attacks for unmatched security and peace of mind. The Kryptonite New-U Evolution Mini-7 can handle anything but the strongest tools. This lock resists theft and manual force.
One of the key differentiators that sets this lock apart from its competitors is its remarkable advantage. With a robust 13-millimeter hardened shackle, this lock possesses an unparalleled ability to withstand the forceful jaws of bolt cutters. As a result, it effectively eliminates a significant portion of potential thieves, providing users with an exceptional level of security and peace of mind.
With its impressive dimensions of 7 inches in length and a weight just shy of 3 pounds, this exceptional product is tailored to cater to the needs of the majority. Its size strikes the ideal balance, providing ample length to securely fasten both the wheel and frame of most bicycles to a rack. Moreover, its compact design leaves minimal space for any potential intruder to exploit, rendering it virtually impenetrable to pry bars or car jacks.
Furthermore, this particular design boasts an added feature – a strategically placed cutout at the end of the shackle. This ingenious addition serves to intensify the challenge of rotating and ultimately detaching the shackle post-cutting.
The New-U Evolution Mini-7 boasts an advanced disc-detainer locking mechanism, elevating its security to unprecedented levels. Unlike conventional wafer locks, this cutting-edge technology presents a formidable challenge even to the most adept criminals armed with specialized tools. Rest assured, your valuable possessions will remain safeguarded within the impenetrable fortress of the New-U Evolution Mini-7.
A 4-foot front wheel cable is included. Kryptonite's reliable anti-theft program is free for one year. Two key points. You must register your lock within 30 days. This allows full lock functioning. Second, this lock does not prevent Manhattan theft. The high theft rate distinguishes it. Consider these factors before buying and using this lock.
Specifications:
| | |
| --- | --- |
| Brand | Kryptonite |
| Special Feature | Anti-theft,Heavy Duty |
| Lock Type | Combination Lock |
| Item Dimensions LxWxH | 3.27 x 1.18 x 7.01 inches |
| Material | Other |
Reasons To Buy

Reasons To Avoid

+

Locks both wheels without removing one

–

Locking mechanism is not the most user-friendly

+

Very affordable

+

Surprisingly secure
2.)

Hiplok Original
Best Wearable Design
Hiplok has ingeniously designed a robust, 8 mm hardened steel chain measuring two feet in length, which is further enhanced with a nylon sheath. This thoughtful addition not only ensures the utmost protection for your beloved bike frame, but also eliminates the risk of unsightly scratches. In their latest innovation, a team of engineers has successfully developed a cutting-edge padlock equipped with an additional metal bar cleverly designed to function as a secure buckle.
This product's clever design allows Velcro to flow through the buckle and fold back on itself. This clever system provides a secure fit and easy adjustment for maximum comfort. This accessory can be worn like a low belt to add fashion to any outfit. The sturdy nylon cover of the Superbright lock has a large reflective strip. This smart modification maximizes bike visibility in busy traffic. Riders may trust the Superbright lock to improve their road safety. This lock is great for commuter cyclists because it is tailored for their needs.
Cycling for fitness or fun may require a lightweight bike. The item weighs more in a backpack or messenger bag than when worn comfortably. It outperforms wearable lock competition. If this lock appeals to you, keep in mind that wearing an ornament around your waist when cycling may seem constraining. However, our esteemed testers choose this durable lock for its excellent performance during regular commutes.
Specifications:
| | |
| --- | --- |
| Brand | Hiplok |
| Lock Type | Key Lock |
| Item Dimensions LxWxH | 18.75 x 4.25 x 4 inches |
| Material | Nylon |
| Recommended Uses For Product | Security |
Reasons To Buy

Reasons To Avoid

+

Well-designed

–

Heavy if not worn on-person

+

Secure

–

Expensive

+

Conveniently wearable

–

Size-dependent
3.)

OTTOLOCK Sidekick
The addition of this lock to our list can be attributed to its compact size and affordable price point, without compromising on the crucial feature of a double-locking shackle for enhanced security. Many affordable U locks on the market have adopted a bent foot design, which offers a cost-effective solution for securing bicycles. This particular design requires only a single cut to release the lock, making it susceptible to theft.
The option provided by Ottolock necessitates two cuts for opening, ensuring enhanced security. Although the 12mm shackle may be considered less robust compared to alternative designs, the need for two cuts to breach it serves as an effective deterrent. It is worth noting that the act of cutting through the shackle twice is likely to generate noticeable noise.
While this product may not come with a frame mount and may have a limited capacity to secure more than just the frame, it still serves as a cost-effective solution for safeguarding your valuable bicycle.
Specifications:
| | |
| --- | --- |
| Brand | OTTOLOCK |
| Special Feature | Compact,Lightweight,Portable |
| Lock Type | Key Lock |
| Item Dimensions LxWxH | 5 x 1.5 x 7.75 inches |
| Material | Silicone, Steel |
Reasons To Buy

Reasons To Avoid

+

Inexpensive

–

Not available outside the US

+

Double locking shackle design requires two cuts to defeat

–

Lacks a weather cover for the key hole

+

Silicone outer protects paint
5.)

ABUS Bordo Granit x Plus

6500
Best Folding Lock


The Abus Bordo Granit – a remarkable folding lock that has garnered significant attention in the realm of security solutions. While it may not claim the title of the utmost secure lock in existence, it undeniably stands out as one of the most secure folding locks available on the market today.
Folding locks provide a unique and versatile solution that bridges the gap between different locking mechanisms. Portable and lightweight, these devices provide users with enhanced versatility and convenience in their usage. One of the challenges that emerges is the increased vulnerability resulting from the presence of multiple components, which not only provides additional opportunities for potential attacks but also diminishes overall security measures.
In addition to its impressive array of features, this exceptional product boasts a sleek frame mount and an ample amount of rubber coating, ensuring utmost protection against any potential scratches to your beloved bike.
Specifications:
| | |
| --- | --- |
| Brand | ABUS |
| Special Feature | Compact |
| Lock Type | Key Lock |
| Item Dimensions LxWxH | 8.8 x 2.8 x 1.3 inches |
| Material | Blend |
Reasons To Buy

Reasons To Avoid

+

Compact

–

Expensive

+

Easy to use frame holster

–

No keyhole cover

+

Non-scratching

–

Heavy
5.)

ONG BRUTE STD U-LOCK
Durable Lock for Most Situations
The Onguard Brute STD is a top-performing security solution. Its quality has earned Sold Secure's Diamond grade. The Onguard Brute STD's security features and cost make it stand out in our detailed evaluation. This amazing lock delivers great value and protection at a reasonable price.
This offering includes essentials while excluding extras. When your bike is safely locked to a sturdy bike rack, a 16.8 mm hardened steel barrier deters theft. Two angle grinder cuts are needed to free the bike. Although effective, this technique is time-consuming and noisy. It also broadcasts the thief's nefarious intentions. Five changeable keys increase this model's user experience. These keys have an LED light that helps detect the keyhole in poor light.
This excellent feature simplifies every unlocking task. This product has user-friendly mounting hardware. Installing it is simple and quick. It also fits a variety of frame sizes, allowing you to utilize it on different bikes. This technology also reduces shaking when biking through busy metropolitan streets. This function lets you travel without distractions from a loose lock. This U-lock, made of solid steel, is unusually lightweight. This U-lock provides the same protection as others while decreasing user strain.
The U-lock in question is larger than its top-tier competitors. The mounting hardware also disappoints. The bike lock is attached next to the top tube, not beneath it. The mount is asymmetrically placed alongside the primary triangle instead of entirely integrated into the frame for optimal streamlining.
High-end models have a unique keyhole cover that protects the lock's interior components from dirt and moisture. This intelligent design provides seamless functioning, allowing customers to enjoy optimal performance for a long time. Despite lacking a keyhole cover, the OnGuard Brute STD outperforms its competitors in security, making it a cost-effective option.
Specifications:
| | |
| --- | --- |
| Brand | ONGUARD |
| Special Feature | Compact |
| Item Dimensions LxWxH | 9.1 x 9.1 x 9.1 inches |
| Material | Alloy Steel, Rubber |
| Recommended Uses For | Bicycle |
Reasons To Buy

Reasons To Avoid

+

Top notch security

–

Heavy

+

Mounting hardware easy to install

–

Offset frame mount is not our favorite

+

Includes 5 keys
6.) 

Kryptonite New York

Fahgettaboudit  Chain
Best Chain Lock
For individuals seeking enhanced security measures beyond safeguarding their bike frame and wheel, especially those with cargo or electric bikes necessitating a lengthier lock, or those who frequently opt to secure their bikes around street posts, the Kryptonite New York Fahgettaboudit Chain emerges as an exceptional choice. Renowned for its unparalleled durability, this chain lock stands as one of the most formidable options available in the market.
We came across a variety of chain locks that presented a greater level of resistance when it came to cutting through them. However, it is worth noting that these particular models often came with a higher price tag or added weight, which may not be suitable for all users.
The robust security features of this exceptional bicycle lock are truly remarkable. Boasting a length of 3 feet, this formidable device is constructed with 14 mm hardened links, ensuring unparalleled strength and durability. To further fortify its impenetrable design, it is equipped with a 15 mm Kryptonite New York Disc Lock, adding an extra layer of protection against even the most resolute thieves.
With such formidable attributes, this remarkable lock is guaranteed to deter all but the most determined individuals, providing you with the peace of mind you deserve.
Specifications:
| | |
| --- | --- |
| Brand | Kryptonite |
| Special Feature | Key Lock |
| Lock Type | Key Lock |
| Item Dimensions LxWxH | 39.37 x 0.55 x 0.55 inches |
| Material | Stainless Steel, Alloy Steel |
Reasons To Buy

Reasons To Avoid

+

High security

–

Carelessness leads to chipped paint

+

Locks both wheels without removing them
FAQs – Best Bike Locks in 2023
Q: What is the best type of bike lock to buy?
When it comes to choosing the best bike lock, it depends on your specific needs. U-locks are known for their sturdy construction and resistance to leverage attacks, making them a popular choice. Chain locks offer flexibility and versatility while folding locks are compact and portable. Assess your requirements and select the type that best suits your usage scenario.
Q: How can I determine the security level of a bike lock?
To determine the security level of a bike lock, look for independent certifications from reputable organizations like Sold Secure and ART Foundation. These certifications indicate that the lock has undergone rigorous testing and meets stringent security standards. Additionally, check for features such as hardened steel construction and reliable locking mechanisms for enhanced security.
Q: What materials should I look for in a bike lock?
When buying a bike lock, prioritize locks made from high-quality materials that offer durability and resistance to forced entry attempts. Look for locks constructed from hardened steel or alloy, as they provide superior strength and can withstand cutting, drilling, and other attacks.
Q: Are there any features that can enhance the usability of bike locks?
Yes, several features can enhance the usability of bike locks. Some locks come with protective coatings to prevent scratches on your bike's frame, while others offer built-in alarms or keyless entry systems for added convenience. Consider these additional features based on your personal preferences and requirements.
Q: How important are customer reviews and ratings in choosing a bike lock?
Customer reviews and ratings play a crucial role in the decision-making process. Reading reviews allows you to gain insights into real-world experiences with a particular bike lock. Look for locks that have positive feedback regarding reliability, durability, and overall performance. Taking into account the experiences of others can help you make an informed choice.
Q: Are size and weight important factors to consider when purchasing a bike lock?
Yes, the size and weight of a bike lock are important factors to consider. While larger locks often offer increased security, they can be bulky to carry around. Assess your needs based on where and how you plan to use the lock. Opt for a lock that strikes a balance between security and convenience, ensuring it's manageable for your specific cycling requirements.
---
Conclusion
Remember, investing in a high-quality bike lock is essential for protecting your bicycle from theft. Consider the type of lock, security level, materials, additional features, and customer reviews to make an informed decision. Choose a bike lock that provides the right combination of security, durability, and convenience to keep your bike safe in 2023 and beyond.
Read more about