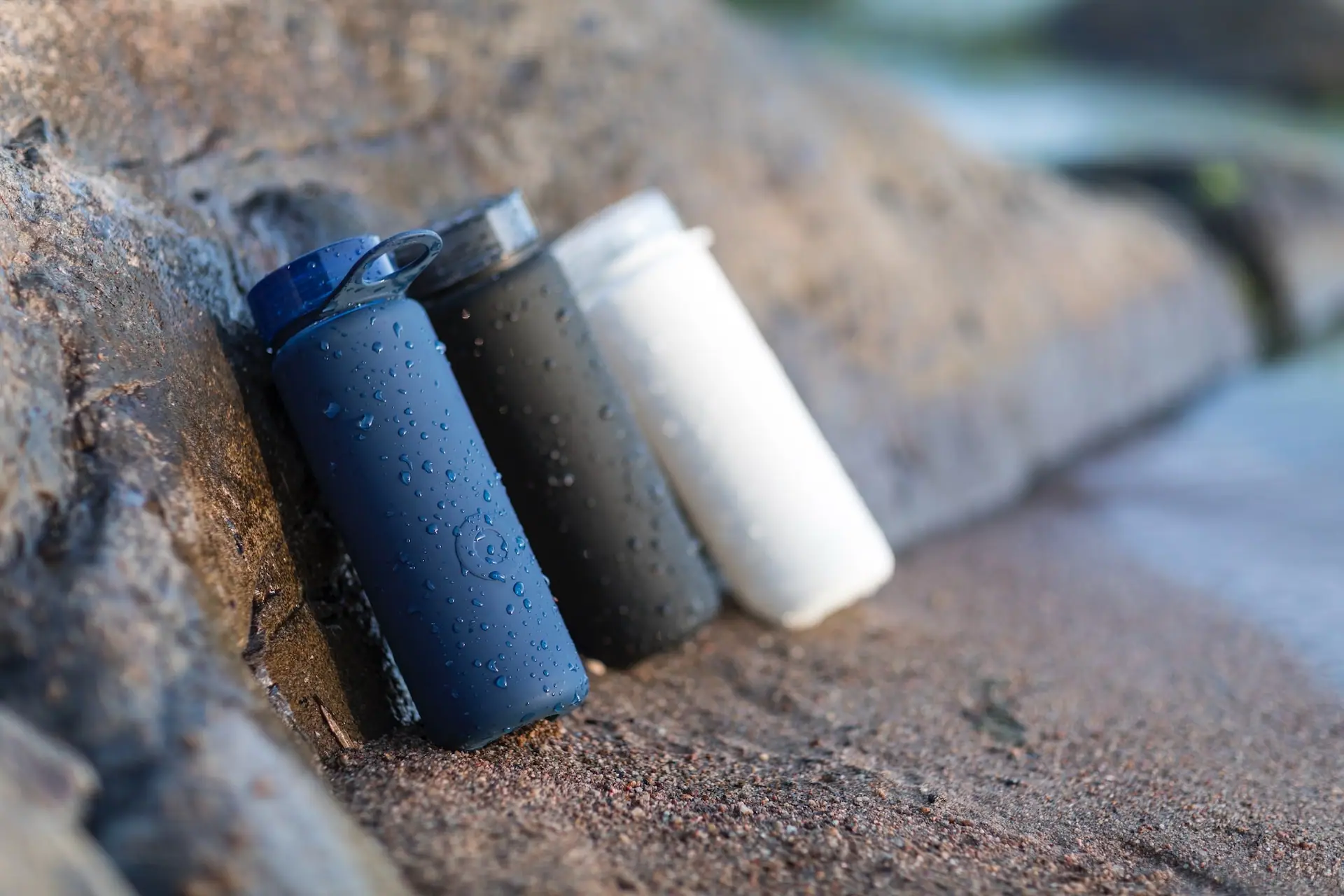 Quenching Traveler's Thirst: Unveiling the Best Water Bottles on Amazon
For modern travelers, ensuring access to clean and safe water is a vital consideration. The days of purchasing overpriced disposable water bottles are increasingly giving way to a more sustainable and eco-friendly alternative: reusable filtered water bottles. These ingenious companions are not only capable of enhancing the travel experience but also contribute to minimizing plastic waste.
Travel Essentials: Clean Water on the Go
Whether embarking on cross-country road trips, venturing into the wilderness for camping escapades, or globetrotting to distant lands, there's a unanimous need for an uninterrupted supply of clean water. The challenges of relying on bottled water purchases or uncertain tap water quality have led to the rise of a solution that merges convenience with sustainability.
Ditching Disposable: The Rise of Reusable Filtered Bottles
With growing environmental awareness, travelers are actively seeking alternatives to single-use plastic bottles. These reusable filtered water bottles combine the convenience of on-the-go hydration with a commitment to reducing plastic waste. By investing in such a bottle, travelers can bypass the need for purchasing bottled water and play a part in mitigating plastic pollution.
Understanding the Mechanism: How Filtered Water Bottles Work
Advanced filtration technologies are the foundation of the system that powers filtered water bottles. The capability of these bottles to filter out a variety of contaminants from tap water and natural sources like rivers and lakes is an important feature. Depending on the filtration techniques used by various manufacturers, these filters' efficacy can change.
Filtered water bottles typically employ two main types of filters: activated carbon filters and membrane microfilters. These filters collectively work to eliminate particles, bacteria, viruses, chemicals, and even off-putting flavors or odors. The goal is to deliver a refreshing and clean drinking experience, even in regions where water quality might be compromised.
What Gets Removed: Understanding Filter Capabilities
The range of contaminants that filtered water bottles can remove is broad, offering protection against particulates, bacteria, viruses, and certain chemicals. The effectiveness of a particular bottle's filtration capacity depends on the filters used. Activated carbon filters, in combination with membrane microfilters, provide a comprehensive solution.
Ensuring Bacteria-Free Water
The capability of filtered water bottles to remove bacteria is a critical consideration. The efficiency of filtration hinges on the pore size of the filters used. Membrane microfilters with pore sizes ranging from 0.2 to 10 microns are commonly employed. This range is effective in trapping particles, protozoans, and bacteria, guaranteeing safe hydration.
Addressing Virus Removal
While bacterial removal is generally more reliable, certain filters can provide protection against viruses as well. Filters that can capture particles as small as 0.1 microns may offer some virus removal capabilities. Although viruses are generally less prevalent in drinking water, extra precautions might be necessary in areas with high virus outbreaks.
Selecting the Right Filtered Water Bottle
The choice of a filtered water bottle depends on the traveler's destination and intended use. For urban environments, basic filters that remove particulates and chlorine might suffice. However, for outdoor adventures or travel to regions with questionable water quality, more advanced filters capable of handling bacteria, viruses, and chemicals are recommended.
Filtration vs. Purification: A Crucial Distinction
It's important to differentiate between water filtration and purification. While both processes contribute to water quality improvement, they address different types of impurities. Filtration eliminates visible and microscopic contaminants, while purification, often supplemented by disinfection methods, ensures water is safe from viruses and pathogens.
Finding Your Perfect Travel Companion
In light of the diverse traveler needs and the ever-present concern for clean water access, choosing the right filtered water bottle is essential. Whether you're embarking on an adventure into the wild or simply want to sip pure water during your daily routine, these bottles serve as steadfast allies in maintaining hydration and environmental consciousness. Discover your ideal travel companion among the array of filtered water bottles available and embrace a smarter, greener approach to hydration.
7 Filter Water Bottles Available in Market
1. LifeStraw Go Water Filter Bottle
Best Water Filter Bottle Overall
The LifeStraw Go Water Filter Bottle, a pinnacle of innovation in the realm of portable hydration. Hailing from the award-winning water filtration brand, LifeStraw, renowned for its iconic personal water filter, this product epitomizes the fusion of cutting-edge technology, ease of use, and a commitment to global well-being.
Brand Excellence and Evolution
LifeStraw's legacy of excellence in water filtration finds its embodiment in the LifeStraw Go Series. The brand, revered for its pioneering contributions, has expanded its product repertoire to encompass an array of filtered water solutions, each marked by exceptional performance and user-friendliness. Recognized for its remarkable prowess, the LifeStraw Go Water Filter Bottle garners acclaim as a favorite among experts, including enthusiasts like Hitchcock.
Advanced Dual-Stage Filtration
The essence of the LifeStraw Go Water Filter Bottle lies in its advanced dual-filtration system, ensuring that every sip is a journey into pure refreshment. Through two distinct filters, this bottle transforms water from any tap or freshwater source into a delectable, safe beverage, entirely devoid of any unpleasant aftertaste.
The membrane microfilter, with a remarkable lifespan of up to five years, achieves a remarkable feat by purging water of up to 99.99% of bacteria, parasites, microplastics, sand, and dirt. Complementing this foundation is the carbon filter, a dynamic component that necessitates replacement every two months. The carbon filter diligently reduces chlorine, organic chemical matter, and odors, culminating in water that not only exudes purity but also boasts an appealing taste profile. By simply filling the bottle with water, the ingenious suction mechanism of the straw filters the water as you drink, ensuring a seamless and effortless hydration experience.
Empowering Humanity: A Social Commitment
The LifeStraw Go Water Filter Bottle transcends beyond individual convenience, embracing a profound commitment to humanity. With each purchase, the brand pledges to provide a year's worth of safe drinking water to an underprivileged school child, effectively contributing to global welfare and equitable access to clean water.
Assured Quality and Testing
You may be sure that LifeStraw is committed to both quality and safety. To ensure that they adhere to the highest industry standards, the items are put through extensive testing. The company's ownership and management of an ISO-certified water laboratory, where exacting testing is carried out independently, serves as further evidence of the brand's dedication to authenticity.
Reasons To Buy

Reasons To Avoid

+

Two-stage filtration

–

Straw requires some effort to drink water

+

Easy carry handle

—

+

Leakproof, covered mouthpiece

—

+

BPA-free bottle

—

+

Crafted with 50% recycled plastic

—
Product Details:
– Capacity:

22 ounces

– Filtration Method:

Dual carbon filter and membr

ane microfilter

– Safety Standards:

Meets U.S. EPA, NSF/ANSI P231 standard for reduction of bacteria and parasites
2. GRAYL GeoPress – Unleash Pure Hydration
Best Press-Style Filtration
The GRAYL GeoPress, is a steadfast companion designed to conquer the wilderness with unparalleled filtration prowess. Revered for its exceptional outdoor efficiency, this filter water bottle receives a resounding endorsement from our survivalist expert, Hitchcock. Tackling pathogens, impurities, and uncertainties, the GeoPress emerges as an indispensable asset for outdoor enthusiasts.
Combatting All Threats: Comprehensive Filtration
Venturing into the great outdoors demands a filtration solution that matches the intensity of nature itself. The GRAYL GeoPress rises to the challenge by eradicating a comprehensive range of threats. From viruses like rotavirus, norovirus, and hepatitis A, to bacteria such as E. Coli, salmonella, and dysentery, and even protozoa including giardia, cryptosporidium, and amoebae, the GeoPress ensures your hydration is impeccably safe.
Beyond Pathogens: Unrivaled Filtration
The GRAYL GeoPress extends its filtration prowess beyond pathogens, delving into the realm of impurities. It effortlessly filters out particulates like sediment and microplastics, while adsorbing volatile organic compounds, PFAS, chemicals, heavy metals, pesticides, flavors, and odors. As a result, every sip from the GeoPress is an encounter with water that tastes as invigorating and untainted as nature intended.
Effortless Elegance: Simplified Filtration
Distinguishing itself from traditional filter water bottles, the GRAYL GeoPress redefines convenience. No longer beholden to the arduous task of using a sucking straw, the GeoPress offers a streamlined approach. Simply fill the bottle from a tap or freshwater source, then press down the filter. Within moments, you have potable water of the highest quality. This innovative design makes it a cornerstone for emergency preparedness kits, wilderness expeditions, and any journey where water quality is uncertain.
Reasons To Buy

Reasons To Avoid

+

Highly efficient filtration

–

Requires a little muscular effort to press

+

No manual suction is required

—

+

Durable carry handle

—
Product Details:
– Capacity: 24 ounces
– Filtration Method: Electro-adsorption and activated carbon
– Safety Standards: Meets NSF/ANSI protocols 42 and 53 for pathogen and chemical removal
3. LARQ Bottle PureVis
Best with UV Sanitation
The LARQ Bottle PureVis is a revolutionary companion that takes clean hydration to unprecedented heights. With an ingenious self-cleaning mechanism and UV light purification, it stands as the pinnacle of convenience and technology. For those who prioritize both environmental stewardship and personal health, the LARQ Bottle PureVis is an embodiment of innovation.
Elevating Cleanliness: The LARQ Advantage
Recognizing the imperative of maintaining both environmental responsibility and personal well-being, the LARQ Bottle PureVis is a game-changer. Reusable water bottles are undoubtedly an eco-friendly choice, yet the challenge of regular cleaning often lingers. LARQ's visionary solution encompasses both cleanliness and purification, catering to even the most laid-back travelers. By virtue of its self-cleaning mechanism, it dispels musty odors, ensuring a consistently fresh vessel. However, its prowess extends beyond mere cleaning – it also purifies the water within
Effortless Purification: UV Light Magic
In contrast to conventional filtration methods, the LARQ Bottle PureVis harnesses the power of UV light for water purification. Noted by Kilduff as a paramount technique for inactivating bacteria, protozoa, and viruses, the bottle's cap is designed to dispense UV light across the inner surface. This groundbreaking process neutralizes 99.99% of odor-causing bacteria and viruses, guaranteeing impeccable water quality. Powered by a battery that lasts up to one month on a single charge, this innovation exemplifies convenience and sustainability.
Versatile Thermal Performance: Insulated Excellence
Beyond its groundbreaking purification prowess, the LARQ Bottle PureVis boasts remarkable insulation capabilities. Crafted from insulated stainless steel, it preserves the temperature of your beverage with exceptional precision. Whether you seek to enjoy cold refreshments for up to 24 hours or indulge in the warmth of your drink for 12 hours, this bottle is your steadfast companion. Moreover, its elegant design elevates both functionality and aesthetics, setting new standards for style.
Hydration with a Caveat: Notable Considerations
While the LARQ Bottle PureVis excels in purity and self-cleaning, it's important to note its limitations. It doesn't filter impurities like microplastics or sand, making it better suited for tap water rather than unfiltered freshwater sources. 
Reasons To Buy

Reasons To Avoid

+

Self-cleaning mechanism

–

Relatively higher cost

+

Unique and stylish design

–

Offers purification, not filtration

+

Double-wall insulation for hot and cold beverages

–

Limited capacity

+

 

No need to replace filters

—

+

Plastic-free design

—
Product Details:
– Capacity: 17 ounces
– Purification Method: UV-C light purification
– Safety Standards: ASTM E2315
4. Brita Insulated Filtered Water Bottle: BPA-Free Plastic
Best for City Travel
The Brita Insulated Filtered Water Bottle is a remarkable fusion of convenience, quality, and affordability. Crafted by the esteemed brand known for setting the gold standard in home water filtration, this water bottle offers the same clean-tasting water experience on the go. Tailored for city travelers, it boasts an array of features that make it an ideal companion for your urban adventures.
Elevating City Hydration: The Brita Advantage
Hailing from the esteemed realm of home water filtration, the Brita Insulated Filtered Water Bottle transcends its origins to cater to the dynamic needs of modern urban living. Designed to bring the taste and quality of home-filtered water wherever you go, this bottle becomes a steadfast ally for those who appreciate the finer aspects of hydration.
Filtered Freshness: Chlorine Reduction
Harnessing its filtration prowess, the Brita Filtered Water Bottle transforms tap water into a delightfully refreshing beverage as you take each sip. By effectively reducing the presence and taste of chlorine, it ensures that the water you consume maintains a pristine and pure essence. This filtration mechanism makes a tangible difference in elevating your water-drinking experience, particularly in environments where tap water can leave a less-than-ideal aftertaste.
Balanced Design and Generous Capacity
Catering to the needs of both everyday use and travel, the Brita Insulated Filtered Water Bottle embraces thoughtful design elements. Its leak-proof construction guarantees a hassle-free journey, while its car cup holder-friendly shape adds an extra layer of convenience. With a generous 26-ounce capacity, it meets your hydration needs seamlessly, whether you're navigating city streets or working at the office.
Carbon Filter Convenience: Replaceable and Effective
The heart of the Brita Filtered Water Bottle lies in its easily replaceable carbon filter. Lasting up to two months at a time, this filter ensures sustained filtration performance. While it primarily enhances taste by reducing chlorine, it's important to note that it does not claim to eliminate bacteria, viruses, or protozoa. This makes it particularly suitable for places where tap water's safety is unquestioned, yet taste improvement is desired.
Budget-Friendly Sustainability: A Responsible Choice
Aligned with the ethos of sustainability, the Brita Insulated Filtered Water Bottle caters to environmentally-conscious individuals. The bottle's dishwasher-safe attribute underscores its reusability, making cleaning and maintenance a breeze. While it's classified as an insulated bottle, it's prudent to acknowledge that its insulation capabilities may not match those of stainless steel alternatives.
Reasons To Buy

Reasons To Avoid

+

Affordable pricing

–

Filters chlorine, not bacteria or viruses

+

Dishwasher-safe convenience

–

Requires some effort to drink through the straw

+

Carrying loop for portability

—
Product Details:
– Capacity: 26 ounces
– Filtration Method: Carbon filter
– Safety Standards: Not applicable
5. Philips Water GoZero Active Water Bottle: Budget Efficiency
Budget Pick
The Philips Water GoZero Active Water Bottle, is a versatile choice that perfectly aligns with the needs of casual travelers seeking both affordability and functionality. This bottle's unique ability to accommodate two distinct types of filters sets it apart, making it an excellent choice for those seeking versatility without breaking the bank.
A Blend of Filters: Tailoring to Travel Needs
The Philips Water GoZero Active Water Bottle stands out for its dual-filter compatibility, offering users the flexibility to choose between two filter options. While only one filter can be used at a time, this feature adds a layer of adaptability that caters to different travel scenarios. The "Fitness" filter, enriched with activated carbon, enhances the taste of pre-filtered tap water in hotel settings. On the other hand, the "Adventure" filter, based on electro-adsorption technology, serves as a reliable backup for day hikes and wilderness escapades, ensuring peace of mind when drawing water from natural sources.
Practical and Lightweight Design
Designed for both travel and outdoor activities, the Philips Water GoZero Active Water Bottle boasts a featherlight profile coupled with a robust carrying loop. Its user-friendly design minimizes the effort required for filtration, as it does not involve a straw or intricate suction processes. Instead, a simple squeeze action is required, making it a convenient option for effortless hydration on the go. However, practice is advised to master the right pressure and avoid unintended splashes.
Safety Assurance: Lab-Tested Reliability
While the Philips brand might not boast the same extensive safety testing information as its counterparts, the Philips Water GoZero Active Water Bottle maintains its credibility. The Adventure filter underwent rigorous testing under laboratory conditions by the renowned international certification agency SGS. This reinforces its reliability for filtering bacteria and viruses, offering users an additional layer of reassurance.
Important Filter Selection: Tailoring to Needs
It's imperative to note that for those utilizing this water bottle to filter out parasites from freshwater sources, ensuring the correct filter choice is crucial. Double-checking compatibility between your chosen filter and the water source is recommended for optimal results.
Reasons To Buy

Reasons To Avoid

+

Lightweight and crafted from BPA-free plastic

–

Squeezing technique requires practice

+

Dual filtration options for versatility

–

One filter can be used at a time

+

Budget-friendly pricing
Product Details:
– Capacity: 20 ounces
– Filtration Methods: Activated carbon and electro-adsorptive
– Safety Standards: Not applicable
6. Sawyer Squeeze Water Filtration System: Backpacker's Essential
Best for Backpacking
The Sawyer Squeeze Water Filtration System emerges as the quintessential choice for seasoned backpackers who recognize the significance of every ounce in their pack. Tailored for adventurers on the move, this award-winning system revolutionizes water filtration with its remarkable efficiency and minimal weight. While it may not take the traditional form of a water bottle with an integrated filter, its versatility and superior filtration capabilities make it an indispensable asset for those traversing the great outdoors.
Unburdened Exploration: The Sawyer Squeeze Advantage
Catering to the discerning needs of backpacking enthusiasts, the Sawyer Squeeze Filtration System shines as a beacon of lightweight practicality. Weighing a mere three ounces, it alleviates the weight of your pack while delivering unparalleled filtration prowess. Designed to enable you to fill your own travel water bottle using its ingenious filtration system, it strikes a harmonious balance between convenience and performance.
Advanced Filtration: Microscopic Precision
Renowned for its ability to extract harmful elements from drinking water, the Sawyer Squeeze Filtration System raises the bar for filtration excellence. With precision akin to microsurgery, it effectively eliminates harmful bacteria, protozoa, cysts, sediment, and microplastics from your water source. While it doesn't emulate a traditional water bottle, its filtration proficiency is harnessed to ensure that your drinking water remains pure and safe, regardless of your location.
Streamlined Set-Up: Easy and Portable
The system arrives complete with two collapsible pouches crafted from BPA-free materials. These pouches can be effortlessly filled from taps or freshwater sources, and their collapsible design facilitates space-efficient portability when not in use. The intuitive assembly involves attaching the Squeeze Filter and imbibing water through the flip-top cap. Furthermore, the package includes an adapter, enabling direct filtration from your existing hydration pack. Whether you sip or squeeze, the Sawyer Squeeze demonstrates its filtration prowess, capable of filtering an astounding 100,000 gallons of water without necessitating replacement cartridges.
Safety and Testing: Rigorous Assurance
While in-depth testing results comparable to those of GRAYL and LifeStraw might not be as apparent, Sawyer Products guarantees the reliability of its travel water filters through independent testing. These filters are rigorously evaluated to ensure that they meet stringent safety standards, underscoring the company's commitment to delivering trustworthy products.
Reasons To Buy

Reasons To Avoid

+

Versatile usability for various water sources

–

Lacks carbon filtration capabilities

+

Eliminates the need for replacement cartridges

–

Non-traditional bottle form

+

Featherlight weight for backpacking convenience
Product Details:
– Capacity: 32 ounces per pouch
– Filtration Method: Hollow fiber membrane
– Safety Standards: Independently tested
7. Brita Filtered Water Bottle with Straw, Stainless Steel
Best Filter Water Bottle for Tap Water
When it comes to the quest for the perfect water bottle with a filter for travel within the United States, one name shines above the rest: Brita. With an unwavering legacy of in-home water filtration, Brita presents a game-changer with their Stainless Steel Filtered Water Bottle. This innovative creation stands as a testament to both functionality and style, offering a seamless solution to elevate your tap water consumption experience.
Pure Taste, Anywhere You Go: The Brita Stainless Steel Advantage
This insulated stainless steel water bottle not only boasts an elegant design but also possesses the power to enhance the taste of your tap water. By efficiently removing chlorine, it elevates the quality of your drinking water, ensuring a refreshing and pure taste with every sip. Ideal for those who prioritize filtered tap water consumption, this bottle is tailor-made for domestic travel within the United States.
Chilled Perfection: Insulation at Its Best
Brita's Filtered Water Bottle goes beyond mere filtration. Its stainless steel construction, coupled with top-notch insulation, maintains the temperature of your drinks throughout the day. Enjoy cold refreshments even during the most demanding activities or on extended trips. Whether you're hitting the gym or embarking on a journey, rest assured that your beverage will stay cool, refreshing, and ready to quench your thirst.
A Travel Companion, Redefined: The Brita Promise
While this filter water bottle is designed to enhance tap water taste, it's important to note its limitations. It is purposefully optimized for use with tap water within the United States and isn't intended to transform natural freshwater sources into potable water during camping excursions. However, its substantial 32-ounce capacity and the assurance of an improved drinking experience make it a reliable choice for your daily adventures.
Reasons To Buy

Reasons To Avoid

+

Spacious 32-ounce capacity

–

Intended solely for domestic travel

+

Stellar insulation for maintaining beverage temperature

–

Unsuitable for filtering bacteria or particulates

+

Enhances taste of tap water
Product Details:
– Capacity: 32 ounces
– Filtration Method: Carbon filter
– Safety Standards: None
 Best Water Bottles on Amazon – FAQS
Q: Can You Drink Tap Water in Other Countries?
The question of drinking tap water in other countries is a common concern for travelers. Using the best-filtered water bottle can indeed enhance the safety of consuming tap water in foreign lands, especially when the primary contaminant is bacteria to which travelers may not be acclimated, as highlighted by Kilduff.
However, it's important to note that the term "safer" is key here, rather than guaranteeing 100% safety. Dr. Fernandez underscores the significance of evaluating water quality meticulously before making a decision.
While filtered water bottles effectively eliminate a wide range of contaminants, it's crucial to acknowledge that they are not foolproof. Dr. Fernandez shares a personal experience of opting for bottled water in specific areas of India, despite having a filter, to exercise caution.
Q: Do Water Filters Remove All Chemicals?
The capacity of filtered water bottles to remove all chemicals is doubtful, according to Kilduff. The complexity of this task requires multiple filter types, potentially including a filter with exceptionally small pores. This would necessitate more pressure than what can be achieved by squeezing a water bottle, as seen in prevalent filtered water bottle designs for travel.
Dr. Fernandez concurs, explaining that certain filters can successfully eliminate particular chemicals like chlorine and iodine. However, challenges arise with more intricate compounds like pharmaceuticals or heavy metals.
For those concerned about chemical filtration, Dr. Fernandez recommends selecting a filter incorporating activated carbon or another substance specially designed to absorb such chemicals.
---
Conclusion
The diverse selection of the best water bottles available on Amazon caters to various preferences and lifestyles. From innovative designs to eco-friendly materials, these bottles offer both functionality and style. Whether you're an athlete, a traveler, or simply focused on hydration, the top water bottles on Amazon provide a reliable and convenient way to stay refreshed while contributing to a sustainable lifestyle.
Read more about