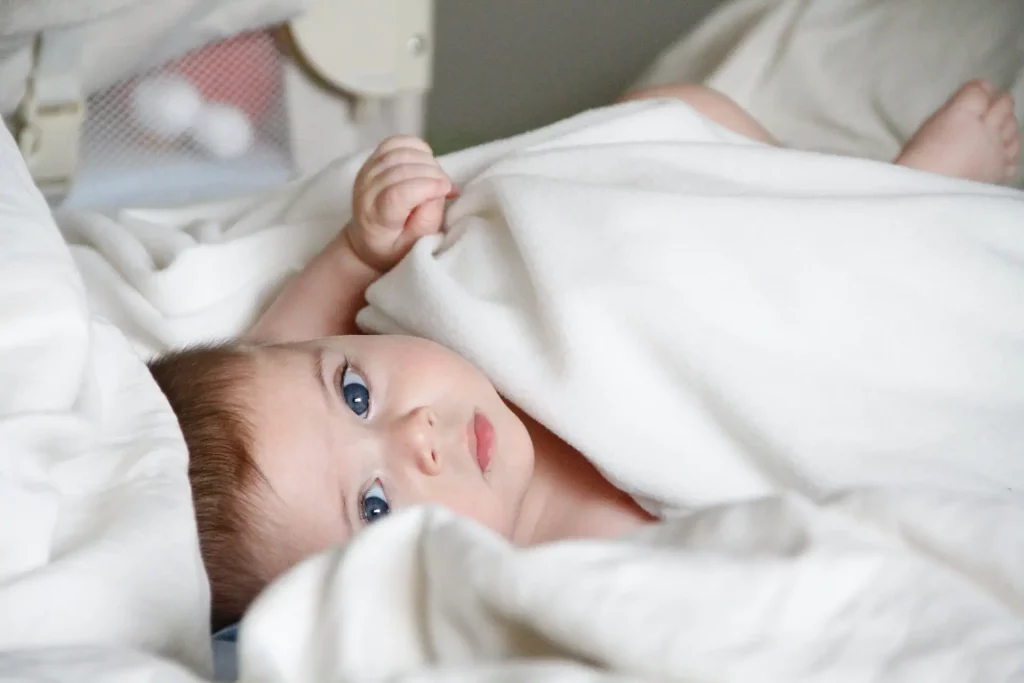 Best Baby Monitor in 2023
The best baby monitors allow you to keep an eye on, engage, and calm your child from a distance. Your baby requires constant attention, but you can't be in their room 24 hours a day.
That is the reason why baby monitors are beneficial. What began as audio-only infant care devices that allowed you to check in on your child from another room has since been supplemented with cameras and connected features so that you are always able to keep an eye on your child.
There are various types available in 2023 to cater to different preferences and needs. Here are the types of best baby monitors
Video baby monitors provide real-time video surveillance of your baby's nursery. They typically come with a camera that allows you to monitor your baby visually through a handheld parent unit or smartphone app. Look for features like night vision, two-way audio, pan/tilt/zoom functionality, and high-resolution displays for optimal monitoring.
Audio baby monitors transmit sound from your baby's room to the parent unit. They are a simple and cost-effective option for parents who primarily need to monitor their baby's sound and do not require video functionality. Look for models with clear audio quality, adjustable sensitivity, and DECT technology to minimize interference.
Wi-Fi-Enabled Baby Monitors:
Wi-Fi-enabled baby monitors connect to your home Wi-Fi network, allowing you to monitor your baby remotely through a smartphone or tablet app. These monitors offer added convenience, especially for parents on the go. Ensure that the monitor provides a secure connection and supports encryption to protect your privacy.
Wearable baby monitors are designed to be attached to the baby's clothing or crib. They provide vital information such as breathing rate, heart rate, and sleep patterns. These monitors are ideal for parents who want additional insights into their baby's well-being, especially for newborns or babies with specific health concerns.
Movement baby monitors track your baby's movements, especially during sleep. They come with sensor pads that are placed under the baby's mattress, monitoring subtle movements like breathing. If no movement is detected for a specified period, the monitor will sound an alert. These monitors provide an extra layer of reassurance for parents.
Smart baby monitors offer advanced features, including integration with smart home ecosystems, voice assistant compatibility, and data tracking capabilities. They may sync with other smart devices, allowing you to control the monitor through voice commands and access information via smartphone apps.
Long-Range Baby Monitors:
Long-range baby monitors are suitable for larger homes or outdoor use. They provide extended coverage, allowing parents to stay connected to their baby from a greater distance without signal loss. Look for monitors with reliable range specifications to suit your specific needs.
Multi-Camera Baby Monitors:
Multi-camera baby monitors come with additional camera units that can be placed in different rooms to monitor multiple children or different angles within the nursery. This type of monitor is ideal for parents with multiple children or those who want to keep an eye on various areas simultaneously.
Digital baby monitors use digital transmission technology to ensure a secure and interference-free connection. They offer clearer audio and video signals compared to analog monitors, making them a popular choice for modern nurseries.
Audio-Video Combo Baby Monitors:
Audio-video combo baby monitors combine the functionality of audio and video monitors into one device. They provide both visual and auditory monitoring, offering parents comprehensive insights into their baby's well-being.
What To Look for While Buying The best Baby Monitor
When buying the best baby monitor, there are several essential factors to consider to ensure the safety and well-being of your baby. 
Decide whether you need a video baby monitor for visual monitoring or an audio baby monitor for sound monitoring only. Video monitors provide real-time visual surveillance, while audio monitors transmit sound from your baby's room to the parent unit.
If opting for a video baby monitor, check the video quality. Look for models with high-resolution displays and clear night vision to see your baby clearly, even in low-light conditions.
A baby monitor with two-way communication allows you to talk to your baby through the parent unit. This feature can be reassuring for babies who need soothing or for parents to communicate from another room.
Range and Signal Strength:
Consider the range of the baby monitor, especially if you have a large home or want to use it outdoors. Look for models with reliable signal strength and a good range to avoid signal dropouts.
Check the battery life of both the baby unit (camera) and the parent unit (monitor). Longer battery life ensures continuous monitoring without frequent recharging.
Mobile App and Wi-Fi Capability:
If opting for a Wi-Fi-enabled baby monitor, ensure the companion mobile app is user-friendly and supports both Android and iOS devices. Additionally, verify that the app offers secure and encrypted connections for data privacy.
Mounting and Placement Options:
Consider where you plan to place the baby unit. Look for monitors with flexible mounting options, such as wall mounting, tabletop placement, or crib attachment, for optimal positioning.
Ensure the baby monitor complies with safety regulations and has features like secure data encryption to protect against unauthorized access.
Some baby monitors come with additional sensors to track breathing movements or detect room temperature. These sensors can provide valuable insights into your baby's well-being.
If you have multiple children or want to monitor different rooms, consider baby monitors with expandable capabilities, allowing you to add extra camera units to the same parent unit.
Nightlight and Lullabies:
Some baby monitors come with built-in nightlights and pre-programmed lullabies to comfort and soothe your baby during sleep.
Compare prices and read customer reviews to gauge the overall satisfaction and reliability of the baby monitor you are considering. Real-world experiences from other parents can offer valuable insights into the device's performance and user-friendliness.
Top 5 Best Baby Monitor in 2023
1. Nanit Pro Complete Monitoring System
The Best Baby Monitor Available
The Nanit Pro Complete Monitoring System is the best smart baby monitor for parents who want peace of mind. First-time parents and anxious parents benefit from this exceptional device. However, this top-of-the-line system costs more, making it an investment for quality lovers.
The Nanit, a cutting-edge wifi-based monitor, combines power and simplicity. This innovative device improves your photos by harnessing the power of your smartphone. It goes beyond photography, offering sleep insights and practical tips that can improve your child's and your own sleep patterns.
Improvements continue. Nanit has improved its features and functionality over the past year. Split screen capability has transformed the user experience, allowing parents to easily monitor multiple areas. Nanit's height-tracking technology lets parents precisely track their child's growth. These recent additions show Nanit's ongoing efforts to provide parents with an unmatched monitoring solution that meets their changing needs.
Access the captivating footage easily through the seamlessly integrated app, regardless of your location or home internet interruptions. The monitor and app allow parents to easily communicate with their children and keep their rooms comfortable. This innovative system allows seamless interaction and easy temperature and humidity monitoring.
Specification:
| | |
| --- | --- |
| Brand | Nanit |
| Material | Cotton |
| Color | Grey |
| Compatible Devices | Smartphones |
| Item Dimensions LxWxH | 4.2 x 3.3 x 8 inches |
| Sensor Type | movement |
| Battery Description | Lithium-Ion |
| Product Dimensions | 4.2″L x 3.3″W x 8″H |
Reasons To Buy

Reasons To Avoid

+

Sharp camera quality (up to 1080p) and night vision

–

Expensive accessories

+

Tracks breathing and growth

–

Sleep data is paid after one year.

+

Built-in night-light
2. eufy SpaceView
Best Local Video Baby Monitor
Discover the finest non-wifi baby monitor options available. With its affordable price point, exceptional picture quality, and commendable range, this option stands out as a cost-effective choice among its competitors.
The standout characteristic of the Eufy SpaceView is undeniably its high-definition 720p camera. With this cutting-edge technology, users have the ability to effortlessly pan the camera horizontally and tilt it vertically, all from the convenience of the display unit. Gone are the days of discreetly entering the baby's room to manually adjust the camera position.
The Eufy SpaceView grants parents the freedom to remotely make these necessary camera adjustments without any disruption or inconvenience. With its expansive 5-inch screen, the monitor offers a comfortable viewing experience that allows you to effortlessly keep an eye on things. Equipped with user-friendly controls, adjusting temperature and sound alerts becomes a breeze, ensuring a seamless and hassle-free experience. Additionally, this device conveniently recharges using a standard Micro-USB plug.
Specification:
| | |
| --- | --- |
| Brand | eufy Security |
| Connectivity Technology | Wireless |
| Special Feature | Night Vision, HD Resolution, 2 Way Audio |
| Indoor/Outdoor Usage | Indoor |
Reasons To Buy

Reasons To Avoid

+

Easy setup

–

No movement alerts

+

Audio alerts

–

Limited range

+ 

Parent unit
3. 

Cubo Ai Plus Smart Baby Monitor
Best Monitor With Most Movement Alerts
The Cubo AI Plus smart baby monitor shows you your child's video feed and alerts you when they're crying, moving, or covered in a blanket. It also provides sleep analytics and 1080p video and audio. It even monitors your child's room's temperature and humidity.
The Cubo AI Plus has multiple camera mounts for optimal viewing. It can be attached to your baby's crib, a weighted floor stand, or used as a mobile camera on a shelf or other flat surface.
The kit includes support bars, connectors, a crib attachment, a floor base with a water bag for weight, a camera holder, a mobile stand, 6.5-foot and 10-foot USB power cables, two power adapters, and a temperature/humidity sensor dongle that plugs into the power port. An illustrated quick start guide and parts identification list help you install the stands and connect everything.
Specification:
| | |
| --- | --- |
| Brand | CüboAi |
| Material | Acrylonitrile Butadiene Styrene (ABS) |
| Color | White |
| Compatible Devices | Smartphones |
| Screen Size | 2.4 Inches |
| Item Dimensions LxWxH | 17.32 x 5.71 x 13.98 inches |
| Battery Life | 10 days |
| Sensor Type | Auditory |
| Battery | Lithium-Ion |
Reasons To Buy

Reasons To Avoid

+

Sharp image quality

–

Pricey

+

Clean two-way audio

–

Some features require a subscription

+

Crying and rollover alerts

–

–

+

Temperature and humidity sensors

–

–
4.

Infant Optics DXR-8 PRO Baby Monitor
A Durable Local-Video Monitor
The Infant Optics DXR-8 Pro Baby Monitor is a fantastic choice for parents and caregivers seeking a straightforward and uncomplicated video monitoring solution. With its low-tech design, this monitor offers a refreshing simplicity that allows users to focus on what truly matters – the well-being and safety of their little ones.
The display unit of this device boasts a generous 5-inch screen, providing users with an enhanced viewing experience. Not only that, but it also offers an improved range, ensuring that you can stay connected even when you're not in close proximity to the unit. Additionally, the speaker has been upgraded to deliver a louder and more immersive audio experience.
And to further enhance your user experience, this device is equipped with background-noise reduction technology, effectively filtering out any unwanted sounds from fans and humidifiers, allowing you to focus on what matters most.
The DXR-8 Pro boasts the convenience of an owner-replaceable battery, allowing users to easily swap out the battery as needed. Rechargeable batteries, like many other electronic devices, often experience a decline in their overall capacity over time. This gradual loss of efficiency becomes noticeable after approximately one to two years of usage.
Specification:
| | |
| --- | --- |
| Brand | Infant Optics |
| Model Name | DXR-8 PRO |
| Connectivity Technology | Wireless |
| Special Feature | HD Resolution,Night Vision |
Reasons To Buy

Reasons To Avoid

+

Easy setup

–

Unviewable on phone, tablet, or TV

+

Not internet-dependent.

–

No wide-angle lens.

+

Multi-camera monitor
5.

Miku Pro Baby Monitor
Best for Tracking Breathing
The Miku wifi baby monitor tracks sleeping and breathing patterns. Military-grade technology in the Miku Pro smart baby monitor tracks your baby's breathing and movements without wires or wearables. Simply mount the Miku baby monitor camera above your baby's crib and download their smartphone app.
Setup and use should be simple.Miku requires a wall mount above your baby's crib because it has a bird's-eye view. Miku's camera has "SensorFusion technology". This tracks your baby's breathing, sound, and movement without a device. Miku monitors can be used without wall mounts.
The support page says the monitor should work as long as it's six feet away and out of reach. However, wall-mounting the Miku baby monitor improves performance. The Miku camera and monitor come with everything you need to mount it to drywall without a drill.
You may value hearing and talking to your baby more than high-definition viewing. The Miku Pro smart baby monitor has 1080p HD imaging, up from 720p. The Miku camera, like other video monitors, has night vision to let you see your baby when she's fussing or making noises. The Miku Pro's image quality was much improved over the original, especially with night vision.
Specification:
| | |
| --- | --- |
| Brand | Miku |
| Material | Plastic |
| Color | White |
| Compatible Devices | iPhone, Smartphones, Tablets, Android |
| Screen Size | 0.96 Inches |
| Item Dimensions LxWxH | 2.8 x 2.8 x 5.25 inches |
| Item Weight | 226.8 Grams |
| Sensor Type | Temperature |
| Battery | Lithium-Ion |
Reasons To Buy

Reasons To Avoid

+

No subscription costs for cloud storage

–

Lacks Amazon Alexa and Google Assistant integration

+

Good speakers

–

No web view

+

App supports up to eight cameras
FAQs – Best Baby Monitor in 2023
Q: What is a baby monitor, and how does it work?
A: A baby monitor is a device that allows parents to remotely monitor their baby's activities and well-being in another room. It typically consists of a baby unit (camera) placed in the nursery and a parent unit (monitor) that receives audio and/or video feed from the baby unit. The parent unit allows parents to keep an eye and ear on their baby, providing reassurance and convenience.
Q: What types of baby monitors are available?
A: There are various types of baby monitors available, including video baby monitors, audio baby monitors, Wi-Fi-enabled monitors, wearable monitors, movement monitors, and smart baby monitors. Each type offers different features and functionalities to cater to various parenting preferences and needs.
Q: Are video baby monitors safe for my baby's privacy?
A: Yes, video baby monitors are generally safe if used properly. Choose models with secure and encrypted connections to protect against unauthorized access. Ensure that you set strong passwords for Wi-Fi-enabled monitors and follow recommended security practices to safeguard your baby's privacy.
Q: What range do baby monitors typically cover?
A: The range of baby monitors can vary significantly depending on the model. Some monitors offer short-range coverage suitable for small apartments, while others have extended ranges suitable for larger homes or even outdoor use. Check the manufacturer's specifications for the specific model you are interested in to ensure it meets your range requirements.
Q: Can I use a baby monitor without Wi-Fi?
A: Yes, there are non-Wi-Fi baby monitors available that use dedicated radio frequencies to transmit audio and video signals between the baby unit and parent unit. These monitors do not require an internet connection and offer a secure and interference-free connection.
Q: Are baby monitors easy to set up and use?
A: Yes, most baby monitors are designed to be user-friendly and easy to set up. Manufacturers provide clear instructions in the user manual or mobile app to guide you through the setup process. Follow the steps carefully, and you should be able to start using your baby monitor quickly.
Q: Can I use a baby monitor for multiple children or rooms?
A: Yes, many baby monitors offer expandable capabilities, allowing you to add additional camera units to monitor multiple children or different rooms from a single-parent unit. This feature is beneficial for parents with more than one child or those who want to monitor different areas simultaneously.
Q: Are wearable baby monitors safe for babies?
A: Wearable baby monitors, such as those with movement-tracking capabilities, are generally safe and approved for use with infants. However, it's essential to follow the manufacturer's guidelines and use them as directed to ensure your baby's comfort and safety.
Q: Can baby monitors help reduce the risk of Sudden Infant Death Syndrome (SIDS)?
A: While baby monitors can provide parents with peace of mind and alert them to potential issues, they do not prevent or reduce the risk of SIDS. Safe sleep practices, such as placing babies on their backs to sleep, using a firm mattress, and avoiding soft bedding, are the most crucial factors in reducing SIDS risk.
Q: Do baby monitors have night vision capabilities?
A: Yes, many video baby monitors are equipped with night vision capabilities, allowing you to see your baby clearly in low-light or dark conditions. Night vision is a valuable feature for monitoring your baby during nighttime or in dimly lit rooms.
Choosing the best baby monitor is an essential decision for parents seeking peace of mind and convenience in monitoring their baby's well-being. With a wide range of options available, including video, audio, and smart monitors, parents can find the perfect fit to suit their specific needs and preferences.
Investing in a reliable baby monitor ensures that parents can stay connected with their little ones and provide them with a safe and nurturing environment.
Read more about