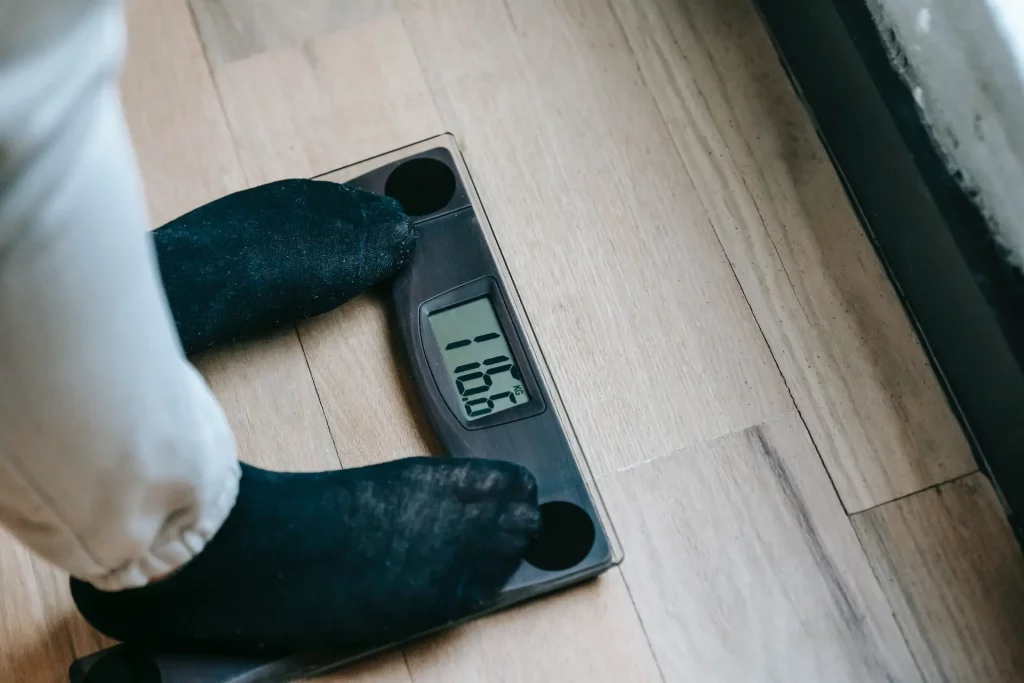 The Best Scales 2023
In 2023, the pursuit of better health and fitness is supported by the power of data. The importance of choosing the best scales cannot be overstated, as these tools play a pivotal role in tracking weight loss or gain and in-depth body composition analysis.
Modern scales offer automation and affordability, making the process seamless and accessible to all. Join us on a journey to discover the top best scales of 2023, empowering individuals to achieve behavior change and enhance their overall well-being. Let data be your ally in the battle for a healthier you.
Types of Scales Available in 2023
As technology continues to advance, weight scales in 2023 are likely to offer more sophisticated features, better connectivity, and enhanced data analysis capabilities to promote overall health and well-being.
S

mart Body Composition Scales:
Smart body composition scales go beyond just measuring weight. They provide additional insights into body fat percentage, muscle mass, bone density, water weight, and more. These scales often sync with mobile apps to track progress and offer personalized health data.
Wi-Fi-connected scales offer seamless data synchronization and storage. They can automatically upload weight and body composition measurements to cloud-based platforms or health apps, making it easy for users to track their progress over time.
Bluetooth-Enabled Scales:
Bluetooth-enabled scales allow users to connect directly to their smartphones or other compatible devices. They offer convenient wireless data transfer for tracking and monitoring weight trends.
Analog weight scales, also known as mechanical scales, are traditional scales with a simple design. They provide weight readings using a spring-loaded mechanism and do not require batteries or electronic components.
Digital weight scales display weight readings on an electronic screen, providing quick and accurate measurements. Many digital scales offer additional features like memory storage, multiple user profiles, and easy-to-read backlit displays.
Portable travel scales are compact and lightweight, designed for easy portability during travel. These scales are convenient for those who want to monitor their weight while on the go.
Smart bathroom scales are designed to blend seamlessly into bathroom decor while providing modern features like app connectivity, data tracking, and compatibility with virtual assistants.
High-Capacity Weight Scales:
High-capacity weight scales are specifically designed to accommodate heavier individuals, providing accurate readings for individuals with varying body weights.
Baby and infant scales are tailored for measuring the weight of newborns and young children. They are designed to ensure comfort and safety during weight measurements.
What to Look for When Buying the Best Scales in 2023
Weight Measurement Accuracy:
Accurate weight measurements are the foundation of any reliable scale. Look for scales equipped with advanced sensors and technology that deliver precise and consistent readings. Whether you're tracking weight loss or gain, a scale with high measurement accuracy ensures you stay on top of your progress with confidence and precision.
Body Composition Analysis:
Incorporating body composition analysis into your scale's capabilities can provide valuable insights beyond weight alone. Seek scales that measure additional metrics like body fat percentage, muscle mass, bone density, and water weight. This comprehensive data enables you to gauge your overall health, making it easier to tailor your fitness and nutrition strategies accordingly.
Connectivity and Compatibility:
Modern scales now offer enhanced connectivity options like Bluetooth or Wi-Fi. Choose scales that allow you to sync your weight and body composition data with your smartphone or favorite fitness apps seamlessly. Compatibility with popular health platforms ensures easy data tracking and management, empowering you to make data-driven decisions on your journey to better health.
User-Friendly App and Data Management:
A scale with a user-friendly mobile app or cloud-based platform enhances your experience and makes tracking your progress a breeze. Look for apps that offer comprehensive data management, progress tracking, and goal-setting features. Visual representations of your data, such as charts and graphs, help you understand your journey better and stay motivated to reach your goals.
Consider scales that support multiple user profiles, especially for households with multiple individuals tracking their health and fitness data. Multi-user support ensures each family member can maintain their personalized data and progress, providing a convenient and inclusive experience for everyone. 
An easy-to-read display is essential, especially if you have poor eyesight or need to check your weight in low-light conditions. Opt for scales with backlit displays and large, clear numbers for enhanced readability. A user-friendly display allows you to access your weight readings and body composition data effortlessly, adding to the overall convenience of using the scale.
Design and Build Quality:
Choose a scale with sturdy and durable construction that can withstand regular use. Additionally, a sleek and modern design can complement your bathroom or living space. Prioritizing build quality ensures that your scale remains reliable and functional for an extended period.
Capacity and Incremental Value:
Check the weight capacity of the scale to ensure it can accommodate your body weight comfortably. Additionally, consider the incremental value, which refers to the smallest weight change that the scale displays. Scales with smaller incremental values are preferable, especially if you plan to monitor small fluctuations in weight regularly.
Determine whether you prefer battery-operated scales or ones with rechargeable batteries. Battery-operated scales are generally more straightforward to maintain, while rechargeable options offer the convenience of avoiding frequent battery replacements. Additionally, consider power-saving features that can extend battery life, making the scale more energy-efficient.
Customer Reviews and Ratings:
Seek insights from other users by reading customer reviews and ratings. Real-world experiences can provide valuable feedback on a scale's performance, durability, and user-friendliness. Positive reviews and high ratings can instill confidence in your decision, while negative reviews may highlight potential issues or limitations to be aware of.
1.

Fitbit Aria Air
Best Cheap Smart Scale
Easily connect the Fitbit tracker to the scales using this innovative and user-friendly smart solution. The weight measurements were impressively precise, delivering results within just five seconds that seamlessly appeared on the accompanying mobile application. The images swiftly appeared on the display screen as well.
The application offers a comprehensive BMI calculation feature that allows users to effortlessly determine their body mass index based on their weight measurement and additional inputs provided.
Moreover, users have the flexibility to establish personalized weight goals within the app. While the available statistics are limited to these specific features, the app ensures a user-friendly and efficient experience in tracking and managing one's BMI. While the app's navigation may not have been the most intuitive at first, these affordable scales boast a decent size and a stable build.
Specification:
| | |
| --- | --- |
| Brand | Fitbit |
| Color | Black |
| Special Feature | Smart |
| Weight Limit | 5 Pounds |
| Product Dimensions | 11.8″L x 11.8″W x 1″H |
Reasons To Buy

Reasons To Avoid

+

FitBit Tracker Compatible 

–

 Fragile

+

 Very affordable
+

Size
2.

Etekcity Smart WiFi Scale
Best Smart Scale Display Screen
The manner in which a scale presents its readings on its display screen may appear inconsequential at first glance, but it has the potential to significantly impact your overall user experience. This holds particularly true if you happen to experience vision impairments or possess a taller stature, as it is highly desirable to have a scale that boasts larger fonts, thereby facilitating effortless readability.
The HR Smart Fitness Scale by Etekcity boasts an exceptional display screen that sets it apart from the competition. With its high-resolution graphics, this scale ensures that reading your weight becomes a breeze. What truly sets it apart is the ability to showcase a personalized selection of key measurements directly on the screen, eliminating the need to access the accompanying app for every update.
The scale boasts seamless connectivity through both Wi-Fi and Bluetooth, ensuring a hassle-free setup process once you have downloaded the user-friendly Vesync app. Once you have accessed the application, you will have the ability to create an extensive number of user-profiles and personalize each profile according to your preferences. Introducing the remarkable smart scale with an impressive weight capacity of up to 400 pounds.
But that's not all – this cutting-edge device also offers the unique Zero-Current mode, allowing you to solely focus on obtaining accurate weight and BMI measurements. The design of this product ensures optimal user-friendliness, catering specifically to the needs of pregnant individuals and individuals with implanted devices such as pacemakers.
Additionally, this remarkable device boasts a specialized Baby Mode feature, meticulously designed to accurately measure the weight of both precious infants and beloved pets.
Specification:
| | |
| --- | --- |
| Brand | Etekcity |
| Color | Black, Silver, Gray |
| Special Feature | Heart Rate, TFT Display, Rechargeable |
| Display Type | TFT |
Reasons To Buy

Reasons To Avoid

+

Scale display screen is easy to read 

–

Expensive

+

Unlimited users
+

The app is easy to use and sync up to the scale
3.

eufy Smart Scale P2 Pro
Best Mid-Range Scale


The Eufy P2 Pro, positioned as a compelling mid-range choice, offers an impressive array of features that far exceed its price point. The scale possesses a sleek and visually appealing design, exuding an air of sophistication. It seamlessly integrates with the accompanying app, offering users the convenience of syncing via either Bluetooth or Wi-Fi connectivity options.
Setting up this product is a breeze, requiring minimal time and effort. Once you're up and running, navigating through its features is a seamless experience, thanks to its user-friendly interface.
The scale is equipped with the capability to measure a total of 16 different metrics, providing users with a comprehensive understanding of their health and wellness. However, on the scale's sleek white LED display, only the weight, body fat percentage, and heart rate will be prominently showcased.
For access to the remaining measurements, users can conveniently retrieve them through the dedicated mobile application. In addition to its core functionalities, the app boasts a range of impressive in-app features that are designed to enhance the user experience.
One such feature is the ability to effortlessly log daily calorie intake, allowing users to easily track their nutritional consumption and make informed decisions about their dietary habits. Moreover, the app offers a comprehensive and user-friendly database of commonly consumed food items, ensuring that users have access to a wealth of information at their fingertips.
The number of users that can be accommodated on our platform is truly limitless, allowing for an expansive and inclusive community. Moreover, our platform offers the unique capability to create accounts specifically designed for the purpose of accurately measuring the weight of both infants and beloved pets.
Specification:
| | |
| --- | --- |
| Brand | eufy |
| Color | Black |
| Special Feature | Heart Rate;Bone Mass;Muscle Mass |
| Weight Limit | 400 Pounds |
| Product Dimensions | 11.02″L x 11.02″W x 0.9″H |
Reasons To Buy

Reasons To Avoid

+

Heart rate monitor

–

Battery powered 

+

3D modelling

–

no USB charging option

+

Fitbit & Apple Health compatible
4.

Mi Body Composition Scale 2
Best Option for Xiaomi User
If you are a proud owner of a Xiaomi Mi Band or Mi Watch, then it goes without saying that the Mi Body Composition Scale 2 is an absolute must-have. Having the ability to effortlessly access all your measurement statistics alongside your exercise tracking is an immense advantage that will greatly facilitate the planning and monitoring of your fitness journey.
Even if you don't own a Xiaomi device, this smart scale is definitely worth considering. This particular product stands out as an exceptionally budget-friendly option, making it highly accessible to a wide range of consumers. Furthermore, its sleek and minimalist design ensures that it seamlessly complements any bathroom aesthetic, adding a touch of elegance and sophistication.
The application boasts a user-friendly interface, ensuring a seamless experience for users of all skill levels. The visually appealing charts and easily comprehensible numerical data further enhance the accessibility and clarity of the information presented.
The device offers users a comprehensive analysis of their body composition, encompassing a total of 13 distinct measurements. However, it is worth noting that only the weight reading is displayed on the scale itself. The scale has the impressive capability to accommodate a maximum of 16 distinct profiles.
Specification:
| | |
| --- | --- |
| Brand | Xiaomi |
| Weight Limit | 150 Kilograms |
| Product Dimensions | 11.81″L x 11.81″W x 0.79″H |
| Material | Plastic |
| Item Weight | 3.5 Pounds |
Reasons To Buy

Reasons To Avoid

+

Minimalist design

–

Battery powered 

+

16 profiles supported

–

Bluetooth only

+

User-Friendly app

–

Only weight is shown on the scale
5.

RENPHO

Elis 1 

Smart Scale
Best Compact Bathroom Scale
The basic smart scale offered by Renpho is an excellent choice for those seeking a cost-effective option. A visually appealing scale that effortlessly complements any modern aesthetic.
Available in sleek black or pristine white, this cutting-edge device seamlessly syncs with your smartphone through the power of Bluetooth technology. This versatile device is a reliable choice for all your health and fitness needs.
It seamlessly integrates with popular platforms such as Apple Health, Fitbit, Samsung Health, and Google Fit, ensuring compatibility across various ecosystems.
The scale features a prominent digital display positioned at the top, ensuring effortless visibility. However, it is important to note that the scale solely provides weight measurements. To access the additional 12 metrics, conveniently presented in a user-friendly format, one must access the accompanying app.
Specification:
| | |
| --- | --- |
| Brand | RENPHO |
| Color | Black |
| Weight Limit | 400 Pounds |
| Product Dimensions | 11″L x 11″W x 1″H |
| Material | Glass |
Reasons To Buy

Reasons To Avoid

+

13 measurements

–

Bluetooth connection only, no Wi-Fi

+

Unlimited users

–

no USB charging option

+

Easy to connect
6.

WITHINGS Body Comp
Best Premium Smart Scale
The Body Comp represents the pinnacle of innovation within Withings' cutting-edge range of smart scales. The mid-range option, known as the Body Smart Plus, occupies a strategic position in the product lineup, positioned above the entry-level Body Smart and below the advanced Body Scan model.
The device is designed to provide a comprehensive assessment of your cardiovascular health. It will accurately measure your resting heart rate, allowing you to gauge your overall fitness level.
Additionally, it has the capability to determine your vascular age, providing valuable insights into the condition of your blood vessels. By measuring your pulse wave velocity, it can assess arterial stiffness, which is a key indicator of heart health.
With its impressive size and user-friendly design, the scale surpasses its competitors. The generously proportioned, full-color screen effortlessly presents a multitude of metrics, ensuring optimal readability. Users have the option to customize the metrics that are displayed or choose the convenient 'Eyes Closed' mode, where weight measurements are recorded without being visible to the user.
This innovative device operates on battery power, providing users with a convenient and portable solution. While it would have been convenient to have USB charging capabilities, rest assured that the device is designed to provide an impressive battery life of up to 15 months.
Specification:
| | |
| --- | --- |
| Brand | Withings |
| Color | Body Black |
| Special Feature | Bone Mass, Body Fat, Smart, Heart Rate, Body Mass Index |
| Weight Limit | 1 Pound |
| Product Dimensions | 12.8″L x 12.8″W x 0.7″H |
Reasons To Buy

Reasons To Avoid

+

Large, readable display


–

Expensive

+

Heart and nerve health data
—

+

Many apps interpret results.

FAQs – The Best Scales 2023
Q: What makes a scale the "best" choice for tracking weight and body composition?
A: The best scales in 2023 should offer accurate weight measurements, as well as body composition analysis, providing insights into metrics like body fat percentage, muscle mass, bone density, and water weight. Look for scales with advanced sensors and technology for precise readings.
Q: Are modern scales easy to use and set up?
A: Yes, modern scales are designed for user-friendliness and ease of setup. Most scales come with straightforward instructions, and many can be set up with a simple smartphone app. The process is generally hassle-free, making them accessible to all users.
Q: Can I track my progress over time with these scales?
A: Absolutely! The best scales in 2023 often come with companion apps or cloud-based platforms that allow you to track your progress over time. These apps provide comprehensive data management, progress charts, and goal-setting features, helping you stay motivated on your fitness journey.
Q: Are smart scales compatible with fitness apps and other health platforms?
A: Yes, smart scales are designed for seamless integration with various fitness apps and health platforms. They typically support Bluetooth or Wi-Fi connectivity, allowing you to sync your weight and body composition data effortlessly.
Q: Can multiple users use the same scale?
A: Many smart scales offer multi-user support, allowing different family members to have separate profiles. This feature ensures that each user's data remains private and accurate, providing a convenient option for households with multiple individuals tracking their health.
---
Conclusion
In conclusion, the best scales of 2023 offer a powerful ally in the journey towards better health and fitness, backed by the power of data. With accurate weight measurements, in-depth body composition analysis, and seamless integration with fitness apps, these scales empower individuals to make informed decisions and achieve their wellness goals.
Embrace the convenience and insights these modern scales provide, and let data be the driving force in your pursuit of a healthier and happier you.
Read more about