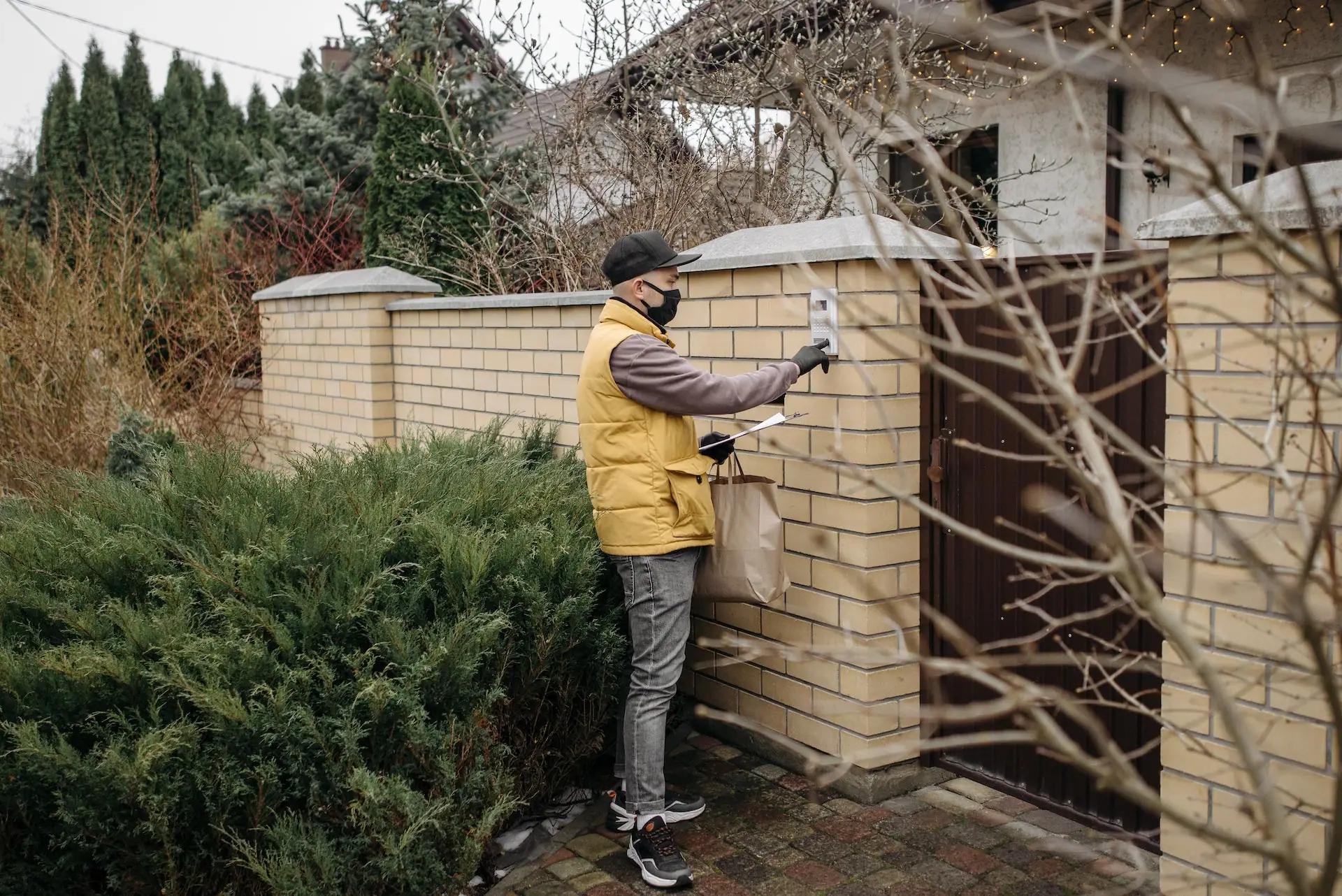 Best Video Doorbell in 2023
Improve your front door's communication capabilities from the outdated landline era of the 1980s to the cutting-edge smartphone era of 2023 with the addition of a smart doorbell. By seamlessly integrating a cutting-edge motion-activated camera with a highly advanced microphone, speaker, and doorbell, the doorbell camera revolutionizes the way we perceive home security.
With its remarkable functionality, this innovative device effortlessly sends real-time alerts directly to your smartphone, granting you the ability to effortlessly identify visitors without the need to physically open the door or even be present within the walls of your home.
Whether you find yourself comfortably curled up on the couch, diligently working away in your office, or enjoying the warm sun on a pristine beach in the Bahamas, the presence of a smart doorbell camera ensures that you remain effortlessly connected to the events unfolding on your doorstep.
Top Types of Video Doorbells in 2023
Wired video doorbells draw power from existing doorbell wiring, ensuring a constant and reliable power source. These doorbells often feature high-definition video quality, advanced motion detection, and two-way audio communication, making them an ideal choice for homeowners seeking a dependable and continuously powered solution.
Battery-Powered Video Doorbells:
Battery-powered video doorbells offer flexibility in installation, as they do not require doorbell wiring. They are equipped with rechargeable batteries, making them easy to install and suitable for homes without existing wiring. Look for models with long battery life, customizable motion zones, and crystal-clear video resolution for optimal performance.
Smart Home Integrated Video Doorbells:
Smart home-integrated video doorbells seamlessly connect with popular smart home platforms like Amazon Alexa, Google Assistant, or Apple HomeKit. Enjoy hands-free control through voice commands and easily integrate your video doorbell into your existing smart home ecosystem for a comprehensive and automated home security experience.
Dual-Lens Video Doorbells:
Dual-lens video doorbells incorporate two lenses, providing a broader field of view compared to standard models. These doorbells often feature a wide-angle lens to capture a wide view of the doorstep and an additional vertical lens to cover packages left on the ground. Ideal for homeowners concerned about package theft and overall doorstep security.
High-Resolution Video Doorbells:
High-resolution video doorbells are equipped with advanced camera sensors, delivering exceptional video quality, even in low-light conditions. Look for 2K resolution or higher to ensure clear and detailed footage, allowing for accurate facial recognition and enhanced security monitoring.
What to Look for When Buying the Best Video Doorbell in 2023
High-Resolution Video Quality:
Prioritize video doorbells with high-resolution cameras, offering at least 2K resolution or higher. Crisp and clear video footage allows for accurate facial recognition and a better view of any potential intruders or visitors. Ensure the camera excels in both daylight and low-light conditions for round-the-clock surveillance.
Look for video doorbells with smart home integration capabilities. Seamless compatibility with popular platforms like Amazon Alexa, Google Assistant, or Apple HomeKit enables convenient voice control and effortless integration with other smart devices, creating a cohesive and connected smart home security system.
Advanced Motion Detection:
Choose video doorbells with advanced motion detection technology. Adjustable motion sensitivity and customizable motion zones allow you to focus the camera on essential areas and minimize false alerts. Real-time notifications sent to your mobile device keep you informed of any detected activity at your doorstep.
Two-Way Audio Communication:
Ensure your chosen video doorbell features two-way audio communication. This valuable feature allows you to interact with visitors or delivery personnel directly through the doorbell's built-in speaker and microphone, adding an extra layer of convenience and security.
Consider the power options available for the video doorbell. Wired models draw power from existing doorbell wiring, providing continuous power, while battery-powered variants offer flexibility in installation. Opt for a model with long battery life or look for video doorbells with the option to use both wired and battery power for added versatility.
Cloud Storage and Local Storage Options:
Evaluate storage options for recorded video footage. Cloud storage offers secure and convenient access to video clips remotely. Some video doorbells may also provide local storage options via microSD cards or external hard drives for added data redundancy.
Top 6 Best Video Doorbell in 2023
1. Arlo Video Doorbell
Best Smart Doorbell
The Arlo Essential Video Doorbell Wired has emerged as the frontrunner in its category, and for good reason. Boasting exceptional hardware and impressively swift response times, this device sets itself apart from the competition. What truly sets it apart, however, is its remarkable ability to accurately discern between various entities, be it individuals, animals, automobiles, or even packages.
This advanced feature ensures that users receive precise notifications tailored to their specific needs, enhancing convenience and peace of mind. Additionally, this model effectively mitigates the issue of false alerts, which is a common problem encountered with numerous other models.
The Arlo doorbell camera is equipped with advanced features that ensure the capture of high-quality video footage. With its impressive 1536×1536 resolution and expansive 180-degree viewing angle, this camera offers a comprehensive and immersive visual experience.
The square format further enhances the camera's ability to provide a complete vertical and horizontal view of any activity taking place in front of your door. Whether you're monitoring deliveries or keeping an eye on curious raccoons, the Arlo doorbell camera guarantees crystal-clear video footage that leaves no detail unnoticed.
Specifications:
| | |
| --- | --- |
| Brand | Arlo |
| Model Name | Essential Wired Video Doorbell |
| Connectivity Technology | Wi-Fi |
| Special Feature | 2 Way Audio, HD Resolution, Night Vision, Motion Sensor |
2.

Ring Video Doorbell Pro 2
Alexa-Compatible Wired Doorbell Camera
The Ring Pro 2 stands out as a top-tier doorbell that seamlessly integrates with Amazon Alexa and Ring's robust security system and cameras. However, it is worth noting that its compatibility with other platforms is limited, making it less ideal for users seeking to incorporate their doorbell into broader smart home routines on alternative platforms.
The compatibility of the device extends seamlessly to Samsung SmartThings, allowing users to effortlessly integrate it into their smart home ecosystem. However, for those seeking to incorporate it into Apple Home, an additional hardware component is necessary to establish a seamless connection.
With its perfectly balanced square aspect ratio, this remarkable device offers an unparalleled front porch viewing experience. Stay informed and connected with its lightning-fast notification system, ensuring that you never miss a beat. Moreover, its advanced motion detection capabilities are truly remarkable, employing a trifecta of cutting-edge sensors including radar, video analysis, and passive infrared technology, guaranteeing utmost accuracy.
Additionally, this remarkable product boasts an elegant and sleek design, ensuring it seamlessly integrates into any space. Moreover, it offers a wide array of faceplate options, allowing you to effortlessly customize it to perfectly complement your unique interior decor. The amalgamation of these exceptional features culminates in the creation of a truly remarkable video doorbell, solidifying its position as one of the finest options available for purchase.
However, it is worth noting that this particular product does not offer complimentary video recording services. Additionally, the absence of a 24/7 recording feature may be a drawback for some users. Furthermore, it is important to mention that the smart alerts provided by this device are restricted solely to identifying individuals and packages.
Specifications:
| | |
| --- | --- |
| Brand | Ring |
| Model Name | Video Doorbell Pro 2 |
| Connectivity Technology | Wired / Wi-Fi: 2.4 GHz and 5 GHz  |
| Special Feature | Works with Amazon Alexa, Samsung SmartThings |
3.

Blink Video Doorbell
Best Budget Doorbell
When it comes to affordable video doorbells without any recurring charges, the Blink Video Doorbell stands out as the top choice. Not only does this product function seamlessly as a wired doorbell, but it also presents itself as an excellent choice for a battery-powered buzzer. With the capability to operate for an impressive duration of up to two years, powered by just two AA batteries, it offers unparalleled convenience and longevity.
Although Blink may not boast an extensive array of advanced features such as smart alerts or quick replies, it does offer the essential functionalities that users seek. With its motion-activated recording capability, users can conveniently capture footage for up to 30 seconds.
Additionally, the device provides alerts to keep users informed, enables live view with certain limitations, incorporates night vision for enhanced visibility in low-light conditions, allows for the customization of motion zones, and facilitates seamless two-way audio communication.
While it may lack certain extravagant elements, Blink focuses on delivering the fundamental aspects that users require in a security camera. If you are seeking a cost-effective solution, priced at an affordable $50 or even less, that allows you to effortlessly install a camera at your doorstep, then the Blink is the ideal choice for you. With its user-friendly features and hassle-free setup, this device offers convenience and peace of mind.
The Blink doorbell is available in two elegant color options: white and black. Its compact design sets it apart from other battery-powered doorbells, as it doesn't take up much space. This feature makes it an excellent choice for those seeking a more inconspicuous doorbell solution.
Lastly, it is worth noting that this product lacks smart alerts, which could be seen as a disadvantage for those seeking a more advanced and automated monitoring system. The application's navigation can be somewhat challenging to maneuver. While compatibility with Google Home may be absent, this remarkable device seamlessly integrates with Alexa, offering an exceptional user experience.
With the added advantage of live view functionality on Echo Show devices, users can effortlessly monitor their surroundings. The versatility of this device extends to utilizing any Echo speaker as an indoor chime, enhancing convenience and accessibility.
Specifications:
| | |
| --- | --- |
| Brand | Blink |
| Model Name | Video Doorbell |
| Connectivity Technology | Wired/Wireless |
| Special Feature | Two-way audio, HD video, motion, and chime app alerts, and Alexa enabled |
4.

Wyze Video Doorbell Pro
Best Value Doorbell

It should come as no surprise that Wyze presents an exceptional video doorbell option that offers remarkable value for its cost. Introducing the remarkable battery-powered doorbell cam that goes above and beyond expectations. With its cutting-edge features, this device is sure to impress.
Experience crystal-clear 2K resolution, capturing every detail with stunning clarity. The expansive 150-degree field of view, perfectly complemented by a 1:1 aspect ratio, ensures that nothing escapes your sight. And the best part? Enjoy the convenience of free cloud storage, effortlessly storing your precious footage.
But that's not all – this doorbell cam has so much more to offer. With the addition of an included plug-in chime, this offer becomes truly remarkable. The Wyze Pro's wireless functionality sets it apart as the ultimate wireless video doorbell available in the market.
Specifications:
| | |
| --- | --- |
| Brand | WYZE |
| Model Name | Video Doorbell Pro |
| Connectivity Technology | Wi-Fi |
| Special Feature | Night Vision, Motion Sensor |
5. Eufy S220 Video Doorbell 2K 
Best Battery-Powered Doorbell
Even if you lack doorbell wiring, there's no need to worry as you can still enjoy the convenience and security of a video doorbell. The Eufy Security Video Doorbell 2K (Battery-Powered) is a highly commendable choice due to its exceptional performance and impressive battery life, lasting approximately four months.
The Eufy security camera system boasts an impressive storage capacity, allowing users to conveniently store up to six months' worth of footage on the provided base station. Alternatively, for those seeking a more streamlined and hassle-free experience, Eufy offers a cloud service option.
With this service, users can enjoy the convenience of accessing their video history for a span of 30 days. The cloud service is available at a reasonable cost of $3 per month per camera or a discounted annual rate of $30 per camera. Additionally, this remarkable device provides users with a vibrant 2K image that is sure to captivate the senses.
Moreover, its exceptional audio capabilities allow for seamless two-way communication, ensuring crystal-clear sound quality. In contrast to its hardwired counterpart, this particular model offers a recording feature that is limited to concise 60-second clips.
Similar to other battery-operated models, it is worth noting that this particular device may result in a slight delay between consecutive events if motion persists. With its exceptional performance and unparalleled flexibility, this model stands out as the ultimate choice for individuals seeking a wire-free experience.
Specifications:
| | |
| --- | --- |
| Brand | eufy Security |
| Connectivity Technology | Wireless, Wired |
| Special Feature | HD Resolution, Motion Sensor, Local Recording, Human Detection, Customized Detection,2 Way Audio |
| Indoor/Outdoor Usage | Outdoor |
6.

WeMo Smart Video Doorbell
Best Apple Home Wired Doorbell
Wemo Video Doorbell is a cutting-edge innovation brought to you by Belkin. Designed to seamlessly integrate with Apple Home, this exceptional doorbell stands out as the ultimate choice for discerning homeowners. The Wemo is a remarkable device that offers an impressive array of features. With its fast and secure performance, it ensures a seamless user experience.
Notably, it supports HomeKit Secure Video, providing an added layer of protection for your home. One of the standout features of the Wemo is its high-definition video stream, boasting a resolution of 1200 x 1600. This ensures that you can enjoy crystal-clear visuals, allowing you to monitor your porch with exceptional clarity. Additionally, the inclusion of HDR (High Dynamic Range) technology further enhances the video quality, delivering vibrant and lifelike colors.
The Wemo's circular view is another noteworthy aspect of its design. By providing a panoramic perspective, it allows you to have a comprehensive view of your entire porch. However, it is important to note that the circular view does introduce a slight fish-eye effect, which may take some getting used to. Overall, the Wemo is a reliable and feature-rich option for those seeking a top-notch video monitoring solution.
Its fast performance, robust security, and support for HomeKit Secure Video make it a compelling choice for homeowners looking to enhance their surveillance capabilities. However, when comparing it to the Logitech Circle View, another notable HomeKit option, it emerges as the superior choice.
When it comes to installation, the Wemo outshines the Logitech with its remarkable ease and simplicity. Both of these systems have similar and straightforward software configurations. By exclusively leveraging the Apple Home app, users can fully immerse themselves in a seamless smart home experience.
Specifications:
| | |
| --- | --- |
| Brand | WeMo |
| Model Name | Wemo Doorbell |
| Connectivity Technology | Wireless, Wired |
| Special Feature | HD Resolution, Night Vision, Image Sensor |
FAQs – Best Video Doorbell in 2023
Q: What makes a video doorbell the "best" choice for my home?
A: The best video doorbell for your home depends on various factors, including high-resolution video quality, smart home integration, advanced motion detection, two-way audio communication, and power options. Consider your specific needs and preferences to find the perfect fit for your home security requirements.
Q: Are video doorbells easy to install, or do they require professional assistance?
A: Many video doorbells are designed for DIY installation and come with detailed instructions and necessary mounting hardware. They can be easily installed by homeowners without professional assistance. However, if you are unsure or uncomfortable with the installation process, consulting a professional may be beneficial.
Q: Can I access video footage from my video doorbell when I'm away from home?
A: Yes, most video doorbells offer remote access through dedicated mobile apps or web portals. As long as your device is connected to the internet, you can view live video feeds, receive motion alerts, and review recorded footage from anywhere in the world.
Q: Are video doorbells compatible with all smartphones and devices?
A: Video doorbells are designed to be compatible with a wide range of smartphones and devices, including iOS and Android platforms. Ensure that the video doorbell you choose supports your specific mobile device to enjoy seamless access and control.
Q: Is cloud storage necessary for my video doorbell's footage, or can I use local storage options?
A: Cloud storage offers convenient and secure access to video footage remotely. While many video doorbells offer cloud storage plans, some models also support local storage options, such as microSD cards or external hard drives. Choose the storage option that best suits your preferences and requirements.
In conclusion, selecting the best video doorbell in 2023 requires considering essential features like high-resolution video quality, smart home integration, advanced motion detection, two-way audio, and suitable power options.
With the right video doorbell, you can elevate your home security, stay connected, and enjoy enhanced peace of mind with a seamlessly integrated and reliable solution. Safeguard your doorstep with confidence and convenience with the perfect video doorbell for your home.
Read more about