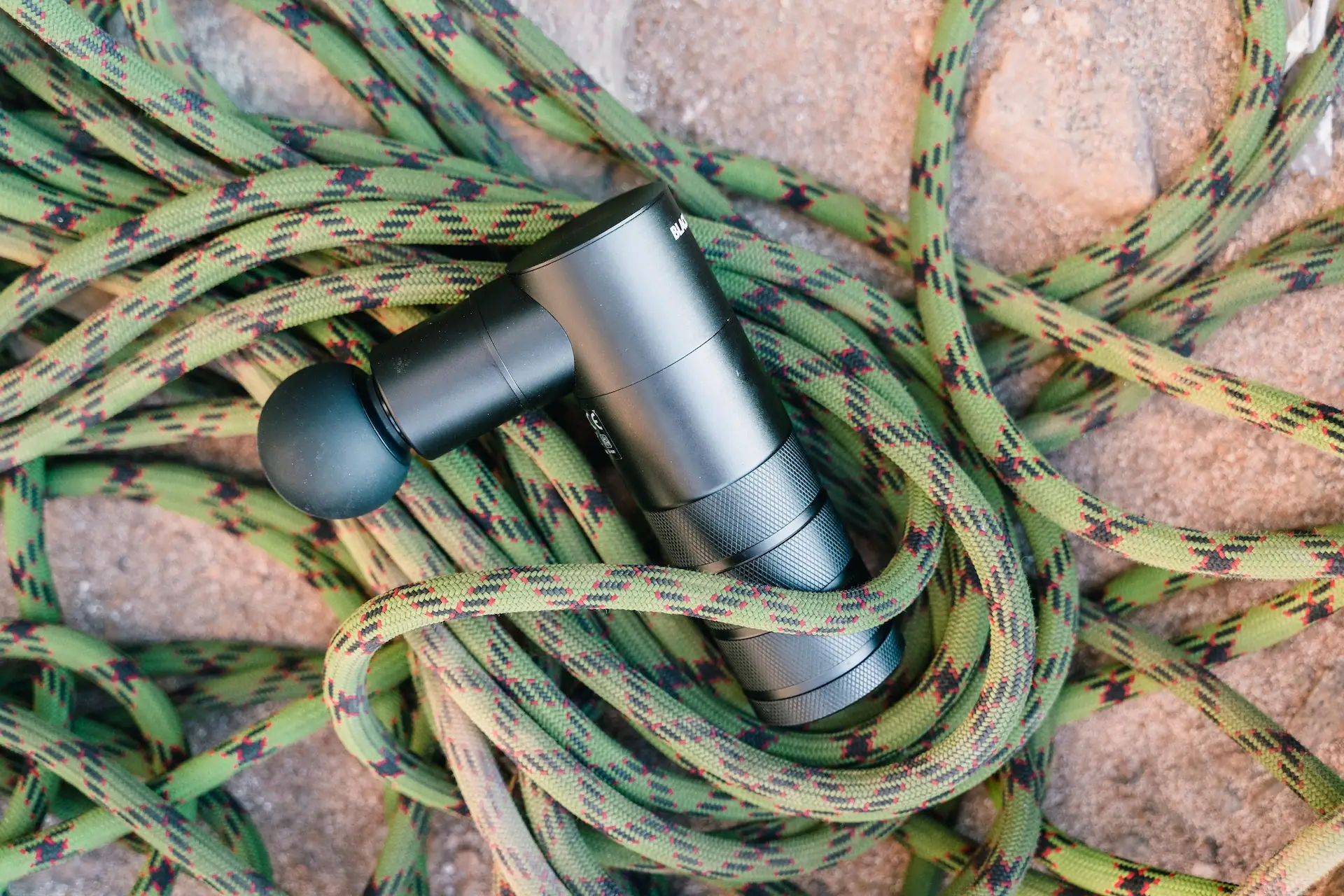 Best Massage Guns in 2023
In recent years, the rise in popularity of massage guns has been nothing short of remarkable. These innovative devices have captured the attention of health enthusiasts and fitness aficionados alike, thanks to their remarkable ability to enhance blood circulation and alleviate muscle tension throughout the entire body.
Muscle stimulators, known for their remarkable ability to alleviate muscle soreness and facilitate recovery, have become an indispensable tool for fitness enthusiasts. These cutting-edge devices, when combined with other tried-and-true methods such as ice baths, offer a comprehensive approach to post-workout rejuvenation.
Whether you've just completed an intense strength training session or a grueling powerlifting workout, these muscle stimulators are designed to provide unparalleled relief and expedite the recovery process.
In addition to engaging in regular exercise, it is crucial to recognize the significance of rest days and post-workout recovery in maintaining a well-rounded and healthy fitness regimen. Taking breaks and allowing your body ample time to recuperate is crucial for its natural healing processes and the optimal development of your hard-earned muscle gains.
While it is crucial to prioritize rest, nourishment, and ample sleep during the recovery process, there are additional measures you can take to facilitate a swifter recuperation. Incorporating a massage gun into your post-workout routine or even as a pre-workout warm-up can provide immense relief to your fatigued muscles or effectively prepare them for intense physical activity.
Massage guns are widely recognized as a cutting-edge form of percussive therapy, which is a highly effective method of providing soft tissue massage. By utilizing powerful vibrations, these innovative devices work to alleviate muscle tension and promote overall relaxation. Percussive therapy has emerged as a highly effective method for alleviating a wide range of discomforts, including aches, sore muscles, knots, tension, and various other types of pain.
Types of Massage Guns in 2023
High-Intensity Massage Guns:
These massage guns are designed to deliver powerful percussion therapy for individuals who require deep tissue work. They typically feature robust motors and higher speed settings, allowing for intense muscle stimulation and targeted relief. High-intensity massage guns are favored by athletes, fitness enthusiasts, and individuals with highly active lifestyles.
Low-Intensity Massage Guns:
For those who prefer a gentler massage experience, low-intensity massage guns offer a milder percussion action. These guns feature adjustable speed settings that allow users to customize the massage intensity according to their comfort level. Low-intensity massage guns are ideal for individuals with sensitive muscles or those who enjoy a more relaxing massage.
Versatile massage guns are designed to accommodate various massage preferences by offering a range of attachments and massage heads. These guns typically come with interchangeable heads specifically designed to target different muscle groups or areas of the body. With the ability to switch between massage heads, users can enjoy a versatile massage experience and address specific muscle needs effectively.
Quiet Operation Massage Guns:
Some massage gun models in 2023 prioritize quiet operation, making them ideal for those who value a peaceful massage experience without disturbing others. These guns utilize advanced noise reduction technology, ensuring a quieter percussion action without compromising the massage quality.
Quiet-operation massage guns are suitable for home use or in settings where noise levels need to be minimized.
With technological advancements, smart massage guns have emerged in the market. These guns feature intelligent speed control and built-in sensors that can automatically adjust the massage intensity based on the user's muscle response.
They often come with companion mobile apps that provide personalized massage programs, usage tracking, and other smart features. Smart massage guns are a popular choice for tech-savvy individuals who seek a customized massage experience.
Designed for individuals on the go, portable massage guns offer compact size and lightweight construction without compromising on performance. These guns are easy to carry in a bag or gym backpack, making them convenient for travel, work, or post-workout recovery sessions. Portable massage guns often feature long-lasting batteries to ensure sufficient usage time during outdoor activities.
Multi-Functional Massage Guns:
In addition to percussion therapy, multi-functional massage guns incorporate additional features to enhance the overall massage experience. These guns may include heat therapy, vibration modes, or even built-in Bluetooth speakers for added relaxation and entertainment.
Multi-functional massage guns provide a comprehensive and immersive massage experience with their additional functionalities.
What To Look For While The Best Massage Guns in 2023
When searching for the best massage guns in 2023, there are several key factors to consider. By keeping these factors in mind, you can make an informed decision and choose a massage gun that meets your specific needs. Here's what to look for:
Power and Speed Settings: Look for a massage gun that offers adjustable power and speed settings. This allows you to customize the intensity of the massage according to your preferences and comfort level.
Attachments: Different massage guns come with various attachments designed for specific muscle groups or areas of the body. Ensure the massage gun you choose includes attachments that will target your specific needs.
Battery Life: Check the battery life of the massage gun to ensure it can accommodate your desired usage duration. Longer battery life allows for uninterrupted massage sessions without the need for frequent recharging.
Ergonomics: Consider the weight, grip, and overall design of the massage gun. It's important to choose a model that feels comfortable to hold and easy to maneuver during your massage sessions.
User Reviews and Reputation: Research customer reviews and ratings to gauge the overall satisfaction and reliability of the massage gun you are considering. Pay attention to feedback on performance, durability, and customer support.
Noise Level: Some massage guns may produce more noise than others during operation. If the noise level is a concern for you, look for models that prioritize quiet operation, ensuring a more peaceful massage experience.
Price and Value: Set a budget for your massage gun purchase and compare prices across different brands and models. Consider the features, quality, and overall value offered by each option to find the best fit for your budget.
Warranty and Customer Support: Check if the massage gun comes with a warranty or guarantee. Additionally, consider the availability and responsiveness of customer support in case you encounter any issues or need assistance.
Top 5 Best Massage Guns in 2023
1.)

Ekrin Athletics B37
Best Everyday Massage Gun
The remarkable Ekrin B37 Massage Gun boasts an impressive battery life of up to eight hours, ensuring prolonged usage without the need for frequent recharging. With its five-speed settings, this cutting-edge device allows users to customize their massage experience according to their preferences and needs.
Additionally, the B37 Massage Gun comes equipped with four head attachments, offering a versatile and comprehensive solution for all your massage requirements. Its compact design and user-friendly interface make it a convenient and hassle-free tool that can be effortlessly incorporated into your daily routine.
Experience the ultimate in relaxation and rejuvenation with the Ekrin B37 Massage Gun – the perfect all-in-one solution for your massage therapy needs. Experience the ultimate in tranquility with our ultra-quiet and lightweight device.
Designed with your convenience in mind, it comes complete with a sleek carry case, ensuring effortless portability wherever you go. The ergonomically designed handle, set at a 15-degree angle, offers users a heightened level of comfort and convenience during use.
We are truly enamored by the device's exceptional features, such as its remarkably quiet operation and extended battery life, which surpasses that of numerous other massage guns on our carefully curated list. Introducing an exceptional powerhouse massager that is guaranteed to deliver outstanding results.
Specifications:
| | |
| --- | --- |
| Use for | Back |
| Power Source | Battery Powered |
| Material | Acrylonitrile Butadiene Styrene |
| Item Weight | 2.2 Pounds |
| Brand | Ekrin Athletics |
Reasons To Buy

Reasons To Avoid

+ Easy to hold

–

Lowest setting may not be gentle enough for some

+

Customizable speed range
+ Long battery life
2.)

Fusion Black Pro
Best Percussion Massage Gun
The Fusion Black Pro Muscle Massage Gun has been widely recognized as the ultimate percussion massage gun and for good reason. With its exceptional features and unparalleled performance, it has earned its well-deserved reputation as the top choice in the market.
With its ergonomically designed handle angled at a precise 12 degrees, this remarkable device ensures utmost comfort even during prolonged usage. Say goodbye to hand fatigue as you effortlessly hold this device for extended periods, allowing you to focus on what truly matters.
With its impressive array of features, the massager offers an unparalleled massage experience. Boasting a remarkable 20 intensity levels and six distinct attachments, this device allows you to effortlessly customize your massage to suit your specific needs.
Whether you seek a deep muscle massage to alleviate tension or a gentle touch for delicate areas of muscle tissue, this versatile massager has got you covered. Experience the ultimate relaxation and relief with this exceptional device. With its impressive maximum setting of 3,300 percussions per minute, this device delivers an invigorating massage experience that is equally effective for individuals with larger muscle groups.
The battery boasts impressive longevity, providing users with several hours of usage before necessitating a recharge. Despite the noise-reducing mechanism mentioned in the product listing, the device tends to emit a noticeable amount of noise, particularly when used with specific attachments.
Specifications:
| | |
| --- | --- |
| Use for | Hands |
| Power Source | Battery Powered |
| Item Weight | 1.8 Pounds |
| Brand | Fusion Black Pro |
| Color | White |
Reasons To Buy

Reasons To Avoid

+ 20 intensity levels, reaching up to 3,300 percussions a minute 

–

Quite noisy

+

Six different attachments 
+ Battery lasts several hours 
3.)

RENPHO Extend Massage Gun
Best with Extended Arm
The Renpho Extend Massage Gun boasts a remarkable feature – a detachable long handle that effortlessly targets those hard-to-reach areas on our back. With its impressive array of four massage heads and four adjustable massage speeds, this exceptional product effortlessly caters to all of our unique needs and preferences. Through our research, it has come to our attention that utilizing various attachments can prove to be an exceptional method for targeting specific muscle groups.
By employing smaller attachments, one can effectively engage and stimulate smaller muscles, while larger attachments are ideally suited for larger muscle groups. This strategic approach allows for a more tailored and efficient workout experience, maximizing the benefits derived from each exercise.
Additionally, these fitness accessories proved to be highly convenient as they could be effortlessly interchanged during our transition from one muscle group to another. The product has demonstrated remarkable efficacy in alleviating muscle tension and discomfort, particularly in areas such as the back and neck. The gun's cutting-edge noise reduction technology ensures that the sound emitted during operation remains comfortably below 45 decibels, resulting in a remarkably tranquil massage experience.
The intensity of each speed was thoughtfully calibrated to suit its corresponding level, resulting in a highly effective warm-up for the muscles, alleviation of muscle tension, and relief from deeper muscle pains. In addition to its exceptional functionality, we were particularly impressed by the effortless usability of the elongated handle.  Even during extended periods of use, we found it to be remarkably comfortable and non-fatiguing.
Priced more affordably than its counterparts on our list, this massage gun undoubtedly presents exceptional value for your investment. Its remarkable quality rivals that of significantly higher-priced alternatives, making it an irresistible choice for those seeking both affordability and performance.
This particular firearm comes highly recommended, particularly for individuals who engage in occasional athletic activities or maintain a rigorous fitness regimen, necessitating effective muscle relief.
Specifications:
| | |
| --- | --- |
| Power Source | Battery Powered |
| Brand | RENPHO |
| Color | White |
| Special Feature | Rechargeable, Heat, Speed Control |
Reasons To Buy

Reasons To Avoid

+ Weighs less than 2 pounds

–

May not be powerful enough for some

+

Detachable extension handle
+ Long lasting battery life
4.)

Mebak 3
Best Budget Massage Gun
If you are currently in the market for an affordable yet high-quality muscle massage gun, look no further than the Mebak 3 Massage Gun Deep Tissue Percussion Muscle Massager. This exceptional product offers a wide range of benefits and is designed to provide you with an unparalleled massage experience. With its advanced features and powerful performance, the Mebak 3 Massage Gun is undoubtedly a top contender in the market.
The product boasts an impressive array of seven distinct attachments, each designed with precision and purpose. With options such as the bullet, bump, cushion, flat, fork, round, and shovel, you have the flexibility to tailor your muscle targeting to suit your specific needs.
Whether you desire a focused approach or wish to address various body parts, these attachments offer versatility and adaptability like no other. The cushion attachment offers a gentle and plush experience, ensuring optimal comfort during your massage session. Its soft texture and added padding make it perfect for targeting bony areas without causing any discomfort.
With the inclusion of six distinct speed settings, you have the ability to effortlessly customize and fine-tune the intensity of your massage sessions. This remarkable feature allows for a truly personalized experience, ensuring that you can tailor each session to your specific needs and preferences.
Whether you desire a gentle and soothing massage or a more invigorating and vigorous one, these versatile speed settings grant you the freedom to effortlessly achieve the desired level of intensity. Say goodbye to generic massages and embrace the power to create a truly bespoke and rejuvenating experience.
When utilizing the advanced features of this device, it is recommended to employ the higher speed setting for targeting larger muscle groups such as the glutes and quads. Conversely, the lower speed setting is more suitable for addressing the upper traps and neck region, ensuring a comprehensive and tailored massage experience.
Specifications:
| | |
| --- | --- |
| Weight | 2.1lbs |
| Brand | Mebak |
| Color | Gray/Black |
| Number of attachments | Seven |
| Speed settings | Six |
| Battery life | Two to Three hours |
Reasons To Buy

Reasons To Avoid

+ Seven unique attachments 

–

Relatively short battery life

+

Very affordable
+ Six different speed settings 
5.)

Hypervolt Go 2
Best for Travel
The Hyperice Hypervolt Go 2 stands out as the ideal choice for travelers due to its exceptional lightweight design and remarkable portability. Weighing in at less than 2 pounds, this remarkable device is designed to be your ultimate travel companion. With its three included plug adapters, you can effortlessly stay connected to the world no matter where your adventures take you. And the best part? It's TSA-compliant, making it a hassle-free addition to your carry-on luggage.
The product boasts a remarkable combination of two interchangeable head attachments and a versatile three-speed setting, making it an absolute game-changer in the realm of muscle recovery.
Through our rigorous testing, we have discovered its unparalleled efficacy in alleviating muscle tightness and soothing soreness, particularly in those crucial moments between intense workout sessions. The massager was discovered to possess a commendable level of quietness, allowing for a serene and undisturbed experience.
Its user-friendly nature was further enhanced by a simple one-button control mechanism, which contributed to its flawless rating in terms of ease of use. During the testing phase, we were particularly impressed by the device's remarkable lightweight design, which greatly enhances its overall usability.
Additionally, we discovered that the handle boasts an ergonomic design, ensuring a comfortable grip and effortless maneuverability. The versatile design of this product makes it exceptionally well-suited for targeting those hard-to-reach areas, such as the lower back and feet.
The first attachment is a versatile, circular device that is specifically designed to target larger muscle groups such as the hamstrings, quadriceps, back, and chest. The second attachment boasts a sleek bullet shape that exudes a sense of modernity and style.
Specifications:
| | |
| --- | --- |
| Use for | Whole Body |
| Power Source | Battery Powered |
| Material | Plastic |
| Item Weight | 1.5 Pounds |
| Brand | Hyperice |
Reasons To Buy

Reasons To Avoid

+TSA approved for carry-on

–

Short battery life

+

Compact

–

No carrying case
+Three plug adapters for travel
FAQs – Best Massage Guns in 2023
Q: What exactly are massage guns, and how do they work?
Massage guns, also known as percussion massagers, are handheld devices that provide deep tissue massage therapy. They work by utilizing percussive or vibrating movements to target specific muscles or areas of the body. The rapid pulses of pressure from the massage gun stimulate blood flow, reduce muscle tension, and promote relaxation.
Q: What are the benefits of using massage guns?
Massage guns offer a range of benefits, including:
Muscle recovery and relaxation: Massage guns help increase blood circulation, which aids in muscle recovery after workouts and reduces post-exercise soreness.

Pain relief: The percussive action of massage guns helps alleviate muscle pain and tension, providing relief from discomfort.

Improved flexibility and range of motion: Regular use of massage guns can enhance muscle flexibility, joint mobility, and overall athletic performance.

Stress reduction: The soothing massage sensation provided by massage guns helps relax the body and reduce stress levels.

Convenience and accessibility: With a massage gun, you can enjoy the benefits of a professional massage in the comfort of your own home, at any time you desire.
Q: Are massage guns safe to use?
Massage guns are generally safe when used correctly. However, it's important to follow the manufacturer's instructions and avoid applying excessive pressure or using the device on sensitive areas, open wounds, or inflamed muscles. If you have any underlying health conditions, it's advisable to consult with a healthcare professional before incorporating a massage gun into your routine.
Q: Who can benefit from using massage guns?
Massage guns can benefit a wide range of individuals, including:
Fitness enthusiasts and athletes: Massage guns aid in muscle recovery, improve performance, and reduce the risk of injuries for those engaging in regular physical activities.

Individuals with sedentary lifestyles: Massage guns can help alleviate muscle stiffness and tension caused by prolonged sitting or inactivity.

People experiencing muscle pain or tightness: Massage guns target specific muscle groups, providing relief from muscle soreness, knots, and general discomfort.

Individuals seeking relaxation and stress relief: The massage gun's soothing effect helps relax the body, reduce stress levels, and promote a sense of well-being.
Q: How much can I expect to spend on a massage gun in 2023?
The price of massage guns can vary depending on the brand, features, and overall quality. In 2023, you can find massage guns ranging from around $100 to $500 or more. Consider your budget, desired features, and the reputation of the brand when making your decision.
Q: How do I maintain and care for my massage gun?
To ensure the longevity and optimal performance of your massage gun, follow these maintenance tips:
Regularly clean the attachments with mild soap and water to remove any oil, sweat, or debris.

Store the massage gun in a cool, dry place, away from direct sunlight or excessive humidity.

Charge the battery according to the manufacturer's instructions to maintain its lifespan.

If you experience any issues or malfunctions with your massage gun, contact the manufacturer or refer to the user manual for troubleshooting guidance.
---
Conclusion
Choosing the best massage gun in 2023 requires considering factors such as power settings, attachments, battery life, ergonomics, user reviews, and value for money. By finding a massage gun that aligns with your needs and preferences, you can experience the benefits of targeted percussive therapy, promote muscle recovery, alleviate pain, and enhance your overall well-being. Invest in a quality massage gun and enjoy the convenience of a professional-quality massage in the comfort of your own home.
Read more about: