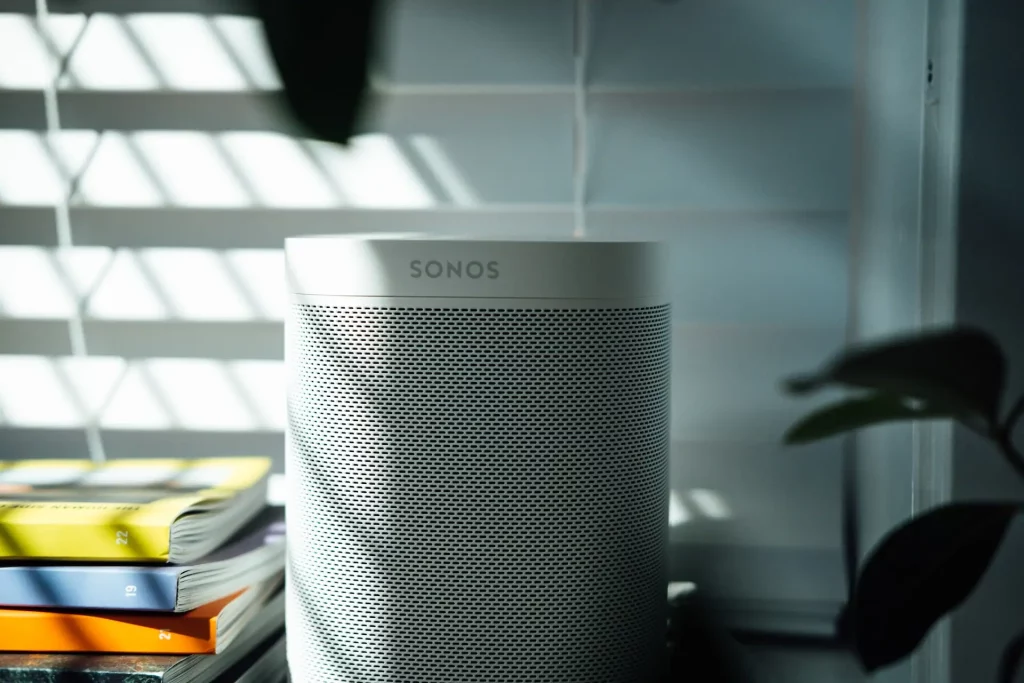 Best Sonos Speakers
Sonos, a renowned American brand, specializes in the production of cutting-edge home audio products, with a primary focus on soundbars and speakers. With a commitment to delivering exceptional audio experiences, Sonos has established itself as a leading player in the industry. Their innovative lineup of products is designed to elevate the way we enjoy music, movies, and more within the comfort of our homes.
Whether you're seeking immersive sound quality or seamless integration with smart home systems, Sonos offers a diverse range of options to cater to every audio enthusiast's needs. Certain speakers offered by the company seamlessly integrate with their line of soundbars, allowing users to effortlessly create an immersive surround sound configuration.
Sonos speakers boast a plethora of diverse features, ensuring that you can effortlessly discover the perfect match to cater to your unique requirements. Sonos speakers boast a sophisticated wired design, rendering them exceptionally well-suited for the cozy confines of your home.
Sonos, the renowned audio technology company, has successfully expanded its impressive range of cutting-edge products, encompassing an extensive array of intelligent speakers, immersive soundbars, powerful subwoofers, versatile portable devices, and an assortment of other innovative offerings.
In the year 2023, the company successfully unveiled a range of groundbreaking new products, making a significant impact in the market. When faced with a diverse range of hardware options, spanning from $120 to $899, selecting the ideal Sonos speaker to suit your specific requirements may not be as simple as it initially appears.
When it comes to selecting the perfect speaker for your needs, it's essential to have a clear understanding of the category you're interested in. Whether you're considering a sleek soundbar, a versatile desk speaker, or a portable option, the process of finding the ideal product requires some careful consideration and narrowing down.
What To Look For While Buying The Best Sonos Speakers
When searching for the best Sonos speakers, prioritize sound quality as a top consideration. Look for models that deliver exceptional audio performance, producing clear highs, powerful bass, and well-defined midrange frequencies. A high-fidelity sound signature ensures an immersive listening experience for music, movies, and more.
Smart Features and Voice Assistants:
Smart features are another crucial aspect to consider. Opt for Sonos speakers with built-in voice assistants like Amazon Alexa or Google Assistant. These smart speakers allow for convenient voice control, hands-free operation, and seamless integration with other smart home devices, enhancing the overall audio experience and simplifying daily tasks.
Multi-Room Audio Capabilities:
Sonos is well-known for its multi-room audio capabilities. Ensure the Sonos speaker you choose is compatible with the brand's multi-room system, enabling you to create a synchronized audio network throughout your home. Whether you're hosting a party or enjoying music during household chores, you can stream music to multiple rooms or play different tracks in individual spaces.
Wireless Connectivity and Bluetooth Support:
Wireless connectivity is an essential feature for modern speakers. Check that the Sonos speaker supports reliable Wi-Fi connectivity, as this allows for seamless streaming from your preferred devices. Additionally, some Sonos speakers offer Bluetooth capabilities, providing flexibility for connecting and playing audio from non-Wi-Fi devices.
Compatibility with Popular Streaming Services:
Compatibility with popular streaming services is another aspect to consider. Ensure the Sonos speaker integrates with your favorite music streaming platforms, such as Spotify, Apple Music, and others. This compatibility ensures effortless access to your curated playlists, podcasts, and radio stations, making it convenient to enjoy your preferred content.
Design and form factors play a vital role in selecting the right Sonos speaker for your space. Sonos offers various designs, from compact and unobtrusive speakers to more substantial and statement-making units. Choose a speaker that complements your home decor and fits seamlessly into your living spaces, enhancing both the audio quality and aesthetics of your environment.
Home Theater Capabilities:
For home theater enthusiasts, Sonos offers soundbars like the Sonos Beam and Sonos Arc. These soundbars feature multi-channel capabilities, enabling an immersive audio experience for your movies, TV shows, and gaming sessions. Some models even support Dolby Atmos, adding an extra dimension to your home theater setup.
Portability for On-the-Go Use:
Portability is a factor to consider if you need a speaker for on-the-go use or outdoor entertainment. Sonos Move and Sonos Roam are designed with portability in mind, featuring built-in batteries and rugged construction. These speakers allow you to take your music wherever you go, whether it's a beach party or a picnic in the park.
Expandability and Integration:
Expandability is another advantage of Sonos speakers. Consider models that easily integrate with additional Sonos products, such as subwoofers or amplifiers. This flexibility allows you to upgrade and expand your audio setup over time, adapting it to your evolving preferences and needs.
User Reviews and Expert Opinions:
To make an informed decision, read user reviews and expert opinions on the Sonos speakers you're considering. Look for positive customer feedback and high ratings, as these can provide valuable insights into the overall performance, reliability, and user satisfaction of the Sonos speaker you're interested in.
The Top 4 Speakers, Soundbars, Subwoofers and More
1.

Sonos Era 100 Wireless Speaker
Best Sonos Speaker Overall
For those seeking a budget-friendly alternative, the Sonos Era 100 is worth considering. This elegantly designed home speaker offers a more compact size and a more accessible price point compared to its larger counterpart, the Sonos Era 300. Despite its affordability, the Sonos Era 100 doesn't compromise on functionality, boasting a range of impressive features that are also found in its higher-end sibling.
Similar to its counterpart, the Sonos Era 300, this device boasts seamless Bluetooth connectivity and Wi-Fi support. Moreover, its remarkable built-in Alexa capabilities empower users to effortlessly control the device through voice commands alone. With the Sonos S2 app, users have the incredible ability to seamlessly connect their Sonos device with other compatible products from the manufacturer.
This innovative feature allows for a truly immersive audio experience, as users can effortlessly spread high-quality sound throughout multiple rooms in their cherished abode. Say goodbye to limitations and hello to a whole new level of audio bliss, all at the touch of a button. By seamlessly integrating with a Sonos soundbar, you have the incredible opportunity to elevate your living room experience to new heights with an immersive surround sound system.
While it's worth noting that this particular speaker does not offer Dolby Atmos support, it's important to consider your personal preferences when it comes to enjoying music. If you find yourself inclined towards stereo-mixed music, the absence of Dolby Atmos may not be a significant concern for you. With the remarkable feature of Trueplay support, this device offers you the ability to fine-tune its audio output to perfectly suit your specific room environment.
Additionally, Android users can also benefit from the convenient Quick Tuning option, which provides a more flexible and less strict adjustment alternative. Despite its affordable price, this remarkable product delivers exceptional sound quality, rendering it highly versatile for a wide array of audio content.
Specification:
| | |
| --- | --- |
| Brand | Sonos |
| Speaker Type | Bookshelf |
| Connectivity Technology | Bluetooth, Wi-Fi, USB |
| Special Feature | Radio |
| Compatible Devices | IPhone, Android |
Reasons To Buy

Reasons To Avoid

+

Full, powerful, and clear sound

–

More expensive than Sonos One

+

Bluetooth support

–

No Google Voice support
+

USB-C port
2.

Sonos Roam Portable Speaker
Best Sonos Bluetooth Portable Speaker
Sonos Roam, is an exceptional addition to the renowned Sonos speaker lineup. Boasting a compact and ultra-portable design, this remarkable device stands as the smallest offering from the esteemed brand. With its sleek and lightweight construction, the Sonos Roam effortlessly combines convenience and high-quality audio performance, making it the perfect companion for those on the go.
Featuring convenient built-in Bluetooth connectivity, this remarkable device stands out as one of the top-notch Bluetooth speakers available in the market. Its exceptional portability allows you to effortlessly toss it into a stylish tote bag, enabling you to enjoy your favorite tunes while on the move.
With the remarkable Sonos app at your fingertips, conveniently accessible on both Android and iPhone devices, you can effortlessly indulge in the delightful experience of streaming your favorite tunes. Immerse yourself in a world of musical bliss as you seamlessly connect to renowned services such as Spotify, Apple Music (with the added perk of AirPlay 2 compatibility), Tidal, and an array of other esteemed platforms.
The speaker can be conveniently controlled through voice commands, thanks to its compatibility with popular virtual assistants such as Amazon Alexa and Google Assistant.
While it may not quite meet the discerning standards of audiophiles, the sound quality of this device is undeniably impressive given its compact size. The innovative dual-driver system, expertly designed subwoofer, and precision-engineered tweeter collaborate harmoniously to deliver an immersive audio experience.
This remarkable synergy ensures a powerful bass presence that commands attention, while simultaneously producing crystal-clear highs that captivate the listener's senses. Even at elevated volume levels, this exceptional audio setup remains free from any hint of distortion, allowing you to fully indulge in your favorite music without compromise. Featuring an impressive battery life of up to 10 hours, this remarkable device ensures that your listening experience will endure throughout an entire day spent at the beach, and even beyond.
Specification:
| | |
| --- | --- |
| Brand | Sonos |
| Model Name | Sonos Roam |
| Speaker Type | Portable Speaker |
| Connectivity Technology | Bluetooth, Wi-Fi, USB |
| Special Feature | Portable |
Reasons To Buy

Reasons To Avoid

+

Portable

–

No TruePlay

+

Bluetooth connectivity

–

Bass isn't as powerful as larger iterations
+

Voice-controlled
3.

Sonos Beam Gen 2 Soundbar
Best Sonos Soundbar
The Sonos Beam Gen 2 is a remarkable audio device that not only offers an exceptional sound experience but also boasts an elegant and modern design. When it comes to specifications, this device boasts a swifter processor, ensuring seamless performance. Additionally, it offers support for Dolby Atmos, which, when paired with compatible televisions and streaming applications, delivers an immersive and elevated audio experience.
Furthermore, the inclusion of an HDMI eARC port allows for the transmission of high-definition audio, further enhancing the overall audio quality. In addition to these remarkable features, users will also have the convenience of hands-free Alexa and Google Assistant integration.
Moreover, this device seamlessly supports Airplay 2, further enhancing its compatibility with various platforms. Enhance your audio experience by seamlessly integrating the Sonos Sub, a premium subwoofer, with two additional Sonos speakers to create a captivating surround sound setup.
In its pursuit of constant improvement, Sonos has made notable refinements to the design of its latest model. One such enhancement is the replacement of the fabric cover, which adorned the front of the Gen 1 model, with a sleek polycarbonate grille.
This thoughtful modification not only adds a touch of modernity to the overall aesthetic but also contributes to the device's durability and longevity. This innovative feature is designed to seamlessly integrate with your existing interior decor, making it effortlessly blend in.
Specification:
| | |
| --- | --- |
| Brand | Sonos |
| Model Name | Beam (Gen 2) |
| Speaker Type | Surround Sound |
| Connectivity Technology | Wi-Fi |
| Special Feature | Bass Boost |
Reasons To Buy

Reasons To Avoid

+

Dolby Atmos

–

Less powerful bass compared to higher-end options

+

Custom bass and treble settings

–

Depends on a WiFi connection
+

Easy setup
4.

Sonos One Gen 2
Best Sonos Speaker for Google Home-User
The Sonos One Gen 2 represents the next evolution of the highly acclaimed Sonos One, building upon its predecessor's success and taking it to new heights. Introducing a cutting-edge wired speaker boasting a sleek and modern design, seamlessly blending into any home decor.
This remarkable audio device effortlessly integrates with your current Sonos ecosystem, elevating your listening experience to new heights. A must-have addition for those seeking both style and functionality. This versatile device offers the flexibility to be used either as a standalone speaker or as a surround speaker in conjunction with Sonos soundbars such as the Sonos Beam. With the inclusion of built-in support for both Alexa and Google Assistant, users can now enjoy the convenience of hands-free control.
The Sonos One offers a satisfactory music experience. Similar to other high-end speakers available in the market, this exceptional speaker offers the convenience of adjusting its output to suit the specific acoustics of your room. With its advanced TruePlay room correction feature, you can optimize the audio experience to perfectly complement your unique listening environment.
While the Sonos S2 app is primarily designed for iOS devices, fret not, Android users! You too can revel in the auditory bliss that Sonos speakers offer. By harnessing the power of the Sonos S2 app, Android aficionados can effortlessly fine-tune the bass and treble settings, ensuring an unparalleled auditory experience that transcends boundaries. So, fear not, Android users, for the Sonos S2 app, is here to bestow upon you the auditory nirvana you so deserve.
Specification:
| | |
| --- | --- |
| Brand | Sonos |
| Model Name | Sonos One (Gen 2) |
| Speaker Type | Bookshelf |
| Connectivity Technology | Wi-Fi |
| Special Feature | Subwoofer, Radio |
Reasons To Buy

Reasons To Avoid

+

Excellent clarity

–

Pricey

+

Google and Alexa integrations

–

No Bluetooth
+

Decent directivity.
FAQs – Best Sonos Speakers
Q: What makes Sonos speakers stand out from other brands?
A: Sonos speakers are renowned for their superior sound quality, user-friendly design, and seamless integration with smart home systems. They offer a wide range of speakers tailored to different preferences and spaces.
Q: Are Sonos speakers compatible with voice assistants?
A: Yes, many Sonos speakers come with built-in voice assistants like Amazon Alexa and Google Assistant, allowing for convenient voice control and hands-free operation.
Q: Can I create a multi-room audio system with Sonos speakers?
A: Absolutely! Sonos specializes in multi-room audio capabilities, allowing you to connect and synchronize multiple speakers throughout your home, offering an immersive and consistent listening experience.
Q: Do Sonos speakers support wireless connectivity?
A: Yes, Sonos speakers support Wi-Fi connectivity, enabling seamless streaming from various devices like smartphones, tablets, and computers.
Q: Are Sonos speakers suitable for outdoor use?
A: Some Sonos speakers, like the Sonos Roam and Sonos Move, are designed for portability and outdoor use, with features like water and dust resistance.
Q: Can I use Sonos speakers for home theater setups?
A: Yes, Sonos offers soundbars like the Sonos Beam and Sonos Arc, which are ideal for enhancing TV audio and creating an immersive home theater experience.
Q: Are Sonos speakers easy to set up and use?
A: Absolutely! Sonos speakers are known for their user-friendly setup process and intuitive app interface, making them accessible to all users, even those less tech-savvy.
Q: Do Sonos speakers support streaming services like Spotify and Apple Music?
A: Yes, Sonos speakers are compatible with popular streaming services, allowing you to access your favorite music, podcasts, and radio stations directly through the Sonos app.
Q: Can I expand my Sonos audio system over time?
A: Yes, one of the strengths of Sonos is its expandability. You can add more Sonos speakers or components to your system to create a more comprehensive and versatile audio setup.
Q: What warranty and customer support options are available for Sonos speakers?
A: Sonos offers warranties on their speakers, and their customer support is known for being responsive and helpful in addressing any issues or inquiries users may have.
---
Conclusion
Sonos speakers offer an exceptional audio experience, boasting superior sound quality, smart capabilities, and seamless multi-room integration. With a diverse range of speakers to choose from, including portable options for outdoor use and soundbars for immersive home theater setups, Sonos caters to various audio preferences and lifestyles.
Whether you're a music enthusiast or seeking to elevate your home entertainment, Sonos continues to be a top choice for audio enthusiasts seeking premium performance and convenience.
Read more about