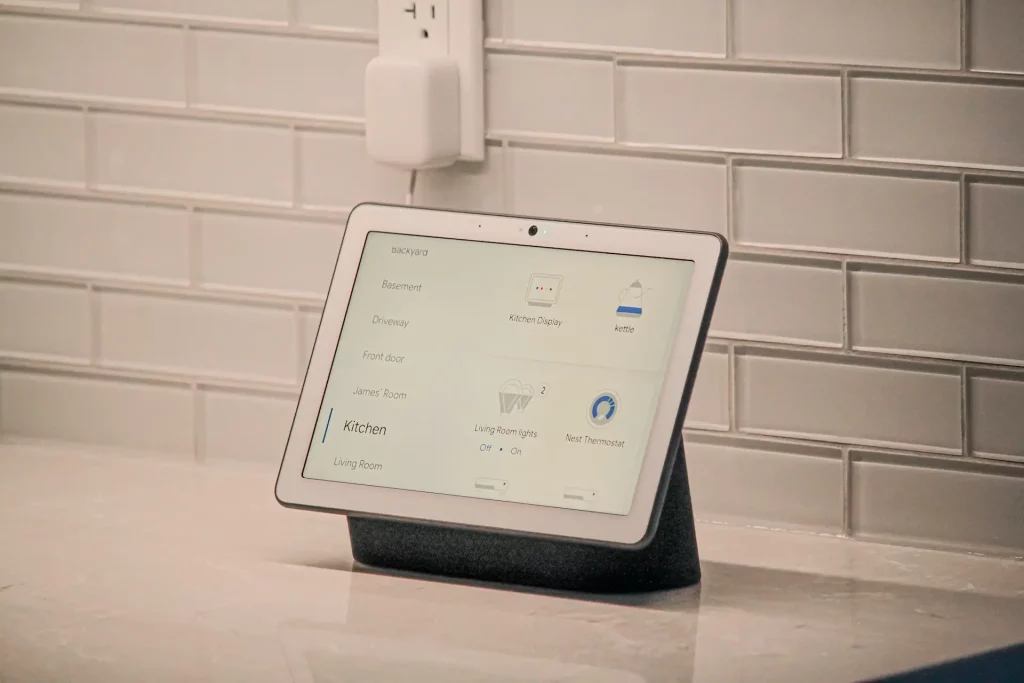 Best Smart Display 2023
Smart homes center around smart displays. Smart displays can issue commands, provide daily updates, or serve as a second screen to binge your favorite shows.
Today's smart speakers and displays can do so much with a few magic words. Voice assistants like Google and Alexa are eager to help and may surprise you. Smart displays are a great way to get their help. Smart displays, like smart speakers, let you check the weather, set timers and alarms, control other smart devices, and more using only your voice. The built-in screen lets you stream your favorite shows and movies, video chat with friends and family, and use many digital picture frames when not in use.
You have many options. Amazon and Google have released many generations of smart displays. The Amazon Echo Show 8 and 10, the latter of which has a rotating display that follows you during video calls, are recent examples. Google's Nest Hub (formerly the Google Home Hub) and Nest Hub Max, which adds face- and gesture-tracking and a larger screen, are available. Facebook's Meta also sells Portal smart displays.
Types of Best Smart Display 2023
The types of best smart displays available include countertop smart displays, smart mirrors, smart TVs, and smart projectors. Each type comes with its unique features, capabilities, and applications, making them versatile additions to any smart home setup.
Countertop Smart Displays:
Countertop smart displays are compact devices designed to sit on a kitchen counter, desk, or any flat surface. They typically feature touchscreens and integrated voice assistants, such as Amazon Alexa or Google Assistant. These displays provide a wide range of functions, including recipe guides, weather updates, calendar management, video calling, and home automation control.
Smart mirrors are a blend of traditional mirrors and digital displays. They offer a two-in-one solution, functioning as regular mirrors when not in use and transforming into interactive displays when activated. Smart mirrors can show time, weather, news updates, and personal information, making them ideal for bathrooms, dressing rooms, or entryways.
Smart TVs are traditional televisions equipped with smart technology and internet connectivity. They offer a variety of streaming apps, voice control capabilities, and compatibility with smart home devices. Smart TVs provide a comprehensive entertainment experience, allowing users to stream content, access online services, and control other connected devices seamlessly.
Smart projectors are portable devices that can display content on walls or screens. They often come with built-in Wi-Fi or Bluetooth connectivity, enabling wireless streaming from smartphones or other devices. Smart projectors are versatile for presentations, home theater setups, or outdoor movie nights.
What to Look for While Buying The Best Smart Display 2023
Display Size and Quality:
When purchasing the best smart display in 2023, the display size and quality are crucial considerations. Choose a display size that fits your intended location, whether it's a countertop, desk, or wall-mounted installation. A larger screen provides a more immersive visual experience, but make sure it fits well within your available space. Additionally, opt for a high-resolution display with vibrant colors and wide viewing angles to enjoy crisp visuals and an enhanced user experience.
Voice Assistant Integration:
Seamless integration with voice assistants is a key feature of smart displays. Check if the smart display is compatible with popular voice assistants like Amazon Alexa, Google Assistant, or Apple Siri. Having access to a reliable voice assistant enables you to control the smart display and connected smart home devices through voice commands, making it convenient for hands-free operation and quick access to information.
Versatile connectivity options are essential for a well-functioning smart display. Look for models with Wi-Fi and Bluetooth capabilities, as they allow for easy streaming of content from your smartphone or other devices. USB ports provide additional flexibility for connecting external devices. Robust connectivity ensures smooth communication between the smart display and other smart home devices, enabling seamless control and automation.
A rich and diverse app ecosystem enhances the functionality of a smart display. Research the available app options for the specific model you're interested in. A wide selection of apps allows you to access various services, such as news, weather updates, video streaming, music, recipe guides, and more. This app diversity empowers you to customize your smart display to suit your preferences and lifestyle.
Camera and Privacy Features:
Some smart displays come with built-in cameras, allowing for video calls or even serving as a part of your home security system. If the smart display has a camera, check if it offers privacy features, such as a physical camera shutter or a microphone mute button. These privacy features provide peace of mind, allowing you to control when the camera is active and ensuring your privacy when needed.
A major advantage of smart displays is their ability to integrate with other smart home devices. Ensure the smart display is compatible with your existing smart home ecosystem or other devices you plan to add. Seamless integration allows you to control various smart home devices, such as lights, thermostats, doorbells, and security cameras, from a centralized interface, providing a unified and user-friendly smart home experience.
The design and aesthetics of the smart display are essential for blending with your home decor. Consider the device's appearance, color, and overall design to ensure it complements your living space. Additionally, check if the smart display offers customization options, such as changing clock faces or background images, to personalize its appearance to your liking.
Audio quality plays a crucial role in the overall smart display experience. Check the specifications of the speakers, including power output and audio technologies supported, such as Dolby Atmos or stereo sound. Clear and robust audio enhances video calls, music playback, and the enjoyment of multimedia content.
Display Orientation and Mounting Options:
Some smart displays offer flexible display orientation, allowing you to switch between landscape and portrait modes. This feature can be particularly useful when using the smart display for video calls, viewing photos, or reading recipes. Additionally, consider whether the smart display can be wall-mounted or placed on a stand, depending on your preferred installation method.
Last but not least, compare prices and read customer reviews when choosing the best smart display. Researching the pricing of different models can help you find the most suitable option within your budget. Customer reviews offer valuable insights into the overall satisfaction and reliability of the smart display you are considering, helping you make an informed decision based on real-world experiences.
Top 4 Best Smart Display 2023
1.

Echo Show 15
The Best and Big Smart Display
The Echo Show 15, is a game-changer in the world of smart displays. With its impressive 15.6-inch touchscreen, this device takes center stage as the largest of its kind. Whether you prefer to mount it on the wall, resembling a sleek picture frame, or utilize the convenient countertop base, the Echo Show 15 ensures that it seamlessly integrates into your desired space. Say goodbye to any concerns you may have had about display size – this cutting-edge device has got you covered. Additionally, this innovative solution addresses the issue of the Echo Show 10's swiveling design, which was often perceived as awkward or requiring excessive space in various configurations.
In addition to its numerous features, this device also offers all the advantages of Alexa integration. With Alexa's support for popular streaming apps like Netflix and Hulu, you can effortlessly enjoy your favorite videos. Moreover, you can conveniently manage your smart home, engage in video chats with friends, and even monitor devices such as the Ring Doorbell. This particular model stands out as being exceptionally user-friendly, making it a top choice among its competitors.
This exceptional smart display is designed to cater to individuals who prioritize top-notch quality and are willing to invest in the best. It is particularly ideal for those who enjoy indulging in shows and videos on a smart display, especially when incorporated into their kitchen or office environment. The importance of being open to utilizing Alexa cannot be overstated. However, with the advent of the Matter platform, the significance of smart device compatibility has somewhat diminished.
Specification:
Brand
Amazon
Screen Size
15.6 inch.

Speakers

Dual 1.6-inch

Camera

 

5MP

Resolution
1920 x 1080
Voice Assistant
Alexa
Reasons To Buy

Reasons To Avoid

+

15.6-inch display

–

Software crashes unexpectedly.

+

Various orientations

–

It's uncustomizable.

+

Visual ID swaps
2.

Echo Show 8
Best for Video Calls
The second-generation Echo Show 8 has maintained its core design and features, staying true to its successful predecessor. On the contrary, Amazon has astutely maintained the prevailing state of affairs by providing a cost-effective smart display that boasts commendable specifications within the mid-range segment.
The Show 8 truly shines when it comes to video calls. With the utilization of a cutting-edge 13-megapixel wide-angle camera, this remarkable device ensures that you remain perfectly centered within the frame, allowing you to effortlessly carry out your daily tasks, such as the meticulous art of meal prepping.
Despite its smaller size compared to other devices on the list, the eight-inch screen of this product may not provide an incredibly immersive video streaming experience. However, it does offer adequately capable music playback functionality. With its charmingly compact radio box design and exceptional blend of quality and affordability, it's no wonder that people are drawn to it.
One potential limitation of the Echo Show 8 is its lack of integrated Zigbee hub functionality. This could result in certain devices being incompatible with the device. The omission of this feature in a second-generation smart display is a notable oversight that warrants attention.
Specification:
Amazon

Display size

5.5 inches (960 x 480 pixels)

Dimensions




5.8 x 3.4 x 2.9 inches

Camera

2MP

Voice assistant

 

Alexa

Speakers

One 1.7-inch 4W
Reasons To Buy

Reasons To Avoid

+

Good for its size.

–

Low-quality camera

+

Bright and dimmable

–

 Not Zigbee compatible

+

Physical camera cover
3.

Portal from Facebook
Best smart display for WhatsApp/Messenger video calling
In light of the company's well-documented privacy challenges in recent times, it is noteworthy that Facebook now rebranded as Meta, offers an intriguing smart display for sale. Priced at $179, the Facebook Portal presents itself as a remarkable digital picture frame, surpassing the Echo Show and Nest Hub displays in terms of aesthetics. Boasting a sleek matte border and the added convenience of adjustable orientation, this device truly stands out in the market.
During your video chat sessions on popular platforms such as WhatsApp, Messenger, and Zoom, the innovative Portal device seamlessly monitors your facial movements and employs advanced camera technology to ensure that you are consistently positioned at the center of the frame. This intelligent feature guarantees that you remain the focal point throughout your virtual interactions, enhancing the overall visual experience.
When it comes to voice controls, users have the choice between two prominent options: Facebook's "Hey Portal" and Amazon's Alexa. We strongly advocate for the utilization of Alexa due to its extensive array of tricks and hidden surprises, surpassing the number of skills available on Portal. For those who find themselves immersed in the world of Facebook, or rather, Meta, the Portal smart display offers unparalleled value compared to other smart displays equipped with Alexa or Google Assistant.
Specification:
| | |
| --- | --- |
| Brand | Facebook |
| Connectivity Technology | Wireless |
| Voice assistant | Portal, Alexa |
| Indoor/Outdoor Usage | Indoor |
| Dimensions | 10.2 x 7 x 0.8 inches |
Reasons To Buy

Reasons To Avoid

+

Video calls with WhatsApp, Messenger, Zoom

–

Facebook privacy concerns

+

Innovative camera-tracking feature

—

+

Works with Alexa
4.

Lenovo Smart Clock
Smartest nightstand display
The Lenovo Smart Clock 2 represents a notable addition to Lenovo's lineup of Google Assistant smart displays. While not the first of its kind from the brand, it undoubtedly stands out as the most impressive option specifically tailored for nightstands. Boasting a remarkably compact design, this device is perfectly suited for those seeking a space-saving solution without compromising on functionality.
Moreover, its base accessory adds an extra touch of allure, making it an irresistible choice for discerning consumers. Introducing the remarkable clock that seamlessly combines functionality and convenience, revolutionizing your bedside experience. This extraordinary timepiece not only serves as a reliable clock but also boasts an array of impressive features that will undoubtedly enhance your daily routine.
Imagine a clock that effortlessly transforms into a soothing nightlight, casting a gentle glow that creates a tranquil ambiance in your sleeping sanctuary. With its innovative design, this remarkable clock ensures that you can easily navigate your surroundings during the night, without disturbing your peaceful slumber. But that's not all – this exceptional clock goes above and beyond by incorporating cutting-edge wireless phone charging technology. 
While it may not boast the same level of sophistication as its counterparts on this esteemed list, it is important to note that this particular smart display lacks the inclusion of cameras for video calls. Additionally, its interface is relatively compact, primarily designed to showcase captivating photos or provide time. When it comes to the Lenovo Smart Clock 2, the philosophy of "less is more" truly shines through. With its sleek and contemporary design, this smart display effortlessly doubles as a stylish decor piece.
Specification:
| | |
| --- | --- |
| Brand | Lenovo |
| Color | Misty Blue |
| Display Type | Digital |
| Style | Modern |
| Special Feature | Snooze, Alarm, Temperature Display, Adjustable Brightness |
| Product Dimensions | 4″W x 3″H |
Reasons To Buy

Reasons To Avoid

+

Compact design

–

No video chat options

+

Base with wireless charging

—

+

Cute clock faces
FAQs – Best Smart Display 2023
Q: What is a smart display, and how does it differ from a regular display?
A: A smart display is a device that combines the functionalities of a traditional display with built-in smart technology and voice assistants like Amazon Alexa or Google Assistant. Unlike regular displays, smart displays offer interactive features, allowing users to control smart home devices, access information, make video calls, and more using voice commands and touch controls.
Q: What are the benefits of using a smart display?
A: Smart displays offer numerous benefits, including hands-free control through voice commands, access to a wide range of information and services, integration with smart home devices, video calling capabilities, and personalized visual content. They enhance convenience, productivity, and entertainment in daily life.
Q: How do I control a smart display?
A: Smart displays can be controlled through voice commands given to the built-in voice assistant, such as saying "Hey Google" or "Alexa." Additionally, most smart displays feature touchscreens that allow users to interact with the display directly for tasks like browsing the internet, adjusting settings, or navigating menus.
Q: Can I use a smart display to control my smart home devices?
A: Yes, smart displays are designed to integrate seamlessly with smart home ecosystems. You can use voice commands to control compatible smart home devices, such as turning lights on or off, adjusting thermostats, locking doors, and more, all from the convenience of the smart display.
Q: What services and information can I access on a smart display?
A: Smart displays offer access to a wide range of services and information, including weather updates, news briefings, calendar events, recipe guides, music, and video streaming platforms, and even visual responses to general knowledge questions.
Q: Is video calling possible on a smart display?
A: Yes, most smart displays come with a built-in camera and microphone, enabling users to make video calls to friends and family through popular video-calling services like Google Duo or Amazon Alexa calling.
Q: Are smart displays safe and secure?
A: Manufacturers implement security features to protect user privacy on smart displays. Many devices come with physical camera shutters and microphone mute buttons to offer peace of mind when not in use. It's essential to keep the firmware up-to-date and use strong passwords for added security.
Q: Can I customize the appearance of my smart display?
A: Yes, some smart displays offer customization options, such as changing clock faces, background images, and screen savers, allowing users to personalize the device's appearance according to their preferences.
Q: Are smart displays suitable for all age groups?
A: Smart displays are designed for users of all age groups. Their user-friendly interfaces, voice commands, and touch controls make them accessible to children, adults, and seniors alike.
Q: How do I set up a smart display?
A: Setting up a smart display is typically straightforward. After unboxing the device, follow the on-screen instructions or use the companion smartphone app to connect the smart display to your Wi-Fi network and link it to your existing accounts, such as Google or Amazon, to start using the device's features and functionalities.
The best smart displays of 2023 offer a seamless fusion of interactive technology and visual appeal, elevating daily life with convenience and efficiency. With integrated voice assistants, touchscreens, and versatile smart home integration, these devices bring a new level of interactivity to homes, providing access to information, video calling capabilities, and enhanced entertainment experiences. 
Read more about