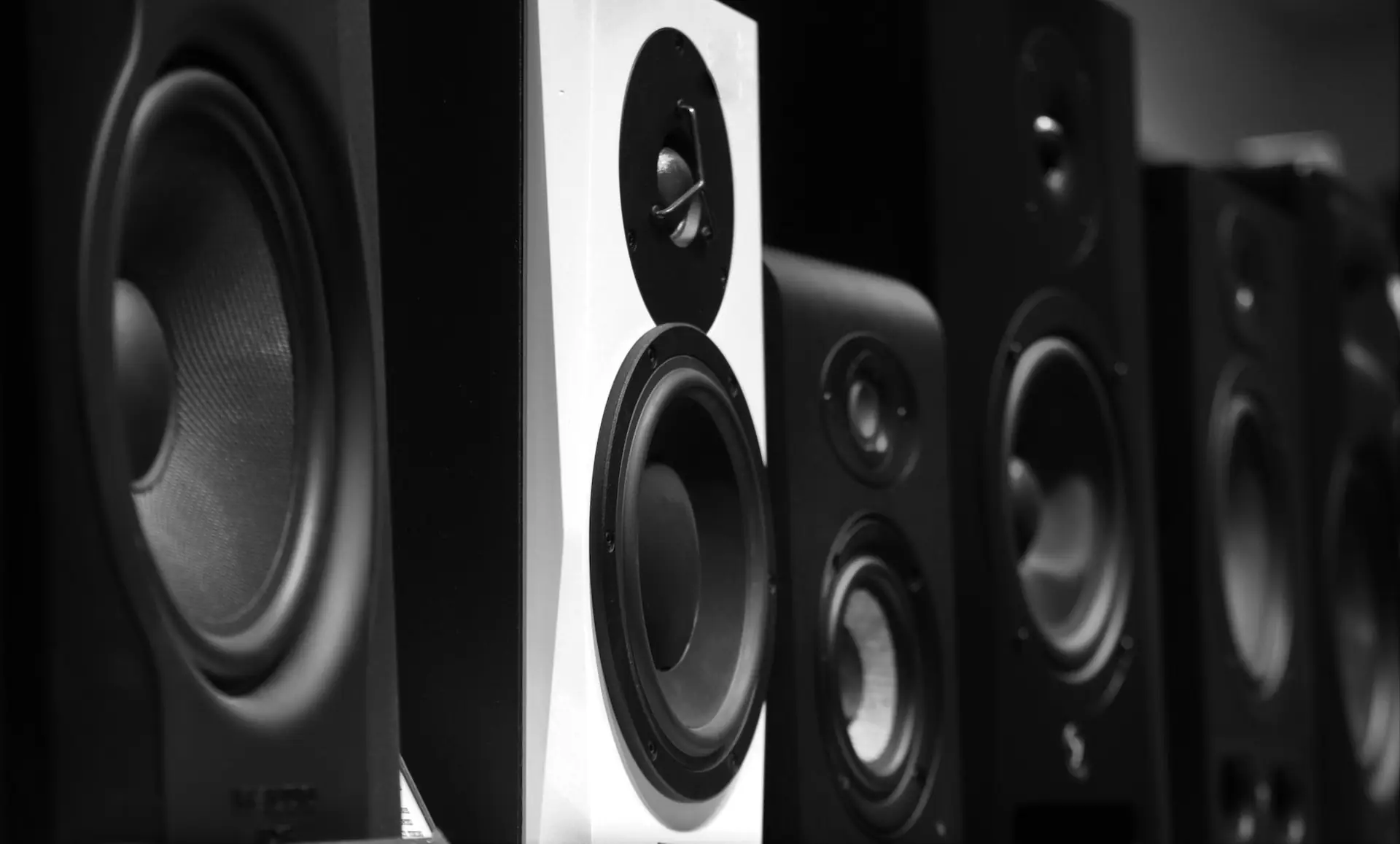 Best Party Speakers 2023
When choosing a speaker for your party, choose one that can fill large spaces with sound. Party speakers are usually large and heavy. This is because they can accurately reproduce lower frequencies, resulting in a more powerful bass response than smaller speakers.
These devices often have RGB lights, which enhance their appearance and create an immersive experience. Their inputs allow seamless connectivity with external microphones and instruments, enhancing their versatility and functionality.
For the best outdoor party Bluetooth speaker, choose a battery-powered model. Battery-powered speakers allow for more placement and positioning flexibility without power outlets. The device should also have an IP rating to ensure it can withstand splashes and light rain.
Types of Party Speakers 2023
Wireless Bluetooth Party Speakers:
These versatile speakers offer seamless connectivity via Bluetooth, allowing you to stream music wirelessly from your smartphone, tablet, or other devices. Their portability and easy setup make them perfect for indoor and outdoor parties. Look for long battery life and robust sound quality.
Portable Karaoke Party Speakers:
Designed for entertainment, these speakers often come with built-in microphones and karaoke features. They're a hit at parties, enabling you and your guests to sing along to your favorite tunes. Some models also have disco lights and sound effects for a complete party experience.
LED Light-Up Party Speakers:
Adding visual flair to your party, LED light-up speakers feature vibrant light displays that sync with the music's rhythm. These speakers create a lively atmosphere, transforming any space into a dance floor. Look for customizable lighting patterns and effects.
High-Power DJ Party Speakers:
If you're hosting large parties or events, these powerful speakers deliver booming sound and robust bass. They often include multiple drivers and tweeters, along with advanced audio controls for fine-tuning the sound to your preference.
Multi-Room Party Speaker Systems:
These systems consist of multiple speakers that can be placed in different rooms, all controlled from a central device or app. They're ideal for spreading music throughout your home or venue, creating a consistent party vibe in every corner.
Built to withstand the elements, outdoor party speakers are designed for poolside gatherings, barbecues, and other outdoor events. They're durable, water-resistant, and offer a balance of sound quality and portability.
Integrating voice assistants like Amazon Alexa or Google Assistant, smart party speakers provide hands-free control over music playback, lighting, and more. They also connect to your smart home ecosystem, enhancing convenience and functionality.
Vintage-Inspired Party Speakers:
These speakers combine modern technology with a retro aesthetic, appealing to those who appreciate a classic look. They often include modern features like Bluetooth connectivity and USB ports while exuding a nostalgic charm.
Subwoofer Party Speakers:
For enthusiasts of deep bass, subwoofer-equipped party speakers deliver powerful low-frequency responses, perfect for thumping dance beats and bass-heavy tracks.
Wireless Party Speaker Systems:
These systems consist of multiple speakers that can be wirelessly linked together to create a surround sound experience. They offer an immersive audio setup for larger parties and venues
What To Look For While Buying The Best Party Speakers in 2023
When purchasing the best party speakers in 2023, consider these essential factors to ensure you select speakers that deliver an unforgettable and immersive party experience:
Opt for party speakers that offer clear, balanced sound with ample volume and bass response. Look for speakers with multiple drivers, subwoofers, and tweeters for rich and dynamic audio.
Higher wattage translates to louder sound. Choose party speakers with sufficient power output to fill your party space without distortion. Ensure the speakers' power rating matches your event's size.
Select speakers with versatile connectivity options, including Bluetooth, USB, auxiliary inputs, and even Wi-Fi. This allows you to connect various devices and play music seamlessly.
If you're using Bluetooth-enabled devices, consider the speaker's wireless range. A longer range provides more flexibility in device placement.
For outdoor or mobile parties, opt for speakers with a long-lasting battery. Look for models that offer several hours of playtime to keep the party going.
Consider the speaker's size, weight, and built-in handles or wheels for easy transportation. Portability is crucial, especially if you're hosting parties in different locations.
Durability and Weather Resistance:
If you plan to use the speakers outdoors, choose models with weather-resistant or waterproof features to protect them from rain or splashes.
LED lights can enhance the party atmosphere. Some speakers feature customizable lighting effects that sync with the music, creating a captivating visual display.
If you enjoy karaoke or want to engage the crowd, opt for speakers with built-in microphone inputs and karaoke features.
Multi-Speaker Capabilities:
Look for speakers that can be paired with additional units to create a stereo setup or spread sound across different areas.
Choose party speakers from reputable brands known for producing quality audio products. Research customer reviews and ratings to gauge real-world performance.
Set a budget that aligns with your requirements and priorities. Consider the features and specifications you need most within your price range.
Warranty and Customer Support:
Check the manufacturer's warranty and customer support policies to ensure you're covered in case of any issues.
Top Best Party Speakers in 2023
1.

JBL Partybox 310
Best Speaker For Parties
When it comes to selecting the ultimate speaker for your parties, look no further than the JBL PartyBox 310. This exceptional audio device is designed to elevate your party experience to unprecedented heights. With its unrivaled sound quality and impressive features, the JBL PartyBox 310 stands out as the pinnacle of party speakers. Immerse yourself in a world of immersive sound with the JBL PartyBox 310.
Its ability to produce such impactful bass makes it an ideal choice for enthusiasts of bass-driven genres such as EDM and hip-hop. The sound of this particular device is characterized by its remarkable clarity and cleanliness, particularly in the mid-range frequencies. This exceptional audio quality makes it an ideal choice not only for its primary genre but also for other music genres such as rock and pop.
The JBL PartyBox app offers a range of impressive features that allow users to personalize and enhance their sound experience. One notable feature is the graphic EQ, which empowers users to fine-tune the audio performance according to their preferences.
Additionally, the app provides a selection of presets that further augment the versatility of the PartyBox, enabling users to effortlessly achieve their desired sound profile. This seamless integration between the app and the PartyBox adds a touch of sophistication and convenience, elevating the overall user experience to new heights.
Similar to numerous JBL party speakers, this particular device boasts a range of additional features that are sure to elevate the energy and enthusiasm at your upcoming festivities. For enthusiasts of karaoke, the ability to seamlessly connect their microphones and guitars directly to the speaker offers an unparalleled opportunity to indulge in their passion for music.
With this convenient feature, they can effortlessly jam out to their favorite tunes, creating an immersive and electrifying experience. Moreover, the JBL PartyBox app enhances the overall performance by introducing a range of additional effects that can be applied to the microphone, ensuring optimal sound quality and an unforgettable auditory journey.
By accessing the user-friendly app, individuals have the freedom to effortlessly customize the color and pattern of the RGB lights encircling the speaker. This innovative functionality empowers users to effortlessly set the desired mood, creating a truly immersive and captivating experience for all.
Specification:
| | |
| --- | --- |
| Brand | JBL |
| Model Name | JBL Partybox 310 |
| Speaker Type | Portable Bluetooth Speakers |
| Connectivity Technology | Bluetooth, Auxiliary, USB |
| Special Feature | Bass Boost, Waterproof, Built In Microphone, Usb Port |
Reasons To Buy

Reasons To Avoid

+

Can get very loud

–

Narrow-sounding soundstage.

+

Bass Boost feature

—

+

Premuim Quality

—
2.

ION iPA125C Pathfinder
Best Budget Speaker For Parties


If you happen to be in the market for an affordable party speaker, the ION Pathfinder 280 is certainly a product that deserves your attention. Experience the exceptional performance of this remarkable speaker that effortlessly combines affordability with top-notch quality. Equipped with an array of impressive party features, this speaker rivals its more expensive counterparts on the list.
Take, for instance, the remarkable speaker equipped with RGB lights that offer a plethora of customizable colors, allowing you to effortlessly create the perfect ambiance for any upcoming event. Additionally, this exceptional device boasts a graphic equalizer and a multitude of presets, enabling you to tailor its sound to your exact preferences. 
Specifically crafted to enhance the bass, this preset is designed to deliver an impressive surge of low-frequency power. With its remarkable capabilities, the Boom preset is guaranteed to immerse you in a world of rich, deep tones, taking your audio to new heights. With an impressive battery life of over 68 hours on a single charge, this exceptional device allows you to effortlessly host multiple events without the need for frequent recharging.
Featuring an impressive maximum volume exceeding 100 decibels, this exceptional speaker possesses the ability to effortlessly engulf the entire dance floor with its resounding audio prowess. The sound quality of this remarkable device is truly impressive, making it an ideal choice for a wide range of musical genres including EDM, hip-hop, rock, pop, and many others. The reproduction of voices and lead instruments is exceptionally clear and precise, making it an ideal choice for individuals who prioritize the audio experience at social gatherings.
Specification:
| | |
| --- | --- |
| Brand | Ion |
| Model Name | Pathfinder 280 |
| Speaker Type | Woofer |
| Connectivity Technology | Bluetooth, USB |
| Special Feature | Portable |
Reasons To Buy

Reasons To Avoid

+

Gets very loud

–

Requires a second unit for stereo audio

+

Few compression artifacts present at max volume

–

Narrow soundstage

+

Graphic EQ and presets

—
3.

Sony SRS-XG300 X-Series
Best Portable Party Speaker
For the past five years, Sony has been dedicatedly crafting party speakers, but it is with the introduction of the SRS-XG300 that the brand truly demonstrates its unwavering commitment to this particular niche. The party speakers from this brand have undergone a remarkable transformation, boasting a sleek mesh covering that exudes an air of sophistication.
The addition of LED rings encircling the pair of 2.7-inch bass drivers emits a subtle and tasteful glow, avoiding any hint of gaudiness. The handle of this product is designed to be unobtrusive, allowing it to effortlessly slide in and out of the top. This clever design not only enhances its aesthetic appeal but also ensures a seamless blend of form and function.
In a nutshell, the SRS-XG300 speaker exudes an air of sophistication during the day, while embracing a touch of playfulness as the night falls. Sony's innovative app and conveniently placed button on the backside of this remarkable party speaker offer users the ability to effortlessly turn off the dazzling LEDs, allowing for a truly immersive and distraction-free experience.
Opting for this approach would prove beneficial, particularly if your intention is to fully utilize the SRS-XG300's impressive battery life, which can last up to a remarkable 25 hours. The portable Bluetooth speaker from Sony is truly impressive, boasting a remarkable battery capacity that instills confidence in its performance.
In fact, Sony's confidence in this speaker's battery life is so unwavering that they have gone the extra mile by incorporating a USB-A port into its design, effectively transforming it into a versatile power bank. This ingenious feature allows users to not only enjoy their favorite tunes on the go but also conveniently charge their other devices whenever the need arises.
With Sony's commitment to innovation and functionality, this portable Bluetooth speaker is undoubtedly a game-changer in the world of audio technology. During our comprehensive testing, we discovered that this exceptional speaker possesses the remarkable ability to deliver an impressive magnitude of bass without ever succumbing to distortion, even when pushed to its limits at elevated volumes.
Specification:
| | |
| --- | --- |
| Brand | Sony |
| Model Name | SRSXG300/BZ |
| Speaker Type | Wireless Portable Speaker |
| Connectivity Technology | Bluetooth |
| Special Feature | Echo Cancelling technology, Built-in handle, MEGA BASS, etc |
Reasons To Buy

Reasons To Avoid

+

Mega Bass button boosts low end

–

Few devices can fully utilize this speaker's audio potential.

+

Excellent audio

—

+

Optimal battery life for portable party speakers

—
4.
JBL PartyBox 710
Best Speaker for Outdoor Parties
For those seeking an unparalleled outdoor party experience, look no further than the remarkable JBL PartyBox 710. This astonishingly robust device is specifically designed to ignite the atmosphere and elevate any gathering to new heights. Experience the ultimate audio immersion with the PartyBox 710.
Equipped with powerful 2.75-inch tweeters and 8-inch woofers, this exceptional speaker system delivers an impressive 800W of meticulously crafted sound, ensuring every note and beat is brought to life with astonishing clarity. Prepare to be captivated by the deep, resonating bass that not only resonates through your ears but can also be felt throughout your entire body. The PartyBox 710 is the perfect companion for those seeking an unparalleled audio experience that will leave you in awe.
Experience a mesmerizing symphony of sound, enhanced by a captivating display of lights that can be tailored to your preferences using JBL's innovative app. Elevate the atmosphere of your upcoming gathering with a touch of nightclub-inspired ambiance.
When considering this particular model, it is important to note that it does not come equipped with a battery.
Therefore, it is necessary to ensure that you are in a location where access to an electrical outlet is available in order to fully enjoy its features. Experience effortless transportation with the inclusion of a convenient wheel and handle, designed to assist you in reaching your destination with utmost ease. Additionally, rest assured knowing that our product features IPX4 waterproofing, providing reliable splashproof protection.
Specification:
| | |
| --- | --- |
| Brand | JBL |
| Model Name | JBL PARTYBOX 710 |
| Speaker Type | Woofer |
| Connectivity Technology | Auxiliary |
| Special Feature | Bass Boost,Built In Microphone |
Reasons To Buy

Reasons To Avoid

+

Powerful and bassy

–

No battery, mains power only

+

Eye-catching light show

—

+

Good feature set

—
5.

Rocksteady Stadium Travel Combo Speaker
Best Speaker for Outdoor Patio Parties


Nowadays, the majority of individuals have become well-acquainted with the concept of a 2.1 speaker system within the confines of a home theater setup. This particular configuration entails the presence of both Left and Right speakers, harmoniously complemented by a specialized subwoofer that effectively amplifies the lower frequencies, resulting in an enhanced audio experience. The all-new Rocksteady Stadium Travel Combo, designed to elevate your outdoor adventures to new heights.
With this innovative travel companion, you can now experience the thrill of Rocksteady Stadium wherever your wanderlust takes you. The trio of touch-controlled speakers seamlessly interconnect with each other through the advanced Bluetooth 5.0 mesh network. This cutting-edge technology empowers you with the freedom to position them in any desired location, as long as they are within a generous range of 100 feet from each other. By utilizing this feature, you can effortlessly expand your coverage area without the need to crank up the volume to its maximum level.
The Stadium Mode system offers exceptional modularity, allowing for versatile configurations to suit various outdoor spaces. However, it is important to note that this system lacks waterproof capabilities, which may pose a challenge for those with poolside installations.
One of the few drawbacks associated with investing in a multispeaker system is the requirement of constantly monitoring multiple audio hardware components. In order to ensure optimal performance, it is essential for each speaker to be charged individually. 
This may pose a slight challenge in situations where the number of available outlets is limited, necessitating some strategic maneuvering. Fortunately, the battery life of this device is impressively rated at a generous 16 hours, ensuring that you can enjoy extended usage without the need for frequent recharging. The speakers are equipped with USB-C Quick Charge technology, allowing for swift and efficient charging capabilities. 
Specification:
| | |
| --- | --- |
| Brand | Rocksteady |
| Model Name | Stadium Combo Pack |
| Speaker Type | 2 Speakers, 1 Subwoofer |
| Connectivity Technology | Bluetooth |
| Special Feature | Multi Room Audio |
Reasons To Buy

Reasons To Avoid

+

A standalone subwoofer

–

Multiple speakers must be tracked and charged.

+

Unlimited speakers are connected.

—

+

Portability

—
FAQs – Best Party Speakers in 2023
Q: What are party speakers, and how do they differ from regular speakers?
A: Party speakers are designed to deliver powerful and dynamic sound for social gatherings and events. They typically feature higher wattage, enhanced bass, and various entertainment features like lights and microphone inputs, making them ideal for creating an engaging party atmosphere.
Q: Can I connect my smartphone to party speakers?
A: Yes, many party speakers come with Bluetooth connectivity, allowing you to easily pair your smartphone or other devices to stream music wirelessly. Some models also offer wired connections through auxiliary or USB ports.
Q: How do I know which size of party speakers to choose for my event?
A: The size of the party speakers depends on the size of the venue and the number of attendees. Larger speakers with higher wattage are suitable for bigger spaces, while smaller speakers work well for intimate gatherings.
Q: Do party speakers have built-in lights and visual effects?
A: Yes, many party speakers come with built-in LED lights and visual effects that sync with the music, creating a dynamic and captivating visual display that enhances the party atmosphere.
Q: Can I use party speakers outdoors?
A: Yes, some party speakers are designed to be weather-resistant or waterproof, making them suitable for outdoor use. These speakers are built to withstand various weather conditions, ensuring your outdoor parties are a hit.
Q: Can I connect multiple party speakers together for a larger sound setup?
A: Yes, some party speakers offer the option to connect multiple units together, allowing you to create a stereo sound setup or spread the sound across different areas of your venue.
Q: Do party speakers come with microphone inputs for karaoke and announcements?
A: Many party speakers feature microphone inputs, making them ideal for karaoke sessions, speeches, and announcements. Some models even come with built-in karaoke features and effects.
Q: How long does the battery of portable party speakers last?
A: The battery life of portable party speakers varies depending on the model and usage. Some speakers offer several hours of playtime on a single charge, making them suitable for extended parties.
Q: Can I use party speakers for purposes other than parties?
A: Absolutely! While party speakers are designed for events, they can also be used for everyday listening, outdoor adventures, and even as part of a home entertainment system.
Q: Are there party speakers with smart features like voice assistants?
A: Yes, some party speakers incorporate smart features like voice assistants (e.g., Amazon Alexa) for hands-free control over music playback and other functions.
---
Conclusion:
The realm of Best Party Speakers in 2023 offers a spectrum of high-energy sound solutions, enriched by innovative features like wireless connectivity, dazzling lights, and microphone inputs.
Whether amplifying intimate gatherings or electrifying larger events, these speakers encapsulate the essence of celebration, enhancing the ambiance with immersive audio and captivating visual effects. Elevate your gatherings with the perfect party speaker, ensuring unforgettable moments and an atmosphere that resonates with music and merriment.
Read more about