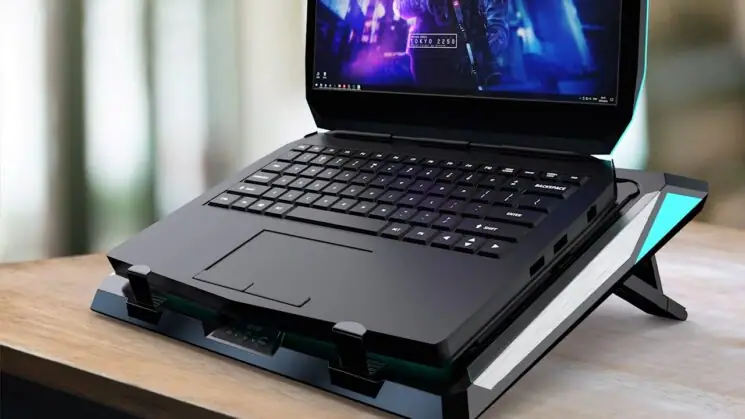 Best Laptop Cooling Pads.
Unstable temperatures can be a major headache for laptop users. But with the help of cooling pads, you don't have to worry anymore! Utilizing numerous fans and powerful circulation systems, these effective devices provide an easy solution for drawing heat away from essential components like CPUs and GPUs before damage or overheating becomes an issue. So free yourself of thermal stress – grab a laptop cooling pad today!
With laptop cooling pads, you can ensure your device stays at optimal temperature for maximum performance. Many models let you adjust the height and angle of your machine so it's comfortable to use while also controlling fan speeds and LED lighting effects. Non-slip rubber grips or tabs keep everything secure on uneven surfaces while non-skid feet hold steady against any sudden movements – perfect for work, streaming, gaming…or whatever comes next!
Cooling pads offer two distinct materials to provide laptops with a more comfortable, efficient experience. Aluminum provides maximum cooling power but can weigh your wallet down in the process. Alternatively, plastic builds are lightweight and budget-friendly solutions that may not stand up as well over time.
This festive season, give the gift of peace of mind with a laptop cooling pad. It's not just about keeping your device at an optimum temperature – many modern pads also offer extra USB ports for convenient connectivity and smart designs that cater to various sizes.
Factors To Consider While Buying the Best Laptop Cooling Pads in 2023.
Size:
With increased size, you can give yourself more breathing room and make sure that your laptop's key components are always in the right position with direct access to a fan. An upgrade like this will be worth it!
USB Ports:
Take your laptop's portability to the next level – Cooling Pads come with extra USB ports, turning them into a convenient and functional hub for all of your devices. Add an element of efficiency as you take advantage of these increased opportunities!
Number & Locations of fans:
A larger number of fans may seem preferable, but in fact, having fewer bigger ones that run at higher speeds can be more effective. Additionally, pay attention to where the fans are located – placing them strategically beneath air vents and processors will ensure optimum cooling power for your laptop components.
Height Settings:
Adjusting the height of your laptop can have a major impact on its cooling capabilities, as air is able to flow more effectively when it's elevated. An array of different heights allows you to customize your experience and keep optimal levels for both comfort and performance – so get creative with how high or low you set yours.
Noise:
When it comes to working and gaming, noise can be a major factor. Silence is often the preferred environment for work-related tasks, so those looking to avoid disruptive sounds should opt for quieter options when selecting their equipment. However, if you're into gaming then loudness won't usually be an issue as headphones are typically used anyway.
Our Top Tested Picks For Best Laptop Cooling Pads in 2023.
1-Targus Portable Chill Hub Cooling Pad
The Targus Portable Chill Hub with High-Speed Fans is the perfect way to keep your laptop cool during extended use. The ventilated grill helps dissipate heat, while the four high-speed fans keep your laptop running smoothly. Additionally, you can position the cooling system up to 4″ high for added comfort.
The Targus Portable Chill Hub with High Speed Fans Ventilation Cooling pads is the perfect solution. With four integrated USB ports, it also provides convenient access to your peripheral devices. Plus, the rubber pads along with a sturdy bottom ledge help prevent your laptop from slipping.
This device features two high-speed fans that circulate air around your computer, helping to keep it cool and quiet. Additionally, the Chill Hub has an adjustable tilt, so you can customize the angle of the fans for optimum cooling performance. And if you need to take your computer with you on the go, don't worry – the Portable Chill Hub is small and lightweight enough to fit in your bag.
Specifications:
Brand: Targus
Material: plastic
Item Weight: 2 Pounds
Item Dimensions LxWxH: 10.5 x 1 x 14.25 inches
2-Havit HV-F2056 15.6″-17″ Laptop Cooler Cooling Pad
The havit HV-F2056 is a slim, lightweight, and portable laptop cooler cooling pad. It has two adjustable height settings to make it comfortable to use as an ergonomic stand. This cooler is perfect for taking with you wherever you go, to protect your investment.
If you're looking for a laptop cooling pad that will make your computing experience more comfortable, the havit HV-F2056 is the perfect option. This device has been optimized for laptop carrying, thanks to the high-quality multi-directional metal mesh. You'll appreciate how stable and wear-resistant your laptop will be when you're using this cooling pad. Additionally, three ultra-quiet fans create a noise-free environment, so you can focus on your work.
The havit HV-F2056 15.6″-17″ Laptop Cooler Cooling Pad is the perfect way to keep your laptop running cooler. The built-in dual-USB hub allows for connecting more USB devices, and the extra USB port and Power switch design make it easy to use. The included cable is USB to USB, but Type C Connection devices need to prepare a Type C to USB adapter.
Specifications:
Brand: havit
Material: ABS
Item Weight: 1.54 Pounds
Item Dimensions LxWxH: 14.96 x 1.18 x 11.02 inches
3-KLIM Wind-Laptop Cooling Pad
KLIM Wind is a laptop cooler that is an investment for your computer. It prevents overheating and maximizes the life expectancy of your PC. Plus, you'll receive a free copy of the eBook: 7 tips to keep your computer alive and maximize its performance. The KLIM Wind is large and compatible with the following sizes: 11 11,3 12 13 14 15 15,6 16 inches. Plus, it has 2 rear legs for excellent inclination and frontal pegs to keep it in place. Your laptop tray and the computer will stay completely still with this product.
Four fans of KLIM WIND can spin up to 1200 rotations per minute, quickly cooling your laptop to reasonable temperatures. Plus, our thought-out design and high-quality materials make KLIM Wind a durable and light laptop stand that will fit any situation. We offer a five-year warranty, proving our confidence in our product. So don't risk overheating your laptop – buy KLIM Wind today!
The KLIM Wind is a multifunctional laptop cooling pad that can be used with PCs of all ages and intensities of use. It has two USB ports, so you can keep one free, and it promises to cool your laptop quickly and effectively. According to its manufacturers, the KLIM Wind has been particularly successful in cooling gaming laptops, laptops used for photo and video editing, and older laptops. If your laptop is overheating, the KLIM Wind can help increase its performance. Additionally, it can be used with a PS4 or Xbox One.
Specifications:
Brand: KLIM
Item Weight: 0.73 Kilograms
Item Dimensions LxWxH : 15.79 x 10.71 x 1.22 inches
Cooling Method: Air
Color: Black
4-Thermaltake Massive 20 RGB Steel Mesh Panel Cooling Pad
Thermaltake has come out with its Massive 20 RGB Steel Mesh Panel Single 200mm Fan 10″‐19″ Laptop Note, perfect for gamers and power users. The Massive 20 RGB features a steel mesh surface with an integrated 200-millimeter silent fan for optimal airflow and high thermal performance. You can control the lights and fan easily via the built‐in control panel, including the light mode button, color mode button, and fan speed knob. Plus, the Massive 20 RGB is designed to fit laptops with screen sizes from 10" to 19" so you can always keep your device cool.
The Thermaltake Massive 20 RGB Steel Mesh Panel Single 200mm Fan 10″‐19″ Laptop Note is the perfect way to keep your laptop cool and comfortable. The three adjustable height settings (3°/ 9° /13°) help you find the perfect viewing and typing angle, while the large metal mesh surface supports up to 19 inches of gaming laptops. The built-in 200mm fan ensures that your laptop stays at a consistent temperature, even during long gaming sessions. And with 16.8 million colors and 8 preset modes, you can customize your panel to match your style.
Specifications:
Brand: Thermaltake
Material: Mesh + Plastic
Item Weight: 3.38 Pounds
Item Dimensions LxWxH: 18.5 x 14 x 1.5 inches
Color: RGB
5-TopMate C11 Laptop Cooling Pad
If you're looking for a laptop cooling pad that will keep your device running cooler and quieter, the TopMate C11 is a great option. This product features four small fans and two large fans, which work together to create a powerful breeze that can reduce temperatures by up to 15 degrees. The RGB lighting on the sides of the fan also creates a cool atmosphere while you're gaming or working. Plus, there are seven different light modes to choose from, so you can customize your experience.
This professional-grade cooling pad was designed to keep your laptop running calm and quiet, even during intensive use. The six built-in fans are capacitor-powered to reduce noise and keep your fan speed consistent. And with five height adjustments and a phone holder, you can customize the angle and position of your laptop for optimal comfort. Whether gaming, working, or streaming video, the TopMate C11 Laptop Cooling Pad is the perfect way to keep your computer performing at its best.
This laptop cooling pad is perfect for anyone looking for a durable and reliable option. The thermosetting plastic base and shell are solid and textured, making it resistant to scratches and dents. The cooling pad is also compatible with 11-17.3 inch laptops and features two USB ports for convenience. The braided wire USB cable is also reinforced, making it less likely to loosen or fall off over time. Finally, the anti-skid buckle is heightened with two silicone sleeves to provide extra grip for larger or heavier laptops.
Specifications:
Brand: TopMate
Material: Plastic
Item Weight: 1.1 Kilograms
Item Dimensions LxWxH: 16.14 x 11.65 x 1.69 inches
Color: Blue LED Light
6-IETS GT300 Double Blower Laptop Cooling Pad
The IETS GT300 Double Blower Laptop Cooling Pad is a high-quality product that keeps your laptop cool and running smoothly. The cooling pad features a sealing rubber ring to create superior cooling, and two air filters to prevent dust from building up inside your laptop. Additionally, the GT300 is suitable for laptops measuring 14 to 17 inches in size, making it the perfect choice for gaming laptop cooling.
If you're looking for an affordable, high-quality laptop cooling pad, the IETS GT300 is a great option. It features seven colors of lighting, four light modes, and the ability to turn off the lights completely if you prefer. The height of the stand on the GT300 is also adjustable, making it a great choice for people with different body sizes or those who want to avoid damaging their spine. Whether you're a student, business professional, or gamer, the IETS GT300 laptop cooling pad is an excellent way to keep your computer running cool and at peak performance.
The IETS GT300 Double Blower Laptop Cooling Pad perfectly keeps your laptop running cool and smooth. The three-speed ventilation system ensures that you can find the perfect setting for whatever you're doing, whether you're gaming or working. The low-speed gear is energy-saving and environmentally friendly, making it a great choice for everyday use.
Specifications:
Brand: IETS
Material: Rubber
Item Weight: 1600 Grams
Cooling Method: Air
Color: GT300
Frequently Asked Questions:
Q. Do cooling pads work?
Indeed, cooling pads can be an effective way to reduce the temperature of your laptop computer. The idea behind a cooling pad is simple; it circulates cool air around the bottom of your laptop, helping to dissipate heat away from vital components. Many designs also feature additional fans that help move heat away even faster and more efficiently, allowing for more excellent thermal performance.
When shopping for a notebook cooler/cooling pad, there are several key things you should consider. Firstly, look for one with multiple speed settings as this will allow you to adjust the amount of cooling power depending on the environment and conditions your laptop is in at any time. Secondly, if possible opt for one with adjustable feet that can raise or lower its height; this will improve ventilation further and provide increased ergonomics when using your laptop in bed or on other surfaces. Finally, aluminum-made models provide much better heat transfer properties and generally last longer than plastic alternatives. So it's usually worth paying extra for an all-metal version where possible!
Q. Do cooling pads drain your laptop battery?
Cooling pads can play a role in draining your laptop battery, depending on the design and power requirements of the pad. While cooling pads are an effective way to keep laptops from overheating, they can also strain your battery.
Laptop CPU temperatures are typically regulated by fans which draw power from the laptop battery when running. Cooling pads often include other fans that draw more power than those used for CPU temperature regulation alone. If these extra fans run constantly, or if the laptop is operated with the cooling pad connected in spite of lower ambient temperatures, this may adversely affect battery life by consuming more energy than normal fan operations would have required.
Conclusion:
If you want to keep your laptop cool and improve its performance, then you need a cooling pad. Cooling pads help distribute heat away from the laptop, which can prevent overheating and prolong the life of your computer. There are many different types of cooling pads available on the market, so it is important to choose one that best suits your needs. We hope our list of the best laptop cooling pads has helped you find the perfect one for your needs.
Read more about it.