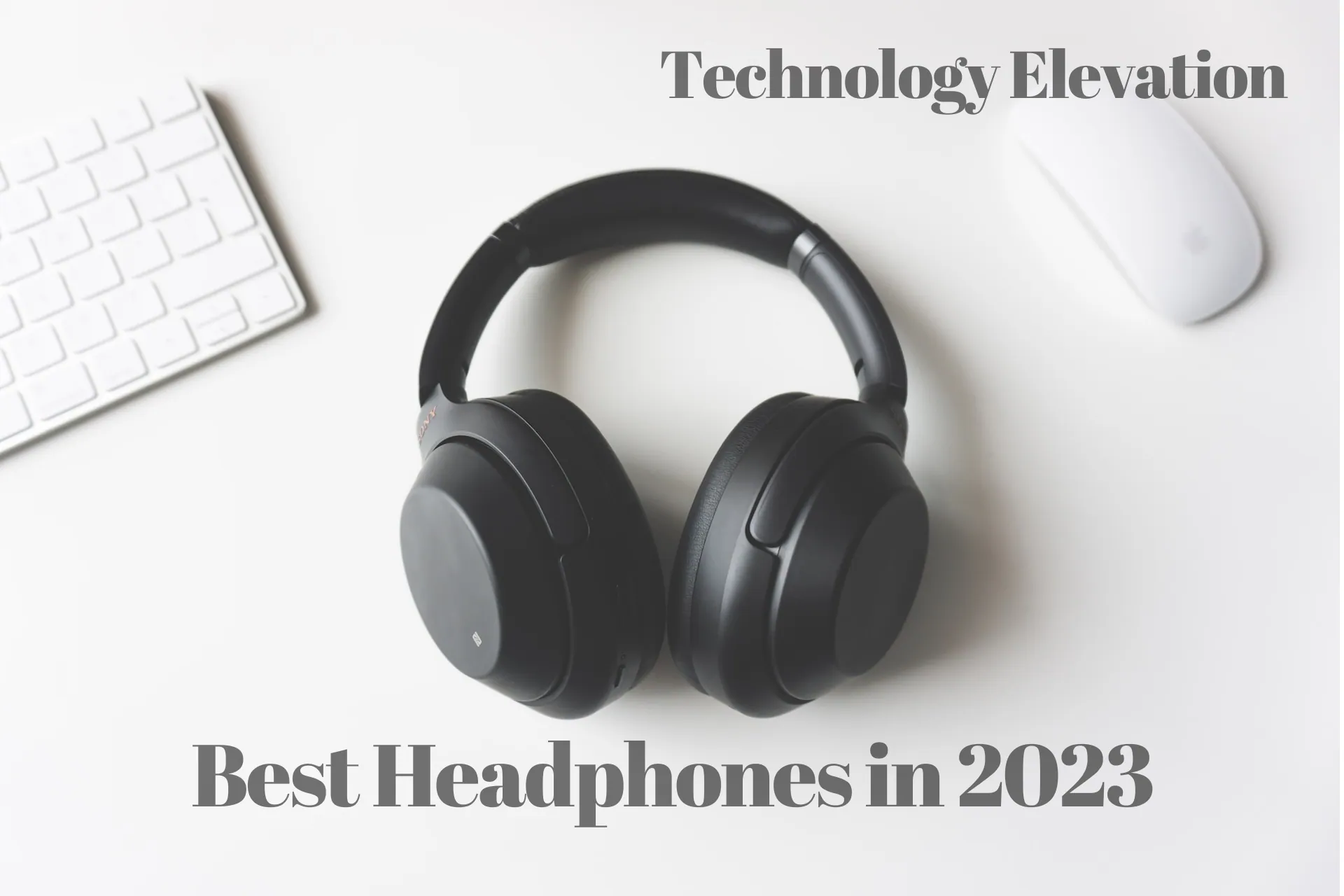 Today, living without a good pair of headphones is pretty much impossible. There are so many types and models to pick from that it's hard to know where to begin.
Right now, you can buy a lot of headphones and earbuds. We've had to make a lot of best lists over the years to cover all the different models, types, and things you should look for when buying. We've compiled a list of the best headphones from various categories, such as wired, wireless, and truly wireless earbuds.
Want to know right away which headphones are the best? Here is a list of our picks.
---
Top Best Headphones in 2023
1.

Apple AirPods Pro (2nd Gen)
Best Headphones for iPhone Users
Apple's second-generation AirPods Pro is now among the best wireless noise-canceling headphones on the market. Bose's QuietComfort Ultra Earbuds and Sony's WF-1000XM5 headphones are the only ones that sound better and only just. Besides, they provide an excellent sound experience, have a unique Adaptive Audio (transparency) mode, and work very well with Apple products. The case now charges with a USB-C port that will work better in the future.
The AirPods Pro is the clear winner for Apple fans who only want the best headphones. There isn't a third-party app that works as well on iPhones, iPads, and Macs. Our in-depth review shows how they stack up against the best from Bose and Sony.
Specifications
Brand:

 

Apple

Model Name:

 

AirPods Pro

Color:

 

White

Form Factor:

 

In Ear

Connectivity Technology:

 

BT True Wireless Pro
Reason To Buy
+ Full, well-balanced sound performance
+ Excellent active noise cancellation
+ The Talking Aware feature changes the volume of your music when you talk.
+ It has a speaker and a USB-C port built right in.
+ Easy integration with Apple products
Reason To Avoid
– There is no high-resolution codec support
– You can't change the EQ presets
---
2.

Bose QuietComfort Ultra Earbuds
Best Headphones with Noise-Canceling 
That said, Bose's QuietComfort Ultra Earbuds are the best at blocking noise. They cut down on mids and highs better than any other earphones we've tried, and they almost entirely get rid of deep lows. Additionally, they produce a clear, bass-heavy sound that most people should enjoy. With AptX Adaptive support, they're also better than ever for Android users.
In a truly wireless design, these Bose earbuds are best for active noise cancellation. Remember that the second-generation AirPods Pro are better for people with an iPhone.
Specifications
Brand:

 

Bose

Model Name:

 

Bose QuietComfort Ultra

Color:

 

Black, White Smoke

Form Factor:

 

In Ear

Connectivity Technology:

 

Wireless
Reason To Buy
+ Best noise cancellation in its class
+ Sound that is clear and full
+ Support for spatial audio with head tracking
+ Good support for Bluetooth codecs
Reason To Avoid
– The case doesn't work with wireless charging
– Not able to connect multiple points
---
3.

Sony WH-1000XM4S
Most Popular Best Headphones
Since they came out in August 2020, Sony's WH-1000XM4 headphones have been a big hit. They still have a lot of cool tech, like multipoint pairing, DSEE Extreme upscaling, conversational awareness, and auto-play/pause with a built-in sensor. This pair of headphones has a battery life of 30 hours (with ANC turned on), which is about the same as other best headphones in this price range.
The 40mm drivers in the WH-1000XM4s give them a warm, balanced sound and do a great job of blocking out noise. They also work with Sony's 360 Reality Audio format, which lets you listen to sound in three dimensions on stereo headphones, and the LDAC codec, which can send data up to 990 kbps.
When it comes to design, it is very light and comfortable. Even though these simple headphones (they only have two buttons for pairing and turning them on/off) are not waterproof, they are still very strong.
Newer, more expensive headphones can sound and ANC better than the Sony WH-1000XM4, but they're usually cheaper now, which makes them an even better deal than they were before.
Specifications
Brand:

 

Sony

Model Name:

WH-1000XM4S

Color:

 

Silver/Gold

Form Factor:

 

Over-Ear

Connectivity Technology:

 

Wireless
Reason To Buy
+ A lot of noise cancellation and sound quality
+ Upscaling audio with DSEE Extreme
Reason To Avoid
– Not resistant to water
– They aren't as good as newer, more expensive headphones
---
4.

Sennheiser Momentum 4 
Best High-End Headphones
The Sennheiser Momentum 4 Wireless are the brand's newest wireless over-ear headphones, launched in August 2022. Sony should be worried if it isn't already.
These best headphones have an impressive 60-hour battery life, a fun app, many features, simple controls on the ear, excellent adaptive noise cancellation, and a passionate sound that will make you nod your head happily everywhere you go. Some might say they look a little plain, but the proof is in the listening, and these headphones sound so good for the price.
The Momentum 4 Wireless from Sennheiser has everything you could want. It has a Sidetone to help people hear your voice during calls and "Sound Zones" with EQ, and ANC presets you can set to turn on when you're in the zone automatically.
We think more people will be happy with them because they cost more than the Sony WH-1000XM4. But these are worth the extra money and are a little less expensive than the top-of-the-line Sony WH-1000XM5.
Specifications
Brand:

 

Sennheiser 

Model Name:

 

MOMENTUM 4 Black

Color:

 

Black, White, Cooper Black

Form Factor:

 

Over-Ear

Connectivity Technology:

 

Bluetooth 5.2
Reason To Buy
+ Sound that is neutral, clear, and full
+ Excellent ANC and openness
Reason To Avoid
– A little plain in terms of looks
– style doesn't fold into the headband
---
5.

Anker S

oundcore

Liberty 4
Best Affordable Headphones
The Soundcore Liberty 4 NC earphones from Anker show that you don't have to spend much money to get a good sound experience. We like how well they block out noise, how detailed the sound is, and how well they fit. The companion app is also great because it has an EQ that can be changed, and Android users can use LDAC.
Even though they cost less than $100, these Anker earphones have a lot of features that make them great if you're on a budget but don't want to settle for lousy sound or noise cancellation.
Specifications
Brand:

 

Soundcore

Model Name:

 

Liberty 4 NC

Color:

 

Velvet Black, Nacy Blue, Light Blue, Pastel Pink, Clear White 

Form Factor:

In Ear

Connectivity Technology:

 

Wireless
Reason To Buy
+ Deep, powerful bass with clear highs
+ Noise cancellation that works well for the price
+ Android users can use LDAC.
+ The companion app is functional and includes EQ.
Reason To Avoid
– The default sound signature has clear shaping
– Average rating for water resistance
---
6. 

1MORE Triple Driver BT 
Best Headphones Wired In-Ear
There is excellent sound quality and great value for the money with these. The 1MORE Triple Drivers sound better than the rest because they have a balanced sound. We liked the slightly warm beat that it has.
It's hard to find anything wrong with the Triple Drivers at this price and with such great build and design. Even though the remote that comes with the earbuds feels a bit cheap, the sound quality more than makes up for it. The Triple Driver in-ear headphones from 1MORE are the best headphones you can get for the price.
Specifications
Reason To Buy
+ Excellent sound quality
+ Very well made and designed
Reason To Avoid
– The plastic remote feels cheap
---
7. 

JBL Reflect Aero TWS
Best for Exercise
The JBL Reflect Aero noise-canceling headphones have an impressive IP68 rating, which means they are completely dustproof and waterproof. Most headphones in this category have a rating of only IPX4, which isn't very good. They also have a powerful sound signature and a good app that works with them and lets you change the EQ.
The Reflect Aero earphones work well whether you're at the gym or on the beach. You can get them dirty and then wash them however you like.
Specifications
Brand:

 

JBL

Model Name:

 

JBL Reflect Aero TWS

Color:

 

White, Blue, Mint, Black

Form Factor:

 

In Ear

Connectivity Technology:

 

BT True Wireless Pro
Reason To Buy
+ Strong sound quality with deep lows and bright highs
+ Multi-band in the app EQ
+ Works with Alexa and Google Assistant hands-free
+ Design that keeps water and dust out completely
Reason To Avoid
– Average Noise cancellation
– Not everyone will like the sculpted, bass-forward sound signature
---
8. S

ony WF-1000XM4S
Best Earbuds for Most People
The Sony WF-1000XM4s are the best headphones for most people who want wireless in-ear headphones. The TechRadar Choice Awards named them the best in-ear headphones in 2021, the same year they came out. They have stayed at the top of our list ever since, and for good reason.
With the Sony WF-1000XM4s, Sony has created a wireless headset that blocks out noise and is comfortable to wear. It's beneficial to set the sound of the buds to fit the shape of your ears and have auto-pause.
You'll hear a beautiful, full-bodied sound once you've tuned the buds and ensured they fit comfortably. During our tests, this took a little bit of fiddling. They do precisely what they will do with DSEE Extreme audio upscaling, multipoint pairing, and support for an LDAC codec (but not aptX or aptX HD).
The battery life of 24 hours for both the buds and the case isn't perfect compared to other brands. But Sony's control app, which has EQ that can be changed, custom presets, and a lot more, more than makes up for this.
Specifications
Brand:

 

Sony

Model Name:

 

WF-1000XM4S.CE7

Color:

 

Silver

Form Factor:

 

In Ear

Connectivity Technology:

 

Bluetooth
Reason To Buy
+ Sound that is quick, full, and beautiful
+ Excellent call quality
Reason To Avoid
– Battery life is average.
– No support for aptX
---
9.

Jabra Elite 10
Best Headphones with ANC for Exercise
The Elite 10 earbuds from Jabra have an IP57 rating, which means they are waterproof. They also block out noise almost as well as the best options from Apple, Bose, and Sony. Additionally, they produce clear and powerful sound, work with an app that lets you customize the sound, and come with a case that can be charged wirelessly.
The Jabra Elite 10 headphones are expensive, but they are our top pick for exercise because they are better than average at blocking out dust and water, sound great, and block out noise well.
Specifications
Brand:

 

Jabra

Model Name:

 

Elite 10

Form Factor:

 

In Ear

Connectivity Technology:

 

Wireless
Reason To Buy
+ Strong bass and clear highs
+ Noise cancellation that competes
+ Dolby Atmos support with head tracking and EQ that can be changed
+ Outstanding Making
+ The case can be charged wirelessly
Reason To Avoid
– It's easy to press the buttons on the ear by accident.
– A slight hiss that is hidden in noise-cancellation mode
---
10.

Sony WH-CH520
The Sony WH-CH520 is valuable because they have good sound, a long battery life, and Bluetooth connectivity. Likely, you're ready to give up some things if you want on-ear headphones at this price point. Sony has made some trade-offs with the WH-CH520, but luckily, most haven't been too critical. For example, there's no 3.5mm port option.
A 50-hour battery life and high-end features like a customizable control app with DSEE and multi-point audio pairing make the WH-CH520s stand out. It's also very easy to switch between devices.
The plastic they are made of has different textures. It is strong, but it doesn't feel very high-end. Again, this is a small trade-off for how well they sound, and the fact that they're made of such a lightweight material is another bonus.
They came out in February 2023 and have a balanced sound with lots of detail, making them easy to listen to.
Specifications
Brand:

 

Sony

Model Name:

 

WHCH520/L

Color:

 

Blue, White, Black

Form Factor:

 

On Ear

Connectivity Technology:

 

BT True Wireless Pro
Reason To Buy
+ Affordable prices
+ The sound and battery life are great
Reason To Avoid
– No 3.5mm jack or USB port for sound
– No noise cancellation at all
---
Types of Headphones
Now, we'll explore the various headphone types making waves in 2023 to help you discover the best headphones to suit your preferences.
Over-Ear Headphones:
Over-ear headphones, often called "circumaural" headphones, are the epitome of audio immersion. They encompass your ears entirely, creating a seal that isolates you from external noise. This design delivers superior sound quality and offers impressive comfort for extended listening sessions.
In 2023, the best over-ear headphones boast features like active noise cancellation (ANC), wireless connectivity, and customizable sound profiles. Brands are pushing the boundaries of innovation to provide users with the ultimate auditory experience.
On-Ear Headphones:
On-ear or "supra-aural" headphones balance portability and sound quality. Their design rests on the ears without completely enveloping them. This makes them a practical choice for those who are often on the move.
In 2023, top-on-ear headphones offer impressive sound quality, lightweight designs, and a range of connectivity options. They're excellent for commuters and travelers who refuse to compromise on audio excellence.
In-Ear Headphones:
In-ear headphones, commonly known as earbuds or in-ear monitors (IEMs), have gained tremendous popularity in recent years due to their compact and discreet design. They fit snugly inside the ear canal, providing a secure and comfortable listening experience.
The best in-ear headphones in 2023 are incredibly compact and pack a punch in sound quality. Many of them feature advanced noise-canceling technology and touch controls for added convenience.
Wireless Earbuds:
Wireless earbuds have revolutionized the way we consume audio content. These tiny, cord-free earbuds offer ultimate portability and a wire-free experience.
With 2023's advancements, the best wireless earbuds provide high-fidelity audio, extended battery life, and seamless integration with voice assistants. Whether working out, commuting, or simply enjoying music at home, wireless earbuds embody true freedom in sound.
Bone Conduction Headphones:
Bone conduction headphones have carved a niche for themselves with their innovative technology. Unlike traditional headphones, they don't cover or insert into your ears. Instead, they use vibrations to transmit sound directly to your inner ear through the bones of your skull.
In 2023, the best bone conduction headphones offer improved audio quality and are highly recommended for those who need to stay aware of their surroundings, such as runners or cyclists.
Open-Back Headphones:
Open-back headphones are the go-to choice for audiophiles who prioritize an incredibly detailed and spacious soundstage. Their design features open ear cups that allow air and sound to flow freely. While they're not ideal for noisy environments due to sound leakage, they shine in a quiet space where you can appreciate the full range of sound.
In 2023, these headphones are designed with premium materials, making them both a technical and aesthetic delight for those who value an exquisite audio experience.
Noise-Canceling Headphones:
Noise-canceling headphones are the saviors of city commuters and frequent flyers. Equipped with advanced technology, these headphones neutralize external noise, allowing you to immerse yourself fully in your music or podcasts.
In 2023, the best noise-canceling headphones provide superior ANC, long-lasting battery life, and crystal-clear sound quality. They're a must-have for anyone seeking peace and focus in a bustling world.
Gaming Headsets:
For gamers, a good headset can make all the difference. Gaming headsets in 2023 are engineered for precision and immersion. With features like surround sound, customizable RGB lighting, and crystal-clear microphones, these headsets are designed to enhance the gaming experience.
If you're a gaming enthusiast, you'll appreciate the accuracy and realism the best gaming headsets bring to your favorite titles.
---
What To Look For While Buying the Best Headphones
Sound Quality:
When choosing headphones, prioritize sound quality. Look for models that deliver crisp, clear audio with well-defined bass, mids, and highs. Many headphones in 2023 come with advanced driver technology, such as dynamic drivers and planar magnetic drivers, which offer superior sound quality. Consider your musical preferences – some headphones are tuned for specific genres.
Noise Cancellation:
If you need to focus in noisy environments or enjoy your music without distractions, noise-canceling technology is necessary. In 2023, the best headphones feature advanced noise-canceling capabilities that can be customized. Check for options that allow you to adjust the level of noise cancellation according to your surroundings.
Comfort and Fit:
Comfort is key, especially if you plan to wear your headphones for extended periods. Look for ergonomic designs, plush ear cushions, and adjustable headbands. Some models also feature memory foam padding for enhanced comfort. Ensure a secure fit, particularly if you're active; you don't want your headphones slipping during a workout.
Wireless or Wired:
Determine whether you want wired or wireless headphones. In 2023, wireless headphones with Bluetooth connectivity dominate the market. They provide convenience and freedom of movement. However, some audiophiles still favor wired headphones for their consistent, high-quality sound.
Battery Life:
For wireless headphones, battery life matters. The best headphones offer extensive playback time on a single charge. Look for headphones that provide at least 20 hours of battery life, and consider options with fast-charging capabilities for those moments when you're in a hurry.
Portability:
Consider where you'll use your headphones. If you plan to take them daily, foldable or compact headphones are practical. However, over-ear headphones might be better for enhanced sound quality if you use them primarily at home.
Connectivity and Compatibility:
Ensure your headphones are compatible with your devices. Most headphones in 2023 are equipped with Bluetooth technology for easy pairing with smartphones, tablets, and laptops. Some even support multipoint connectivity, allowing you to switch between devices seamlessly.
Built-In Microphone:
Consider headphones with a built-in microphone to take calls or participate in online meetings. Look for models with noise-canceling microphones for crystal-clear voice transmission.
Durability and Build Quality:
Invest in headphones that are built to last. Quality materials such as metal, reinforced plastics, and premium leather ensure durability. Water and sweat resistance is crucial for those who use headphones during workouts.
Brand Reputation:
Reputable brands often provide better customer support and warranties. Research the manufacturer's reputation for product quality and after-sales service.
In 2023, many headphone options are designed to meet various needs and preferences. Considering these factors, you can select the best headphones that align with your lifestyle and listening habits.
---
FAQs – Best Headphones in 2023
What are the different types of headphones available in 2023?
In 2023, you can find various types of best headphones, including over-ear, on-ear, in-ear, and true wireless earbuds. Each type has advantages, so choose the one that suits your needs and preferences.
Are noise-canceling headphones worth the extra cost?
Noise-canceling headphones are ideal if you need to block out external distractions. They're great for travel, work, and noisy environments. The enhanced listening experience often justifies the added cost.
Can I use wireless headphones for gaming?
You can use wireless headphones for gaming, but choose a model with low latency and good microphone quality. Some headphones are specifically designed for gaming and offer features like surround sound and customizable EQ settings.
Are there headphones suitable for sports and workouts?
Yes, there are headphones designed specifically for sports and workouts. Look for sweat- and water-resistant models with secure ear hooks or in-ear designs that stay in place during physical activities.
Do high-priced headphones always offer better sound quality?
Not necessarily. While high-priced headphones often provide excellent sound quality and premium features, some mid-range options offer outstanding performance at a more affordable price. Consider your needs and budget when choosing the best headphones.
How can I clean and maintain my headphones?
To clean your headphones, use a soft, lint-free cloth to wipe down surfaces. Avoid abrasive materials and harsh chemicals. Regularly clean ear tips or ear pads to prevent dirt and grime buildup.
---
Conclusion
In the dynamic soundscape 2023, the best headphones rise to meet diverse audio needs. Choosing the best headphones has never been more exciting, from over-ear to in-ear, noise-canceling to bass-boosted.
Make your auditory journey exceptional by considering the types, key buying factors, and expert insights presented in this guide to the Best Headphones in 2023