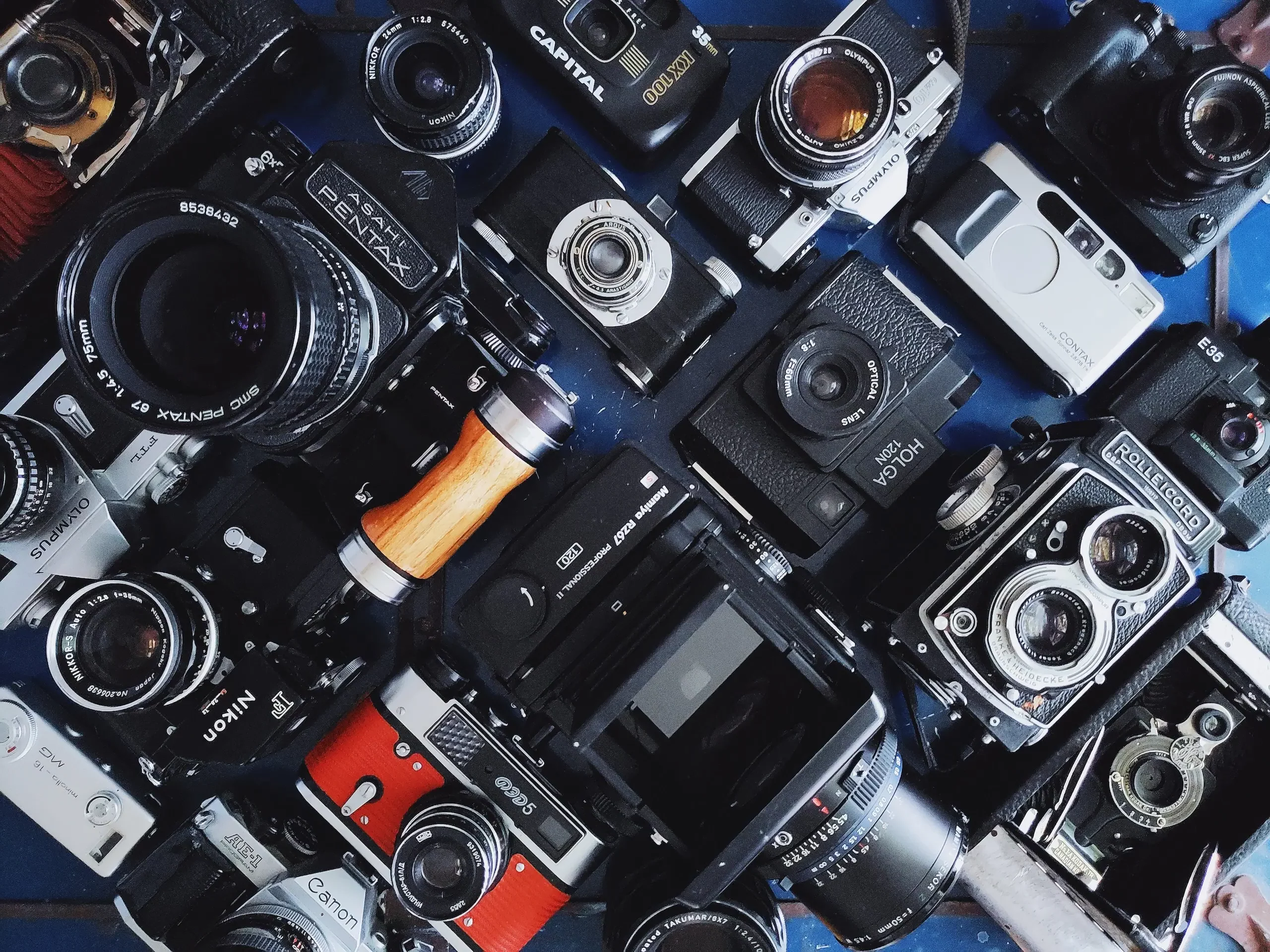 The Best YouTube Camera 2023
When starting on your YouTube journey or seeking to enhance the caliber of your channel's content, one of the primary considerations is undoubtedly the selection of an optimal camera. YouTube, undeniably the largest video-sharing platform globally, presents a plethora of opportunities to effectively promote your work or even establish a thriving business. Consequently, it becomes imperative to invest ample time in identifying the most suitable camera for your specific YouTube requirements.
Types of YouTube Camera in 2023
In 2023, the world of YouTube content creation offers a variety of camera options tailored to different needs and preferences. Here are the types of YouTube cameras to consider for producing high-quality videos:
Digital Single-Lens Reflex (DSLR) cameras provide excellent image quality and versatility. They allow interchangeable lenses and manual controls, making them ideal for vloggers who want creative freedom.
Compact and lightweight, mirrorless cameras offer advanced features, including 4K video recording, fast autofocus, and a wide range of lenses, catering to vloggers seeking quality and portability.
Designed for adventurous content creators, action cameras are small, rugged, and capable of capturing dynamic footage in challenging environments, making them perfect for outdoor and action-packed content.
Purpose-built for video recording, camcorders offer features like built-in stabilization, large zoom ranges, and easy-to-use interfaces, making them suitable for vloggers focused on video content.
Many modern smartphones boast impressive camera capabilities, including 4K video recording, advanced stabilization, and built-in editing tools, making them convenient for on-the-go vlogging.
High-end cinema cameras deliver professional-grade video quality with features like advanced color grading options, cinematic aspect ratios, and interchangeable cinema lenses for cinematic vlogging.
Ideal for live streaming and straightforward recording, webcams provide an easy solution for vloggers who want to connect with their audience in real-time.
These cameras excel in both photography and videography, offering a comprehensive package for vloggers who want to capture stunning visuals and create engaging content.
Perfect for immersive content, 360-degree cameras capture a full view of your surroundings, allowing viewers to interact and explore your videos in a unique way.
Compact Point-and-Shoot Cameras:
Straightforward and portable, these cameras are excellent for beginner vloggers who want a simple solution for video recording.
For aerial shots and stunning landscapes, drone cameras provide a fresh perspective for vloggers looking to capture breathtaking views from above.
While not traditional cameras, handheld stabilizers or gimbals can transform your smartphone or compact camera into a steady recording device, ensuring smooth and professional-looking videos.
What To Look For While Buying The Best YouTube Camera in 2023
When searching for the best YouTube camera in 2023 to enhance your content creation journey, consider the following essential factors to ensure you make a wise and satisfying investment:
Opt for a camera that offers at least 1080p Full HD resolution for crisp and clear video content. Cameras with 4K resolution provide even higher quality for a professional look.
Look for a camera with good low-light capabilities, such as a larger sensor size and low noise levels, to ensure your videos remain sharp and vibrant even in challenging lighting conditions.
Built-in optical or digital stabilization is crucial to producing smooth and steady videos, especially when filming on the move or without a tripod.
Consider cameras with interchangeable lenses to cater to various shooting scenarios, whether it's wide-angle shots, close-ups, or portraits. A variety of lens choices enhances your creative flexibility.
Quick and accurate autofocus is vital for keeping your subject sharp, especially in dynamic vlogging situations. Look for cameras with reliable and fast autofocus systems.
External audio quality significantly impacts the overall video experience. Cameras with a microphone input allow you to connect an external microphone for superior audio capture.
Even if you plan to use external microphones, ensure the camera's built-in audio quality is sufficient as a backup. Some cameras offer features like wind noise reduction.
A tilting or fully articulating screen helps you frame your shots accurately, especially when filming yourself. This feature is essential for vloggers who need to monitor their on-screen presence.
Built-in Wi-Fi or Bluetooth connectivity simplifies transferring videos to your devices for editing and sharing, streamlining your content creation process.
Long-lasting battery life is essential to prevent interruptions during filming. Consider cameras with good battery performance or have the option to use external power sources.
Opt for a camera that is easy to carry and handle, especially if you plan on filming while on the move or traveling.
Set a budget range based on your needs and level of expertise. Consider investing in accessories like lenses, microphones, and tripods to enhance your video quality.
An intuitive menu and control system make your filming process smoother, allowing you to focus on creating content rather than struggling with settings.
Reviews and Recommendations:
Research online reviews, user testimonials, and expert recommendations to gain insights into real-world performance and user satisfaction.
Top Best YouTube Camera in 2023
1.

Canon PowerShot G7X Mark III
Best YouTube Camera Overall
The Canon PowerShot G7 X Mark III has garnered immense praise from numerous YouTubers, and it's not difficult to comprehend the reasons behind its widespread acclaim. While it may not claim the top spot in any particular category, this camera truly shines as a versatile tool, catering to the diverse needs of YouTubers. Its compact form factor allows for effortless portability, enabling creators to capture content on the go.
The compact camera in question boasts an impressive feature set, including the ability to capture stunning 4K UHD video at a smooth 30 frames per second. It is worth noting, however, that there is a slight limitation on the recording time, with a maximum of 10 minutes per session. Fear not, as this device also offers the option to shoot high-definition video at an impressive 120 frames per second, enabling you to effortlessly craft captivating slow-motion sequences.
With the introduction of the Mark III version, an exciting enhancement has been made – the inclusion of a 3.5mm microphone jack. This noteworthy addition brings about a notable improvement in the realm of audio quality. The 24-100mm f/1.8-2.8 lens boasts a fixed configuration, ensuring consistent performance throughout.
While some may prefer interchangeable lenses, this particular zoom range proves more than sufficient for the majority of YouTube applications. Moreover, the impressive maximum aperture of f/1.8 allows the G7X Mark III to excel in low-light conditions, making it a truly remarkable choice.
One notable advantage that YouTubers greatly appreciate is the camera's ability to facilitate live streaming, enabling the seamless broadcasting of high-quality footage through a clean HDMI output. While it is true that there are cameras available in the market with more advanced video specifications, it is important to note that the majority of content creators may not necessarily require such high-end features.
This particular option is widely regarded as an excellent choice for a wide range of purposes. This particular point-and-shoot camera stands out as one of the finest options available on the market.
Specification:
| | |
| --- | --- |
| Brand | Canon |
| Model Name | PowerShot G7X Mark III BK |
| Maximum Webcam Image Resolution | 20 MP |
| Photo Sensor Size | 1-inch |
| Image Stabilization | Optical |
| Min Shutter Speed | 1/25600 seconds |
Reasons To Buy

Reasons To Avoid

+

Fast and versatile lens

–

10-minute 4K limit 

+

Great flip-up touchscreen

–

Middling battery life 
2. 

Sony Alpha ZV-E10
Best YouTube Vlogging Camera For Sony Fans
For quite some time, Sony had been facing a challenge in the form of a lack of a specialized vlogging camera. Although the ZV-1 compact camera undeniably possessed its own charm, vloggers and YouTubers had a fervent desire for a mirrorless camera that would grant them the freedom to interchange lenses, thereby enhancing their creative possibilities and overall versatility. Introducing the remarkable Sony ZV-E10, a cutting-edge APS-C mirrorless camera that boasts an impressive array of video-centric features.
The 4K Ultra High Definition (UHD) detail and quality offered by this product is truly exceptional. It provides a level of visual clarity and sharpness that is truly impressive. Additionally, for those who prefer to capture slow-motion footage, the Full HD capability can be enhanced to achieve a remarkable 120 frames per second (120p).
This allows users to capture stunning slow-motion sequences with utmost precision and fluidity. In addition, it is worth noting that investing in an external microphone undoubtedly enhances the audio quality. However, for individuals with budget constraints, the built-in microphones on the ZV-E10 perform admirably well. This can be attributed, in part, to the larger grille positioned on the top, which facilitates the capture of high-fidelity sound.
The camera, while impressive, does have its limitations. One notable drawback is the presence of a noticeable rolling shutter effect when attempting to pan in 4K. Additionally, as is customary with Sony products, the menu system may prove to be perplexing for some users. While these points may seem minor, it is important to note that the Sony ZV-E10 offers a remarkably robust core experience.
Specification:
| | |
| --- | --- |
| Brand | Sony |
| Model Name | ILCZV-E10/B |
| Maximum Webcam Image Resolution | 24 MP |
| Photo Sensor Size | APS-C |
| Image Stabilization | Digital |
| Metering Description | Center-weighted average, Multi-Zone, Spot |
Reasons To Buy

Reasons To Avoid

+

Exceptional video AF

–

Rolling shutter in 4K

+

Solid built-in mic

–

Convoluted Sony menus
3.

Panasonic LUMIX GH5M2
Best YouTube Camera for Live Streaming
The first version of Panasonic's GH5 camera proved to be an exceptional tool for content creators in the realm of YouTube. The product boasted a comprehensive range of video capabilities, all neatly packaged within a sturdy yet lightweight frame. Building upon its already impressive capabilities, the Mark II undergoes a series of thoughtful refinements and introduces a groundbreaking addition: the integration of seamless wireless live-streaming functionality.
The GH5 II is equipped with seamless support for the RTMP/RTMPS protocol, allowing users to effortlessly connect with YouTube straight out of the box. This remarkable feature proves to be a significant advantage, particularly for content creators whose audience craves real-time content.
The Wi-Fi-enabled footage boasts an impressive feature – an automatic resolution adjustment that seamlessly adapts to your connection strength. With this intelligent capability, the video quality reaches its pinnacle at an impressive 1080/60fps, ensuring a visually captivating experience for users. This camera boasts support for 10-bit 4:2:2 video, allowing for enhanced color depth and richness.
Additionally, it offers the capability to record super-smooth Full HD slow-motion footage, adding an extra layer of visual appeal to your videos. The Micro Four Thirds sensor size, while offering commendable performance, does present some limitations when it comes to low-light photography. However, it is worth noting that the inclusion of a five-axis in-body image stabilization system does a commendable job in mitigating this concern.
This feature enables you to capture handheld shots with minimal shake, thereby enhancing your overall shooting experience. With its exceptional handling and a cutting-edge fully articulating touchscreen, the GH5 Mark II emerges as a remarkably versatile choice for capturing a wide array of content.
Specification:
| | |
| --- | --- |
| Brand | Panasonic |
| Model Name | Panasonic LUMIX GH5M2, Mirrorless Camera with Live Streaming |
| Maximum Webcam Image Resolution | 20.3 MP |
| Photo Sensor Size | Micro Four Thirds |
| Image Stabilization | Sensor-shift |
| Max Shutter Speed | 1/16000 seconds |
Reasons To Buy

Reasons To Avoid

+

Built-in wireless live streaming

–

Not a massive upgrade from the GH5

+

Strong all-round image quality

—
4.

Fujifilm X-S10
Best Mid-Range YouTube Camera
The Fujifilm X-S10 stands out as an exceptional mirrorless camera that excels in various aspects, particularly considering its price range. With its impressive video specifications and remarkable versatility, it undoubtedly emerges as a top choice for content creators on YouTube seeking a reliable and high-performing camera.
Experience the brilliance of the remarkable 26.1MP X-Trans CMOS 4 sensor, seamlessly integrated with the cutting-edge X Processor 4. This powerful combination not only enhances the overall performance of the device but also unlocks a plethora of exceptional video capabilities, including the ability to record stunning 4K videos at a smooth 30 frames per second.
In addition, this remarkable device offers the convenience of utilizing an external microphone source, granting users the freedom to enhance their audio recording capabilities. Furthermore, it boasts the remarkable feature of outputting 4:2:2 10-bit video, ensuring unparalleled visual quality and richness. Moreover, the camera's exceptional prowess extends to its ability to capture Full HD footage at an impressive 240p, enabling users to achieve breathtaking slow-motion effects. Lastly, the device's cutting-edge in-body image stabilization system guarantees unparalleled image clarity and stability, elevating the overall quality of every shot.
Specification:
| | |
| --- | --- |
| Brand | Fujifilm |
| Model Name | X-S10 Body- Black |
| Photo Sensor Size | APS-C |
| Image Stabilization | Sensor-shift |
| Min Shutter Speed | 1/32000 seconds |
| Metering Description | Average, Center-Weighted Average, Multiple, Spot |
Reasons To Buy

Reasons To Avoid

+

Excellent sensor

–

Limited touchscreen functionality 

+

Great handling

–

Lacks weatherproofing use with a Mac

+

IBIS in compact body
5.

GoPro HERO 11
The Best YouTube Action Camera
If you find yourself in need of unparalleled durability, look no further than GoPro. Whether you choose to toss it into a serene lake, launch it off a majestic mountain, or accompany it on a thrilling mountain biking adventure, rest assured that GoPro is the brand that will withstand the most extreme conditions. If you are considering documenting sports activities for your YouTube channel, regardless of their level of intensity, the compact and durable GoPro Hero 11 Black is the ideal choice for you.
The highly anticipated successor to the widely acclaimed Hero 10 Black, the Hero 11 is set to make waves this September. With an impressive waterproof capability of up to 33 feet, this cutting-edge action camera is ready to capture your adventures like never before. One of the standout features of the Hero 11 is its seamless integration with your smartphone.
By leveraging advanced technology, this remarkable device can automatically send highlight videos directly to your phone, ensuring that your most thrilling moments are effortlessly shared with friends and family. Furthermore, the Hero 11 boasts an enhanced Enduro battery, delivering a longer-lasting performance that keeps up with your action-packed lifestyle.
Say goodbye to the worry of running out of power during your excursions, as this innovative camera is designed to keep you capturing memories for extended periods. In conclusion, the Hero 11 is set to revolutionize the action camera market with its exceptional waterproof capabilities, seamless smartphone integration, and extended battery life. Stay tuned for its release this September and get ready to elevate your adventures to new heights.
The latest iteration of this device maintains its highly functional front screen, enhancing the convenience of capturing selfie vlogs. Notably, it has introduced an upgraded version of its renowned HyperSmooth technology, now boasting the impressive HyperSmooth 5.0 image stabilization feature. This remarkable device possesses the ability to effortlessly capture impeccably smooth and steady footage, even when subjected to the most demanding and rigorous conditions.
Specification:
| | |
| --- | --- |
| Brand | GoPro |
| Connectivity Technology | USB |
| Flash Memory Type | MicroSDHC |
| Color | Black |
| Special Feature | Waterproof |
| Screen Size | 1.9 Inches |
Reasons To Buy

Reasons To Avoid

+

Small and compact

–

Relatively expensive 

+

Useful front display 

–

Small image sensor

+

Class-leading stabilization 
FAQs – Top Best YouTube Camera in 2023
Q: What type of camera is best for YouTube beginners?
A: For beginners, compact point-and-shoot cameras or smartphones with good video capabilities are ideal. These options are user-friendly, portable, and budget-friendly.
Q: Can I use my smartphone as a YouTube camera?
A: Yes, many smartphones offer excellent video quality and features suitable for YouTube content creation. However, dedicated cameras provide more advanced settings and interchangeable lenses.
Q: Should I prioritize video quality or audio quality?
A: Both video and audio quality are essential for creating engaging YouTube content. If your camera has a microphone input, invest in an external microphone to ensure high-quality audio.
Q: What is the benefit of a flip-out screen for vlogging?
A: A flip-out screen allows vloggers to frame their shots accurately while recording themselves. It's especially useful for maintaining eye contact with the camera and monitoring composition.
Q: Can I use a DSLR camera for YouTube videos?
A: Yes, DSLR cameras are suitable for YouTube videos due to their excellent image quality and manual controls. However, they can be heavier and bulkier compared to mirrorless or compact options.
Q: What is the ideal video resolution for YouTube content?
A: The ideal resolution for YouTube videos is 1080p (Full HD) or higher. Cameras that offer 4K resolution provide even better clarity and quality for viewers.
Q: Do I need a camera with external microphone support?
A: External microphone support significantly improves audio quality in your videos. If you plan to record clear and professional audio, consider cameras with microphone input.
Q: Are there budget-friendly YouTube camera options?
A: Yes, there are budget-friendly camera options suitable for YouTube vlogging. Many entry-level mirrorless cameras, compact cameras, and smartphones offer excellent value for their price.
Q: Can I use a webcam for YouTube live streaming?
A: Yes, webcams are commonly used for live streaming on YouTube. They provide a straightforward solution for streaming without the need for additional equipment.
Q: Are there cameras specifically designed for beauty and makeup vlogging?
A: Some cameras offer features like skin tone adjustments and beauty filters, making them suitable for beauty and makeup vlogging. However, these features are often available through post-processing as well.
Q: Do I need a camera with Wi-Fi connectivity for YouTube videos?
A: Cameras with Wi-Fi connectivity make it convenient to transfer videos to your devices for editing and sharing. While not essential, this feature can streamline your content creation process.
Q: Can I use a mirrorless camera for both photography and YouTube videos?
A: Yes, mirrorless cameras are versatile and suitable for both photography and videography. They offer a comprehensive package of features, making them ideal for content creators who want multifunctionality.
Q: Is image stabilization important for YouTube videos?
A: Yes, image stabilization is crucial for creating smooth and professional-looking videos. Look for cameras with built-in stabilization to minimize shaky footage, especially when filming handheld or on the move.
Q: Are cinema cameras necessary for high-quality YouTube content?
A: While cinema cameras offer exceptional video quality, they may be more advanced and expensive than what most YouTubers need. Many modern mirrorless and DSLR cameras provide excellent video capabilities for YouTube content creators.
---
Conclusion
In essence, the world of YouTube camera options in 2023 opens up a realm of creative possibilities for content creators. With a range of camera types catering to diverse needs, from vlogging to cinematic productions, individuals are empowered to share their stories with exceptional visual quality. Armed with the knowledge of camera features and considerations, you're poised to embark on a dynamic content journey, bringing your vision to life in captivating ways.
Read more about